Sweet Life Disclosure: This is a sponsored post with Farm Rich. Thank you for supporting the brands I collaborate with to bring you exciting, new recipes.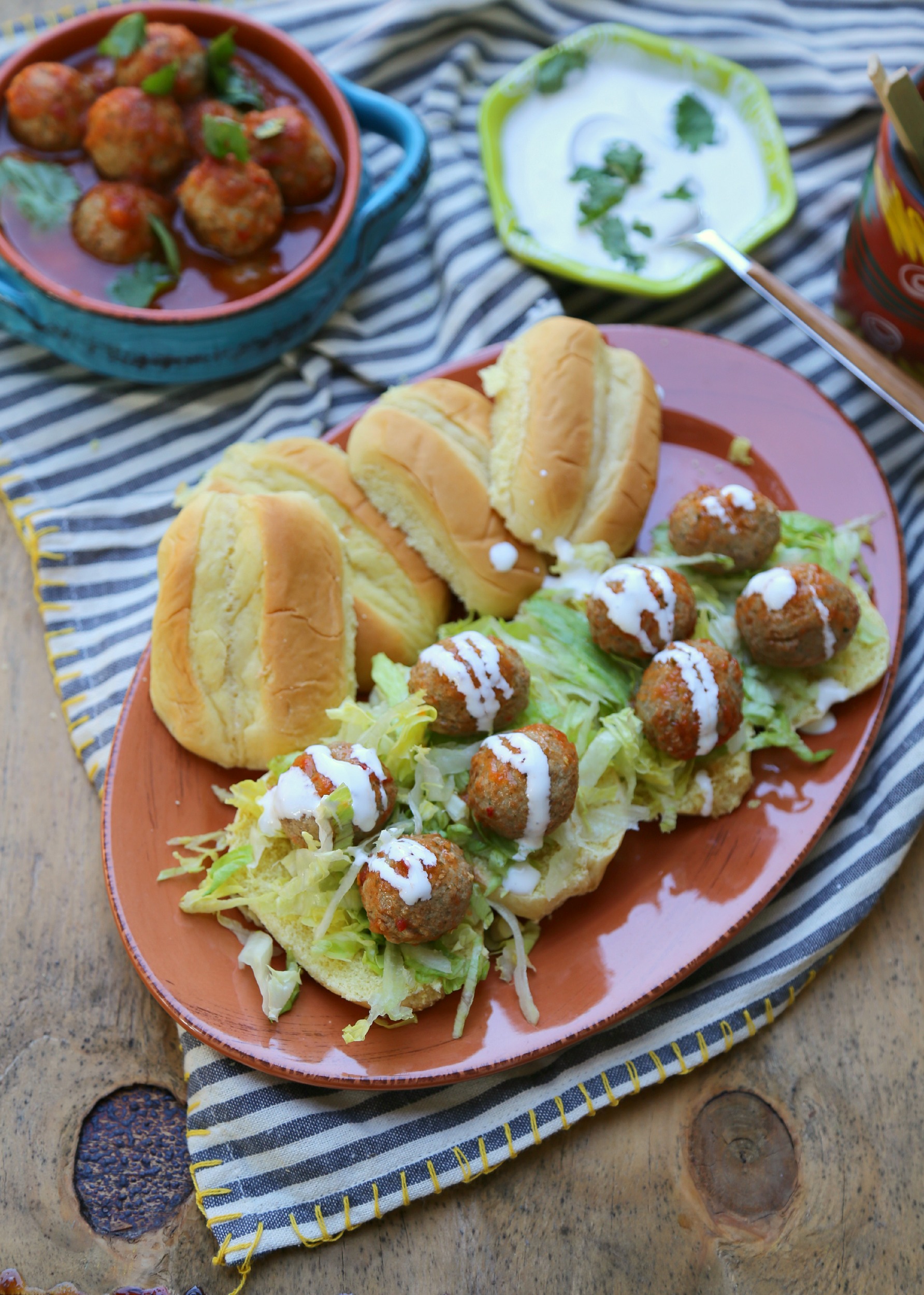 Mini Chipotle Turkey Tortas
The holidays are here! I love this time of the year. The bright lights on the tree, wrapping presents and baking with my girls.
But I have to admit, what really excites me is hosting holiday parties. I used to throw one major fiesta, but between planning, prepping, and decorating…it all became too much.
Now I host a few smaller, intimate parties where I can relax and really enjoy my guests.
During the busy holiday season, it can seem overwhelming to throw together a party, but fear not.  By keeping a stocked pantry and freezer, you can easily entertain and wow your guests with a delicious appetizer just like these mini chipotle tortas.
Keeping my pantry and freezer stocked with a few essential items allows me to host a party any day of the week and keeps my stress levels in check (no last minute grocery run!).
In my pantry, you can find my favorite tortilla chips, olives, a few locally made salsas, crackers, assorted nuts, chicken broth, honey and chocolate. In my freezer you can find soups, cookies, a few dozen tamales and a few packages of Farm Rich Turkey Meatballs.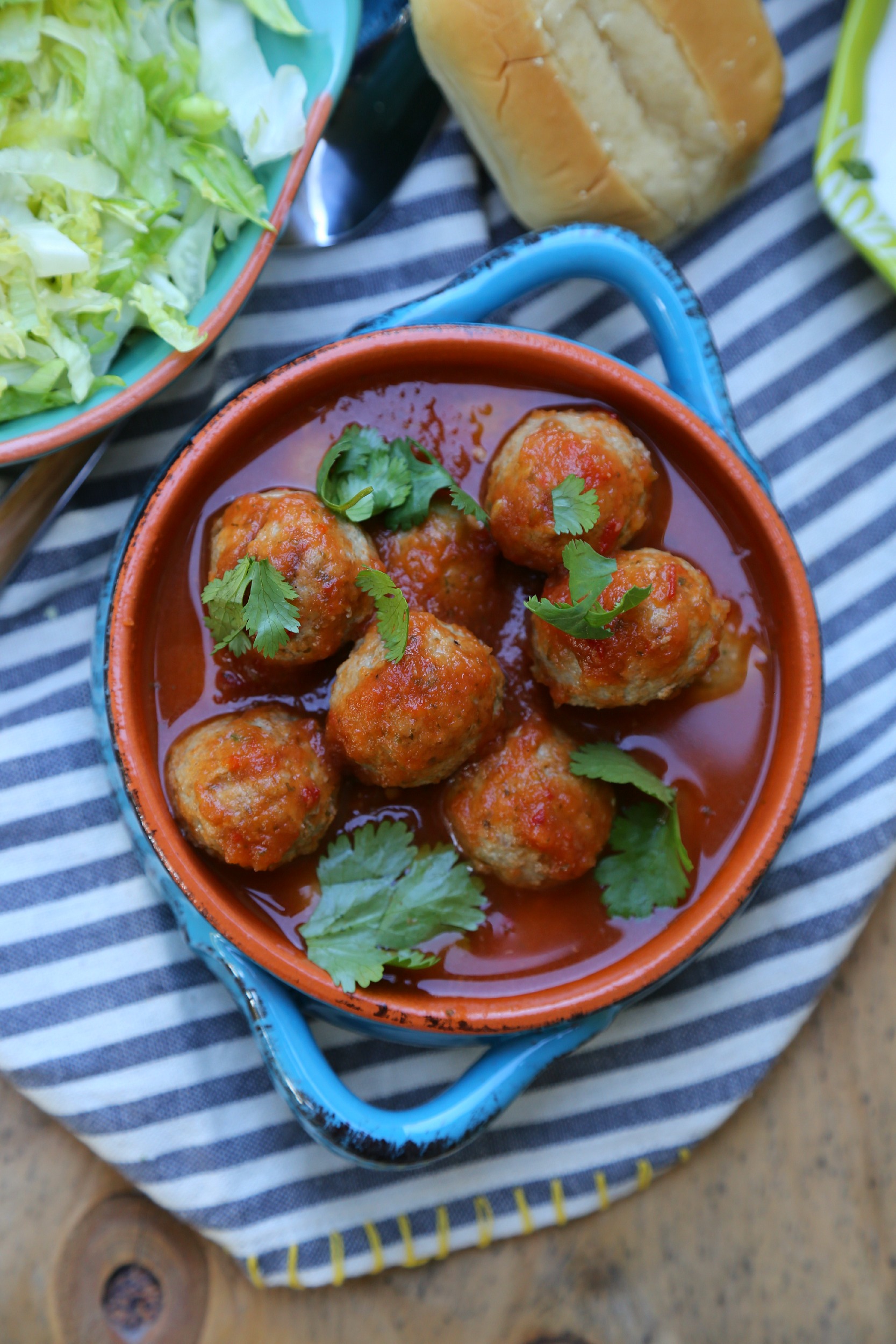 I love using meatballs to make mini tortas, even better if the meatballs are pre-made. As much as I enjoy cooking during the holiday season, the reality is, I don't always have the time to make everything from scratch. Farm Rich Turkey Meatballs are fully cooked, appetizer size and contain 50% less fat than the other variteties, plus you can cook them in the microwave or slow cooker. That's a win-win for this party host.  
Farm Rich believes that real life means going with the flow and making things happen, even when life gets a little unpredictable. You can't be everywhere, but you can make every moment count. Made with real ingredients ready anytime for whatever life throws at you, Farm Rich makes tackling the day a little easier.
I can really get behind this philosophy, especially during the holidays. This time of year is amazing / hectic / busy / wonderful all at the same time and it can be easy to get wrapped up in trying to have a picture perfect holiday.  In reality though, nothing is perfect.  I find that stepping back, taking a few short cuts and really slowing down to enjoy your holiday makes it even more special.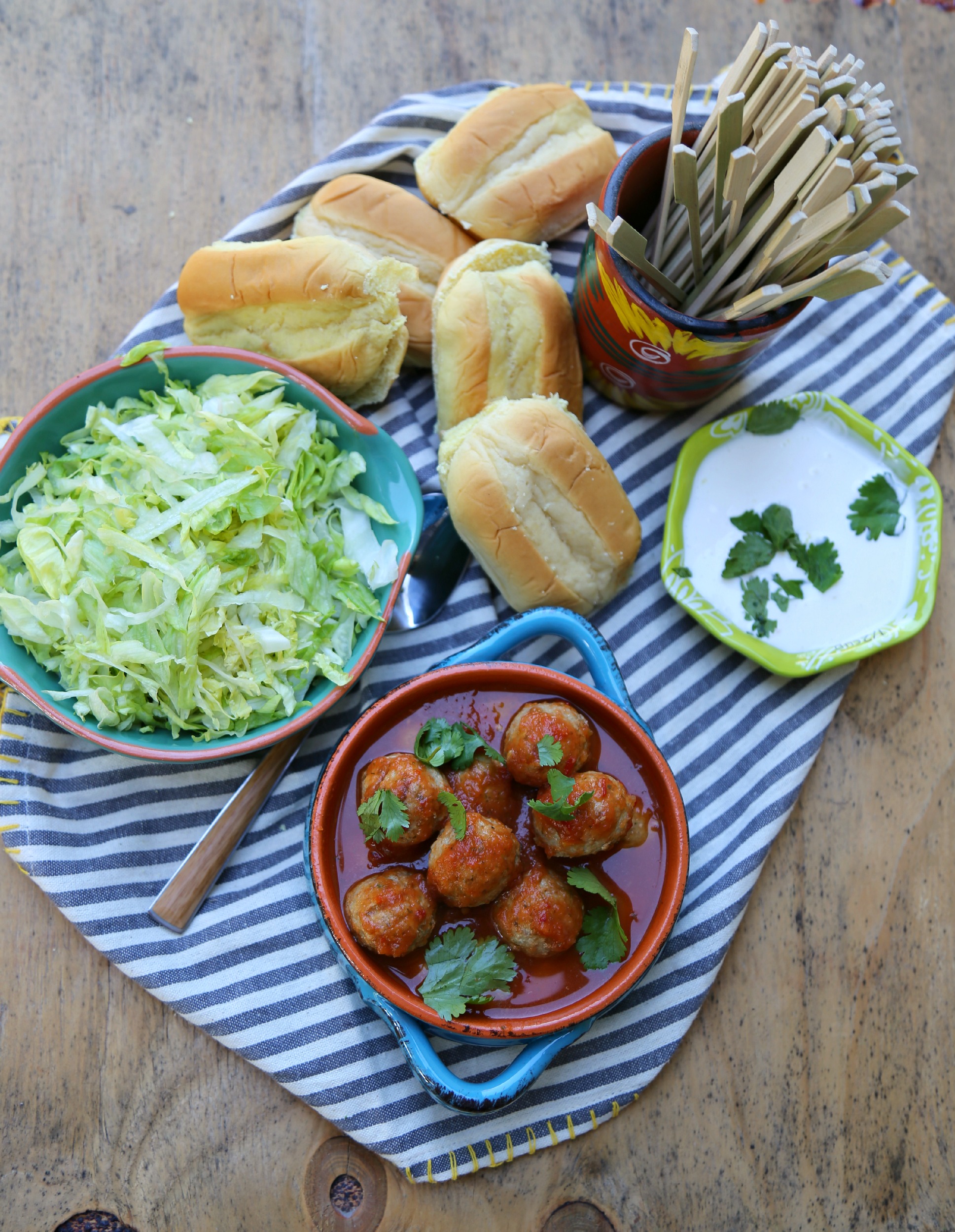 And speaking of special…let's talk about these scrumptious meatballs. I simmered them in a creamy chipotle sauce in the Crockpot, spooned them into a toasted bun, and topped them with shredded lettuce.  An easy appetizer that's perfect for all your holiday parties.
I assembled the sauce, placed it in the Crockpot with the Turkey Meatballs and went about my day.  They were a hit at my last fiesta; two thumbs up! These meatballs would also be great served over rice or added to a steamy chicken broth with a few diced veggies.
For more recipe inspirations head on over to the Farm Rich website and sign up for their email newsletter to receive exclusive offers and promotions: http://farmrich.com/join-now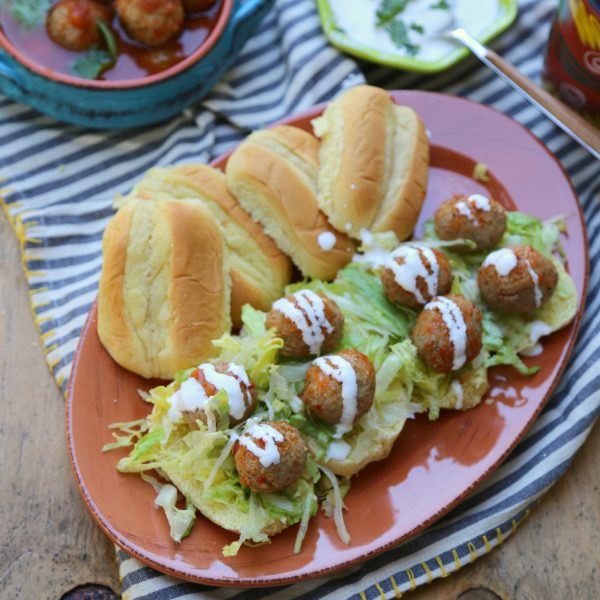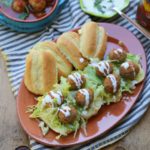 Mini Chipotle Turkey Tortas
Ingredients
For Chipotle Sauce:

1

15 oz Mexican style dice tomatoes

1-3

chipotle chiles in adobo

canned

1

cup

chicken broth

1

package Farm Rich turkey meatballs

For Tortas:

4

cups

lettuce

finely shredded lettuce

1

cup

Mexican crema

20

dinner rolls

spilt

Cilantro for garnish
Instructions
For Sauce: Place diced tomatoes, chipotle chiles and chicken broth in a blender; blend until smooth. Place sauce in slow cooker with turkey meatballs. Set on slow cooker on high, cover and heat for 3 hours.

To Assemble Tortas: Top each roll bottom with shredded lettuce, two turkey meatballs, drizzle with crema and garnish with cilantro. Serve warm on serving tray.