Welcome to the first week of the H-E-B–ConAgra Back to School Meal Maker Challenge. (click on the badge to vote,love ya!) 
Back. To. School.   A phrase that leads every kid to wonder where their summer has gone.
Little do they know us parents wonder the same.  Just about the time when we begin to let loose, enjoy the lazy days of summer.
Back to reality, back to rushed mornings, packing lunches and wondering "what's for diner?" 
Enter the Back to School Meal Maker Challenge, where 7 Texas bloggers offer quick and easy time meal solutions.  Each meal will have less than 10 ingredients, take less than 45 minutes to make and feed a family of four.
Each week there will be a featured ingredient where each blogger will incorporate into their recipe.  This week we begin with Peter Pan Peanut Butter.  Who doesn't love peanut butter?
As I shopped for my peanut butter challenge for this week's recipe I thought who better to ask about Back to School meal ideas than moms at my local H-E-B!
I chatted with a group of friendly mother's and asked what their go-to weeknight meal was.
Laura, a stay at home mother of four said  " In my busy day I find myself picking up a quick complete meal from the frozen department."      
Martha, a new mother states that in her transition "meals take a back seat to my newborns needs."
Denise, a mother of five teenage boys laughed saying "I can't seem to keep up with meals!"     
Thanks for sharing ladies.  I hope our Back to School Challenge helps your week run a little smoother, at least where dinner is concerned.
Shall we talk food? Shall we talk about a easy recipe that can be quickly transformed into 2 more great dinner ideas? Let's talk.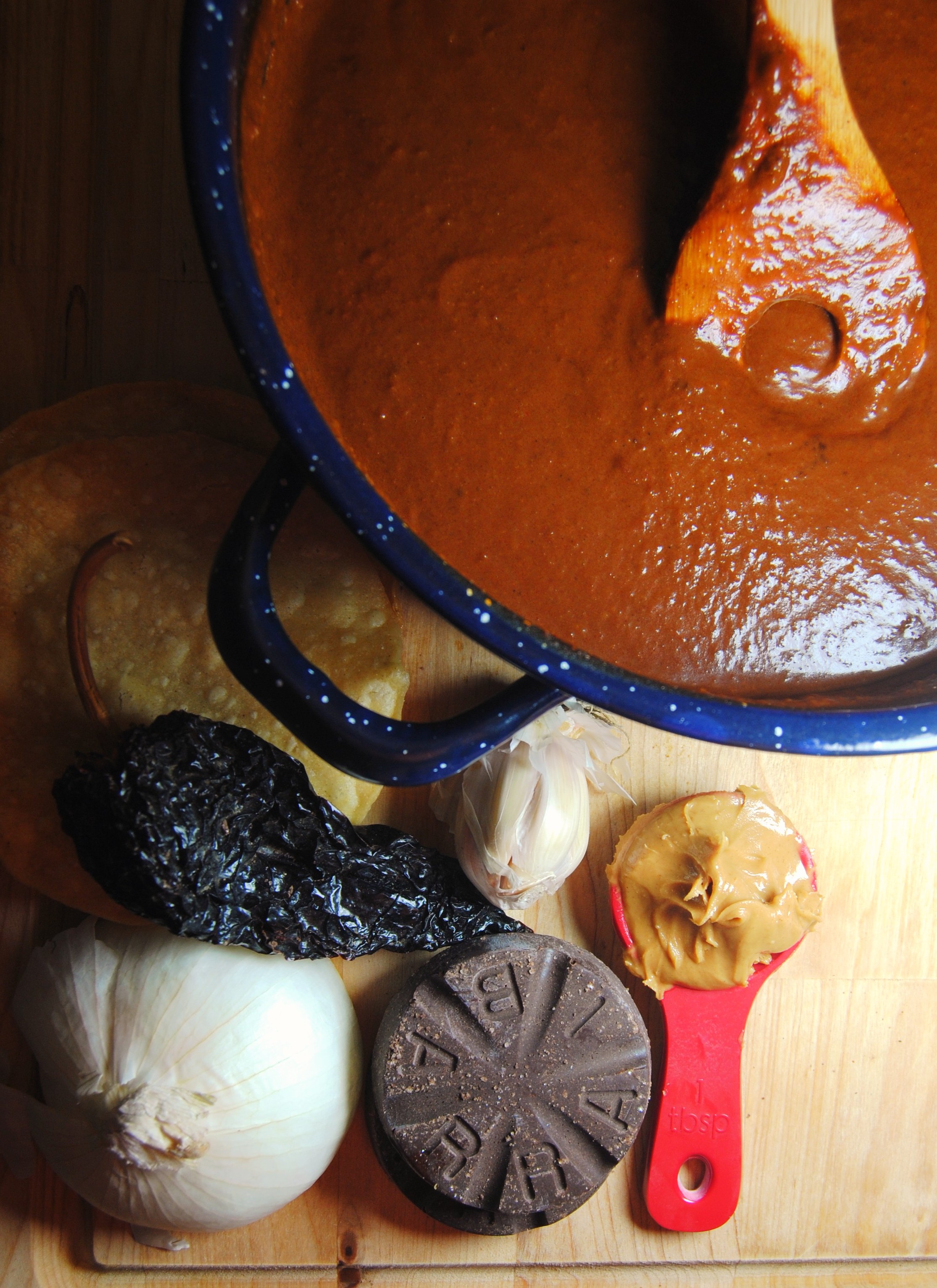 About MOLE!!!
When I found out peanut butter would be our featured ingredient my mind instantly thought MOLE!!
Mole comes from the Aztec word molli, meaning "concoction" or "sauce."  Mole is a rich, complex sauce bursting with layer upon layer of flavor.  A treasured dish of Mexico is one of my family's favorites.  Each region in Mexico stakes claim to have it's own mole style.  
Most Moles contain some of the following ingredients : Chiles, raisins or dried fruit, corn tortillas, bread, spices, herbs, fresh fruits, nuts, seeds, onion, garlic, broth and chocolate.
Is it possible to make mole with ten ingredients and in less than 45 minutes.  Yes, with a few easy steps and quick shortcute from our local H-E-B it is possible.
1.  Begin with the corn tortillas.  Instead of adding to our cooking time to fry the tortillas. Purchase tostadas that are baked.  These are usually located in the bread aisle and make for a great substitution.  If tostadas are not available in your store use a quality tortilla chip.
2. Browse you produce section for prechopped onion and garlic or take a little extra time over the weekend to chop you own.  Place in the fridge until ready to use.
3. Instead of roasting our seed and nuts we will incorporate peanut butter to save time with still achieving that creamy texture that mole is famous for.
4. To reconstitute the chiles a little quicker we turn to our microwave.
How can you use your mole sauce?
Drizzled over chicken cutlets, turkey or even pork.  Why not dip corn or flour tortillas in your mole sauce and stuff them with cheese for emmoladas. Or use the sauce in quesadillas.  Toss with pasta or even blend with cheese for nachos.
Is enjoying mole on a weeknight becoming a little easier? I hope so, but we're not finished yet.  In hopes of helping you a little more through out your week I am leaving you with two bonus recipes.  Both recipes will incorporate the mole sauce in two kid friendly meals!  Let's begin with drumsticks.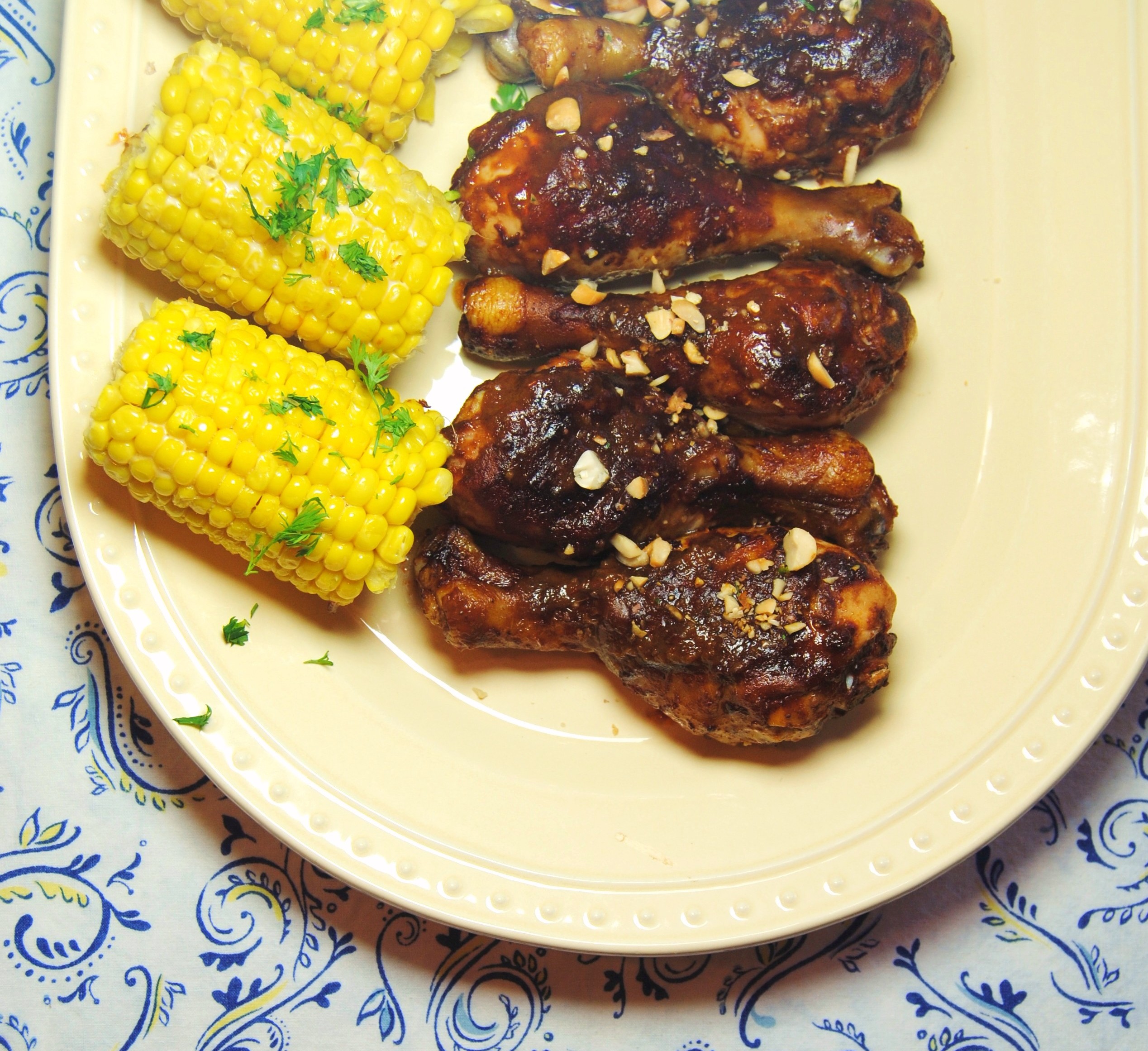 Have you ever met a kid who doesn't love drumsticks?  I haven't.  Drumsticks are a great weeknight meal idea.  They are reasonably priced, flavorful (dark meat) and are bake in less than 45 minutes.
Baked with mole sauce these drumsticks are sticky good.  Kid friendly, quick and tasty even for adults.  Give them a try!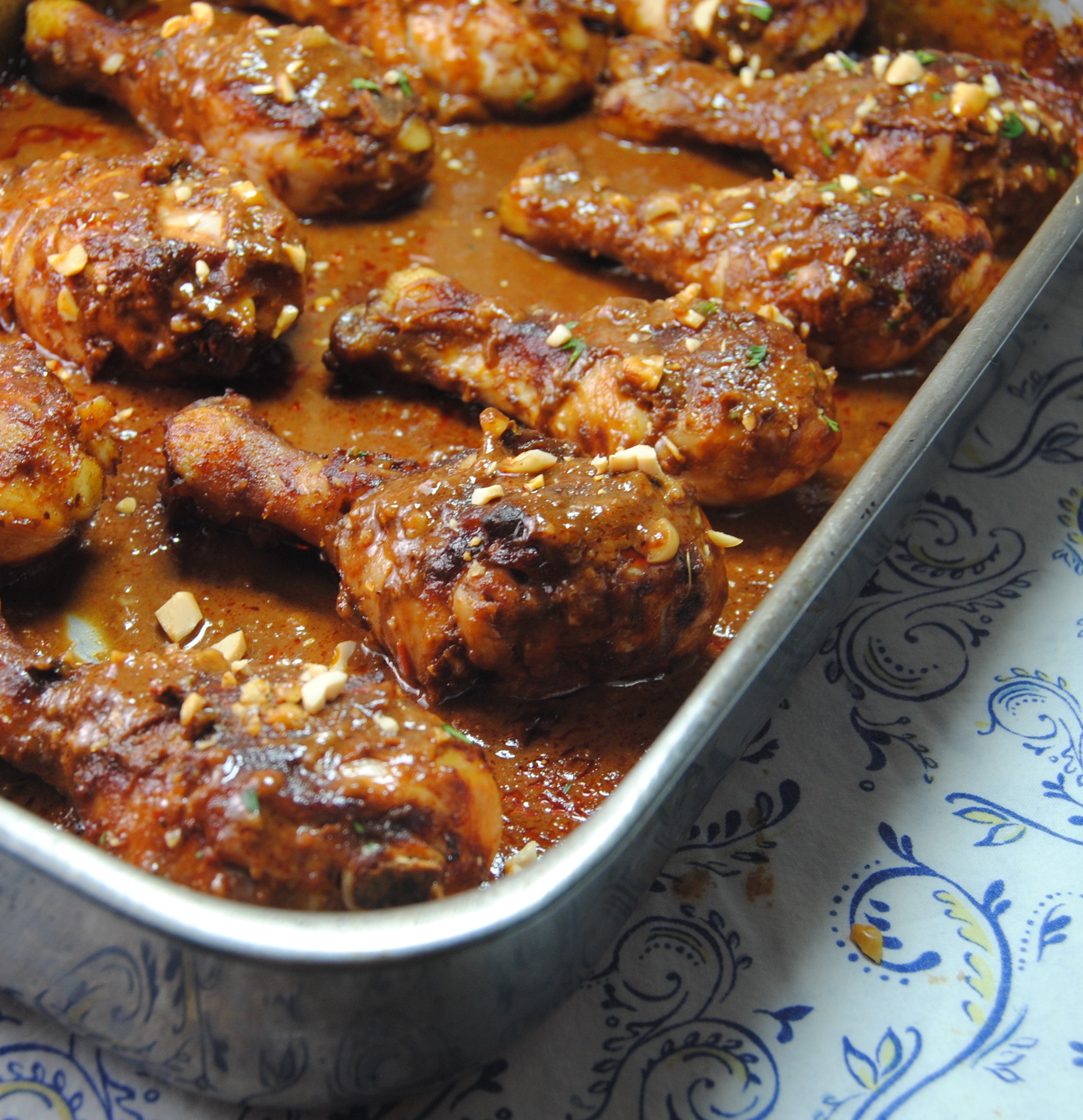 Have I shared? Each week you my readers are given the chance to vote for the blogger with the best recipes.  The two bloggers with the most votes will battle it out live, Iron Chef style  at HEB San Antonio with Celebrity Chef George Duran as host!
Pretty cool!!  I hope you enjoy my recipes and support me in this fun challenge!! Remember you can vote once a day up until August 28, 2011 (don't worry I'll remind you from time to time,smile) Click on VOTE for ME to be linked directly to cast your vote!
Remember to LIKE H-E-B first, to vote.


On to our next recipe.  Remember those tostadas you used in making your mole sauce?  Why not use the leftovers to coat  chicken tenders for another quick, easy meal idea?  Kid's love tenders and they love dipping.  Serve with warm mole sauce as a dip.
Crunchy tenders to sop up a wonderful mole sauce alongside a simple salad too easy!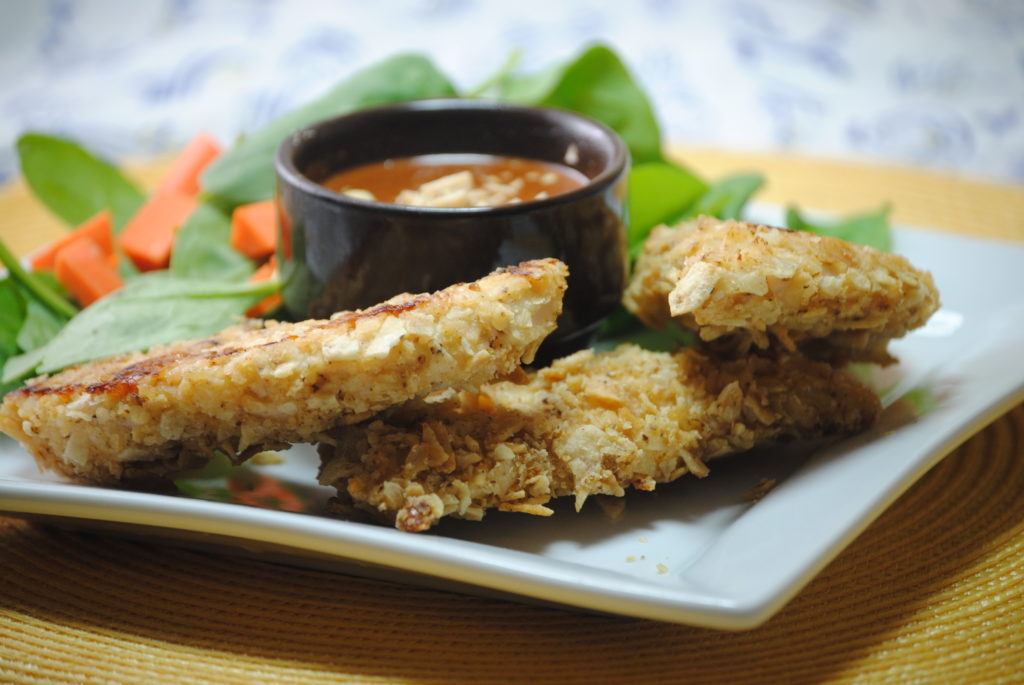 Have leftovers? Pack yourself a great lunch salad the next day with diced tenders, cucumbers, carrots, spinach and bell peppers.  Dress your salad with mole sauce and a sprinkle of peanuts. Lunch for mommy! Yeah!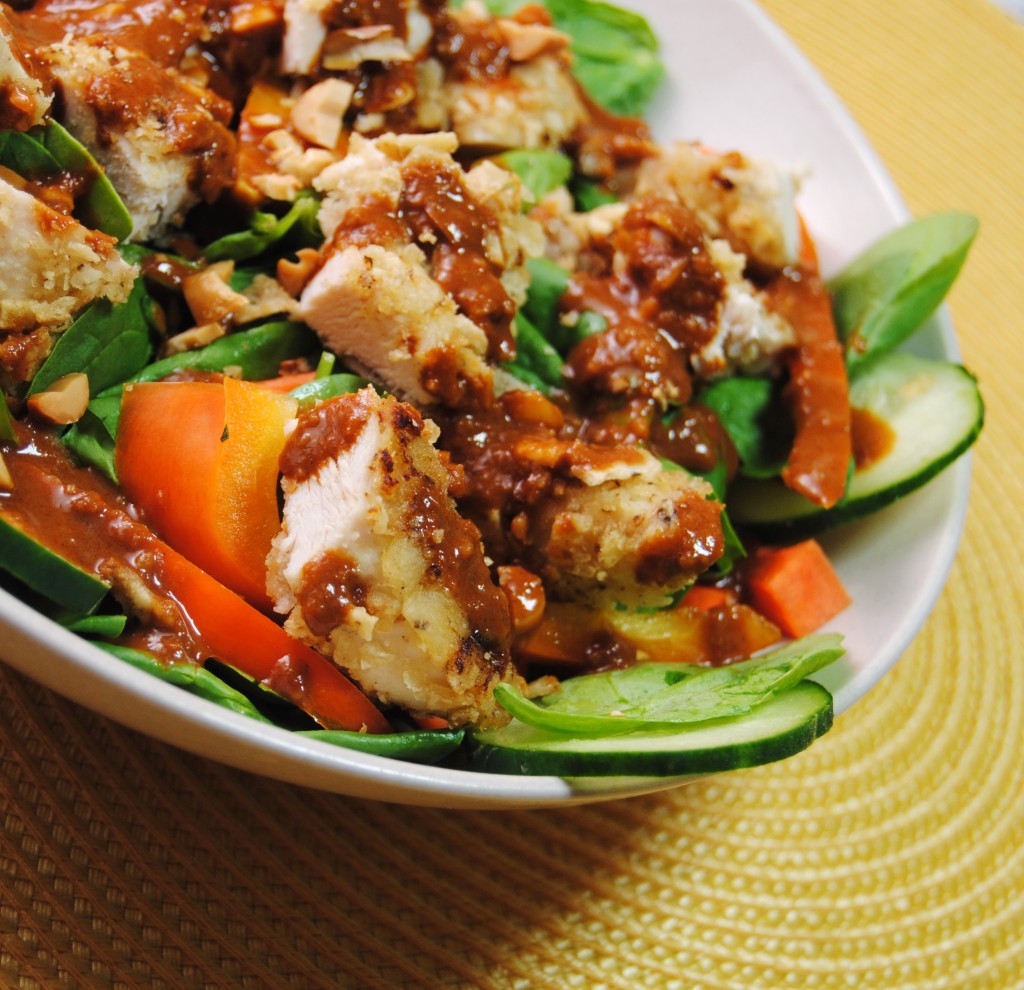 ***********RECIPES***********
Back to School Easy Mole
by Bonnie Rodriguez
makes 6 cups
4 dried ancho chiles
2 cups chicken stock
3 corn tortillas baked or fried.
2 medium onion, diced
3 garlic cloves minced
7 tbsp Peter Pan peanut butter
1 tsp cumin
1 tsp oregano
4 Mexican chocolate discs (I prefer Ibarra's)
Olive oil
Salt &pepper
In a microwave safe bowl place chiles and cover with water. Microwave on high for 3 minutes.
Drain, remove stem and seeds. Set aside. Break tortillas into pieces and place in blender.
In a large saucepan over medium high meat add 2 tbsp olive oil.  Add onion and a pinch of salt.
Cook until soft, about 4 minutes.  Add garlic and cook another 2 minutes, being careful not to burn garlic.
In a blender with tortillas add onion, garlic, chiles, peanut butter, chicken stock, cumin and oregano.
Blend until smooth. Season with salt and pepper.  Return blended mix to large saucepan and simmer for 10 minutes on medium high.
Reduce heat and add chocolate.  Cover and simmer 10 minutes.
Allow to cool and store in fridge for up to 1 week. Mole can be frozen for up to 3 three months.
~~~~~~~~~~~~~~~~~~~~
Mole Drumsticks
By Bonnie Rodriguez
Serves 5
10 drumsticks
Olive oil
Salt and pepper
1 cup mole sauce
Heat oven to  400F.  Lightly oil a large baking dish.  Season drumsticks with salt and pepper.
Arrange in a single layer.  Drizzle with olive oil.  Bake for 20 minutes.
Pour mole sauce over drumsticks to coat evenly.  Bake an additional 20 minutes, turning several times.
~~~~~~~~~~~~~~~~~~~~~~~
Tortilla Encrusted Chicken Tenders with Mole Dipping Sauce
By Bonnie Rodriguez
Serves 4
!0 corn tostadas or fried corn tortillas or 6 cups tortillas chips
Salt and pepper
Olive oil
¼ cup all purpose flour
1 cup milk
12 chicken tenders (about 1  ½ pounds)
Mole sauce for dipping
Preheat oven to 400F
Lightly coat a baking pan with olive oil.
Crush tortillas with a rolling pin or in food processor.
Season with salt and pepper
Dredge chicken in flour, shake off excess.
Dip tender in egg and coat with crushed tortillas.
Bake for 20-25 minutes.
Serve with mole sauce.
~~~~~~~~~~~~~~~~~~~
I wouldn't leave you without giving you a really, really quick dessert idea.  At your local H-E-B when you purchase Peter Pan Peanut Butter you get a H-E-B jelly for free with in-store coupon.
Use your jelly to perk up a cup of vanilla ice cream.  Simply add 2 tbsp jelly to a microwave safe bowl with 1 tsp of water. Microwave for 1 minute, stir to combine and drizzle over ice cream. Yummy!!
Until next Monday, enjoy adapting my quick mole sauce to your weekly dinner ideas.  Don't forget to vote!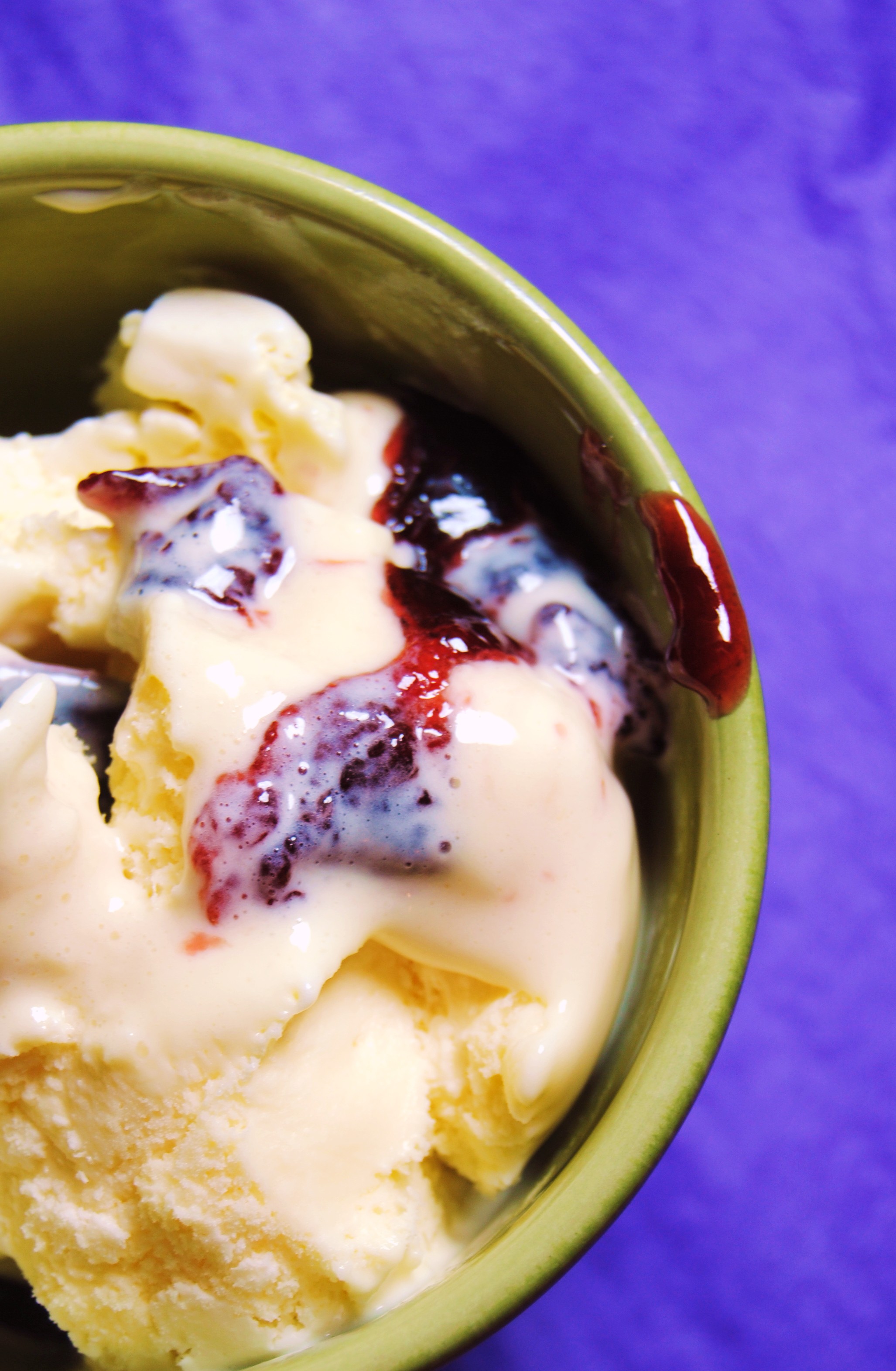 *Sweet Life Disclosure:  I was invited,compensated and received promotional items for my time to participate and create quick and easy meal solutions for  HEB  ConAgra Back-to-School Meal Maker Challenge. 
 The opinions expressed in Sweet Life are my own.