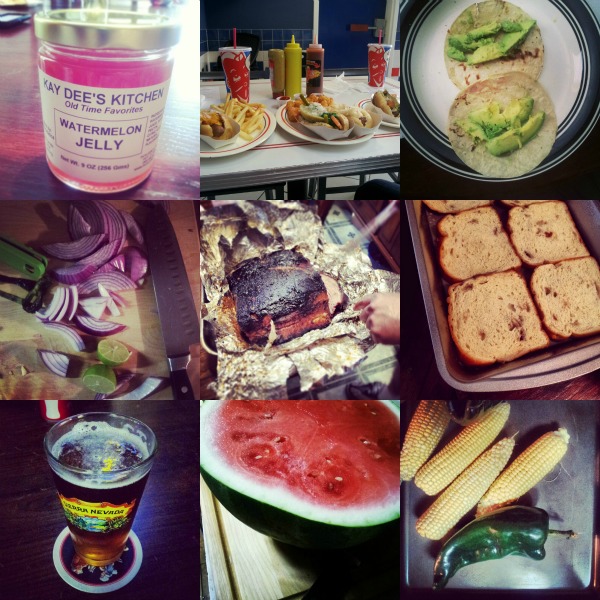 I'm back. Yup, I'm a slacker and have not been the most reliable when keeping up with my week in pics, but hey life is too tasty to be behind the computer screen all day. Wouldn't you agree?
Here's what's been going on this week:
I have been consuming this Watermelon jelly by the spoonful. Made with local watermelons in Taft, Texas, which is roughly a 10 minutes drive from where I live. Let's just say I keep my pantry stocked with it.
Road trip food, hot dogs!
Lunch- two warm corn tortillas, sliced avocado and a sprinkle of salt. Darn it's good.
I've been making a lot of salsas this week for my freelance gigs, spicy goodness!
I'm working on a brisket post and working at perfecting my brisket skillzzzsss…
On Saturdays my kiddos are in charge of breakfast. French toast.
Friday night, dinner with my hubby, Texas beer
Watermelons, watermelons, watermelons – I can't get enough of them!
Sweet Texas corn- roasted with poblanos para queso. Insane good!
Sweet Life Disclosure: As a participant in the Verizon Wireless Ambassador program, I have been provided with a wireless device and three months of service in exchange for my honest opinions. All pictures take with the Verizon Blackberry. All opinions are 100% my own.