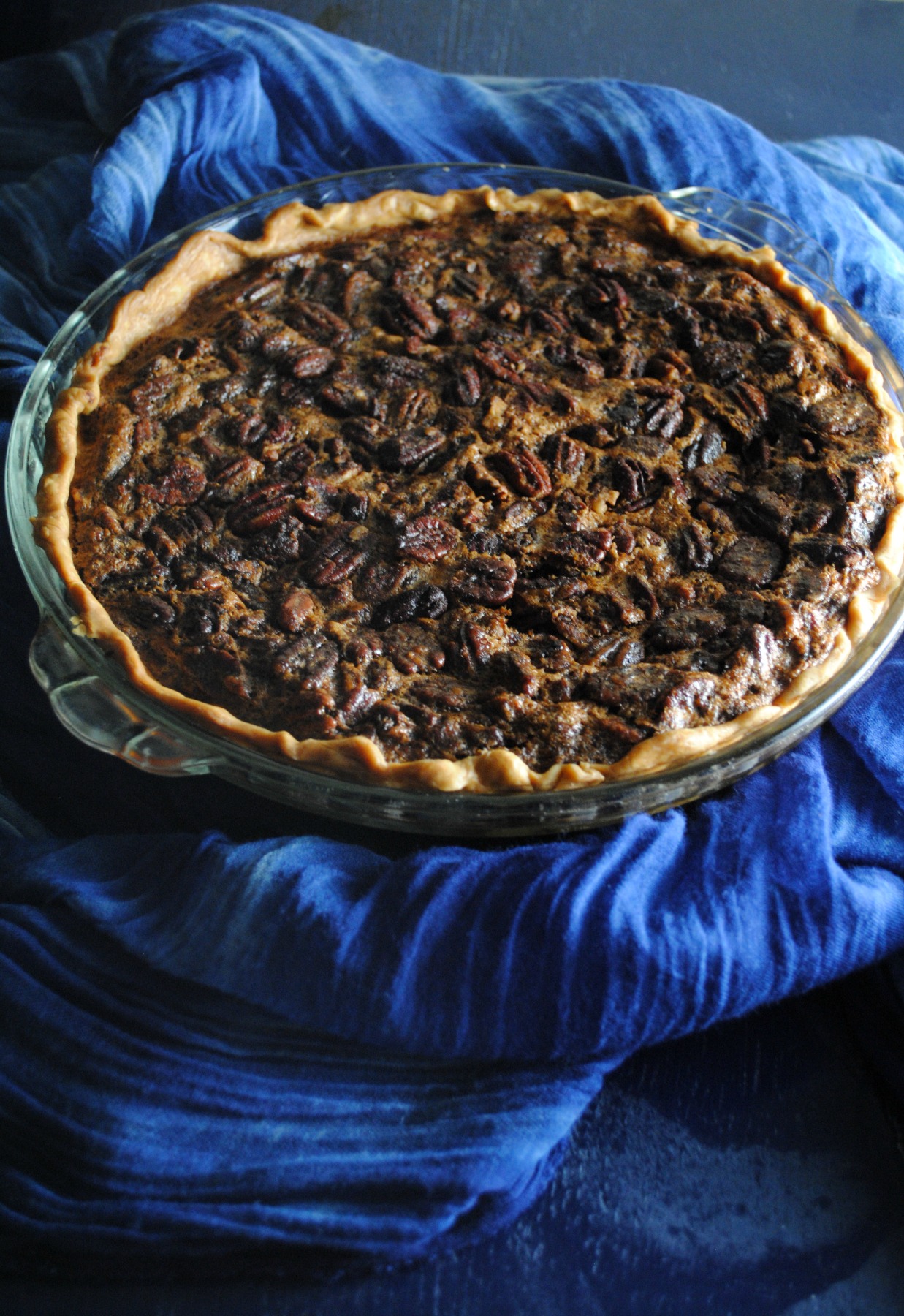 Piloncillo Candied Pecan Pie
Growing up November was a month we all looked forward to. Temperatures dropped the kick-off of pecan season and pie!  Pecan pie, pecan pie! A Texas Thanksgiving tradition pecan pie can always be found at the center of our table; after all it is our state tree.  My mami and abuelita would spend hours at the tables shelling pecans for our Thanksgiving pies.  The following day they would carefully roll out the dough, make the filling and bake them. The house smelled amazing.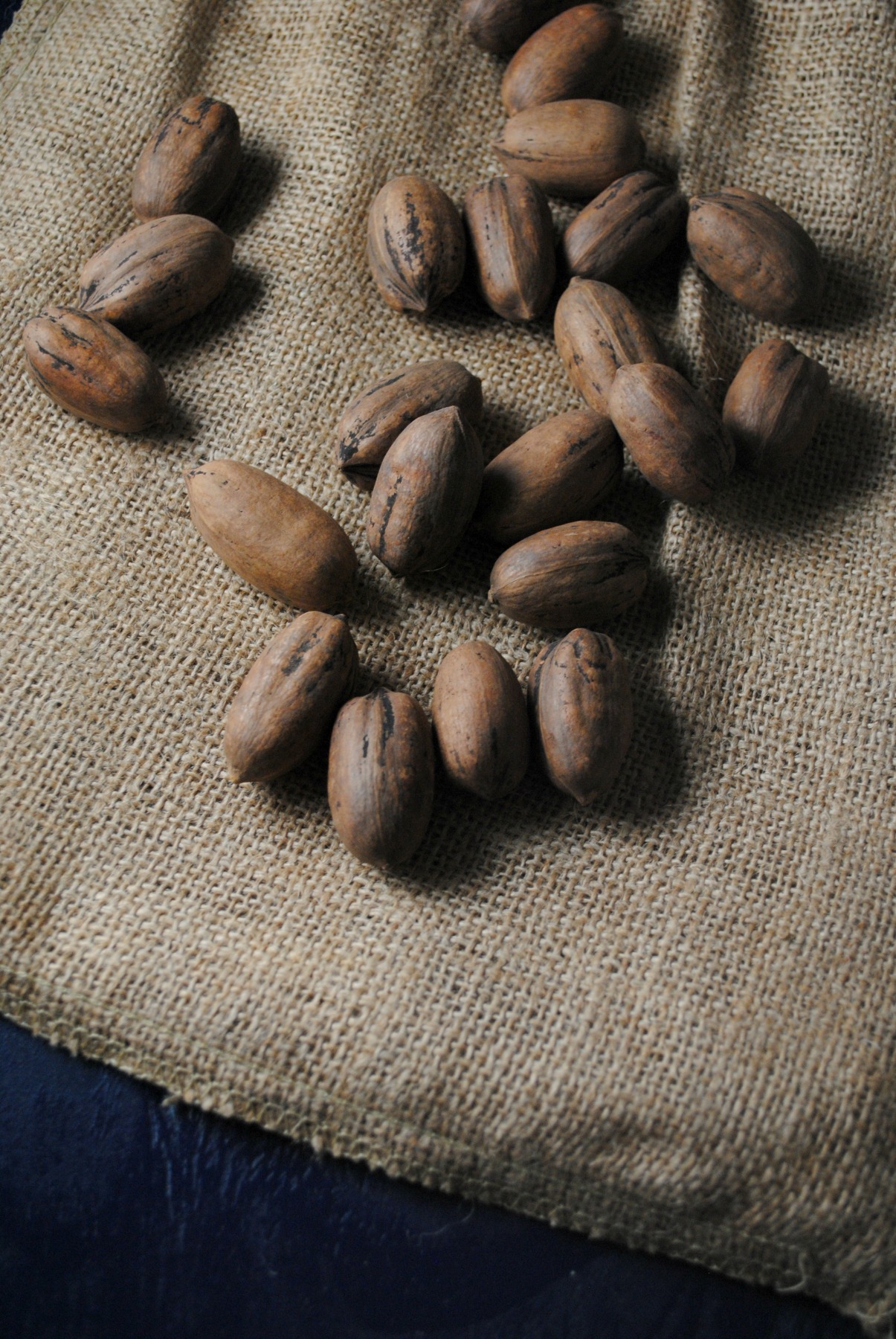 Any leftover pecans were made into candied pecans, another well beloved Texas holiday tradition. Coated in sugar and cinnamon they were baked, cooled and packaged in shiny holiday tins for gifts for our neighbors and friends. When Crisco contacted me to collaborate with them as part of their blogger baking team where I will share baking tips and recipes I knew I had combine both of these Texas traditions and bake an amazing pie to celebrate the Crisco Pie & Baking Hotline.
Did you know Crisco Pie & Baking hotline is back this year and now available in en espanol? Awesome! You can hear my Latin Twist co-author Yvette from Muy Bueno share her tips on sopes and the lovely Kristen of Dine and Dish share her baking tips.  Be sure to stop by her blog for an awesome pie crust video.  And speaking of sopes stay tuned for an awesome video coming in December where Yvette and I will teach you how to make perfectly flaky empanadas and tender sopes for the holidays.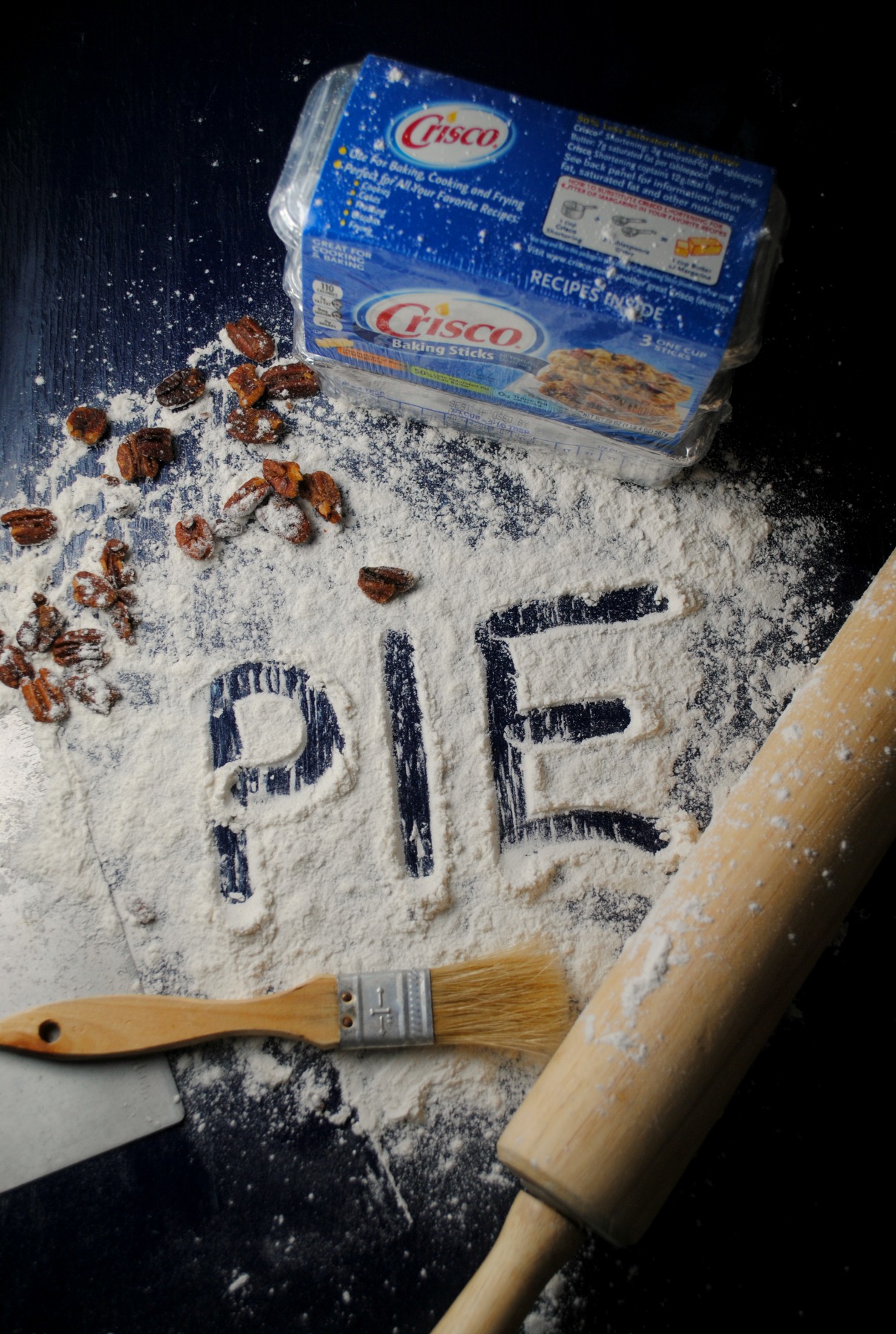 Now back to that luscious pecan pie.  My mami always, still does use Crisco to make her tender pie crusts when baking and like a good daughter I have followed her lead, mami knows best. I did though want to add my personal twist to the recipe and decided to give the candied pecans a special touch by using piloncillo instead of sugar.  With its rich molasses flavor the piloncillo gives the pecan pie another deep delicious layer of flavor.  Make sure you make an extra batch to snack on over the holidays, they are so good!
When making your pie crust or any recipe read your recipe carefully and familiarize yourself with it. I like to make a game-plan so my baking goes smoothly. Have specifi pans ready, purchase all ingridnets and give yourself time. All my baking mistakes happen because I was in a rush, slow down and enjoy the process. My mami and abuelita had this ritual when baking. Café, galletas and musica while they baked they made it an experience after all they were baking for their loved ones.
Here's a great dough tip: Chill dough completely as the recipe suggests. By chilling the dough you allow the fat in the recipe to firm and the flour to absorb the liquids which makes the dough easier to roll out. If you are pressed for time break the dough into smaller portions, they will chill quicker.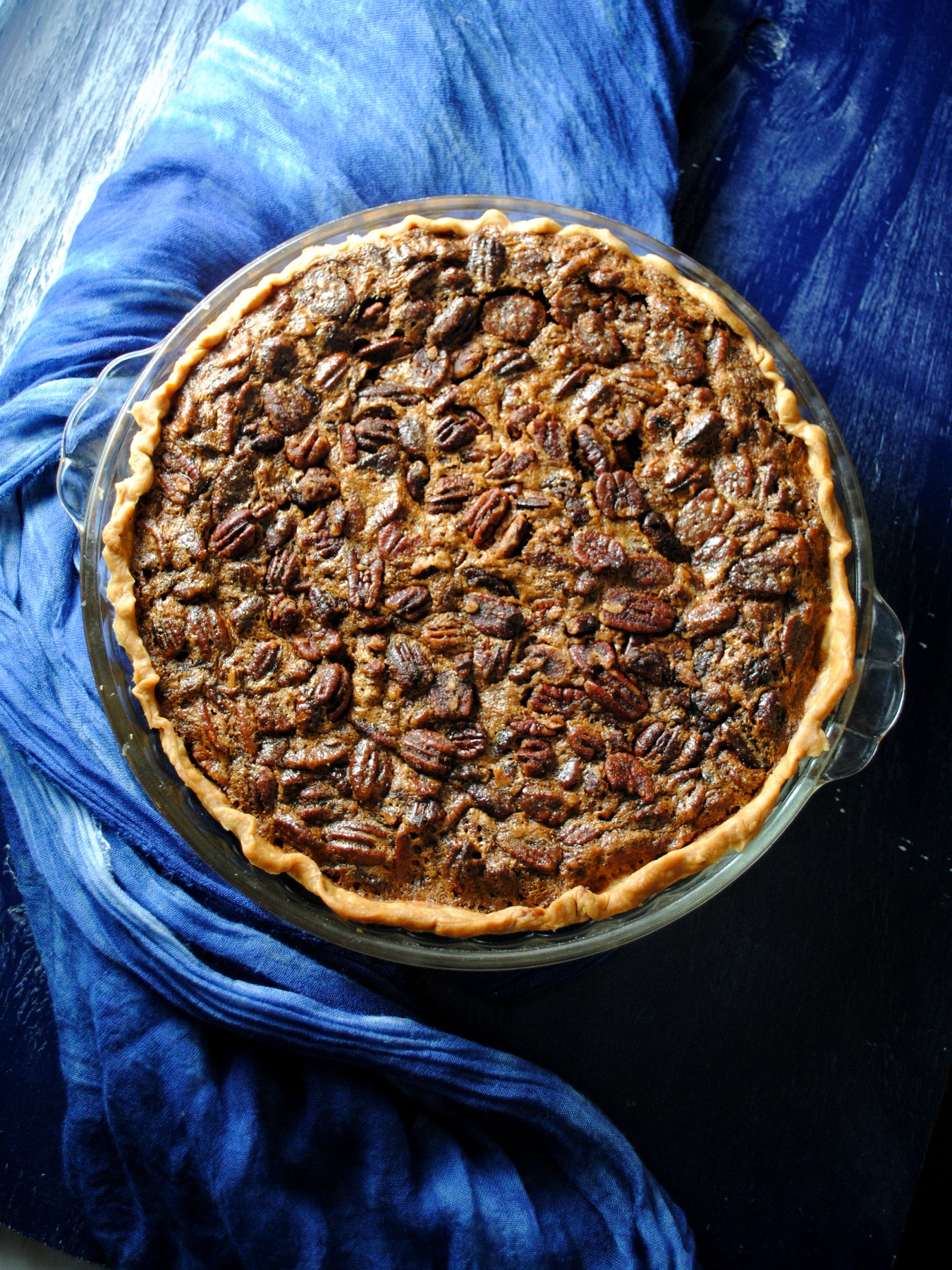 The Crisco Pie and Baking Hotline now in its ninth year is back to help bakers restore their confidence and offer tips, tricks and advice from anything from pies to cookies to meringues.  Hosting a holiday party, no worries during the holiday season extended hours are offered Monday thru Friday.
For more information about the Crisco Pie & Baking Hotline or for additional tips, recipes and how-to videos, visit Crisco.com. Join the Crisco community on Facebook at Facebook.com/Crisco or on Pinterest at Pinterest.com/criscorecipes.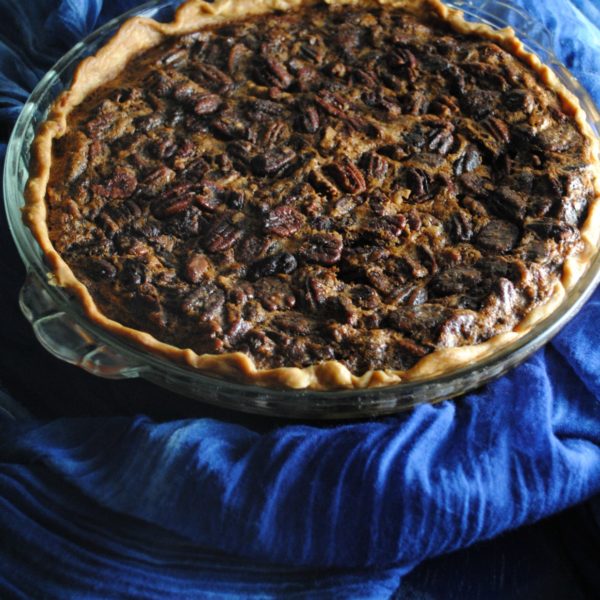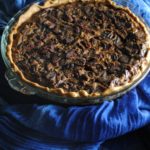 Piloncillo Candied Pecan Pie
Ingredients
Crust:

2

cups

flour

1

teaspoon

salt

1/2

stick well-chilled Crisco® Baking Sticks All-Vegetable Shortening

6-8

tablespoons

ice cold water

Filling:

1/3

cup

butter

1

cup

white sugar

1

cup

light corn syrup

4

eggs

1

teaspoon

salt

1

tablespoon

vanilla extract

2

cups

piloncillo candied pecans

Piloncillo Candied Pecans:

3

tablespoon

butter

2

cups

pecans

6

tablespoon

grated piloncillo

1

teaspoon

ground cinnamon

½

teaspoon

salt
Instructions
For crust:

Blend flour and salt in mixing bowl. Cut shortening into cubes and cut into flour mixture using pastry blender or fork until it resembles small pea-sized crumbles. Gently stir in half water, mix gently and add more water if need just until dough holds together. Divide dough in half and shape into a ball, flatten and wrap in plastic wrap and refrigerate for at least an hour. Roll out dough on a lightly floured surface into a circle 2 inches wider than pie pan. Using rolling pin transfer dough to pie pan, trim evenly around pie pan, pinch edges around pie pan and prick with fork.

For Candied Pecans:

Preheat the oven to 300 degrees. Melt butter in a large nonstick skillet. Add pecans and stir to coat completely. Stir in grated piloncillo, ground cinnamon and salt; stir to coat completely. Place on baking sheet and bake 10 minutes. Use to make pecan pie filling.

To make Pie filling and baking directions:

Melt butter in microwave and whisk together with the sugar, corn syrup, eggs, salt, and vanilla. Spread piloncillo candied pecans on bottom of crust and pour the filling over the pecans into the pie shell. Bake at 350 degrees for 50 to 60 minutes.
Sweet Life Disclosure: This is a sponsored post with Crisco. Thank you for supporting the companies Sweet Life collaborates with which allows me to create fun and unique recipes.