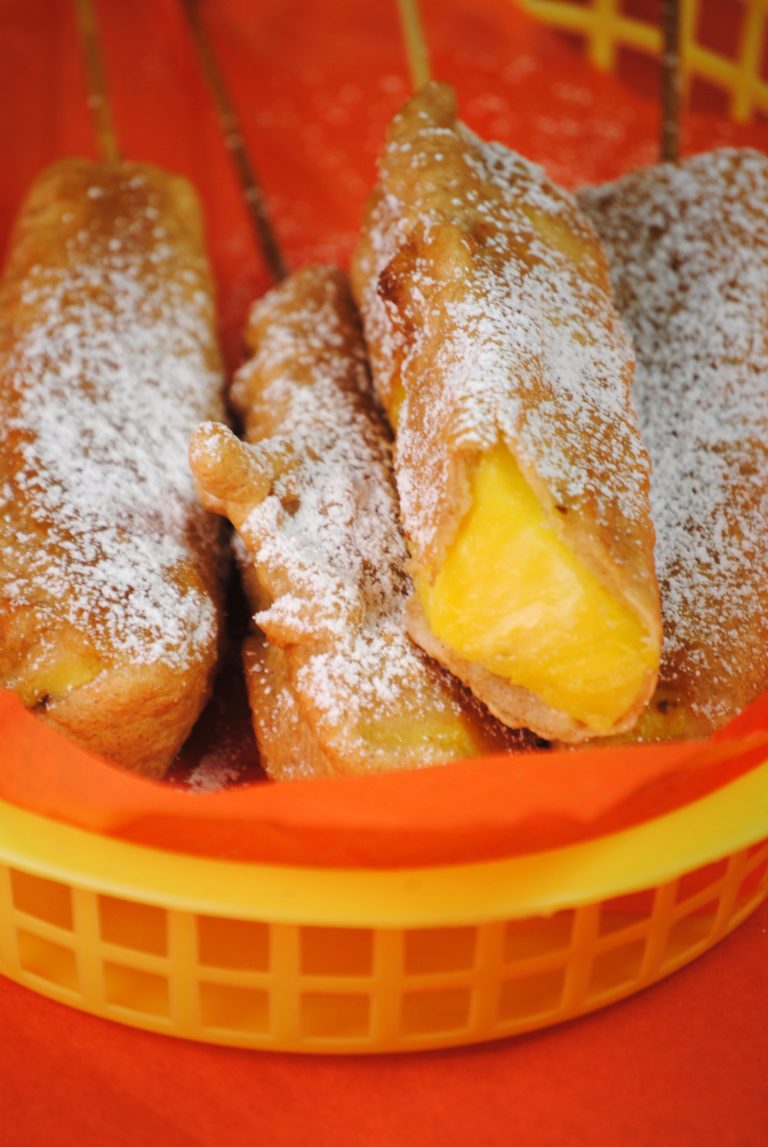 My husband surround in an intoxicating aroma of fresh funnel cake is always the start to a good night.  My husband loves funnel cakes.  Combine this with his favorite fruit and he is just about lost it!  I know, I know what your thinking we're from Texas.  We have ample opportunities to devour funnels cakes with some many Texas festivals we trek to.  But take a step back and imagine fresh.pineapple.dipped.in.funnel.batter.at.home.  Yeah it's just that cool!
My husband became an instant Matt Armendariz fan that evening, which made my heart flutter.  You see he's kinda my blog crush.  Yes, admit it everyone has a bog crush.  I openly admit to a few mini blog crushes, but full blown BLOG LOVE, only Matt.
Matt a fellow Texan has had my heart since first stumbling upon his blog.  In a time where blogging was a midnight pleasure from the stress of school.  His attitude toward food, life, love and his heritage is felt through each page.  Here is one of my favorite excerpts from his blog.
Being Mexican-American and growing up in Texas you could count on rice and beans with almost every meal. I make light of my upbringing but it's far from satirical – there were literally rice and beans with every meal. This worked great if enchiladas were on the menu, maybe not so swell when we ventured into other cuisines. Hamburgers and Rice and Beans didn't make me very happy, neither did Salmon Patties and Rice and Beans, Spaghetti with Rice and Beans or Pot Roast with Rice And Beans. It took me many years to understand that rice and beans were an inexpensive way to extend a meal and that it was an extremely nutritious way to feed a group of people. It also took me many years to get past my disdain of mixing Mexican-with-something-not-quite-matching.
Perhaps if you had served me a Korean Taco in Elementary School I might have gotten this over much earlier. Such is life.
My, how things change. These days I'm happy making a meal out of a big bowl of beans, some pico de gallo and a good corn tortillas (make that about 5). There is satisfaction in its simplicity.
from Matt Bites on Cowboy Beans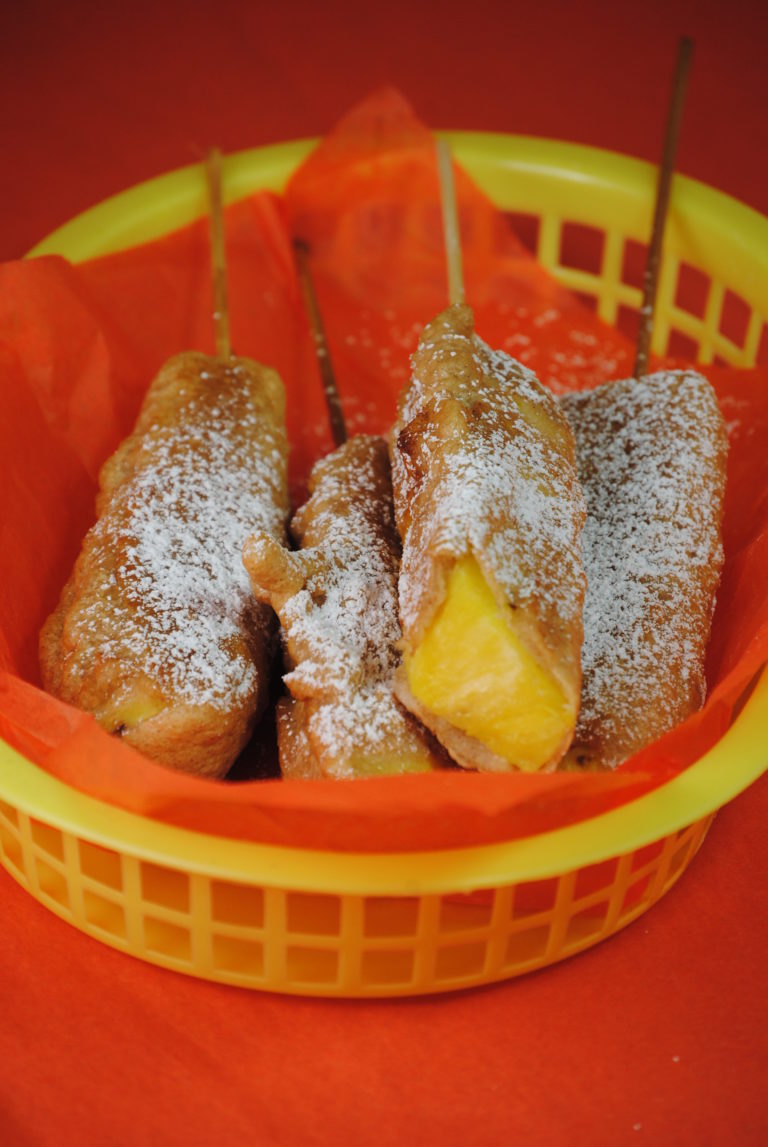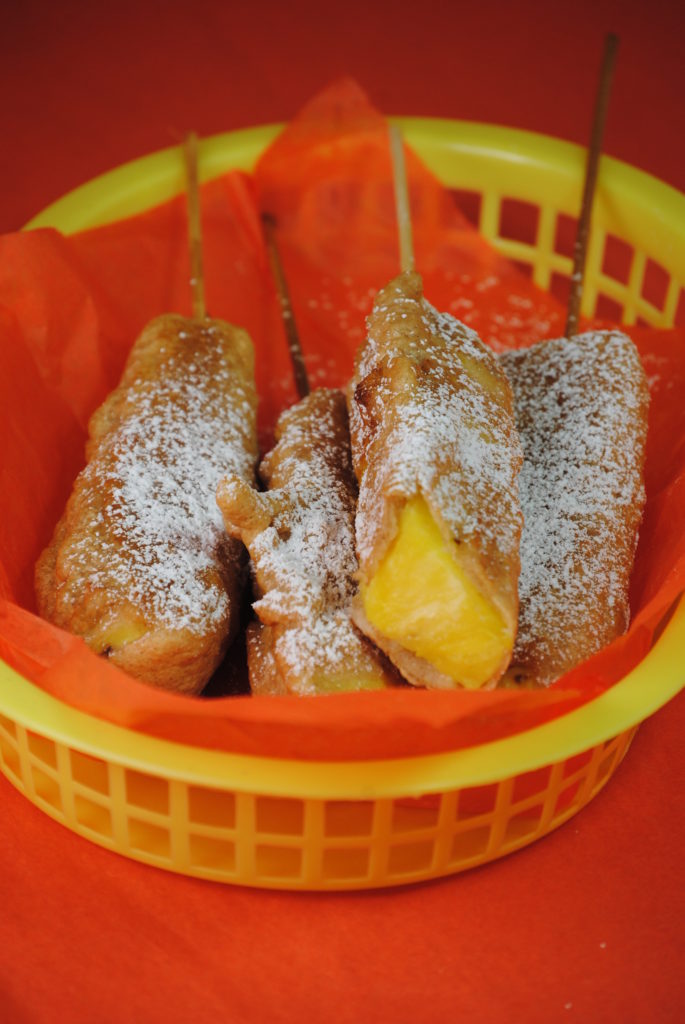 So would I recommend this book? Hell yeah everything, I mean everything taste better on a stick.  Add the bonus pleasure of Matt's words, his fabulous picture and his divine eats and well you have a killer book!
Thank you to Quirk Books for sending me a cop of Matt's book to review.
Thank you Matt for inspiring me each day with your words.
Te quiero, te adoro y te mando besos…muchos muchos besos! 
Pineapple Funnels
4 wooden sticks
1 1/2 quart vegetable oil
~~~~~~~~~~
funnel cake batter
1 1/2 cup milk
2 eggs
2 cups all-purpose flour
1 tbsp light brown sugar
2 tsp ground cinnamon
1 tsp baking powder
1/2 tsp salt
~~~~~~~~~~
1 pineapple, peeled, cored, and cut into 4 sticks 4inches long and 1 1/2 inches wide
powdered sugar, optional
~~~~~~~~~~~~~~~~~
1. Preheat oil in a large, heavy pot over medium-high heat.
2. Make the batter: beat milk and eggs in a small bowl. In a separate bowl, sift flour, brown sugar, cinnamon, baking powder, and salt.  Gradually add milk mixture to dry mixture, whisking until fully incorporated and no lumps remain.
3. Pierce the bottom of each pineapple piece with a stick. Pat pineapple dry with paper towels.
4. Once oil reaches 350°F, dip pineapple sticks in batter, carefully place in pot (work in batches, if necessary), and fry 5 to 6 minutes, or until golden brown. Drain on paper towels. Dust with powdered sugar, if desired, and serve hot.
*quick note- there will be batter left over, simply pour into a plastic bag or piping bag. Over hot oil, pipe swirls into a circle shape for small funnel cakes. dust with powdered sugar* I would hate for anything to go to waste, especially if  it's funnel batter, Enjoy!
A few recipes featured in this book:
Chinese Five-Spice Skewers
Corn Dogs
Molotes with fresh tomato Salsa
Yakitori
Stuffed Olives
S'mores
Margarita Jello Shots
Deep fried candy bars
Fruit Salad Skewers