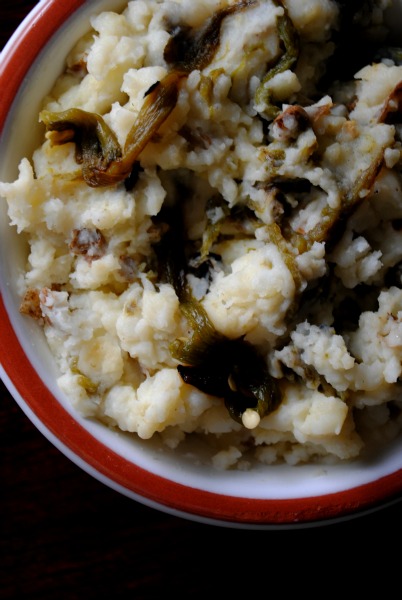 Rajas de Poblano Mashed Potatoes
Chunky mashed potatoes flecked with rajas de poblano oh yeah that's a Thanksgiving side dish I can wrap my lips around. I'm all about the sides and mashed potatoes play a major role in making this gal happy every Thanksgiving.
Confession:  Late night out, a few too many drinks and I always get lethal 2am craving for tacos de papa con rajas de poblano. 
As I stuffed my face the thought occurred to me this combination would be a great Thanksgiving side dish. Maybe it was the boozy effects of tequila or the intense craving to shower rajas de poblanos in every bite of taco that hurled toward my mouth.
Granted this happened in July I'm surprised I remembered. I'm pretty good at blocking out moments where I'm not at my best mommy self. Enjoy!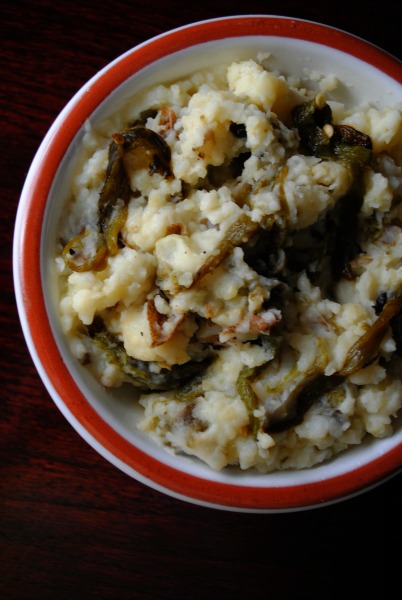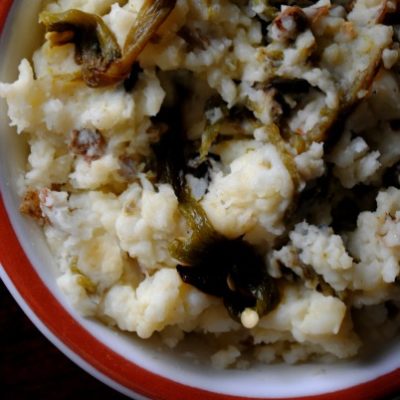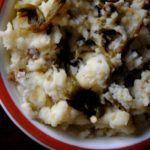 Rajas de Poblano Mashed Potatoes
Ingredients
2 1/2

pounds

potatoes peeled and quartered

1 1/2

tablespoons

salt

1

tbsp

butter

2

tbsp

flour

2

poblanos

1 1/2

cups

warm milk

3

cups

melting cheese of your choice

Salt

Pepper
Instructions
Place potatoes in a sauce pan, generously covered with water and add salt.

Cover bring to a boil, reduce heat to low and simmer until potatoes are tender when pierced with tip of knife tender, 20-30 minutes.

While your potatoes cook, make rajas.

Preheat your broiler

Place poblanos on sheet pan and broil until poblanos are charred on all sides.

Remove from broiler cover with dish towel and allow to steam for about 5 minutes. (Makes it easier to remove charred skin)

Remove charred skin, stem and seeds. Cut into rajas (strips)

Melt butter in a large sauce pan over medium heat.

Add flour, whisk to combine and cook for about 2 minutes.

Slowly whisk in warm milk, until thick. About 6-7 minutes.

Remove from heat and add cheese. After cheese has melted add rajas and stir to combine.

Season to taste and keep warm.

Drain potatoes well and mash with a potato masher.

Add rajas to mashed potatoes. Add more milk if needed.

Season to taste.