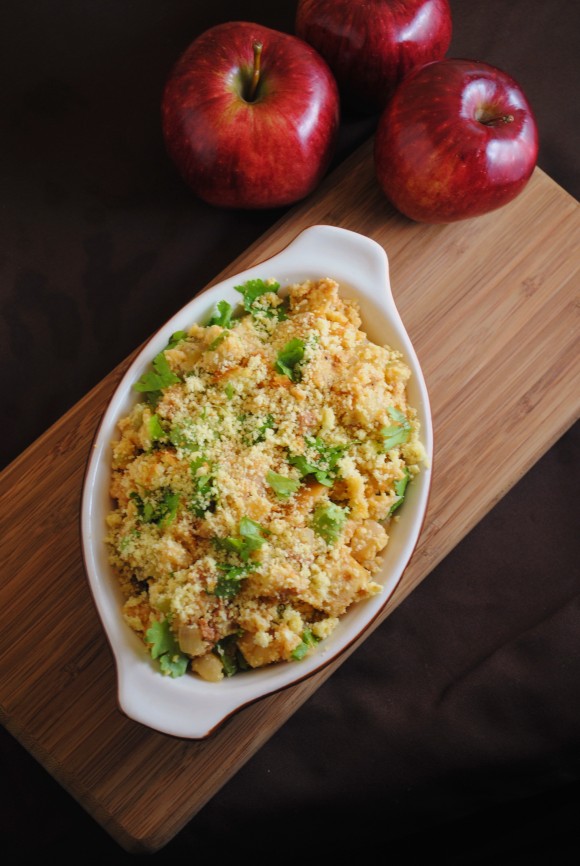 Apple Chorizo Cornbread Stuffing
I love Thanksgiving.  Okay let me be honest I love Thanksgiving stuffing!
And Thanksgiving mashed potatoes and Thanksgiving gravy…. I'm all about the side dishes.
Chorizo, cumin and oregano give this stuffing a hearty bite, while the cilantro and apple add a sweet perk. Make your favorite cornbread recipe or feel free to use a quality cornbread from your local bakery.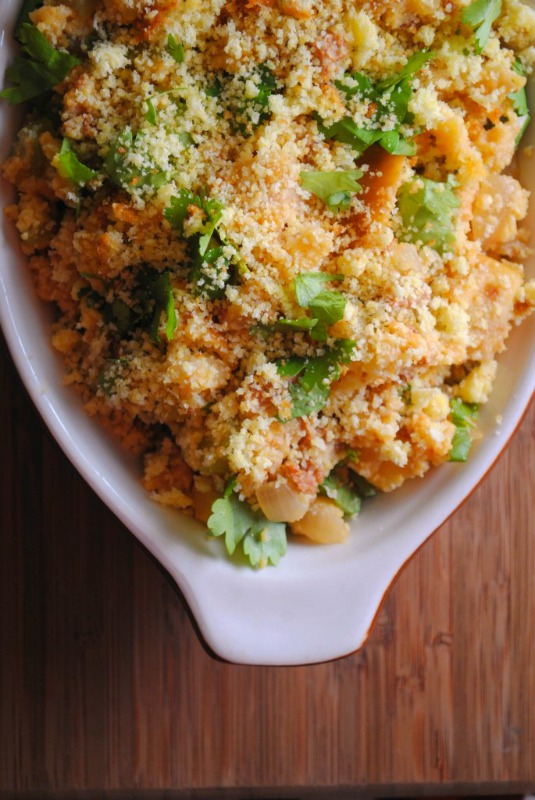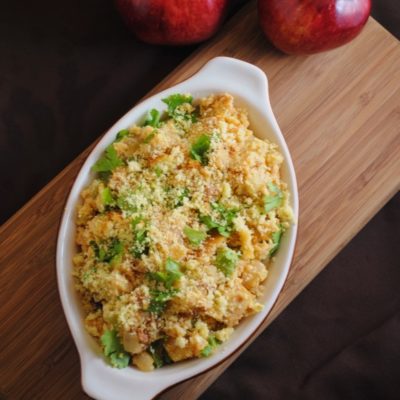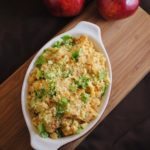 Apple Chorizo Cornbread Stuffing
Ingredients
5

cups

crumbled cornbread

1

pound

chorizo

1

large onion

diced

3

garlic cloves

minced

3

celery stalks

diced

2

apples of your choice

diced

1

tbsp

oregano

1

tbsp

cumin

2

cups

turkey or chicken broth

½

cup

cilantro
Instructions
Preheat oven to 350 F and grease a 2 quart baking dish.

Bake the cornbread on a baking sheet for 20 minutes, stirring occasionally, until lightly toasted.

In a large skillet cook chorizo over medium high heat until brown.

Add onions, celery, oregano and cumin.

Sauté until lightly softened about 5 minutes. Reduce heat and add garlic and apples.

Continue to cook an additional 2 minutes.

Add broth to pan, stir to combine and loosen bits on bottom of pan.

Stir in cilantro and cornbread. Place the dressing into greased pan and bake for 40 minutes or until lightly brown.
Recipe Notes
Dressing can be made up to 1 day ahead. Cover and place in fridge. Reheat in oven until hot.
We are celebrating Thanksgiving with Food Network and some of my favorite food bloggers!
Pull up a chair and check out the amazing feast!! follow along on twitter #PullUpAChair
Cocktails, Appetizers, Salads and Breads:
Haute Apple Pie: Apple Jack
Cooking With Books: Spiced Couscous and Walnut Salad
Mooshu Jenne: Honey Bacon Potato Pops
Food For My Family: Roasted Beet and Lacinato Kale Salad With Lemon Vinaigrette
Big Girls, Small Kitchen: Super Seeded Cornbread
Main:
FN Dish: Black Pepper-Pomegranate Molasses Glazed Turkey
Sides:
Feed Me Phoebe: Cornbread and Wild Rice Stuffing With Hazelnuts and Cranberries
Napa Farmhouse 1885: Chorizo, Cornbread and Tortilla Dressing
Sweet Life: Apple Chorizo Cornbread Stuffing
And Love It, Too: Paleo Green Bean Casserole
Jeanette's Healthy Living: Sweet Spiced Winter Squash Casserole
Red or Green?: Corn, Peppers and Onion Saute
Simple Bites: Honey Pomegranate Glazed Brussels Sprouts
Virtually Homemade: Fresh Orange and Cranberry Sauce With Toasted Walnuts
What's Gaby Cooking: Sweet Potato Gratin (pictured above)
The Heritage Cook: Cauliflower Gratin
Creative Culinary: Creamy Mushroom Bake With Parmesan and Panko
Bacon and Souffle: Spicy Carnival Squash
Desserts:
I Am Baker: Pumpkin Bars in a Jar
Add a Pinch: Caramel Pie