Roasted Asparagus with Avocado Sauce
I was at the grocery store yesterday picking up a few general items that seem to vanish quicker than I can purchase them. Milk, coffee and avocados are always in demand at my house – coffee for the adults, milk for baking, and avocados which grace every dish, whether it is over eggs at breakfast, in a bowl of beans for lunch or dressing salad at dinner time.
I slowly walked through the produce aisle, forcing my brain to remember what other items I had jotted down for a recipe that I planned to test over the weekend, when I spotted the asparagus. Bundles of crisp, vibrant, earthy-green asparagus.  A true sign of spring, asparagus grow in abundance in Central and South Texas.
Super Simple, Fresh Roasted Asparagus
While mi cariño was stationed at Fort Hood in Killeen, Texas, I began experimenting with asparagus since it was always available and relatively inexpensive.  Hubby grew up eating canned asparagus and was pleasantly surprised to find out that it could be purchased fresh and retained it's bright green hue.
Over the course of our time at Fort Hood, I tested out various ways to prepare the asparagus.  I blanched them, roasted them and sautéed them all spring.  So when I saw them at in the produce aisle yesterday, it made me think of the years I spent in Killeen.
Living five hours away from my mami truly gave me the chance to step into the kitchen and take a plunge in learning as much as I could. I watched endless episodes of Alton Brown, Ina Garten, Rachel Ray and Martha Stewart to learn new techniques and recipes outside of my comfort zone…and I even taught myself how to bake.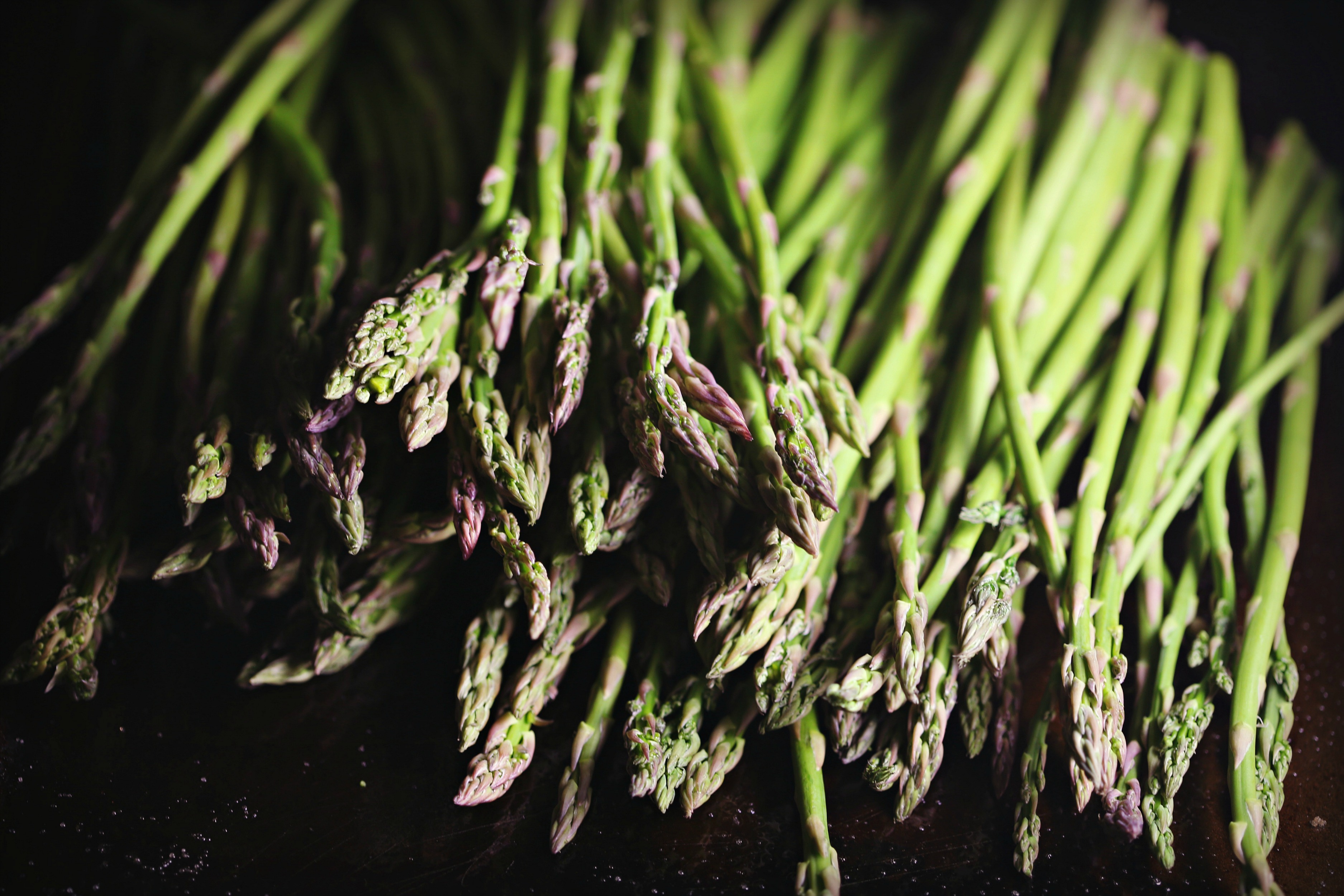 Roasted Asparagus with Avocado Sauce Recipe
So, today I want to share a simple, but delicious recipe with you.  It features roasted asparagus with one of our familia's beloved ingredients, avocados!
Roasting asparagus brings out a rich, deep flavor that you won't get when poaching them.  This recipe will give you a great opportunity to try this cooking method if you haven't already.
When choosing asparagus look for bright green stalks, with pretty purple tips. They are at their best when in season, between March and May.
The creamy avocado sauce in this recipe is made in a blender. Simply toss everything into the blender, blend  to combine and you are done.
I use this sauce for tacos, tostadas, nachos or over eggs. Pour over warm asparagus straight from the oven and top the whole thing with a handful of pepitas for a delicious spring side-dish.
A rich and delicious taste of Central Texas, enjoy!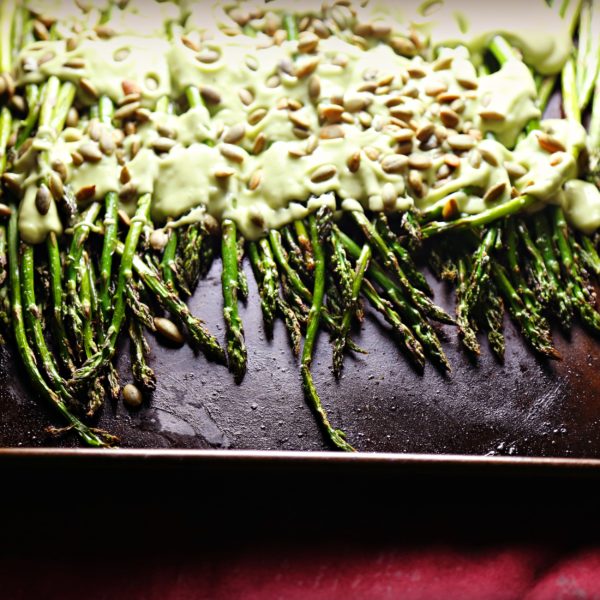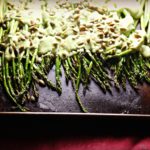 Roasted Asparagus with Avocado Sauce
Ingredients
For Avocado Cream Sauce:

2

Avocados

sliced and seed removed

1/2

cup

heavy cream

1/2

cup

cilantro

washed and stems removed

Juice from 1/2 lime

Salt

Pepper

For Asparagus:

2

pounds

asparagus

trimmed

1

tablespoon

olive oil

Coarse sea salt and freshly ground black pepper

½

cup

pepitas
Instructions
For Avocado Cream Sauce: Place sliced avocado, 1/2 cup heavy cream, cilantro and lime juice into a blender.

Blend until smooth; add additional cream as needed to produce a smooth cream.

Season to taste with salt and pepper.

For Asparagus: Preheat oven to 400°F.

Arrange asparagus spears in a single layer on a large rimmed baking sheet.

Drizzle oil over asparagus and turn to coat.

Season with salt and pepper.

Roast, turning occasionally, until lightly browned and just tender, 18-20 minutes.

Serve warm with avocado cream sauce and sprinkled with pepitas.