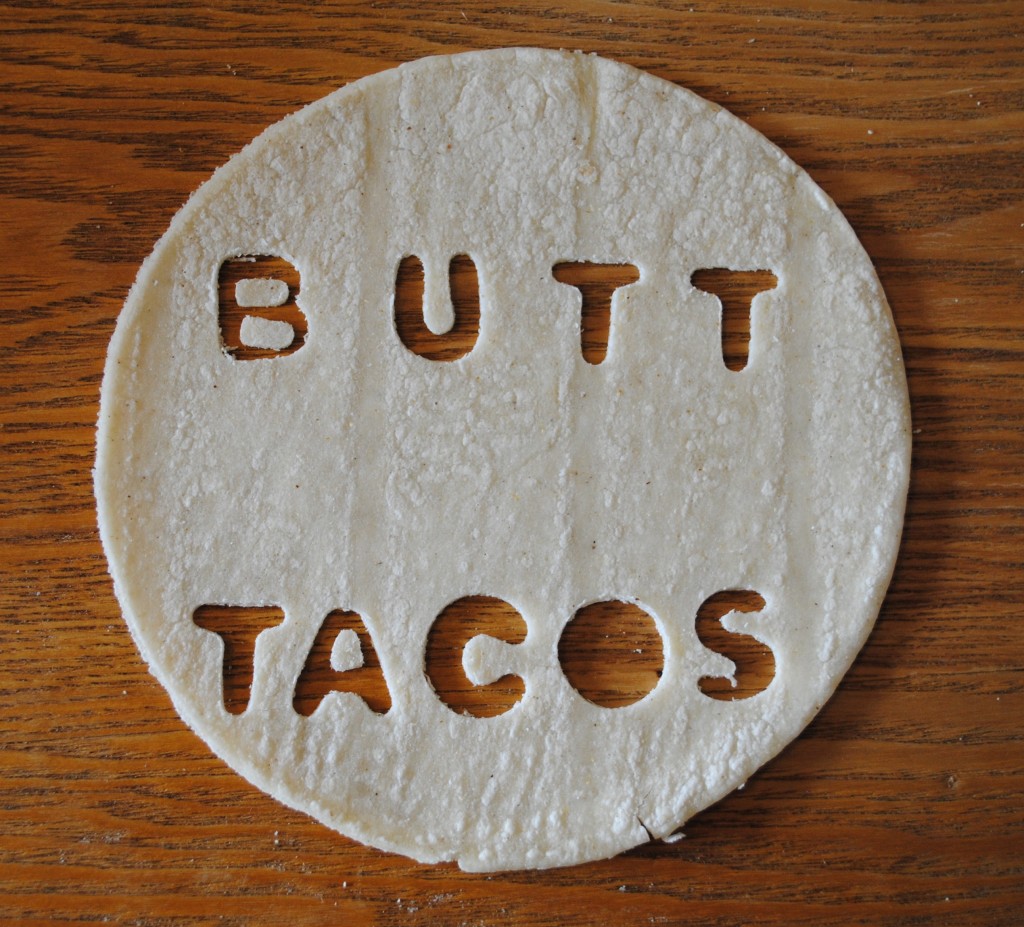 I'm sorry…it was just too funny not to post….
Well it's Sunday and what does Sweetllife want to do on Sunday? Nothing —people c'mon I work and work all week can I have Sunday's. Okay just venting ..let's start again…On Sunday I want to relax but not give up my good eats, so I decided to slow cooked a pork butt, bone in wrapped in banana leaves…after I took my first bite I came to the conclusion that I must wrap everything in banana leaves, they give it such a earthy flavor. Maybe I should wrap my hubby in banana leaves, ya think the earthiness would help him take out the garbage faster?? just kidding babe….
        The liquid used to keep the pork butt moist was achiote mixed with fresh lime juice…    Achiote is a a paste of ground annato (achiote seeds), garlic, vinegar and a blend of different spice..depending where you purchase it. Mine contained coriander seeds which I love, so that 's the mix I used. You can find this paste in any Mexican store or online. The only change I made to Rick's(Bayless) recipe..yes Rick my yoda, my Luke Skywalker, my Han Solo…you get the picture was to add roasted  poblanos. While I roasted my poblanos I also roasted two serranos and mixed them with my guac..oh ya spicy but nice…. Try these butt tacos, their sure to give ya some junk in the trunk…oh I kill myself..Enjoy!!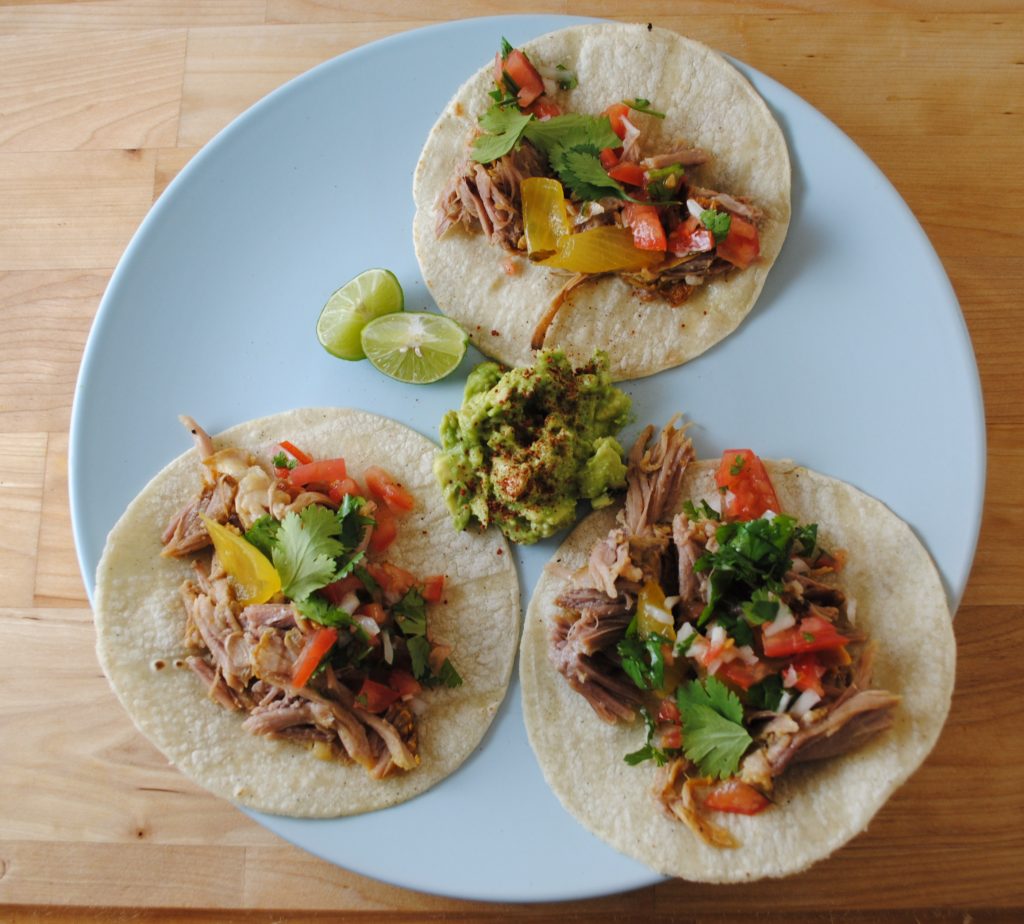 Slow Cooked Achiote Pork
serves 6
Rick Bayless
mexican everyday
half a 3.5 ounce pkg achitoe seasoning
3/4 cup fresh lime juice divided
salt
half a 1 pound pkg of banana leaves –defrosted if frozen
a 3 pound bone in pork shoulder roast–I used pork butt
1 large onion sliced about 1/4 inch thick
1 large red onion thinly sliced
about 1/2 cup roasted fresh chile salsa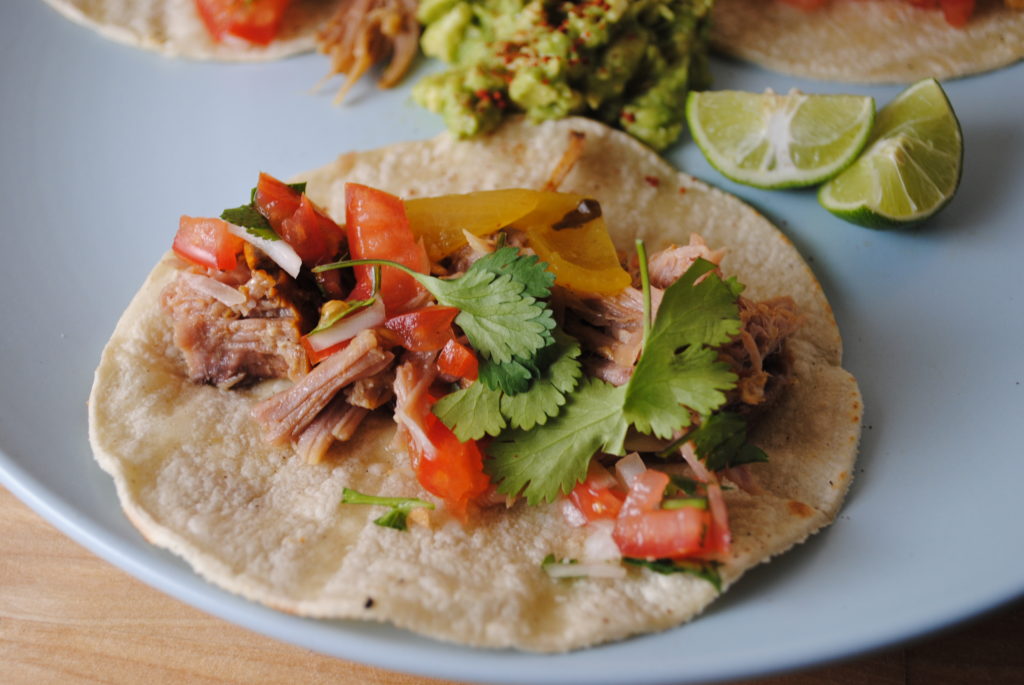 Place the achiote seasoning in a small bowl. Pour in 1/2 cup lime juice and 2 tsp salt, then use the back of a spoon to work the mixture into a smooth , thickish marinade
If you have banana leaves, cut 2 foot sections and use them to line a slow cooker- lay one down the length, the other across the width. Lay in the pork and pour the marinade over and around roast. scatter the white onion over the meat.
Pour 1/2 cup water sround the meat. Fold up the banana leaves to roughly cover everything. cover and slow cook on high for 6 hours, until the meat is fall of the bone tender.
While the meat is cooking, combine the red onion with the remaining 1/4 cup lime juice in a small bowl. sprinkle with salt, toss and set aside to marinate, stirring from time to time.
Use tongs to transfer thr meat and onions to a dinner plate. spoon off any rendered fat thats floating in the juices. If there is a lot of brothy sauce- 2 cups or more- tio or ladle it into a sauce pan and boil it down to about 1 cup to concentrate the flavors. Taste the sauce and season with salt and por over meat. serve with salsa and lime marinated onions.
I am submitting this for Two for Tuesdays..