Chuls suggested we make something "Cool" for July 4th since there would be no fireworks, no festivities, not much of anything since Alex decided to swing by for a quick visit.  Thankfully we were spared the grunt and only had a full day of rain and slow Internet service so we are blessed and no one is complaining.  We are celebrating July 4th small this year, which is kinda cool- just us four hanging out and chomping on our "cool" colorful tortillas.  These tortillas are a twist on your ordinary tortilla recipe, simply replace the water with the juice of your choice.
We tried strawberry and blueberry juice to add the colors of our flag to our festive meal.  I made these in the morning and chuls had one slathered with dark chocolate almond butter and slices of green apple.  Pips went for a cheesy version which included sliced peaches.  Hubby loved both versions, but thought they would taste even better loaded with Texas brisket. I agree…Happy July 4th, have a wonderful weekend and may you spend time with the ones you love.  My family sends you love and well wishes.  Thank you for so many lovely comments for our well being in the wake of Alex, I am truly blessed to have great friends from every corner our our beautiful world.     Enjoy Sweetlife!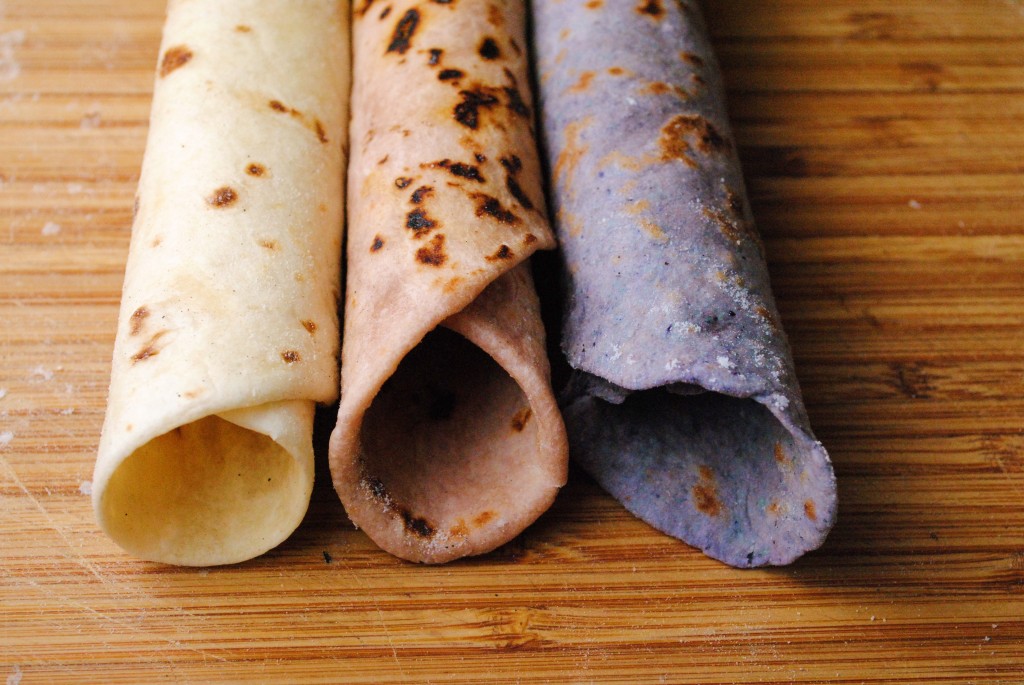 Strawberry Tortillas
by Sweetlife
Vianney Rodriguez
make 12
3 cups of all purpose flour
2 tsp salt
2 tsp baking powder
3/4 cup shortening
3/4 cup warm strawberry juice
In a large bowl combine flour, salt and baking powder.  With hands cut in shortening until mixture is crumbly (similar to the texture of pie crust).  Warm  juice on low heat or in the microwave.  Add the juice to the flour mixture and begin kneading, until all dough comes together.  If the mixture is too moist add 1 tbsp of flour and continue to knead adding more flour if necessary.
Cover dough with a damp cloth and allow to rest for 15 minutes.
After dough has rested separate into 12 balls.  Lightly flour your surface and begin rolling out each ball into a round, 1/8 inch thick circle.  Heat skillet or cast iron comal and cook each tortillas 1 to 2 minutes on each side.
****************************************************
Blueberry Tortillas
by Sweetlife
Vianney Rodriguez
makes 12
3 cups all purpose flour
2 tsp salt
2 tsp baking podwer
3/4 cup shortening
3/4 warm blueberry juice
please follow above directions.