Hello my loves, (what a  mouthful my title post) this week  I am honored to begin a showcase of  Texas Talent.   I hope to give you a glimpse into the lives of the Talented people who make Texas dining memorable.  Let's celebrate this event together by cooking and sharing our love of food with our first guest.  This week I am excited to introduce  Diana Barrios from Los Barrios Restaurant from San Antonio, Texas.  Many of you know Diana from her many appearances on Good Morning America, Tasting Texas , NBC Weekend Today Show and Despierta America.  Diana was also challenged by Bobby Flay in his competitive Food Network show Throwdown with Bobby Flay, the challenge their famous Puffy tacos.   Los Barrios restaurant in San Antonio , Texas has been cooking up family favorite for more than twenty five years. This in itself is a great accomplishment, with countless  Tex-Mex restaurants opening each year. Los Barrios has surpassed it's competition to be named Esquire's Top 100 New Resturaunts in America, placing  Los Barrios  into one of  The Lone Star State's top food destination.    The family has also expanded with a new restaurant called La Hacienda giving Texas residents and visitors the chance to taste their family's widely praised dishes.  What began as a way for Mama Viola to help her family survive the mounting  financial hardship with the passing of her beloved husband, in a small garage has grown into a family business that with hard work and dedication has helped the family succeed in all aspects of life.  Mama Viola's hope for her family's future has paved the way for her children to continue offering Texans wonderful meals in a family orientated environment, which has their customers coming back for more.   
As Sweet Life will be featuring Diana's family recipe all week, I will post a small section of my interview with Diana every day.  Our interview was very casual and we focused on Diana's family life / personal experiences as a woman, mom, and career.  I send Diana my appreciation, love, and best wishes as her family continues their family business, I am postitive they will be successful for many more generations.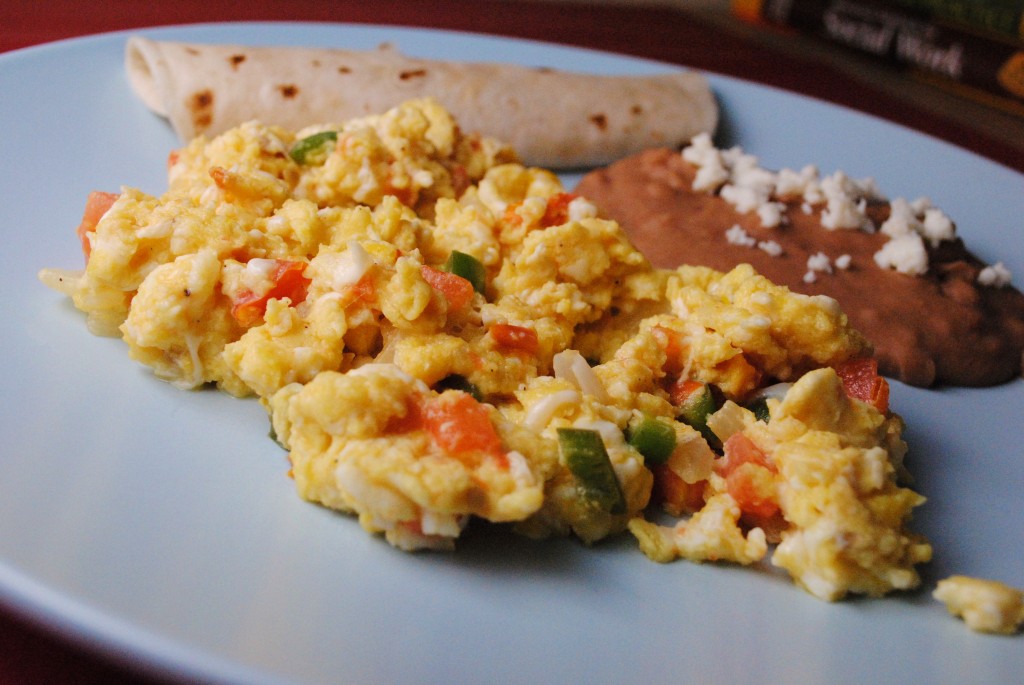 Sweet Life –     Your mother Viola, the driving force behind taking Los Barrios from a small business to one of Esquire's Top 100 New Restaurants in America , at what age did she begin cooking and who influenced her love for cooking?
Diana – My mother began cooking or observing at a very young age.  First she watched her own her own mother and grandmothers cook and after they all passed away (her mother died when my mom was 15) she learned from her aunts and godmothers.  This all took place in her hometown of Bustamante, Nuevo Leon, Mexico and Monterrey, Nuevo Leon, Mexico.  
Sweet Life-  In your cookbook you state that Los Barrios offers casero style cooking, can you briefly describe this style of cooking to our readers?
Diana – Casero Style cooking means homestyle cooking the way Mexican mothers cook in their own homes for their families.  Adding the secret ingredient of "Love" is a huge part of this type of cooking. 
To begin our week of recipes I begin with breakfast,  Huevos a la Mexicana, a spicy egg mixture perfectly giving us the example of casero style cooking.  A dish loved by Diana's father who as Diana states in her book " he would moan with delight as he ate."   I agree. Enjoy!
**Enter for your chance to win a copy of this wonderful cookbook, I have two copies for two of my lucky readers, simply comment and your in.  I will be posting new recipes from Diana's cook book all week, comment on each post for an additional chance to win. Giveaway ends Friday, winner will be announced Saturday, good luck!               
Huevos a la Mexicana
Mexican – Style Eggs
from Los Barrios Family Cookbook
Diana Barrios Trevino
serves 6
1 tbsp vegetable oil
1/2 cup diced onion
3 to 4 Serrano chilies (to taste), thinly sliced
2 tomatoes
12 eggs, beaten
Heat oil in a large skill et over medium heat.  Add the onion and chiles and saute until the onions are softened, 2 to 3 minutes.  Add the tomatoes and cook for 3 to 4 minutes.
Add the eggs and scramble them with the other ingredients; do not overcook the eggs- they should still be a bit loose.
Serve with a side of refried beans and warm flour tortillas.
***Picture of Diana from WOAI.com*******