Today Sweet Life proudly celebrates it's first year. I am over the moon thrilled at the completion of my first year, in being boldly honest I never thought I would make it this far.  I humbly admit I am horribly the most unorganized person and  often find myself completing 3-4 task at the same time (at this moment I am typing this post, sorting laundry, finishing the cake, paying bills and loading my dishwasher) if not for my the continuous stream of coffee coursing through my veins I fear I would never complete half the daily task I begin.  I also must confess I can spell, yes I am a able adult who in fact can put letters together and form sentences.  I put this out for all of you to forgive my awful spelling in your comment boxes and this……what's up with that? I seem to always ……..every five minutes. I cannot guarantee you …..this will be tamed but, I will try.
Moving on I begin blogging out of complete curiosity.  One afternoon I  in need of sweets  searched online for a recipe (which I cannot even remember) and found a baking blog.  I read every post, thinking wow this is great, a place where she can express her love for baking and share her thoughts.  I quickly found dozens after dozens of blogs, all very interesting, but I needed more some one I could relate to.  I wanted a place to go that focused one my tex/mex style of cooking featuring recipes my family would enjoy.  After searching more I found Teresa at  Aprovecho-Mexican American Border Cooking, instantly I fell in love with her blog she posted great recipes, her writing was warm and she shared her love of family and friends.  It didn't hurt she was a fellow Texan, hey I love my Texas peeps.  I went to her blog week after week each day thinking I can do this, should I do this, would any one read my blog?
Then I leaped head first into the blog world and have enjoyed every step, every bad pic, every horribly written post and all those misspelled comments.  In celebrating my first year I feel I should celebrate by sharing a recipe from Teresa's ecookbook Mi Chita' Mexican Chocolate Recipe dedicated to her grandmother. I send out warm wishes to Teresa and thank her for inspiring me. Stop by and visit her if you have a chance, she is currently taking a break.  I spoke with her yesterday and she guarantees me she will be back sharing more great recipes soon, I for one am thrilled.
A few days before my first year arrived I was overjoyed to learn that my family shared the same joy of my blog continuing it's life, I was showered with gifts praising my bloggie accomplishments.  A huge box arrived from Mexico filled to the brim with pottery I had longed for and a huge 10 liter glass Vitrolera to display my ever loving aguas from my little sis.  My girls gifted me with the new Rick Bayless cookbook Fiesta at Rick's and a Robb Walsh cookbook  I had my eye on.  Topping it off my beloved hubby decided to throw a twist into the mix and shower me with a beautiful necklace/earring set from one of my favorite lines.
So let's celebrate together shall we, celebrate my /your blog, celebrate sharing recipes, meeting new friends, inspiration and celebrate finding a place where we can express our love of cooking.  So to celebrate I offer you the chance, I mean I offer 5 (yes 5, thanks babe) a chance to win a copy of Teresa's ecookbook.  This giveaway is OPEN to EVERYONE, there is no shipping required, I simply purchase, submit your email and you receive her cookbook in your inbox, pretty cool.  So enter simply by your comment, tweet for another chance. Giveaway begins today ending Sunday
Let me give you a sample of the recipes included in this cookbook, how about Mexican Chocolate Cheesecake, Dessert Nachos,Champurrado(a Mexican frothy drink),Mexican Chocolate rum Mousse, or Mocha Milkshake.  There is also two free bonus recipes included.  She is currently working on a new cookbook and has graciously offered me a copy, which means so much. Please enter to win, you will not be disappointed.
I couldn't end my happy post  without thanking my greatest support team.
Hubby for all his love, devotion, and support both emotionally and financially (we all know having a blog cost money)
Chuls for her constant stream of ideas, time spent in the kitchen with her is priceless to me and relief in knowing if I should ever tire she would continue my blog with firecness.
Pips for being my prized taste tester, who always encourage me to make desserts and her constant suggestions to make her pancake Saturdays  a weekly post.
Nina, my little sister, who from my first post to current post calls me to let me know how she enjoyed the recipe, loved the pics, and blessed me with my first comment.  Thanks for your 15-20 calls everyday, thanks for being my bloggie cheerleader, cheering on my every post but mostly thanks for being my best friend. love ya
Momo my mother who ignited the love of cooking into my soul, I thank you for passing your tricks, your wisdom and you heritage to me. I am proud to be your daughter and blessed to call you mom.
And to you my faithful reader who visit me well knowing  I shall post another Texas/Mexican recipe, but you still visit..thanks (there I go again with the..) Thanks for your comments, your support and your love.
*************************************
Enjoy! Sweet Life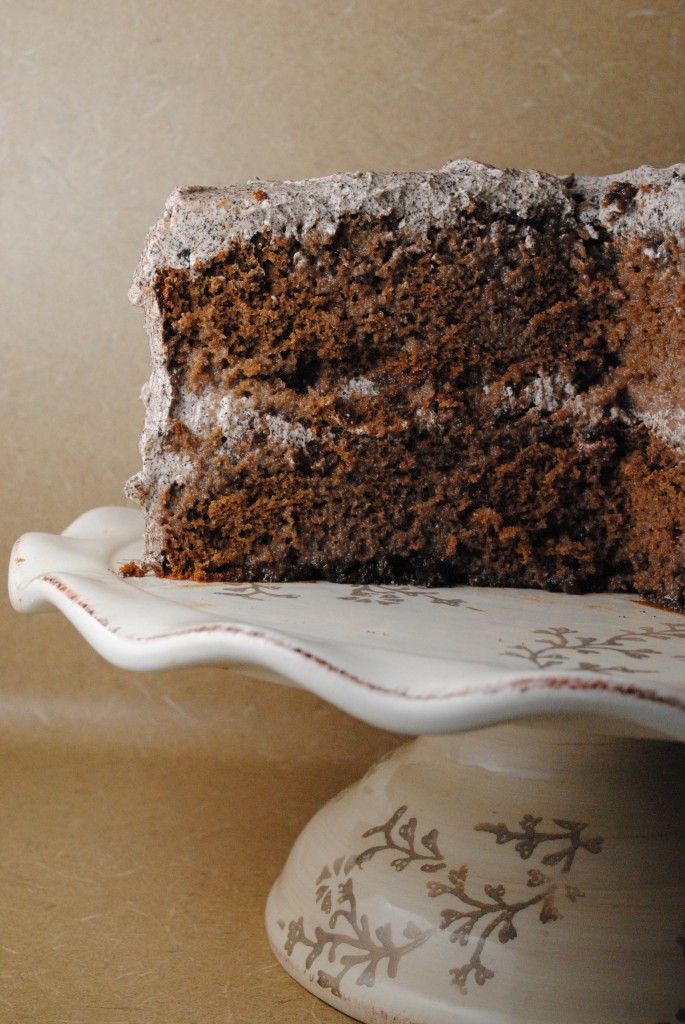 Chocolate Tres Leches Cake
adapted from MI Chita'sMexican Chocolate Dessert Recipes
by Teresa Cordero Cordell and Robert Cordell
cake
6 eggs separated
2 cups light brown sugar
2 cups flour
1/2 cup cocoa
2 tsp baking powder
2/3 cups milk
2 tsp vanilla
*****************
Tres leches sauce
1 (12oz) can evaporated milk
1 (14oz) can sweetened condensed milk
1/3 cup whipping cream
1 1/2 disk Mexican chocolate melted (either melted in microwave for1  1/2 minutes or over double boiler)
combine sauce ingredients and blend well.
******************
Preheat oven to 350
lightly grease and dust with cocoa powder 2 cake pans (9inch).
combine flour, cocoa, baking powder in a large bowl.
In a separate bowl combine milk and vanilla.
Beat the 6 eggs whites until stiff.
Reduce speed and gradually ad the brown sugar to beaten egg whites.
After sugar dissolves add yolks and beat for three minutes.
On medium low speed, alternate flour and milk mixture to eggs until blended.
Pour equally into prepared cakes pans.
bake 30 to 35 minutes.
While still warm, poke holes into cake layers with  a wooden skewer.
Pour sauce over both layers and allow to cool in refrigerator.
**********************
Ganache
3/4 cups whipping cream
1 1/3 cups chopped Mexican Chocolate
2 tsp vanilla
Heat cream in small heavy saucepan over medium heat.
Place chopped chocolate in medium sized bowl.
Pour hot cream over chocolate and stir with wooden spoon until melted.
Add vanilla.
Cover bowl with plastic wrap and refrigerate in refrigerator for 1 hour.
Also place beaters in refrigerator to chill.
Remove from fridge and whip on high for 2 to 3 minutes until it reaches spreading consistency.
Carefully remove first cake layer from pan and place on cake plate or
board.  Spread ½ cup ganache on top. Place second layer over the first
and completely frost cake with remaining ganache. Garnish if you like
with edible flowers or chocolate covered strawberries or, as in my
case, Amaretto Cherries. Use your imagination to decorate this cake
in any way you and your family would like. Enjoy