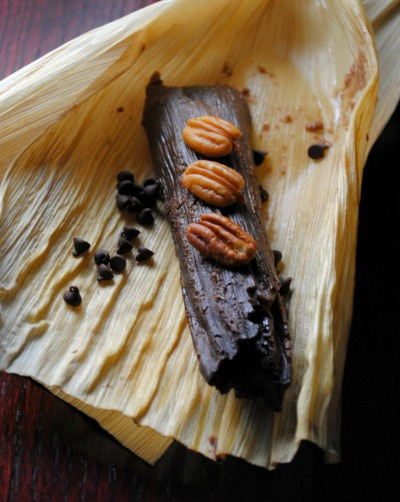 Tamales de Chocolate y Nuez
Tomorrow is December 12 a day dedicated to La Reina de Mexico (The Queen of Mexico), The Celebration of the Virgin Mary. We will bundle up as a family and head out to 5:30 am mass to sing Las Mananitas to the Virgin Mary and attend mass. This year I am even more excited as my little sister and her kids will be joining us.  The more the merrier! After mass, as we always do we will head out to our favorite panderia (bakery) and pick up freshly made bolillos to enjoy with our breakfast.
Last year I baked bolillos for the occasion, but this year I plan to arrive home to a steamy pot of sweet tamales. A chocolate based masa with a hint of chile and lightly sweetened with piloncillo. Filled with pecans and chocolate chips these tamales are best accompanied by una taza de café bien cargado, like my papi would say. And after such an early start to the morning a strong cup of coffee and sweet tamale is exactly what I crave, Enjoy!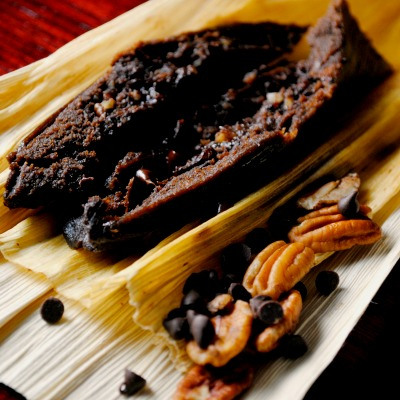 On December 12 millions will gather for processions, prayer, song, dance and community to celebrate La Reina de Mexico (The Queen of Mexico) on her feast day. The Celebration of the Virgin Mary begins on December 3 and ends on her dedicated day the December 12.
This day is set aside to honor the day she appeared on Tepeyac the pre hispanic site of the temple Tontanslin where her imaged appeared on Juan Diego's tilma (cloak) as he consulted with the Bishop Zumárraga.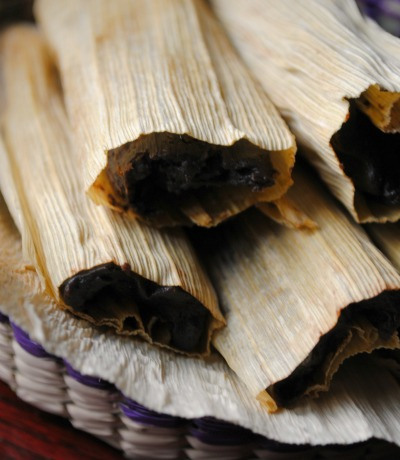 My mom re-heats her tamales the next day on a warm comal. The tamale husk crisp slightly and the masa toasts up a bit like a gordita. The house wafts a corn smell that quickly draws everyone into her tiny kitchen. Give it a try next time.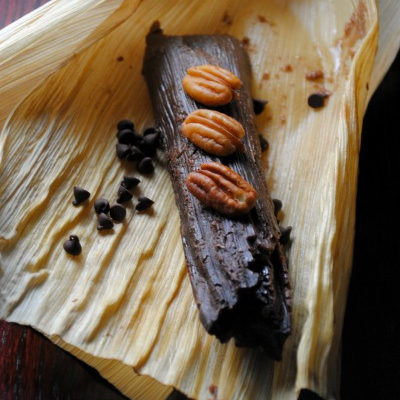 Tamales de Chocolate y Nuez
Ingredients
18

corn husks

2

cups

masa harina

Maseca

1/3

cup

cocoa

2

teaspoons

baking powder

½

teaspoons

ground cinnamon

½

teaspoon

ground chile ancho powder

1/2

teaspoon

salt

1 ¾

cups

warm milk

½

cup

unsalted butter

softened

¾

cup

piloncillo

grated

3

tablespoons

warm milk

Filling

1

cup

mini chocolate chips

½

cup

chopped pecans
Instructions
Prepare the corn husks: Place corn husks into a large heatproof bowl or stockpot. Cover the husk with enough boiling water to cover. Place a heatproof plate on the husks to keep them submerged. Soak for 1 hour.

In a large mixing bowl stir together masa harina, cocoa, baking powder, cinnamon, chile powder, and salt. Slowly add warm milk and beat until all the liquid is absorbed and semi-firm dough forms; remove dough shape into a ball and cover with lightly damp paper towels, set aside. In the same mixing bowl cream the butter and piloncillo until light and fluffy, about 3-4 minutes, scraping the sides of the bowl with a rubber spatula occasionally. Add masa harina dough to the mixer with creamed butter/piloncillo mixture. Continue to beat the dough, adding the warm milk one spoonful at a time to create soft creamy dough. If the dough is too wet beat in one tablespoon of masa harina at a time, you do not want your masa too crumbly. The chocolate masa will be the consistency of a brownie batter.

Spread chocolate masa about 1/2 inches thick on corn husk with spoon, leaving about ½ inch border along the sides and 2 inch border along the top and bottom of husk. Sprinkle with pecans and mini chocolate chips and fold sides until they just overlap, fold narrow end under using the husk to press dough over filling. Place tamale folded side down and repeat.

Place the tamales in a large steamer upright. Fill the pot of water with only enough water to touch the steamer, about 2 inches. The water should not touch the tamales. Lay a damp cloth over the tamales and cover with lid. Keep the water at a low boil, checking the pot occasionally to make sure the water doesn't boil away. Add more water as needed. Steam the tamales for 45-55 minutes.
Recipe Notes
Tamales are done when the inside pull away from the husk. The tamale should be soft, firm and not mushy.
You can use thin strips of corn husks to tie the tamale together, although this is isn't necessary.