I recently hosted a tamalada at my house with my friends over at La Michoacana Meat Market. It was an evening of great food, tamales tips & tricks, and an amazing cocktail. Today I'm excited to share with you a recap of the evening, along with the pork tamale recipe I shared.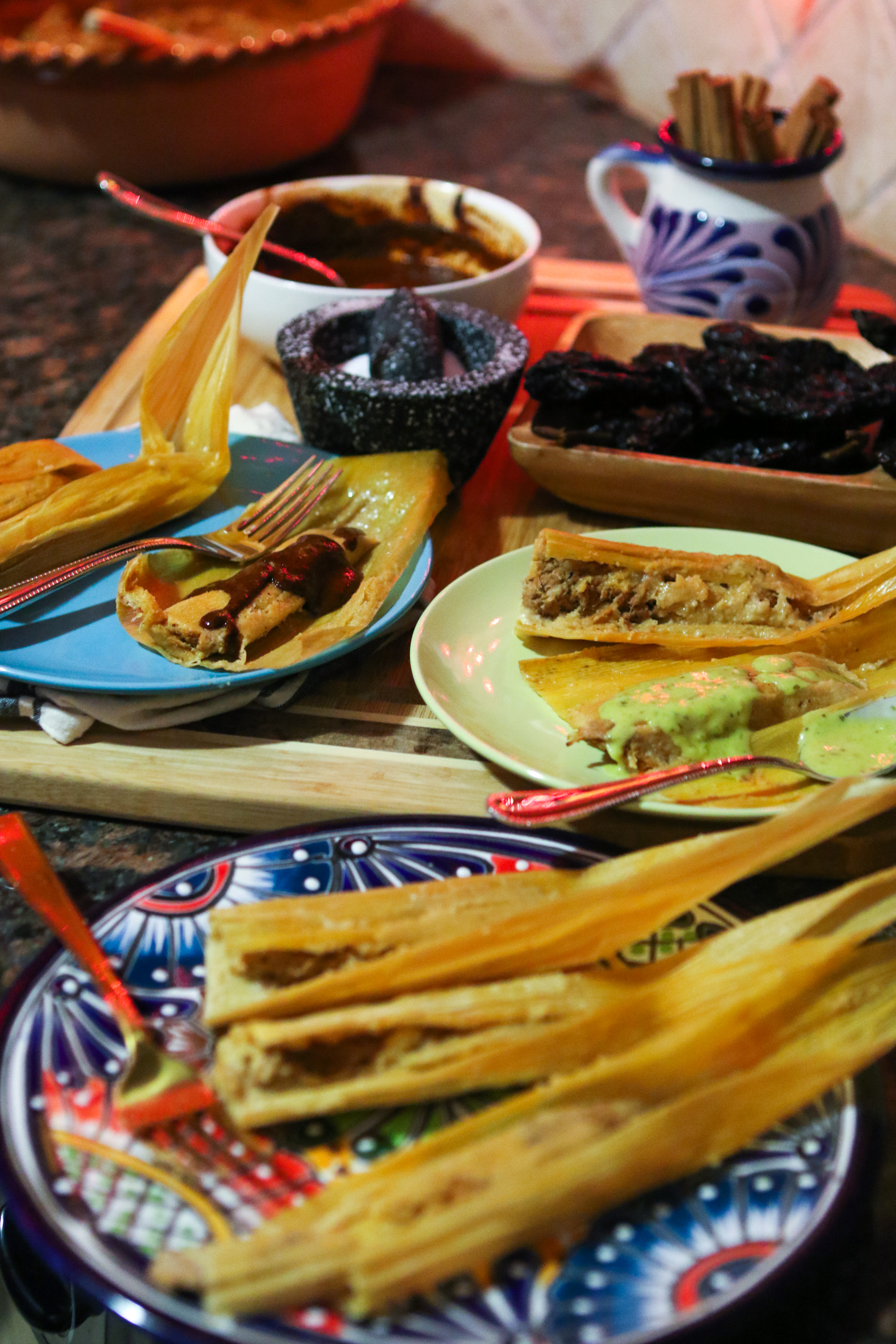 My daughter recently moved to San Antonio to attend the Culinary Institute of America. As soon as she found her new place, unpacked her stuff and stocked her kitchen I knew I wanted to host a few events here with my with my San Antonio amgios.
When La Michoacana Meat Market reached out to ask me to partner with them to share the beautiful tradition of tamales. I was more than happy to share my love of tamales.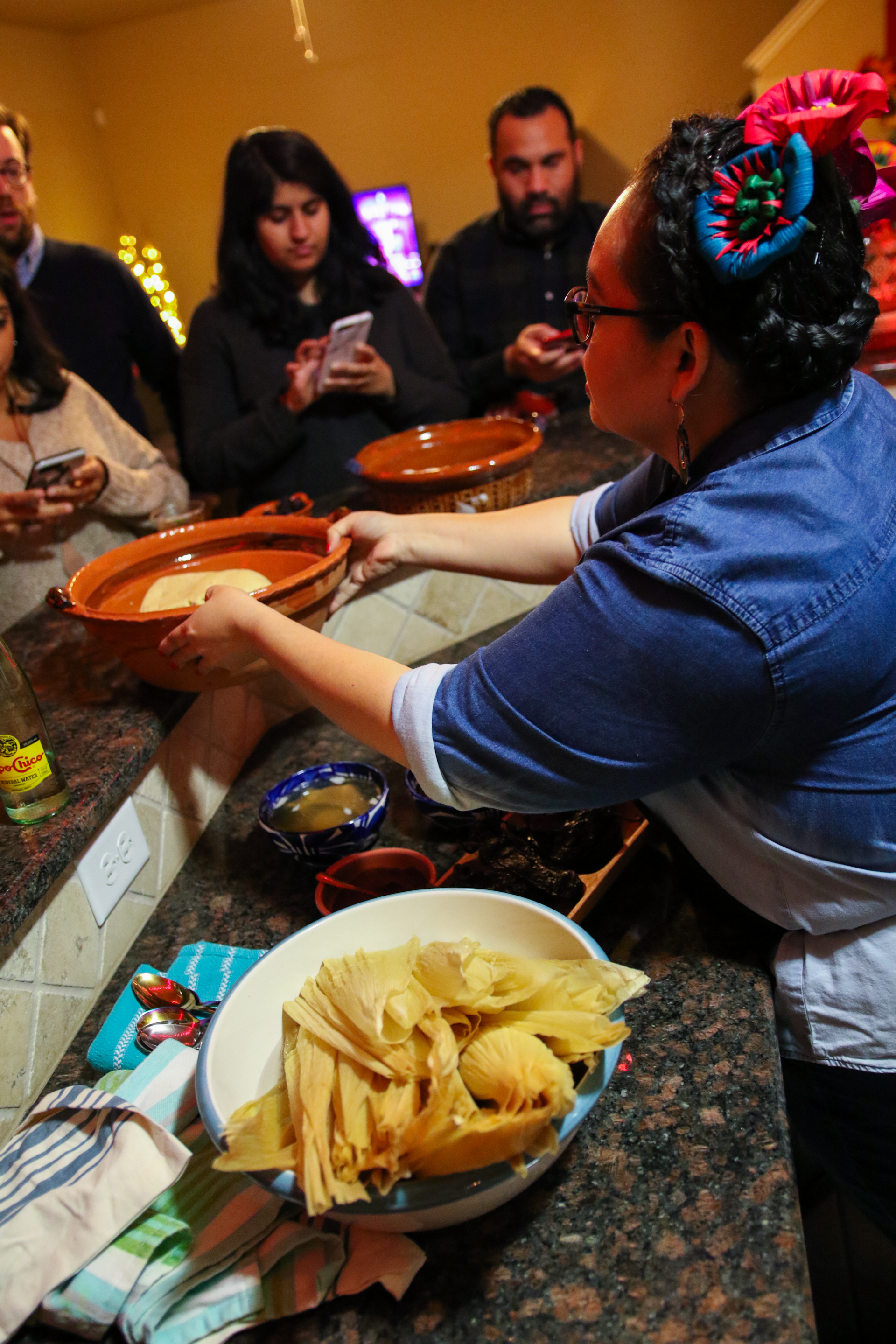 I shared tips, tricks on how to prepare the masa, pork filling and prepare the husks.
Tip: The evening before your tamalada, begin soaking your husks. You want your husks to be clean, free from all threads, dust and dirt. They should be nice and pliable and ready to take on all that good masa. I use big coolers to soak my husks and weigh them down with a heavy pot or molcajete so they don't float back up to the surface. This ensures that all of the tamal husks are ready for your tamalada the next day.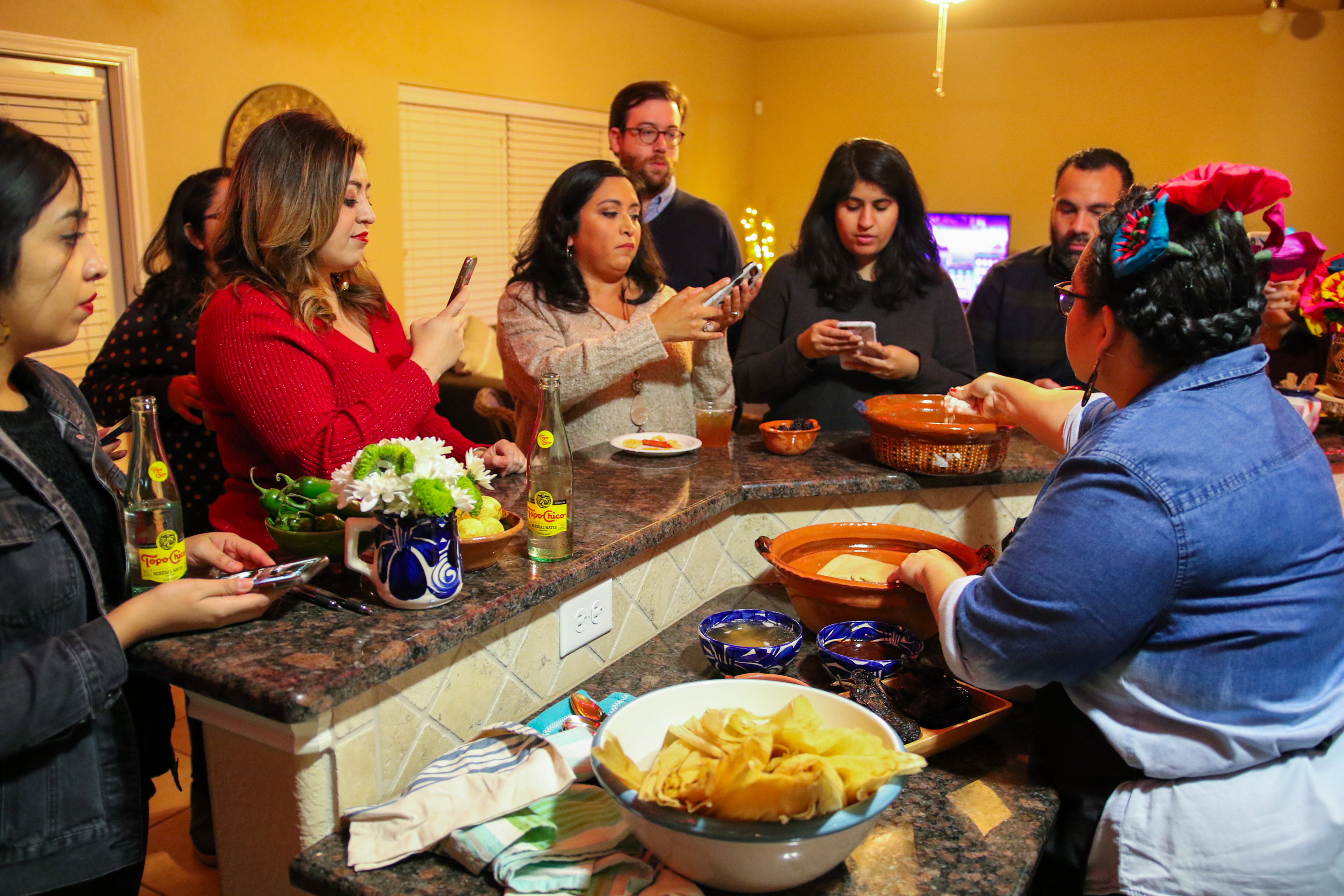 Making Your Masa
I find making the masa is the most time-consuming part of the tamalada, so I always make mine on a day of where I have a few extra hands available to help.
Here in South Texas, there are even places where you can pick up fresh made masa. If you can find a local molino, you can buy prepared masa made fresh daily. If you order it "preparada," which means it is seasoned with spices and ready to use. Or you can pick it up unseasoned and add your spices, chile sauce, and really customize it your family's recipe.
You can also use masa harina (masa flour) from the grocery store, or prepackaged masa found in the refrigerated section in your local Latin foods store.
Find the base masa that works best for you. I have used them all and continue to experiment with them.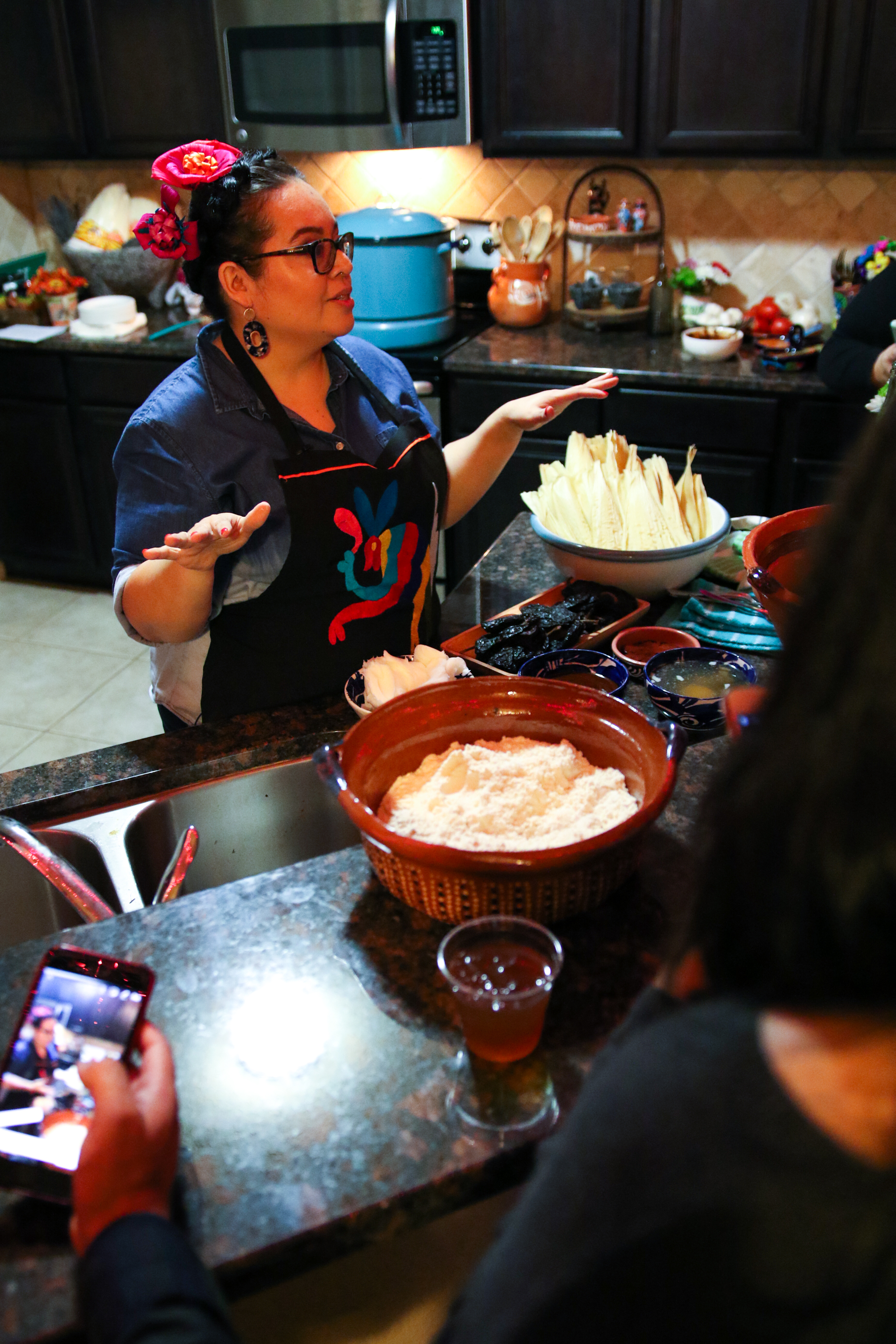 Making tamales doesn't have to be intimating. I like to break up the process in steps to make it less work. I make my fillings the day before. Tamale fillings can be anything from pork, chicken, beef or shrimp which are typically mixed with a savory chile sauce. Vegetarian tamales are delicious examples include rajas de poblano, roasted corn or potatoes. I like to make at least four fillings, so everyone can take home at least a dozen of each. Sweet tamales are also fun to make. (these chocolate are my favorite)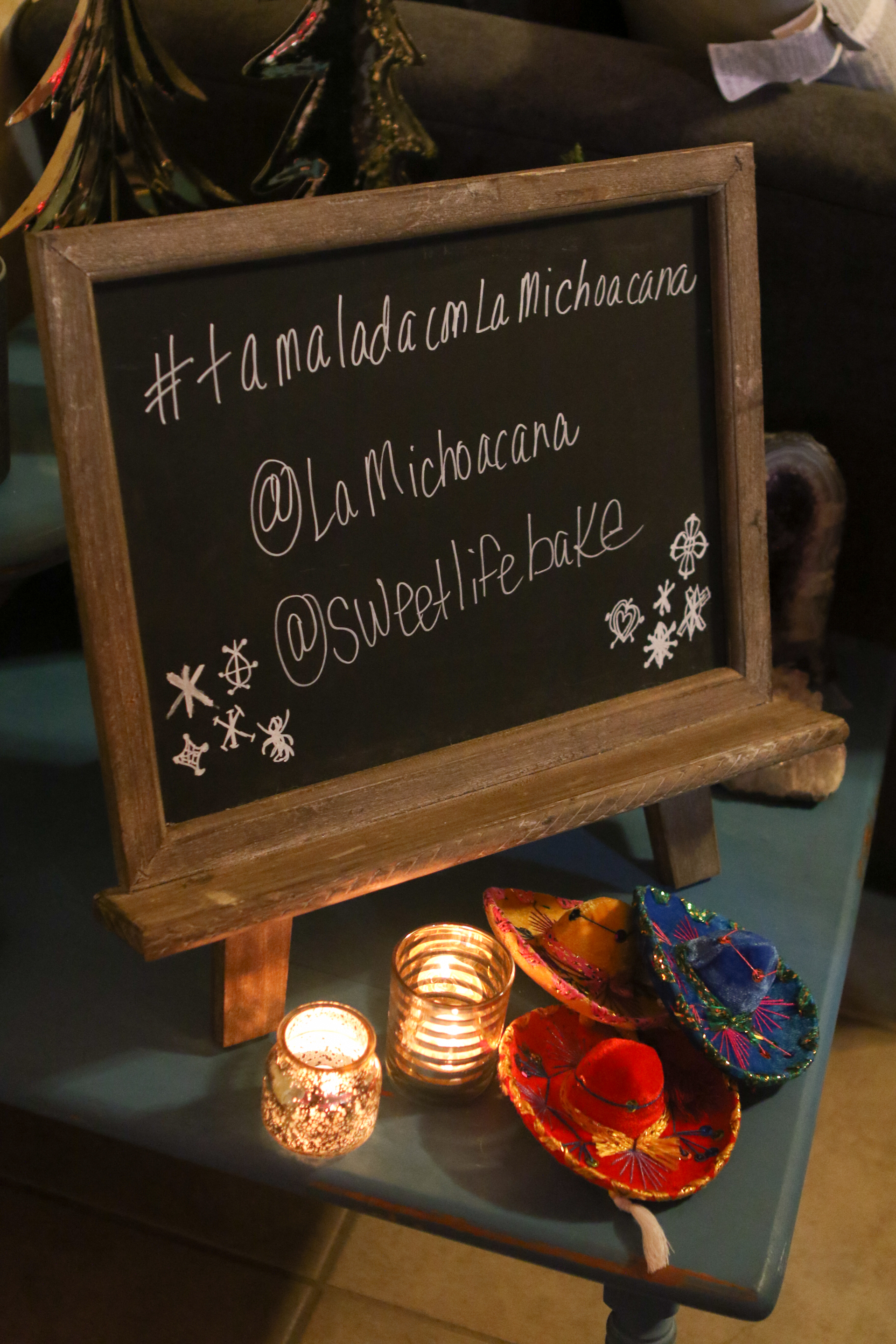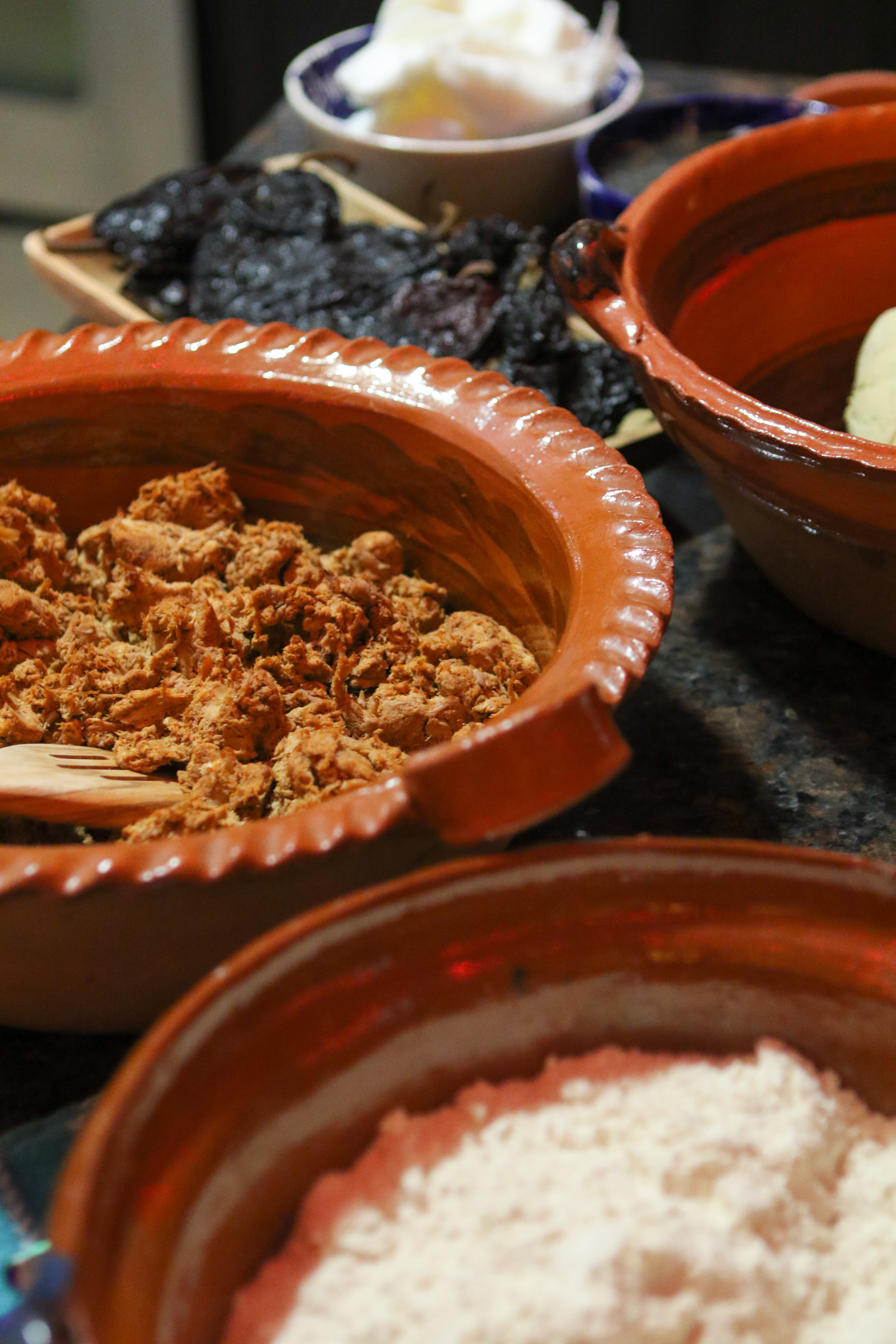 I picked up all my ingredients from La Michoacana Meat Market. They have it all, from fresh masa, fresh meat, dried chiles and even ponche navidneo kits. I can't wait to share the cocktail I made for this evening, stay tuned.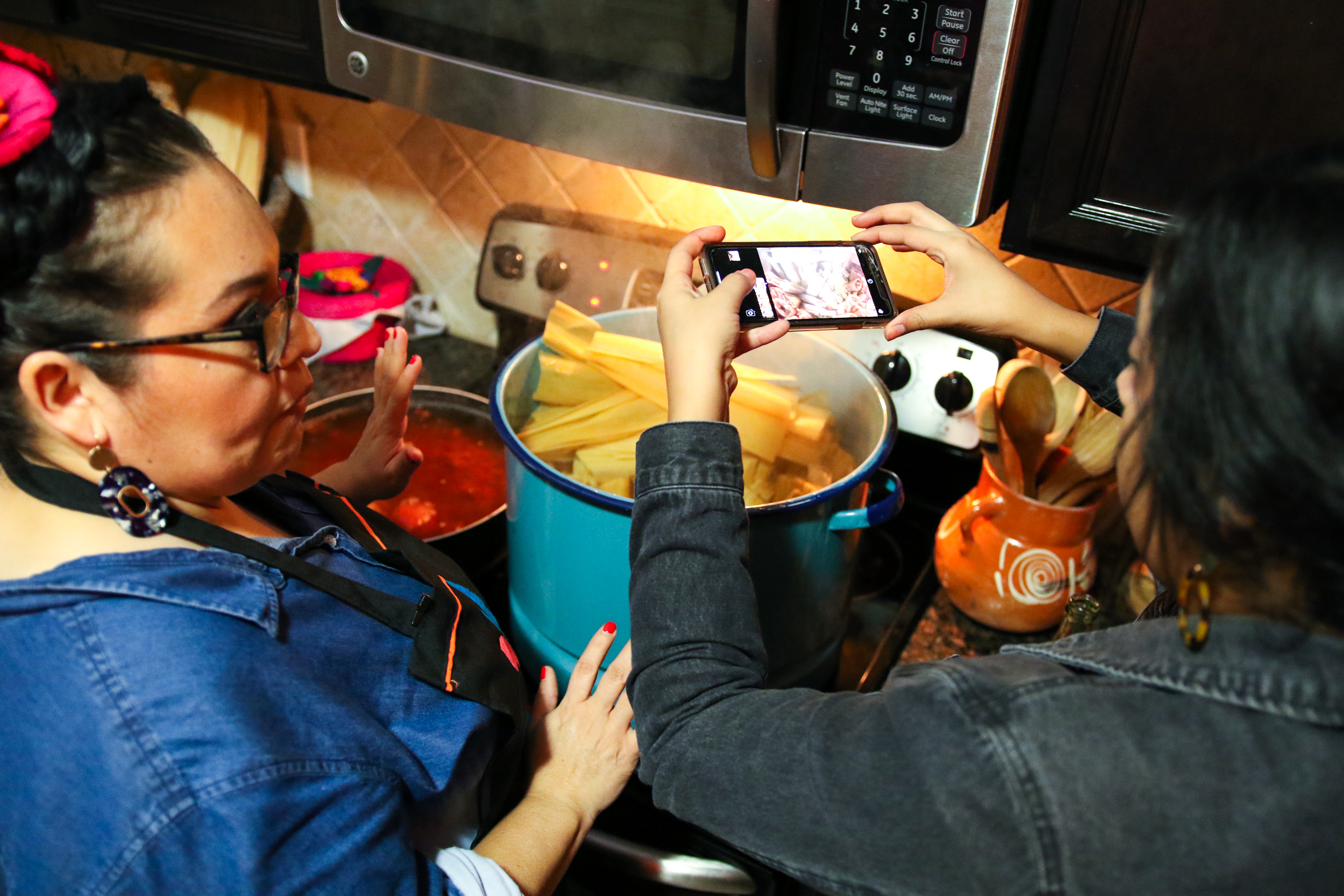 Sharing socially our love for tamales.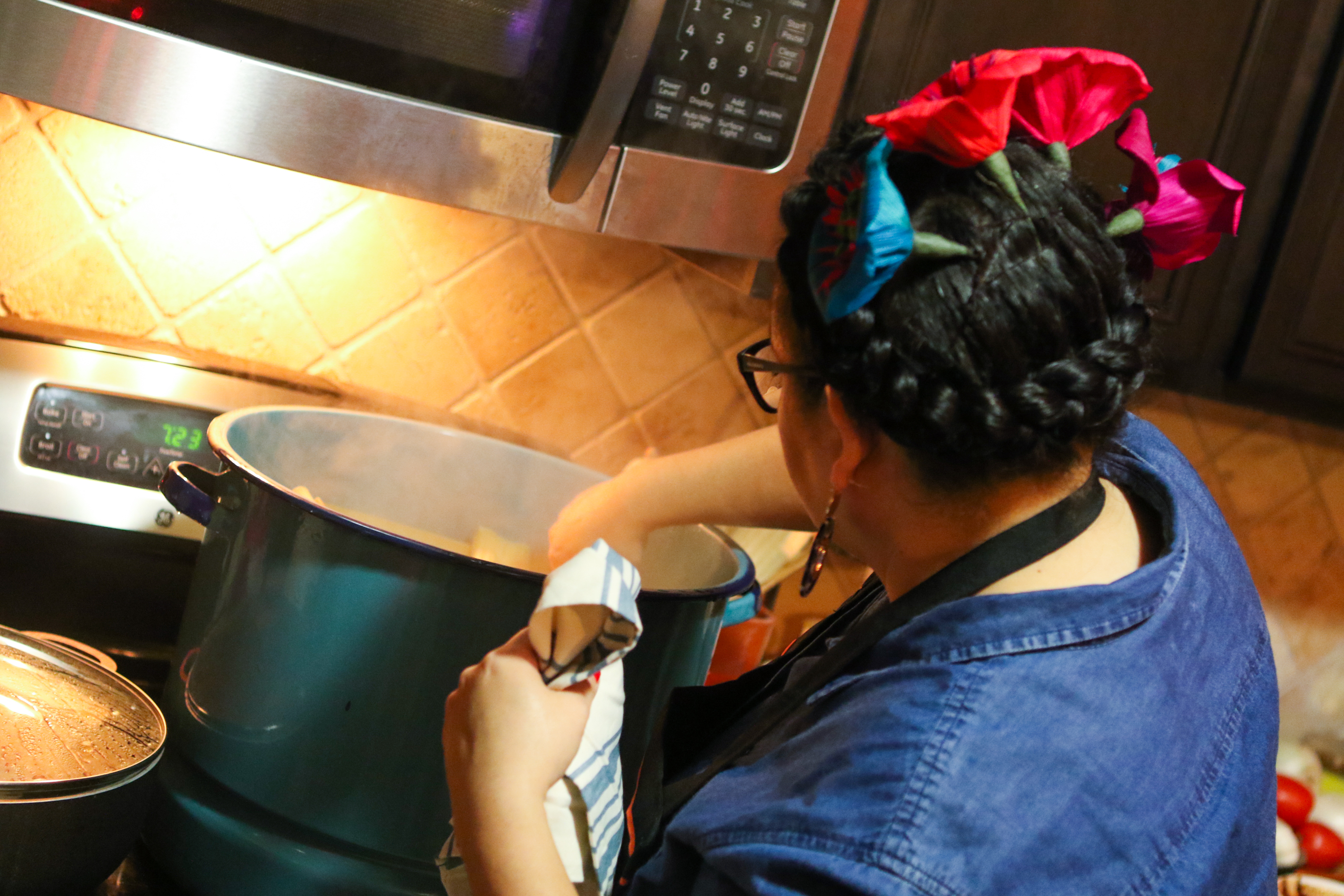 Begin with one filling. I like to tackle a filling at a time so there is no confusion. After they are wrapped be sure to label each dozen. Nothing is sadder than breaking into a fresh dozen of tamales of what you think is pork tamales only to find sweet tamales.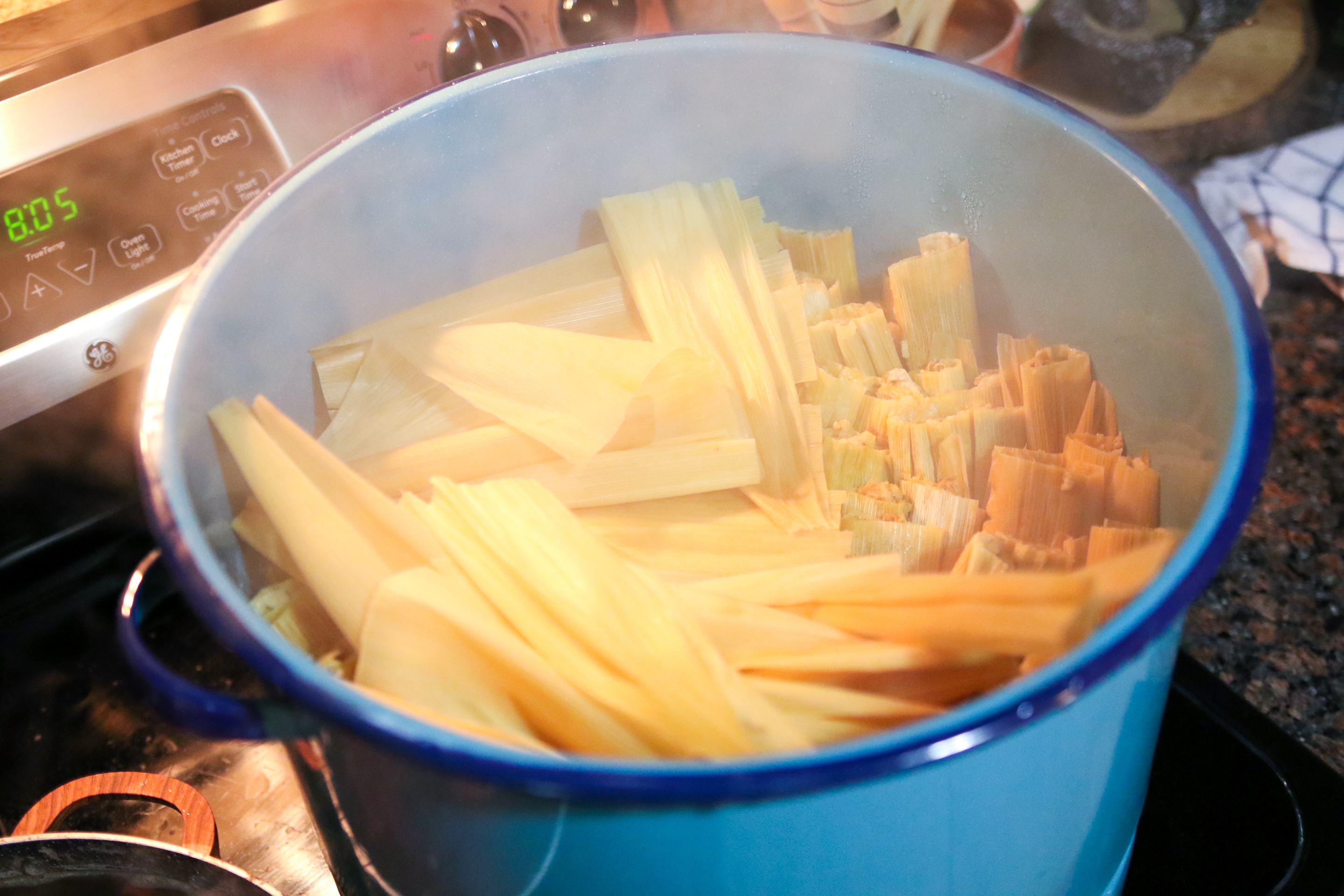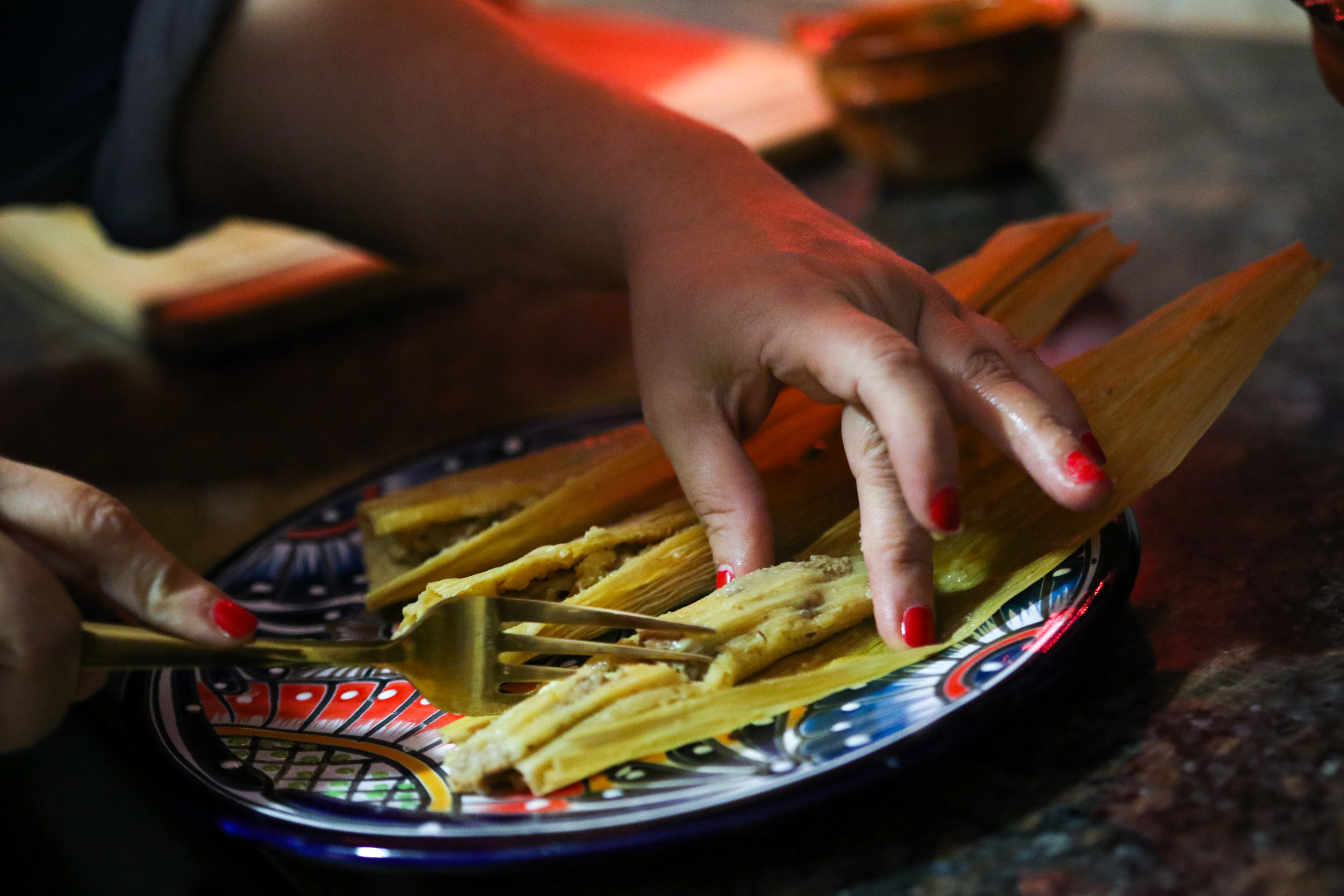 Tamales are a deeply rooted connection with our past, our present and our future. The communal event of making tamales, a tamalada, goes beyond coming together to create this aromatic treat. Making tamales with family and friends is a way to share a loving, cultural connection while passing on the tradition to future generations.
Homemade Pork Tamales
Yield 4-5 Dozens
Ingredients
For Corn Husks:
1 package dried corn husks
For Red Chile Sauce:
5 dried ancho chiles,stems and seeds removed
2 garlic cloves
1/2 teaspoon ground cumin
2 cups reserved water from boiling chiles
2 tablespoons pork lard
For Pork:
2 1/2 lbs boneless port butt
4 garlic cloves
2 teaspoons salt
2 teaspoons ground pepper
1 teaspoon ground cumin
1 cup red chile sauce
For Masa:
4 cups masa
1 teaspoon salt
1 tablespoon baking powder
1 1/4 cups lard
2 1/2 to 3 cups pork broth
1/4 cups red chile sauce
Instructions
For Corn Husks:
Soak dried corn husks in a bowl of hot water, use a molcajete to keep them submerged for at least 2 hours.
When ready to assemble tamales, drain water from corn husks.
For Red Chile Sauce:
In a large saucepan, place chiles and cover with water.
Boil until softened, about 10 minutes.
Drain, reserve the water.
Place the chiles, garlic cloves, ground cumin, plus 2 cups reserved water into blender.
Blend until smooth.
Heat lard in a saucepan over medium high heat, add chile sauce, reduce heat to low and cook over low heat for 10 minutes, stirring occassionally.
Remove from heat, reserve chile sauce for masa and pork.
For Pork:
Place pork butt in stock pot.
Add the garlic, salt, pepper and cumin.
Cover with water.
Bring to a boil, then reduce heat and simmer for 2 hours, or until pork is tender.
Remove pork from the broth, reserve broth and shred pork.
Mix in 1 cup red chile sauce.
For Masa:
Mix masa, salt, baking powder, lard and pork broth until the batter is light and fluffy. Add additional broth if needed.
Add red chile sauce, mix well.
To Assemble Tamales:
Using a spoon, spread masa over corn husk.
Add pork, fold and add to steamer filled with 2-3 inches of water.
Cover, bring to a boil.
Reduce heat, simmer for 2-2 1/2 hours, adding additional water if necessary.
Tamales are ready when they easily remove from the husk.
Allow tamales to stand for 10-15 minutes, serve warm.
Courses Dinner, lunch, Breakfast
Cuisine Mexican