Tamarind Champagne Cocktail
Tamarind (tamarindo) is a delicious, tart, sticky-sweet pulp that comes from tree pods and is often used in sauces, marinades, syrups, jams and is even made into candies.
It's very popular in Mexico and if you've ever taken a stroll through a Mexican tienda, I'm sure you've seen a ton of delicious sweet, sour and spicy candies that have tamarind as their main ingredient.
As someone who loves great cocktails, I adore tamarind. It's refreshing, tart flavor adds the perfect sour note to my cocktails. From margaritas to whiskey sours, tamarind adds just the right fruity punch to any drink.
Today, I'm sharing with you a wonderful recipe for a champagne cocktail sweetened with a rich, golden syrup made from tamarind. This bubbly cocktail is delicious and luxurious. It's super easy to make, but trust me when I say that it will leave quite an impression on your guests.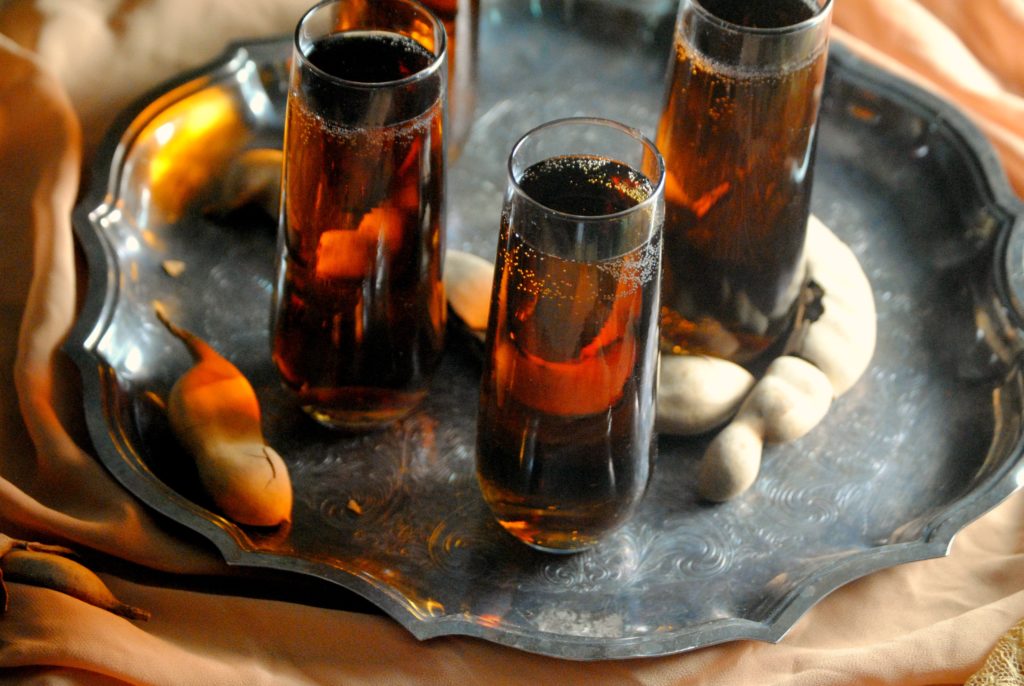 More recipes featuring Tamarind:
Tamarind Champagne Cocktail
Yield 8 Serves
Ingredients
1 bottle of champagne, chilled (750 ml)
For Tamarind syrup: 
8 ounces tamarind pods
8 ounces grated piloncillo
Instructions
Peel outer shell of tamarind pods, remove strings and stems. Place in a saucepan, cover with water and bring to a boil. Boil for three minutes, reduce heat and simmer for ten minutes.
Remove from heat, allow to cool completely.
Strain tamarind with a fine mesh strainer, pressing pods with back of spoon to release all liquid.
Return liquid to saucepan, add grated piloncillo and bring to a boil. Boil until liquid has reduced by half, is thick and coats the back of a spoon, about 8 minutes.
Remove from heat, cool completely and pour into a glass jar. Store in fridge for up to one month.
To make Cocktail:
Pour two tablespoons tamarind syrup into each champagne flute.
Courses Cocktails
Cuisine Mexican