I'm serving up a taste of the Caribbean for dinner tonight with this lighter take on the traditional Dominican dish mofongo de pollo in collaboration with Vive Mejor and DiMe Media. Thank you for supporting the brands that allow me to bring you exciting new recipes.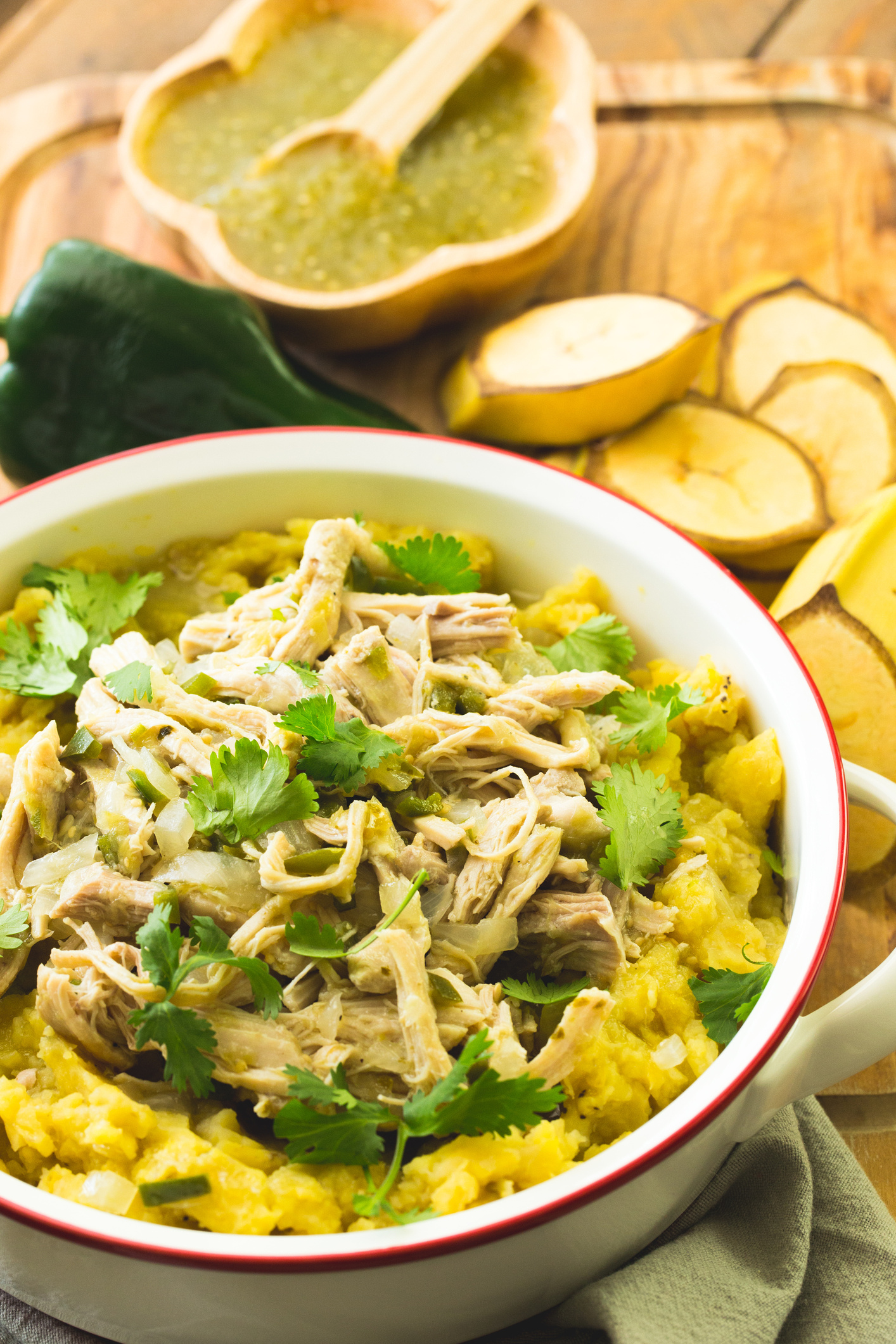 I'm always on the hunt for tasty new recipes to make for dinner. I enjoy introducing my girls to new flavors, ingredients, and new cooking techniques. When I spotted this Chicken Mofongo recipe on the Vive Mejor site, I was instantly drawn to the comfort aspect of this dish.
Mofongo is a tasty dish popular in Puerto Rico, and the Dominican Republic is made of plantains, chicharrones, garlic, and spices. It is traditionally served molded in ramekins accompanied by a flavorful stew of chicken or pork.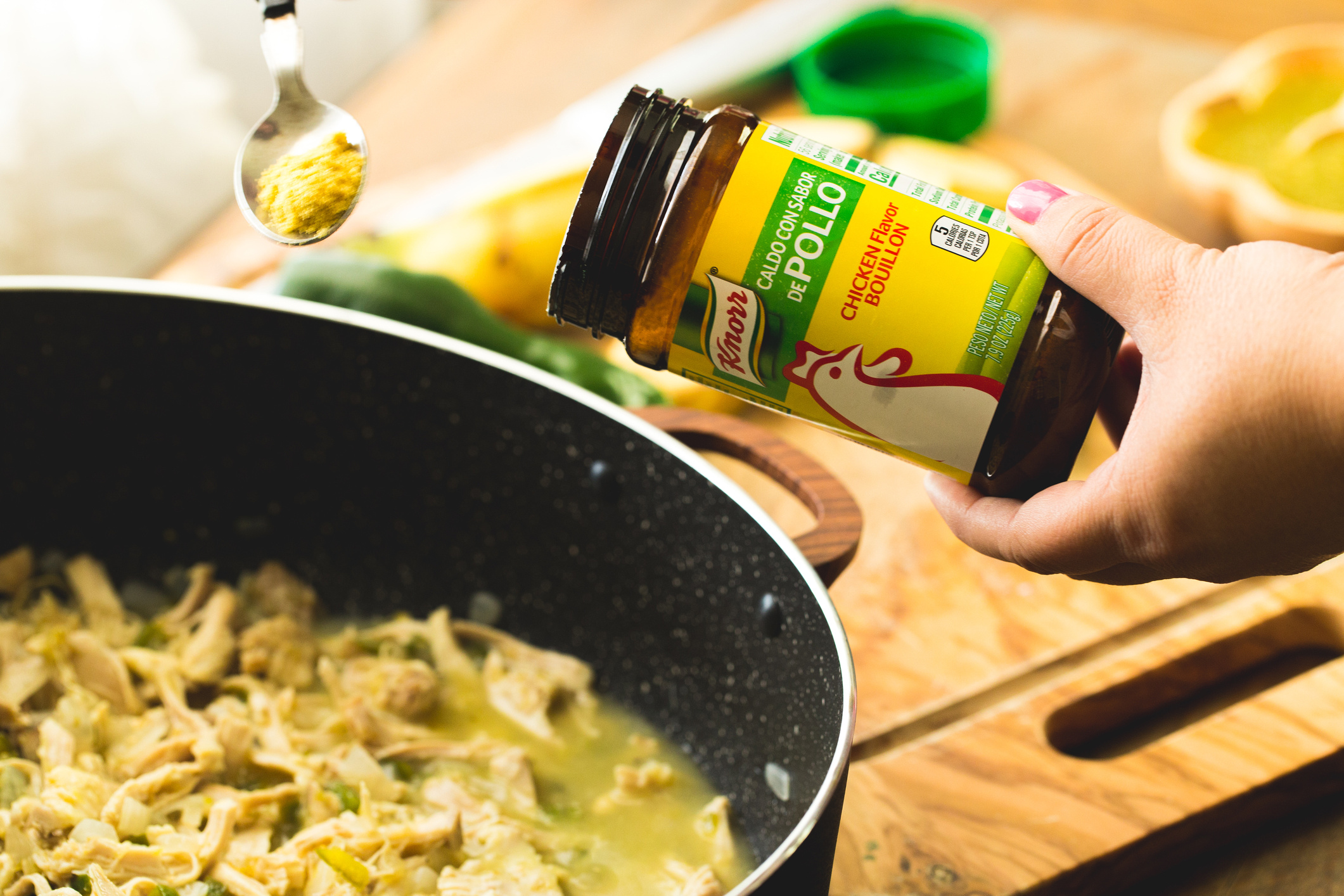 My family loves plantains, so I knew this dish would be a hit with them, but I wanted to give it a Tex-Mex twist with the ingredients I had on-hand in my kitchen.
This recipe features chicken thighs which I always have on-hand n my freezer for meal prep. Removing the skin from chicken thighs to help reduce fat in the dish.
Mashed plantains are an iconic component of this dish. I adding my Tex Mex twist with the addition of poblano peppers and salsa verde to the stewed chicken thighs in the savory broth made with Knorr® Chicken Flavor Bouillon.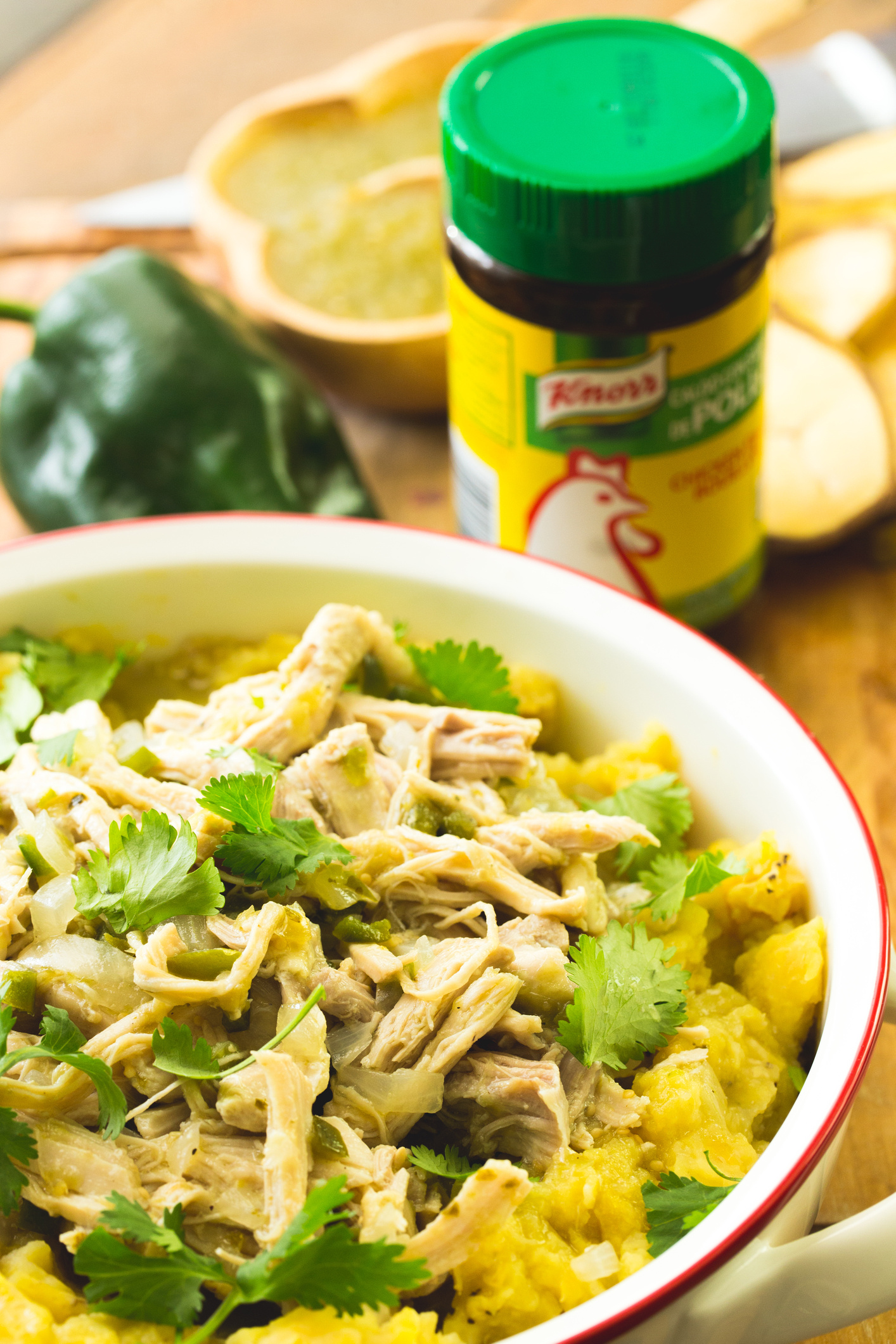 Knorr® Chicken Bouillon is an integral ingredient in my pantry when preparing meals. Knorr® prides themselves on high-quality sourcing ingredients and helping farms to implement sustainable practices such as reducing water and energy consumption, minimizing fertilizer usage, optimizing renewable resources, and increasing biodiversity. Way to go Knorr®!
For more tasty recipes visit ViveMejor.com.  There are so many recipes with simple ingredients where you can create full mid-week meal spreads in a fraction of the time.
You can also follow along on Twitter, Facebook and Instagram @ViveMejor and @Knorr with the hashtags #MiCocinaViveMejor and #LograMasConTuCocina.
Tex Mex Chicken Mofongo
Ingredients
2 green bananas, peeled and sliced
2 tablespoons of vegetable oil, divided
1 1/4 pounds of skinned and skinned chicken thighs, skinned
1 large onion, chopped (about 1 cup)
1 large poblano, chopped (about 1 cup)
1 cup salsa verde
3 cloves of garlic, chopped and divided
1 tablespoon Knorr® Chicken-flavored broth, divided
Instructions
Boil 2 quarts of water in a 3-quart pot. Add the bananas and boil until tender, about 25 minutes.
Meanwhile, season the chicken, if desired. Heat 1 tablespoon of oil in a large non-stick skillet over medium-high heat and brown chicken, turning once, approximately 3 minutes. Remove and separate.
Cook the onion and poblano pepper in the same pan, stirring occasionally, until tender, about 4 minutes. Stir in the salsa verde and 2 cloves of garlic and cook, stirring, for 30 seconds. Add the chicken, 1 cup of water and 2 teaspoons of Knorr® Chicken Flavored Broth. Boil, reduce heat and keep boiling covered, until the chicken is well cooked, about 15 minutes. Remove the chicken and crumble it, add to the pan again.
Drain and mash the bananas, keeping ½ cup of the cooking liquid. Heat the remaining spoonful of oil in the same pot over medium-low heat, and cook the remaining garlic, stirring, 30 seconds. Add the bananas and the remaining teaspoon of the granulated broth. Cook and stir until the flavors develop, approximately 2 minutes. Add the stored cooking liquid as needed to soften the banana mixture.
Spoon banana mixture in serving dish top with chicken. Serve warm.