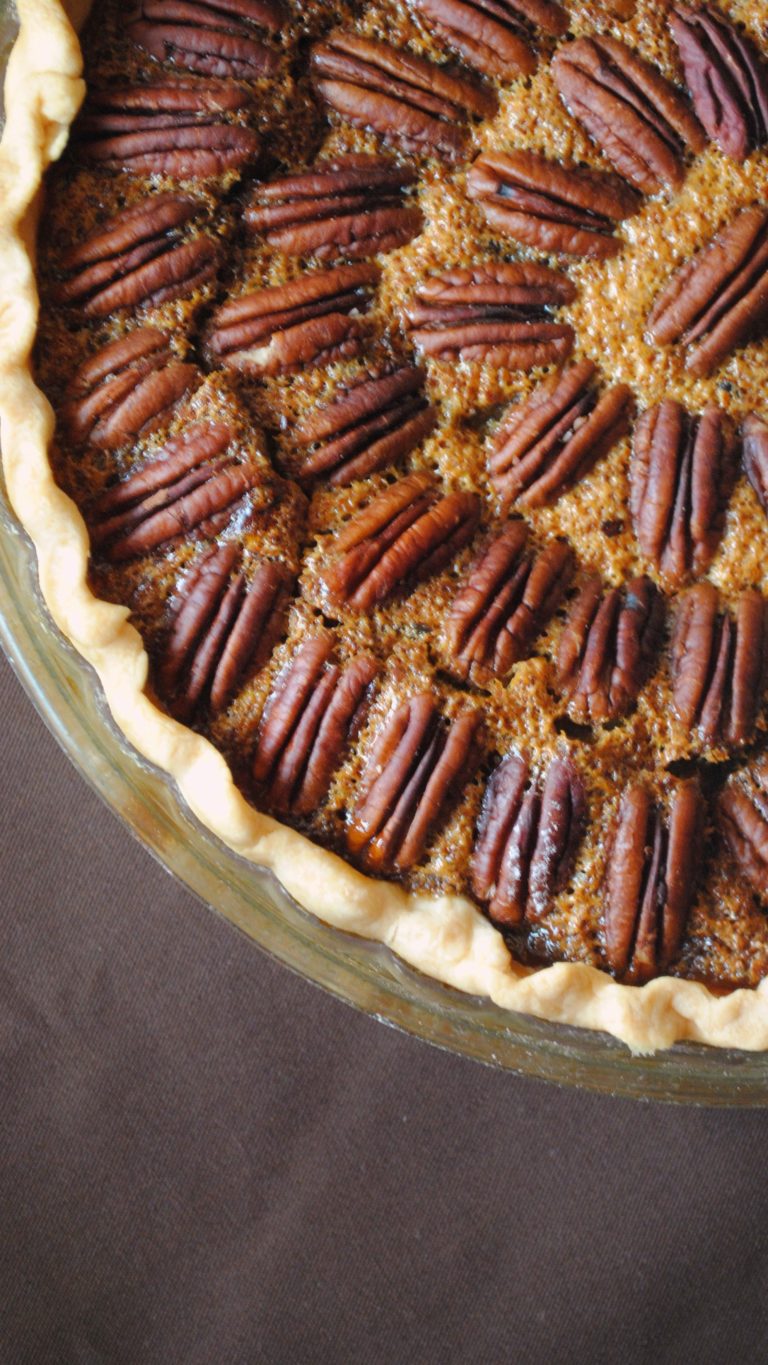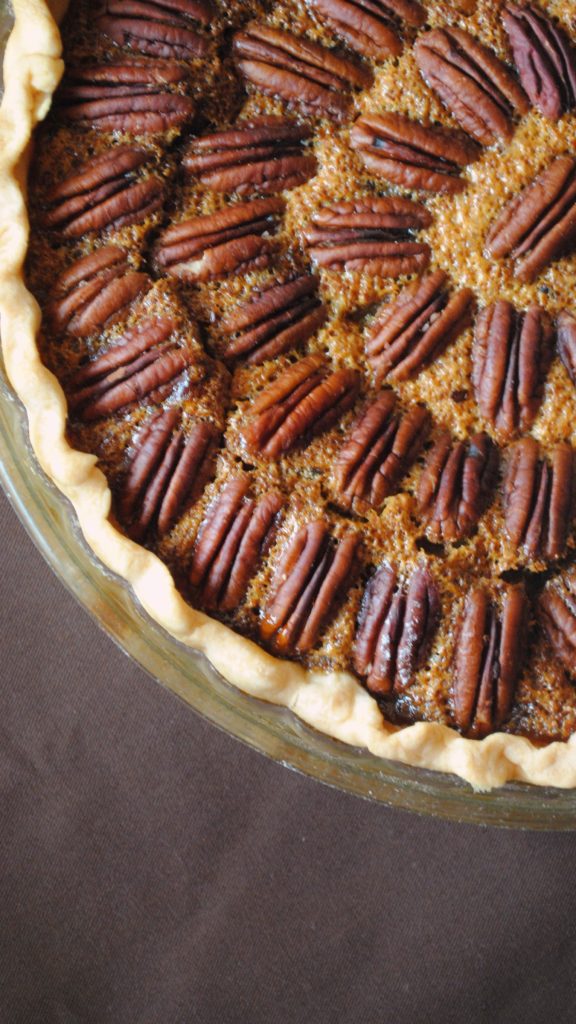 A Texan's Thanksgiving table in not complete without a Pecan Pie.  Our State tree, a source of pride we Texans take pecan pie pretty serious.  Married 12 years, my husband not once has asked for a chocolate cake or strawberry tart for any birthday.  Everyone knows, he wants Pecan Pie.  As we make plans to head over to spend Thanksgiving with our family, his number one concern, will there be pecan pie?  I love him!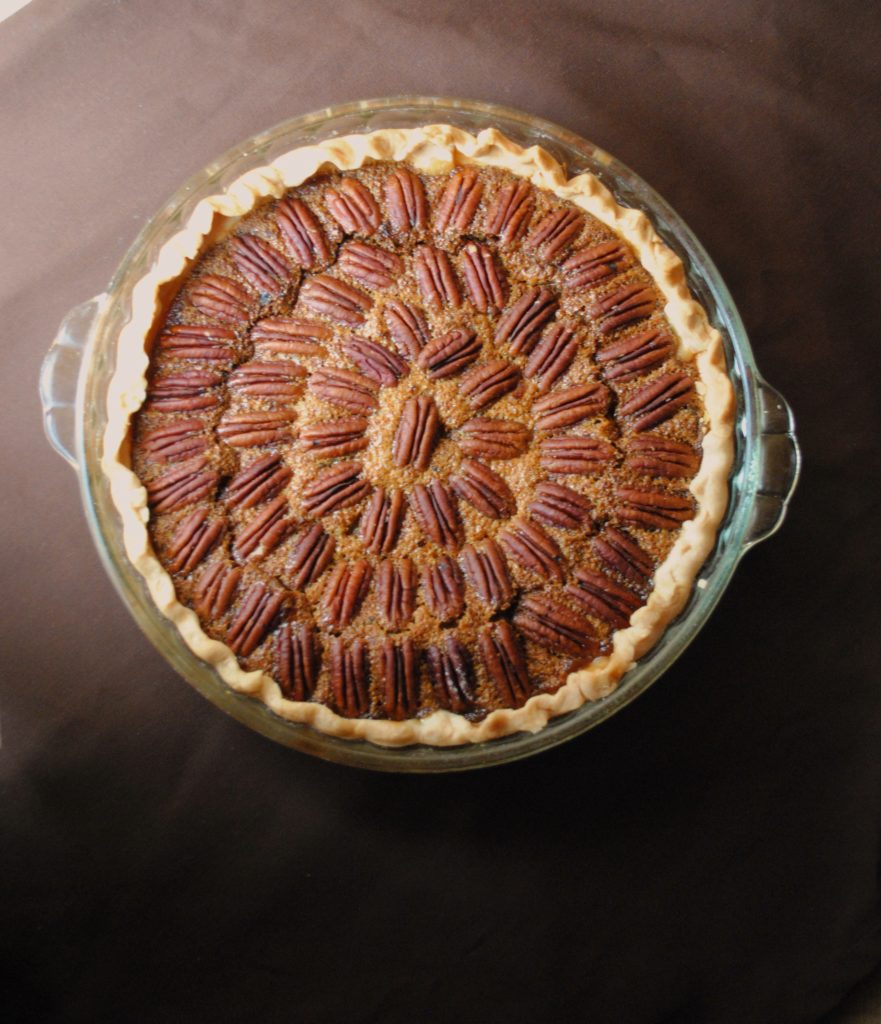 My freezer is always stocked with pecans from Hondo, Seguin and I happily added to my collection on my way home from Houston last weekend from a roadside stand. Please use quality halves, no bits or pieces in your pie.  The edges in my pie are never perfect.  Tiny hands are eager to loan their fingers in helping mommy pinch the pie crust. I love it's rustic nature where I can clearly make out each of my girls' fingers. Enjoy!
Baking a Pecan Pie from Texas Monthly's The Manual
November 2011
recipe courtesy of Ann Criswell
Dough
5 cups white flour
2 cups minus 3 tablespoons Crisco
1/2 cup water
1/4 teaspoon salt
Filling
1/3 cup butter
1 cup white sugar
1 cup light corn syrup
4 eggs
1 teaspoon salt
1 tablespoon vanilla extract
1  1/2 cups pecan halves
1. "The key to a great pie is great crust," says Royer. Dissolve the salt in the water. Set aside. Using two forks, your hands, or, if you're a kitchen gadget fanatic, a dough blender, cut the shortening into the flour until the mixture is crumbly. Add the salt  water and mix until the dough pulls cleanly away from your hands (if needed, add a tablespoon or two of flour). This recipe makes three 10-inch crusts; leave out your working dough and put the other two in the freezer for later use.
2. Clear some counter space and lightly dust the surface, a rolling pin, the dough,  and your hands with flour. Applying even pressure, roll out the dough with a back-and-forth motion. Give it a half turn, and repeat the process until it's roughly 1/8 inch thick. Dust the dough, and fold it in half twice, so it forms a wedge. Place the crust in a 10-inch pie pan, and unfold it.
3. Some people crimp the crust using fork tines, but Royer simply pinches the dough between his fingers. "This is homemade, which means it doesn't have to be  perfect," he says. "Life's too short to make decorative leaves out of dough."
4. Melt the butter, and combine it with the sugar, corn syrup, eggs, salt, and vanilla. Pour the mixture into the pie shell. Place the pecan halves on top. ("It's important to use  the halves," says Royer. "They taste better than the pieces.") Bake at 350 degrees for 45 to 60 minutes. It's ready when you stick a knife into the pie and it comes out clean.