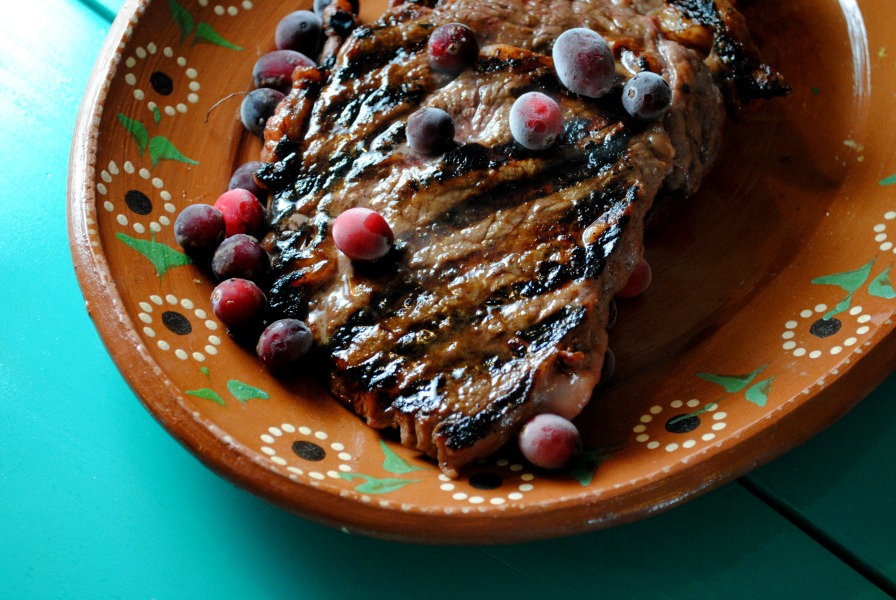 Rib-Eye Steak Marinated in Cranberry and Citrus – Rib-Eye Marinado en Arándanos y Cítricos
My fridge is bursting at the seams with cranberries. I think I went a little overboard on my Thanksgiving shopping and am currently adding them to my daily meals, so be on the lookout for a few more cranberry recipe sin the future. This weekend I was happy to receive a package of Nolan Ryan all natural beef in the mail. When I was a newlywed and living in Driscoll, Texas I used to shop at a little grocery store in Bishop, Texas that carried Nolan Ryan beef, so I am very familiar with their superb quality.
In the package I received a Bacon Wrapped Filets, 10oz Rib eye Steaks, Fully Cooked Sliders and a Signature Steak Seasoning Bottle. I knew the girls would enjoy the sliders on our weekly Friday movie night, but decided to grill the rib-eyes for hubby and me. In hopes of using my cranberries I whipped up a quick marinade, that I had spotted on Cooking Light,grilled them to perfection and served them over a fresh salad.
The marinade added a great seasonal flavor and the beef was moist, tender and delicious. Don't they look delicious? Well how would you like to win a gift box of Nolan Ryan beef, delivered to your door-step just in time for the Holidays? Read below on how to enter this amazing giveaway and a discount code to use for future shopping.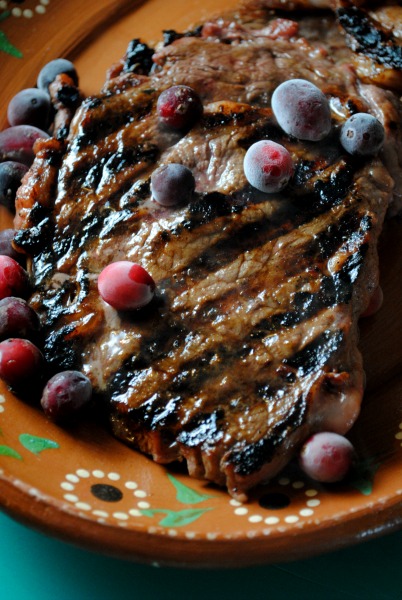 Rib-Eye Steak Marinated in Cranberry and Citrus
Ingredients
1 cup fresh cranberries
1/2 cup orange juice
¼ cup fresh lime juice
3 cloves garlic, chopped
1/4 cup finely chopped fresh cilantro
1 teaspoon salt
1 teaspoon cumin
1/2 teaspoon dried oregano
1/4 teaspoon crushed red pepper
2 rib-eye steaks
Instructions
Combine cranberries, orange juice, lime juice, garlic, cilantro, salt, cumin, oregano and crushed red pepper in a saucepan and bring to a boil. Reduce heat, continue to cook until all cranberries burst. Remove from heat and cool completely. Add cranberry citrus marinade to large ziplock bag, add rib-eyes, seal bag and turn to coat with marinade. Let stand at room temperature for 15 minutes.
Preheat a gas grill to high. Oil grill. Remove steak from bag, discarding excess marinade. Grill steak to desired doneness, about 3-5 minutes per side for medium-rare. Transfer steak to a cutting board and allow to stand for 5 minutes before slicing and serving
Notes
recipe from Cooking Light
http://sweetlifebake.com/2013/12/16/rib-eye-steak-marinated-cranberry-citrus-rib-eye-marinado-en-arandanos-y-citricos/
Rib-Eye Marinado en Arándanos y Cítricos
Ingredients
1 taza de arándanos frescos
1/2 taza de jugo de naranja
¼ de taza de jugo de limón fresco
3 dientes de ajo, picados
1/4 taza de cilantro fresco finamente picado
1 cucharadita de sal
1 cucharadita de comino
1/2 cucharadita de orégano seco
1/4 cucharadita de pimienta roja molida
2 filetes de Costilla, (rib-eye)
Instructions
Combine los arándanos, jugo de naranja, jugo de limón, el ajo, el cilantro, la sal, el comino, el orégano y la pimienta roja molida en una cacerola y llevar a ebullición. Reduzca el fuego, continuar a cocción hasta que todos los arándanos revienten. Retire del fuego y deje enfriar completamente. Añadir arándano cítricos adobo a la bolsa ziplock grande. Añadir loss costillas-ojos, selle la bolsa y se vuelve cubrir con la marinada. Deje reposar a temperatura ambiente durante 15 minutos.
Precaliente una parrilla de gas a alta. Parrilla Oil. Retirar la carne de la bolsa, desechando el exceso marinada. Grill carne hasta el punto deseado, aproximadamente 3-5 minutos por lado para término medio crudo. Traslado de carne a una tabla de cortar y dejar reposar durante 5 minutos antes de cortar y servir.
Notes
http://sweetlifebake.com/2013/12/16/rib-eye-steak-marinated-cranberry-citrus-rib-eye-marinado-en-arandanos-y-citricos/
GIVEAWAY details:
This gift set retails for $69.99 and contains the following items: (2) 10-ounce rib-eyes, (2) 8-ounce bacon-wrapped fillets, a package of fully cooked beef sliders, and a bottle of their signature steak seasoning.
Also, the amazing people from Nolan Ryan beef were kind enough to provide my readers with a discount code to use when shopping: BLOGGER02
I was really impressed at the packaging of my gift set. Here's a little info on how your gift will arrive:
Your Nolan Ryan gift set will arrive at your front door in a Styrofoam cooler with dry ice, this ensures that your beef stays fresh, frozen and ready to place in your fridge or freezer until you are ready to grill. Each steak is individually in a cryo-sealed packing box for freshness.