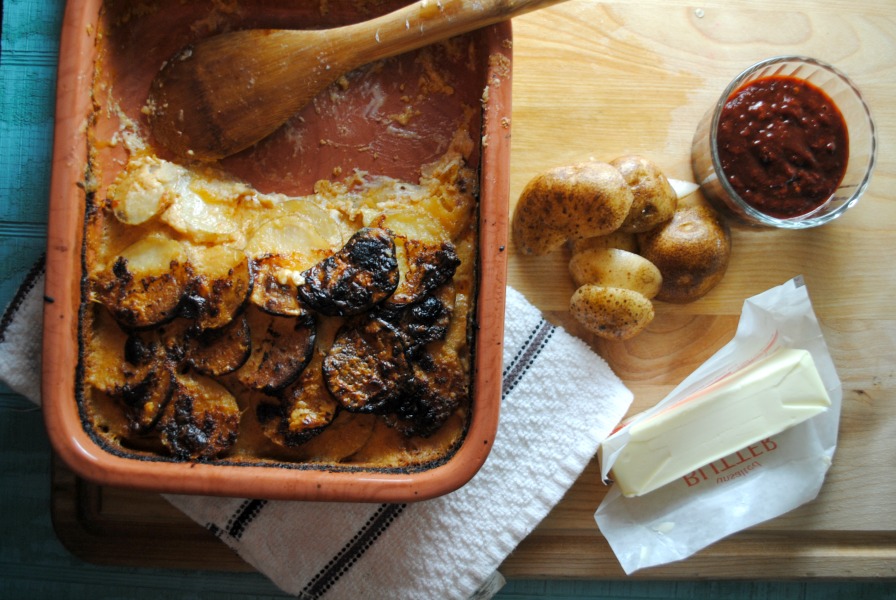 Adobo Potatoes Gratin
On Friday I flew to Chicago to cook in the Kenmore kitchens, more on this later. I love traveling for events in where I get the opportunity to meet fellow twitter, blog or facebook friends, be inspired, have fun cooking the entire day and give me the reassurance that my passion is worth all the late nights, eye blurring editing and early morning photo sessions. I had the best time.
But like clockwork the second day came around and I found myself missing home, missing my little gals and missing dinner with the family. I know, I know I am such a crybaby. My little sis tells me all the time have fun, don't worry about the kids; you need to get out of the house (gasp).
But all my best recipes that are featured here I have made for our family dinners, that's when the real magic happens. My little gals and I in the kitchen together, with the tunes on, dicing and chopping and laughing while we make dinner for the family. And then I began to crave comfort food, comfort food at the table with the entire family. So I scanned through Meagan's new book the new Southwest (yes I took it on my trip, I read on the flights). And I found adobo potato gratin, oh the picture just screams comfort and chipotles, they are one of many of my weakness.
I arrived at midnight Saturday night, was off to mass on Sunday morning, then straight into the kitchen with my gals. Tunes, slicing, blending, stirring and loads of laughing. I invited over the entire family and decided to make a double batch of this potato gratin. I did leave out the chipotles for one of the batches, for the kiddos and it came out great.  Just follow the instructions as it without the chiles. The adults got the spicy version and we were all in chipotle heaven, 4 chipotles may be a tad spicy for some, but we like our comida with a bit of kick. Feel free to trust your judgment and add chiles to your preferred taste.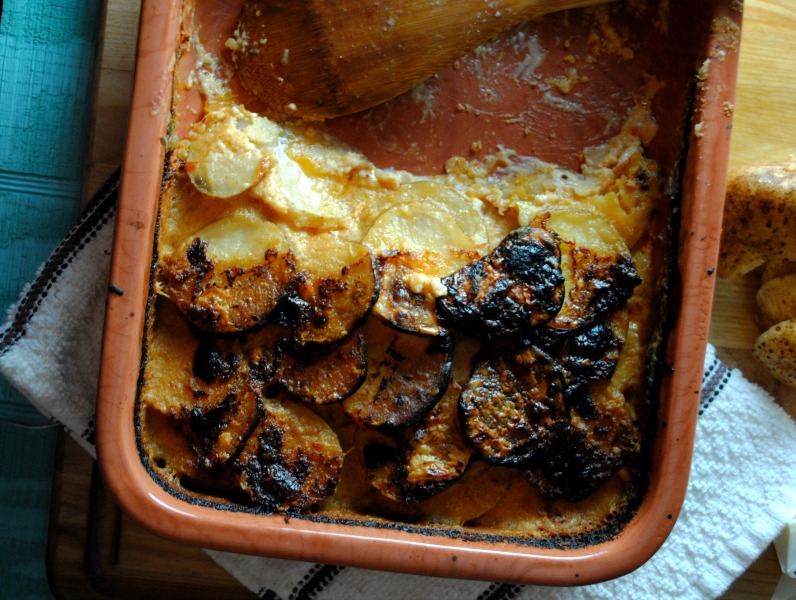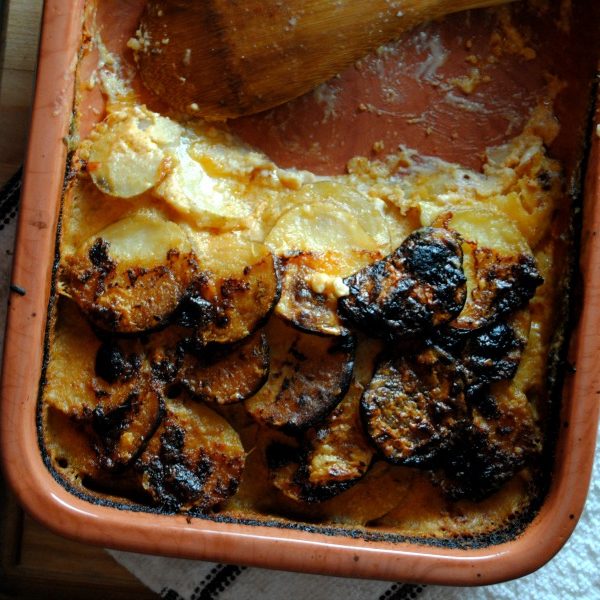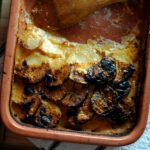 Adobo Potatoes Gratin
Ingredients
3

extra large garlic cloves

Extra virgin olive oil for roasting

Pinch

of salt for roasting

4

chipotle chilies in adobo sauce

1-1/4

cups

heavy cream

3/4

cup

whole milk

4

tablespoons

unsalted butter

1

teaspoon

freshly ground black pepper

3

large russet potatoes

1-3/4

cup

shredded Chihuahua cheese

or Sharp Cheddar
Instructions
Preheat oven to 350° F.

Toss the garlic cloves with the oil and salt, wrap tightly in a foil packet, and roast for approximately 30 minutes or until fragrant and golden brown. Remove from oven and increase oven temperature to 4000° F.

Place roasted garlic in the bowl of a food processor fitted with a steel blade along with the whole chipotle chiles. Process to a paste. Put the garlic-chile paste in a large heavy-bottomed skillet and add cream, milk, butter and pepper. Bring to a boil over medium heat, stirring often; boil for 1 minute to thicken. Remove from heat.

Peel the potatoes to 1/8-inch thick slices layer half of them in the bottom of a 2-quart baking dish in overlapping lines. Top with a light sprinkle of cheese and repeat with the remaining potato slices, again in an overlapping line, and top with remaining 1 cup of the cheese.

Carefully pour the cream mixture over the top of the potatoes, you may want to agitate the dish slightly to be sure the settles and the cream gets in every nook and cranny. Scatter the remaining cheese over the top. Slide into preheated oven and bake for 40-50 minutes, or until the casserole is a deep golden brown and bubbling on top, and the potatoes are tender when pierced with the tip of a thin knife. Set aside to cool and set up for ~15 minutes before serving.
I am completely enamored with this book.

First –  Meagan is one of my favorite blogging ladies, so I am all too familiar with her food. And her blog makes me crave everything she makes.

Second – She provides the readers with section called The Southwestern Pantry at the beginning of the book which is a great tool for people who might not be familiar with some of the ingredients. A helpful guide that provides you the knowledge to create every recipe in this book.
Third– Can we talk flavor people? This book is loaded with dishes that ooze flavor from honey streusel coffee cake, caramel soaked Mexican chocolate pancakes, salsa Bandera chicharrones, cheesy beer bread, stacked squash enchiladas to picadillo meatloaf with haberno ketchup.
Two thumbs up!
Congrats Meagan,
How to Enter this Contest:
1. Mandatory Entry: Leave a comment on this blog post letting me know what your favorite Southwestern dish is.
2. Tons of optional entries in rafflecopter widget.
Hippocrene will be supplying 14 copies of The New Southwest by Meagan Micozzi for this giveaway, in conjunction with The New Southwest Cookbook Spotlight.  Contest is open to anybody with a shipping address in the USA.  Submissions will be accepted via the rafflecopter widget through 11:59 pm ET on Sunday, November 3, 2013.  Fourteen winners will be chosen by random draw, verified, and be notified by email (from Heather at girlichef) within 48 hours of the close of this contest.  The winner should respond within 24 hours of notification, or a new winner will be drawn in their place.  Good Luck!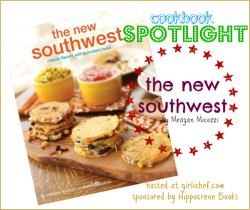 This post is part of The New Southwest Cookbook Spotlight sponsored by Hippocrene and hosted at girlichef.
I received a free copy of this cookbook from Hippocrene, and they are also providing the copies for the winners of the giveaway. I was not compensated for this post. All thoughts and opinions are my own.