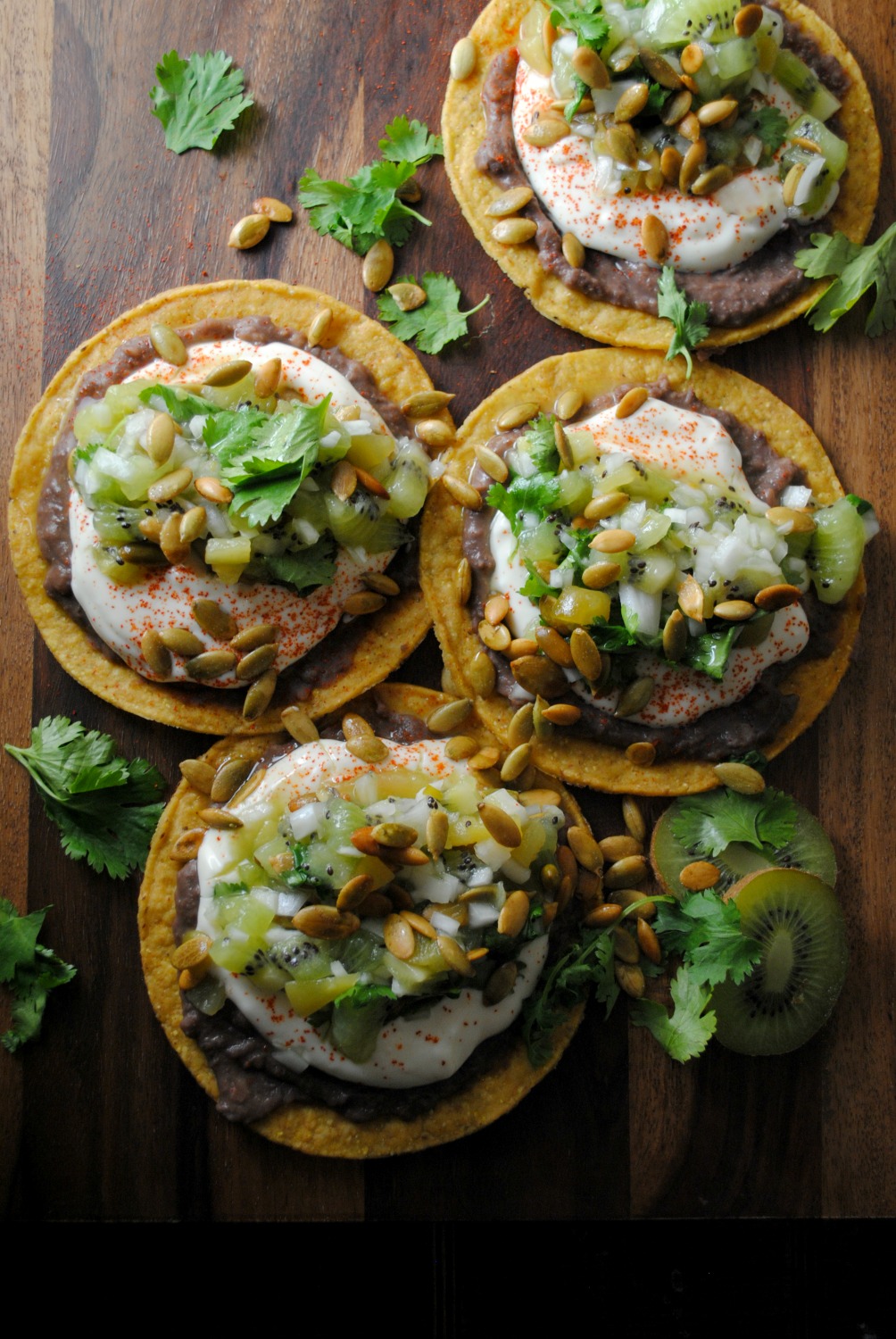 Black Bean Tostadas with Green Chile Kiwi Salsa
Summer days call for laid back, easy-breezy dinners with the familia. From running to the pool, heading to the beach or spending time with visiting family cranking up the stove, oven is the last thing on my mind.  That's when these beauties come in – everyone loves tostadas, a crispy tortilla is the ultimate vessel on every tasty topping your tummy can imagine.
These tostadas are pretty quick and very, very easy to make, like all summer meals should be, in my opinion.  Ending the day with a pop of spice and a fresh bite from juicy fruit is the picture perfect way to end the day. Don't be fooled that these mighty meatless tostadas will keep any hungry tummy content.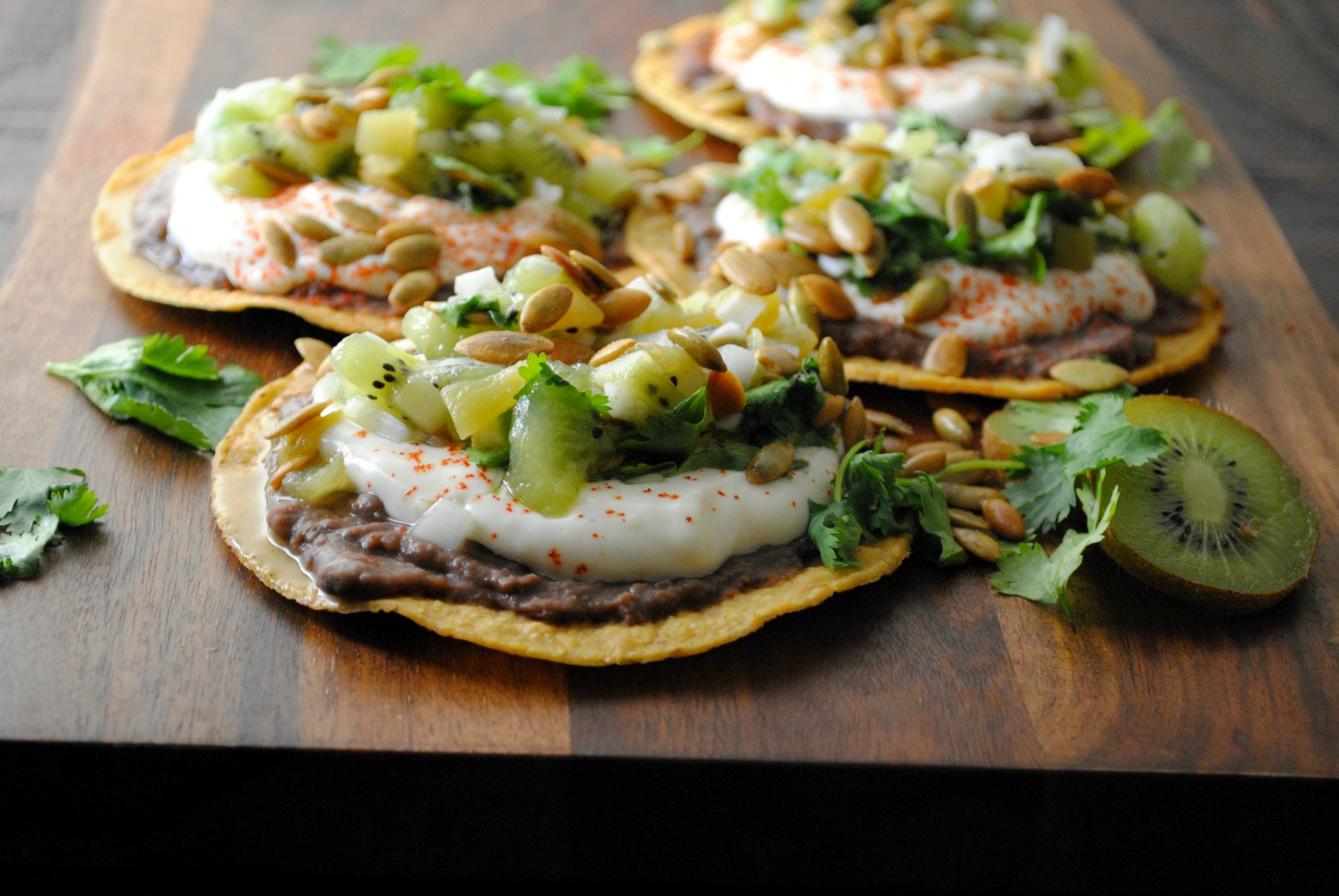 I can't take all the credit for this easy to pull-together meal.  Do you remember on facebook I announced that I would be teaming up with Old El Paso to create family-fresh meals; well this is my first recipe using their amazing products to whip up a family favorite recipe that I have enjoyed since childhood.  My mami often made tostadas for us kids on the Friday nights, after a long week they were pure comfort.  She would make a platter of them topped with shredded chicken, lettuce, tomatoes and cheese.  We loved them!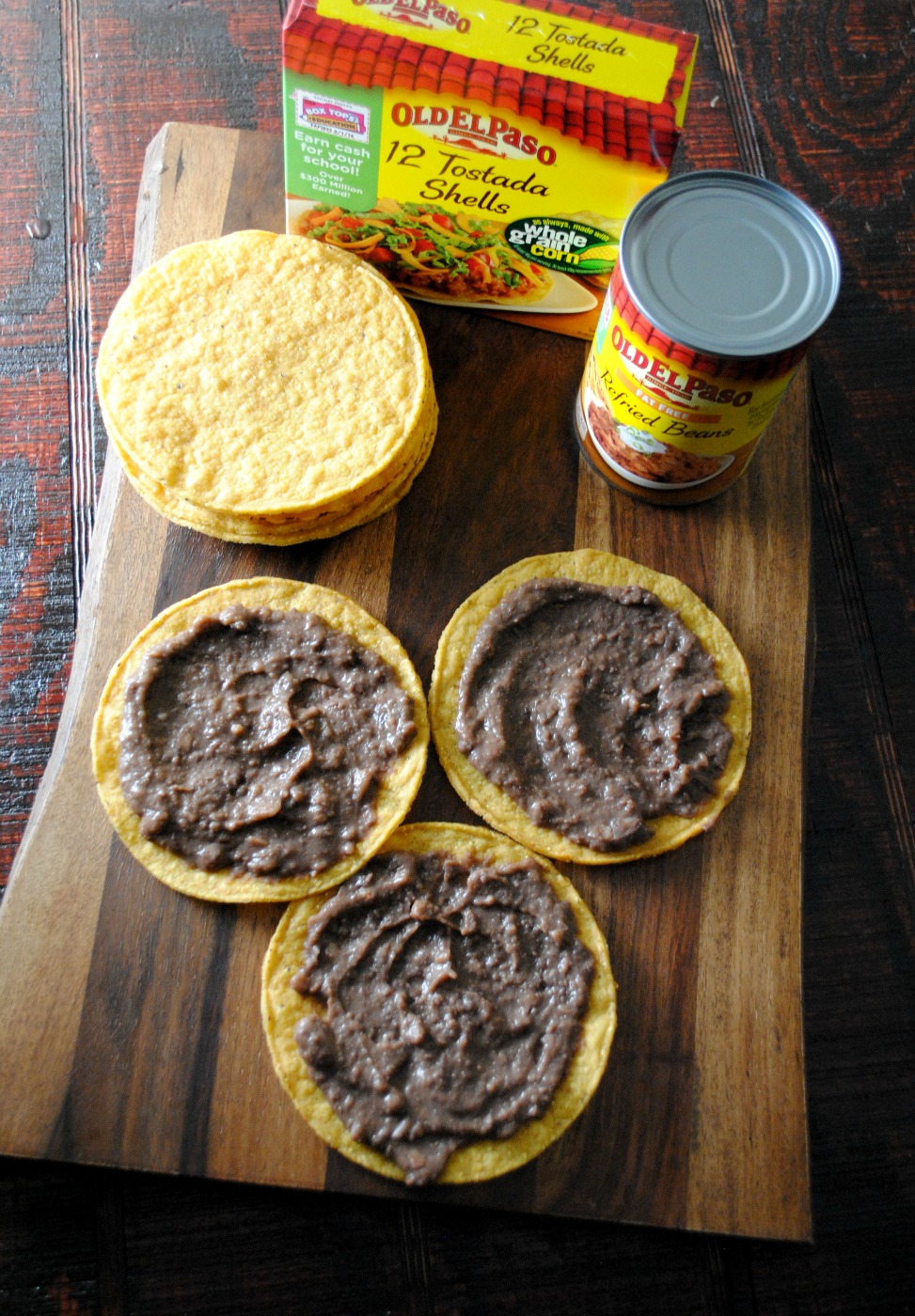 With a stocked pantry of Old El Paso products I knew tostadas were the way to go.  In this recipe I used Old El Paso tostada shells, refried black beans for the tostadas and chopped green chiles for the salsa.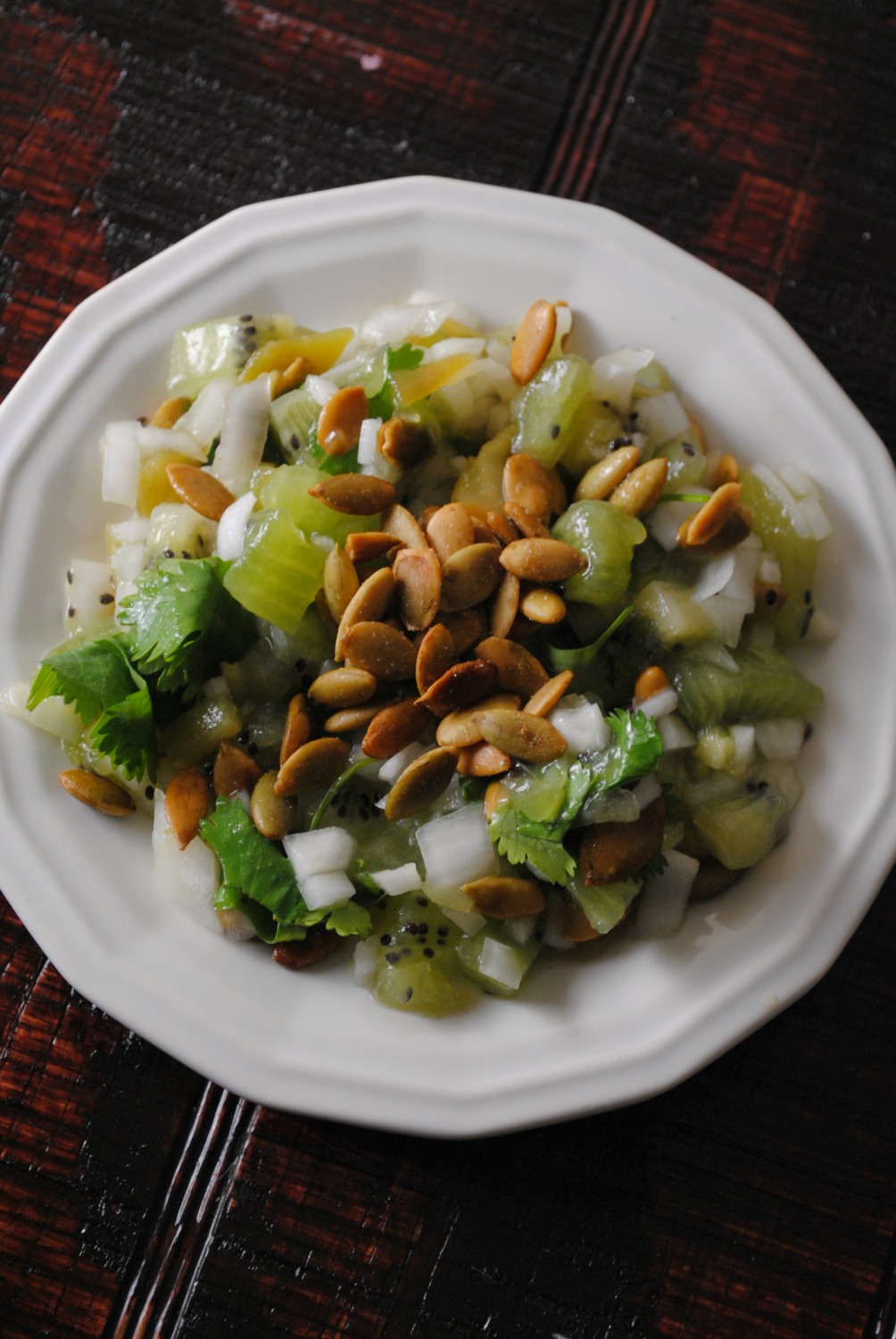 And we must talk about this salsa—hello summer goodness. Fresh kiwis, green chiles, onion and lime zest.  So, so good on these crispy tostadas.  Warm refried beans and then a bite of freshness from the salsa, a crunch from pepitas made it two thumbs up for my family.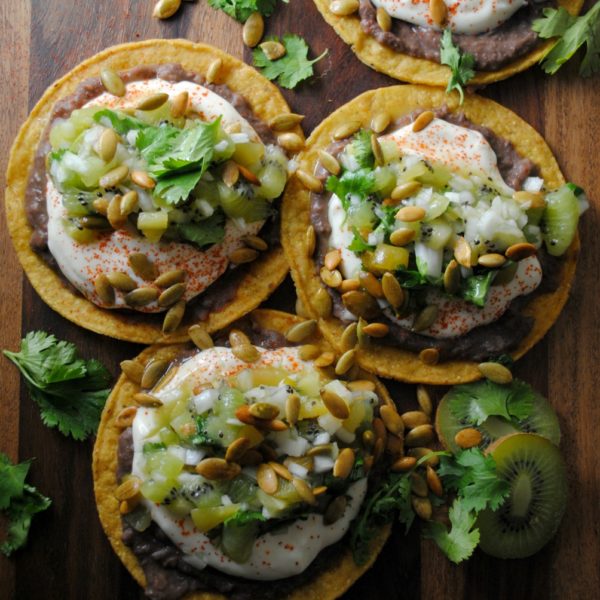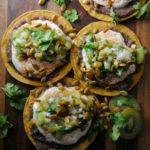 Black Bean Tostadas with Green Chile Kiwi Salsa
Ingredients
For Tostadas:

1

4.5 oz Old El Paso Tostada shells

1

16 oz Old El Paso refried black beans

2

cups

Crema Oaxaca

sour cream or Greek yogurt

1

tablespoon

ground chile ancho

1/2

cup

pepitas

For Green Chile Kiwi Salsa:

½

cup

onion

chopped

1

teaspoon

lime zest

1

tablespoon

lime juice

¼

teaspoon

salt

¼

teaspoon

cumin

2

tablespoons

Old El Paso chopped green chiles

3

kiwi

peeled and diced

½

cup

cilantro
Instructions
For Tostadas:

Preheat oven to 325 degrees. Remove tostadas shells from package and place in a single layer on baking sheet. Bake 6-7 minutes or until crisp. While tostada shells bake heat refried beans in 1 quart saucepan over low heat, stirring occasionally. Divide refried beans evenly among tostadas shells; top each with crema, sour cream or yogurt and sprinkle with chile ancho and top with salsa and pepitas.

For Salsa:

Combine onion, lime zest, lime juice, salt, cumin and chopped green chiles in medium bowl; stir and place in refrigerator for 15 minutes. When ready to serve gently fold in kiwi and cilantro, serve with tostadas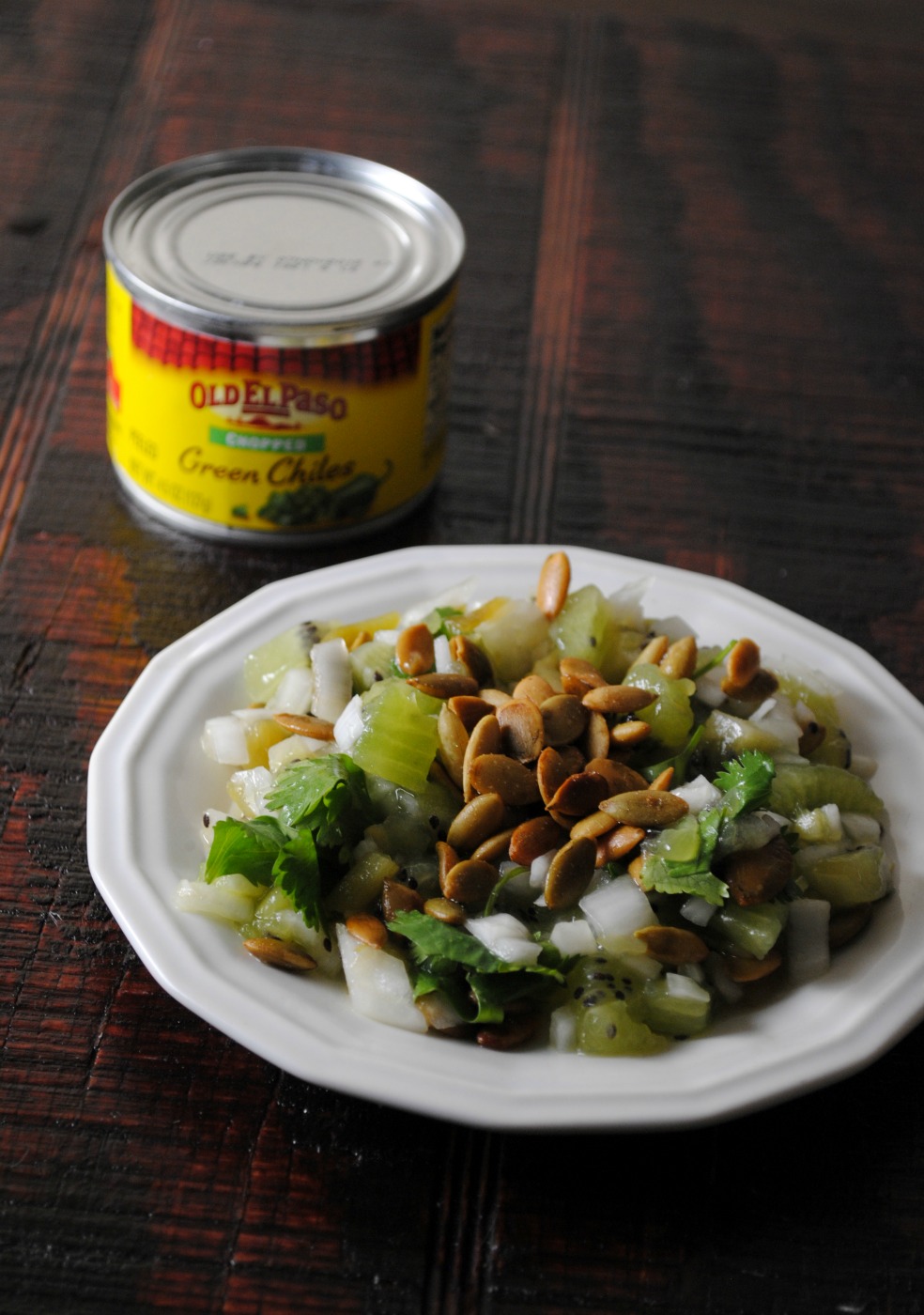 Sweet Life Disclosure: This is a post in partnership with Old El Paso. All opinions are my own.
Read more at https://sweetlifebake.com/2014/06/27/savory-peach-melon-cocktail/#ixzz37qC9Wmra