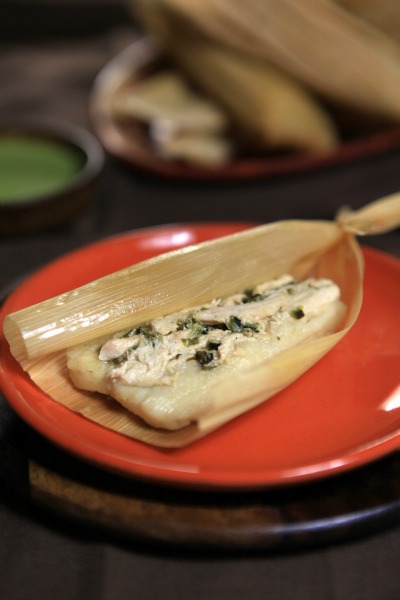 Chicken and Poblano Tamales with Cilantro Crema
Early December I was invited to attend a Tamalada with Nestle in Los Angeles.  I love tamaladas as we have one every year. Families gather for a day of making tamales, laughs, catching up and great food. In the evening everyone leaves with a few dozen warm tamales, baked goods and a happy heart. Nestle added a great new twist to their tamalada instead of the traditional cookie exchange we would exchange empanadas!
A great idea I plan to add to my tamalada. I know my family would go crazy for freshly baked empanadas to take home along with tamales. Thanks Nestle!
Here are a few pictures from the event and a great tamale recipe.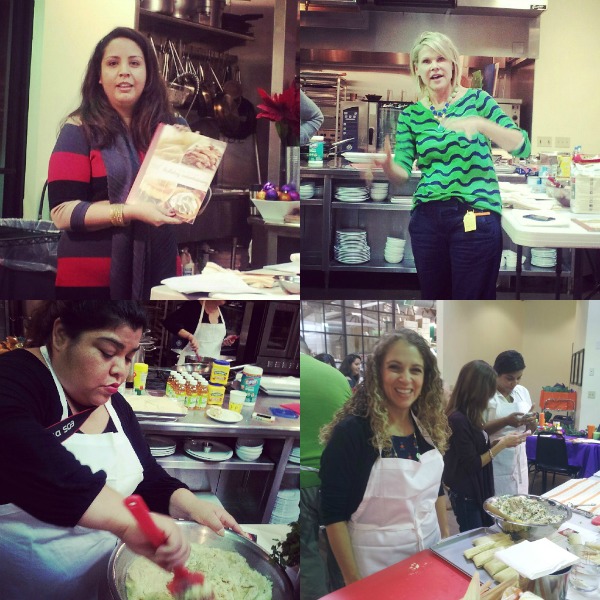 Ericka from Nibbles & Feasts  kicked off the event with a few tips, suggestions and shared the recipes we would make.
Chris from Nestle Kitchens   welcomed us to Sufas Kitchen and had us share our family's Tamalada traditons.
My cooking buddies the lovely Yolanda of Sassy Mom in LA and Dariela from Mami Talks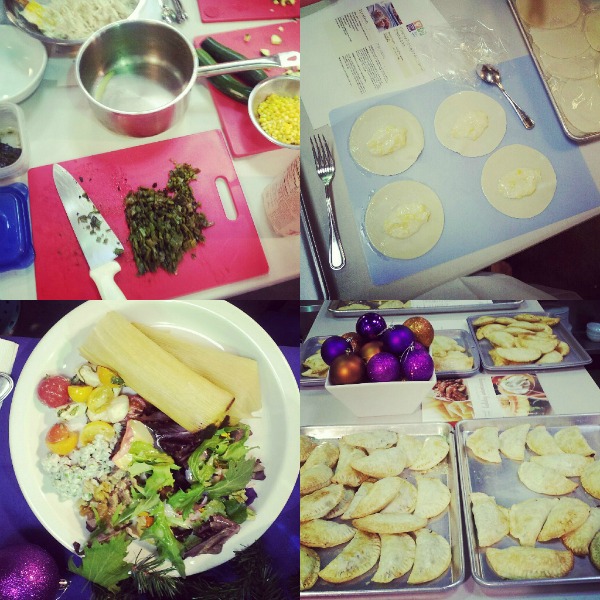 How lucky I was to get to cook the tamales with roasted poblanos, they are my obsession, right up there with tequila. See how lovely I chopped my poblanos right before I added them to the chicken and creama.
After we made our tamales we were treated to a nice lunch with tamales the Nestle crew had made the day before, using the recipes we had prepared. Our tamales were steaming away as we ate, laughed and had a chance to get to know each other.
After lunch we made empanadas.  A sweet and savory I made pina y coco (pineapple and coconut), they were amazing and I made sure to add them to my baked goods list for my tamalada. I will be sharing this recipe soon. 
A table of freshly baked emapanadas. The smell was amazing.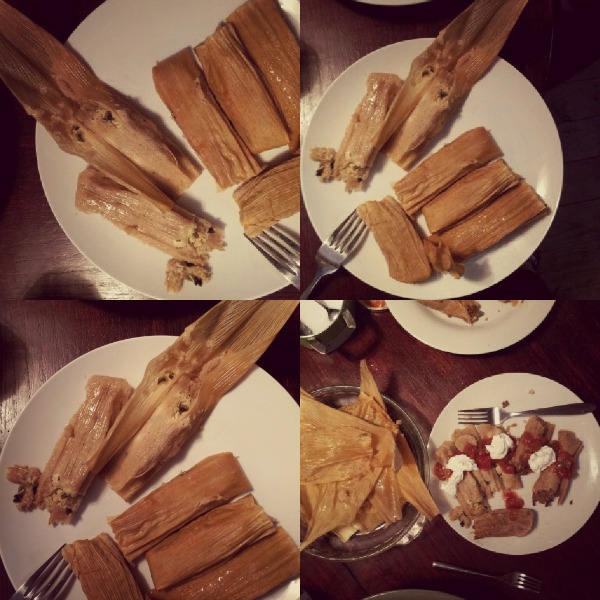 I enjoyed the chicken and poblano tamales so much I decided to make them for our tamalada.  My family gobbled them up with plenty of salsa and crema.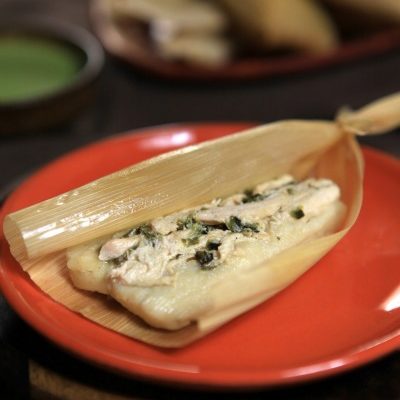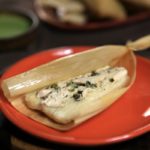 Chicken and Poblano Tamales with Cilantro Crema
Ingredients
1

package

8 ounces dried corn husks

2

cups

hot water

2

MAGGI Chicken Flavor Bouillon Tablets

crushed

2

cups

instant corn masa mix for tamales

2/3

cup

vegetable shortening

1

teaspoon

baking powder

1 1/4

teaspoons

salt

divided

3

cups

shredded cooked chicken

1

can

7.6 fluid ounces NESTLÉ Media Crema, divided

3

roasted

peeled and deveined poblano chiles, finely chopped

1/2

cup

cilantro
Instructions
PLACE corn husks in a large stock pot. Add enough water to cover completely. Bring to a boil over high heat. Remove from heat; let stand with a heavy bowl or plate on top of the husks to keep them covered in water.

COMBINE water and bouillon in a medium size bowl or measuring cup; stir until bouillon is completely dissolved.

MIX bouillon mixture and corn masa mix in a large bowl with a fork to form wet, but not runny, dough; set aside.

BLEND shortening, baking powder and 1 teaspoon salt with an electric mixer on medium-high speed for 1 minute or until light and fluffy. Continue beating on medium speed while slowly adding the blended corn masa mix. Beat for 5 to 7 minutes. The mixture should be light and spongy. The batter is ready when a ½ teaspoon of the dough will float briefly in a cup of cold water. Refrigerate mixture.

MIX chicken, ½ cup media crema and chiles in a large bowl.

DRAIN corn husks. Spread out one of the corn husks with the pointed end towards you. Spoon 3 tablespoons of masa in a rectangle on the corn husk, leaving a 1-inch border on the sides. Place 2 tablespoons chicken mixture down the center. Pick up one side of the corn husk and fold it over the other side; repeat with the other side. Fold up the ends and turn over to keep tamales from unfolding.

FILL tamale steamer with 2 to 3 inches of water. Cover the steamer basket with a layer of corn husks. Stand tamales in the steamer. Use extra corn husks to fill around the tamales to keep them in place and to cover the top of the tamales. Bring to a boil; cover with a tight fitting lid. Reduce heat to medium; cook for 1 ½ to 2 hours. Refill steamer periodically with water so tamales don't burn. Tamales are ready when the masa does not stick to the corn husk when unrolled. Let stand for 10 minutes before serving.

PLACE remaining media crema, cilantro and remaining ¼ teaspoon salt in blender; cover. Blend until smooth. Serve at room temperature with the tamales.

Cook's Tip: 1 ½ cups bottled or canned green salsa can be used in place of poblano chiles.
Recipe Notes
Recipe from Nestle Kitchens
Sweet Life Disclosure: I was invited to attend the Nestle Tamalad Event.  All opinions, expression remain my own.  Recipes and picture above from the Nestle Kitchen.