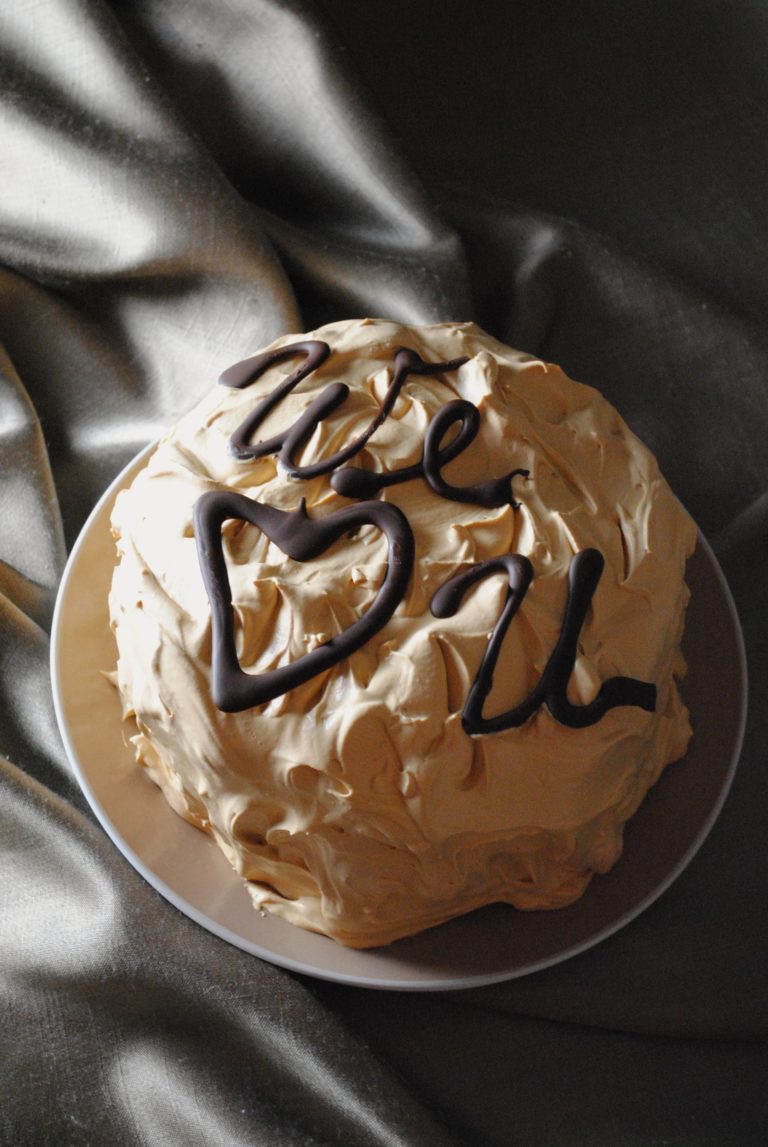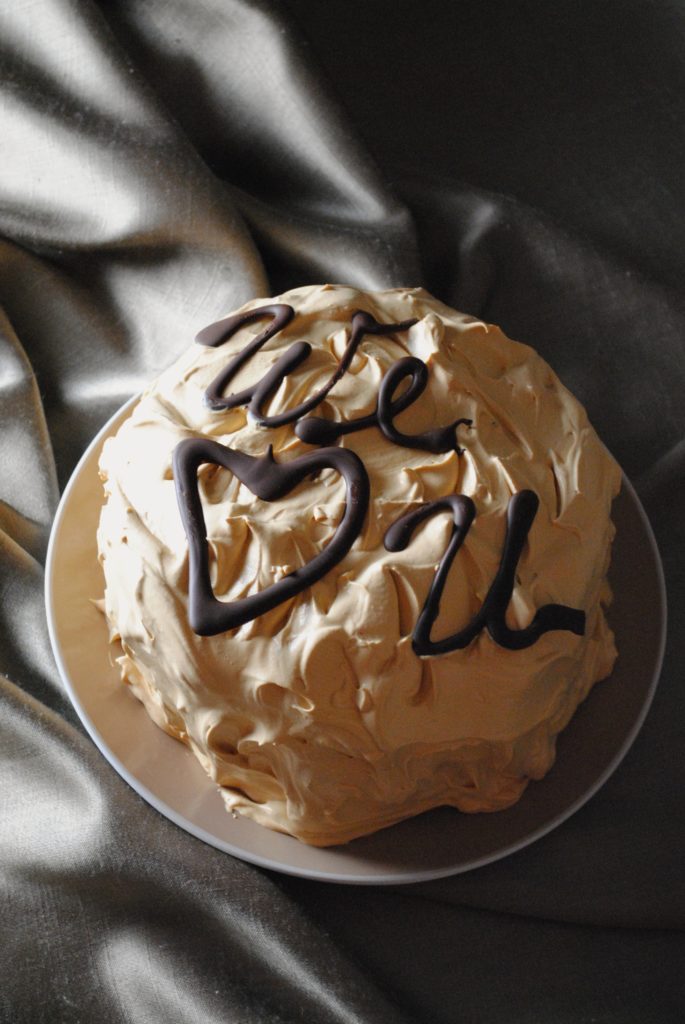 Dulce de Leche Cake
Mi cariño graduates today! I am bursting with pride, happiness and overwhelming joy for him. Today he receives his Master's Degree in Social Work.  I find myself tearing up just thinking of the bumpy road that lead us to this day.
After 9/11 my hubby like many dedicated men and women enlisted in the Armed Forces.  He enlisted with the Army, headed to boot camp, then Medical Training School and finally moved our family to Fort Hood.  He deployed in March to Iraq and school was ultimately put on hold.  After his return life went on, our second child was born and he returned to school at night all while completing his time in the military.  A year and five months later he would return to Iraq for his second tour and I would move home with our girls, once again school was put on hold.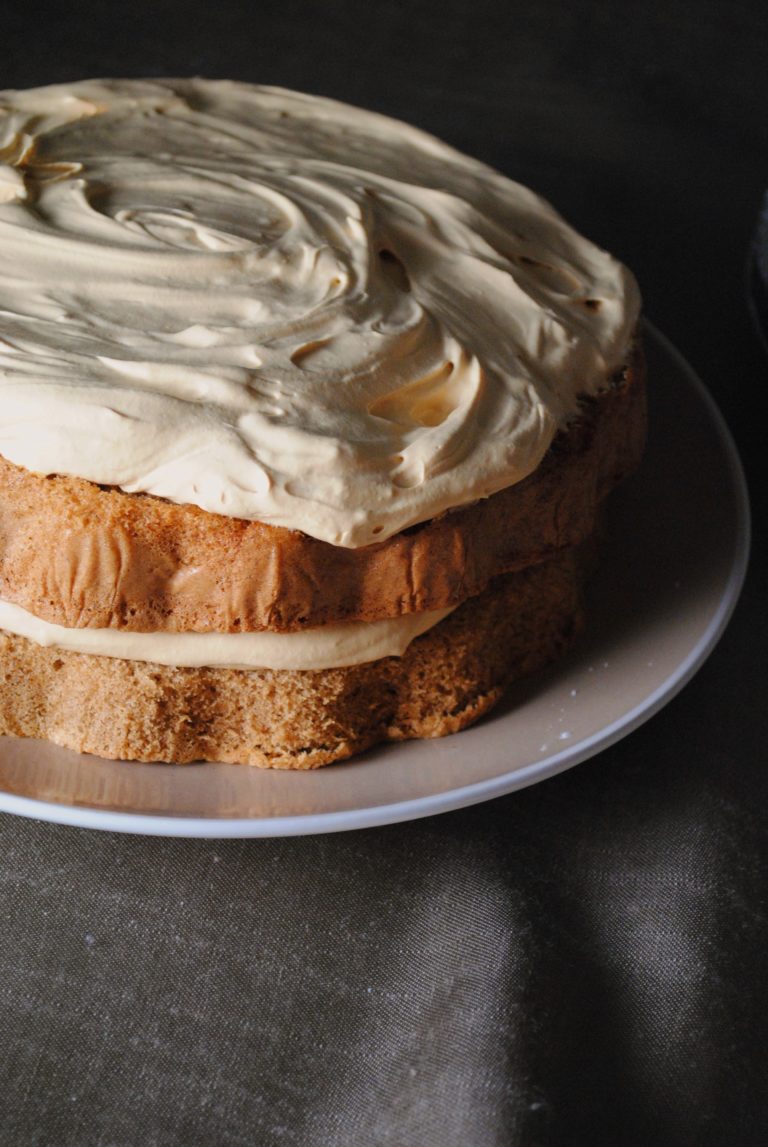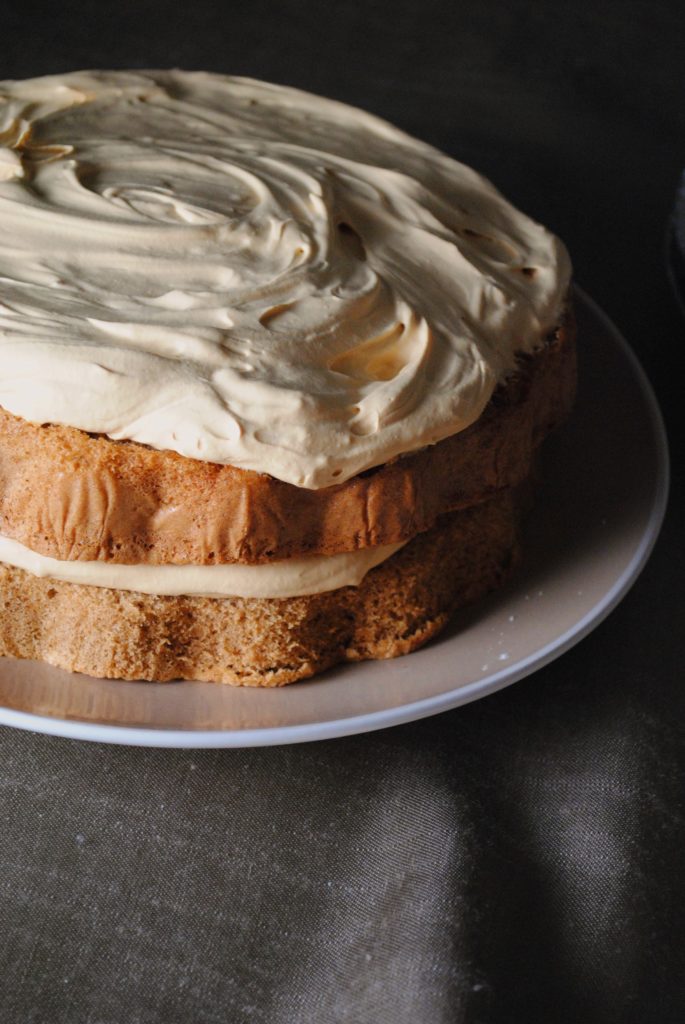 After completing his second tour we as a family decided to leave the Army and focus on our future plans.  Three months later with a full time job, a new mortgage he took the plunge and enrolled full time.  He often tells me that his deployments gave him so much more than he expected.  On his second tour his unit was assigned a local translator to aide in communication. My husband felt an instant bomd with him and they would spend their nights talking about family and their future.  The translator urged my husband to return home, hold on to his loved ones and embrace his future.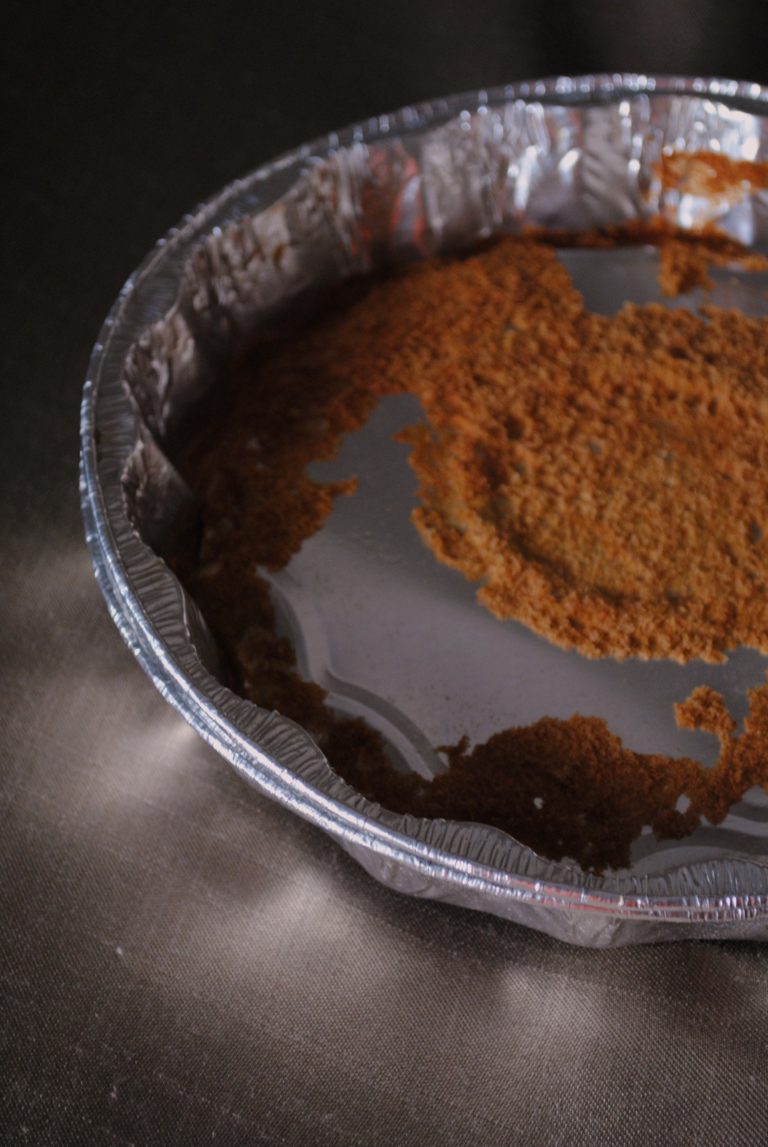 And he did with a dedication I am proud to have witnessed.  At one time he was commuting 2 ½ hours to attend night classes before driving home to be at work the next morning.  After one semester he became weary of driving and we decided to move.  The ease of being closer to his school gave us the return of precious family time.  We packed a few items, closed up our home, rented an apartment, a new job and he has never looked back.  Not once did I ever hear him complain about working 40 plus hours, spending his nights at class and taking on the rent while paying for our mortgage.  Every day as he walked through the door there was a smile on his face, a kiss for his girls and an appreciation for his time at home.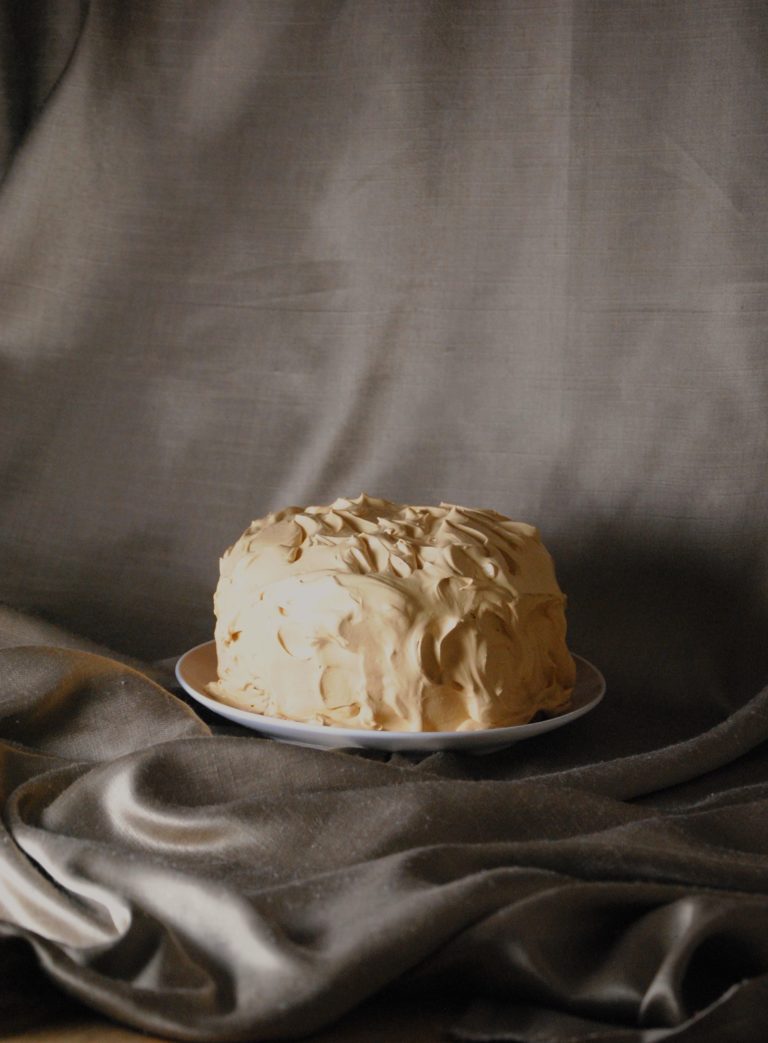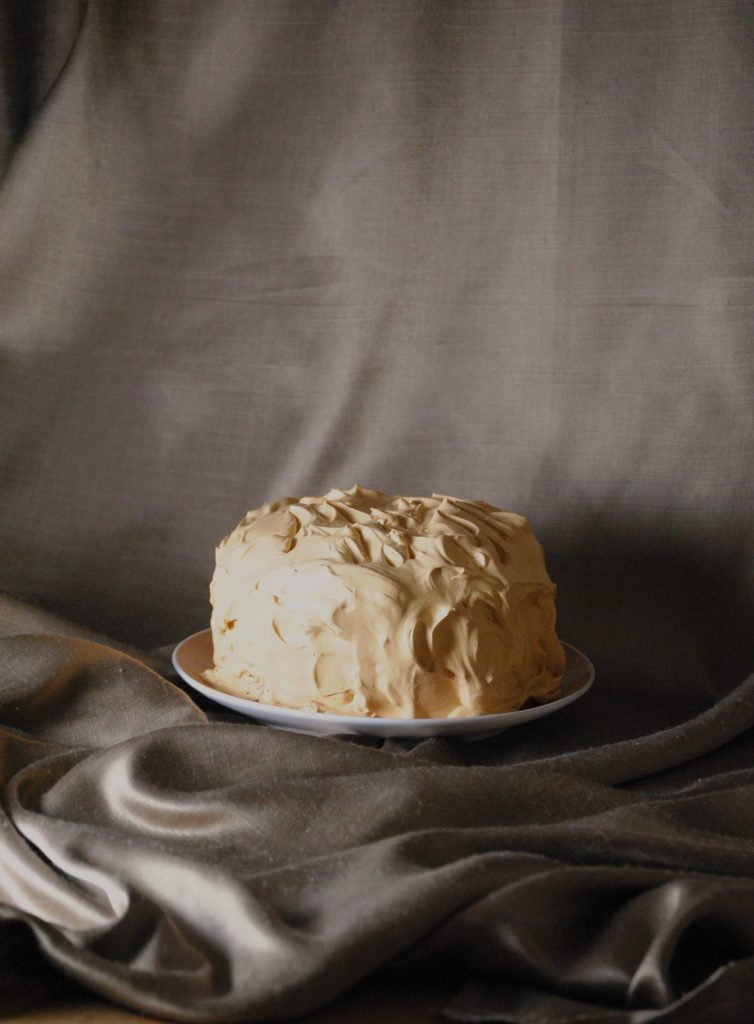 So today we celebrate, we celebrate his dedication, his drive, his dreams and our future.  This day calls for cake, a cake with layer upon layer of flavor.  Three lightly whipped cake layers, brushed with sweet syrup and frosted with an abundance of fluffy dulce de leche frosting.  I returned to an empty apartment and found myself at the store picking up foil cake pans this evening.  I was a bit worried the cakes would over bake and stick to the pans, but they came perfect. Light, golden and moist.
I leave you with a picture of the half frosted cake, not sliced.  Well because the graduate gets the first slice.  I found a small bag of chocolate chips in the freezer, so I decided to pipe a few words.
Today as we celebrate my husband's accomplishment I leave you with words of wisdom from a wise man.
hold on to your loved ones and embrace the future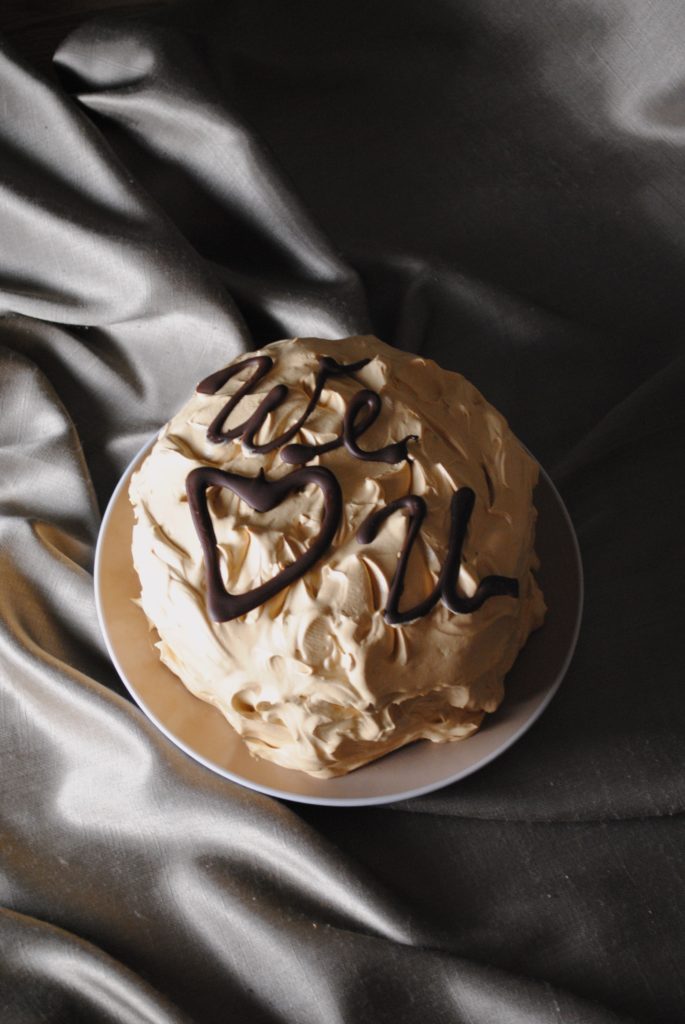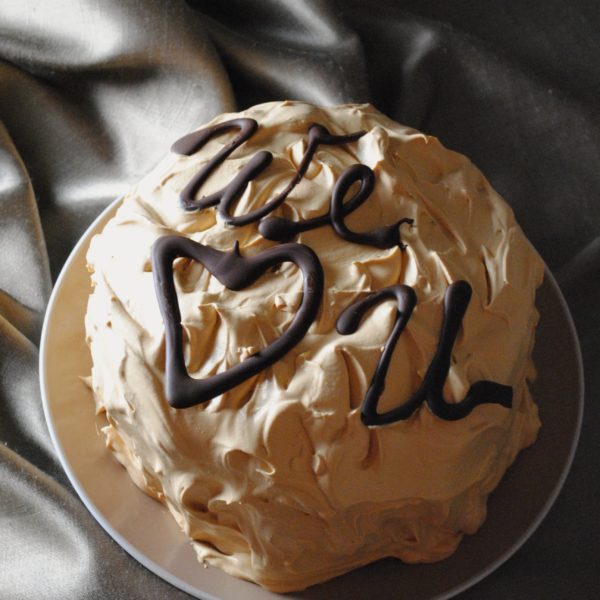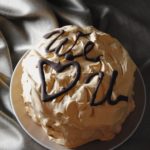 Dulce de Leche Cake
Ingredients
Cake:

8

eggs

1 1/3

cups

233g packed light brown sugar

1 2/3

cups

233g cake flour*

1

teaspoon

ground cinnamon

3

tablespoons

42g unsalted butter, melted and cooled to lukewarm

Syrup:

¼

cup

50g vanilla scented caster sugar

½

cup

120ml water

¼

teaspoon

vanilla extract

Dulce de leche cream:

2

cups

480ml heavy cream

1

cup

dulce de leche
Instructions
Make the cake: preheat the oven to 175ºC/350ºF. Line the bottoms of three 20cm (8-inch) round cake pans with rounds of parchment or waxed paper, but do not grease the pans.

In a large heatproof bowl, beat the eggs lightly. Gradually whisk in the brown sugar. Set over a pot of barely simmering water and whisk constantly until the brown sugar dissolves and the mixture warms to body temperature. Remove from the heat and, with an electric mixer, beat on medium speed until the mixture holds slowly dissolving ribbons when the beaters are lifted.

Put the flour and cinnamon in a sifter and sift about 1/3 over the top of the eggs. Gently fold in with a large metal spoon. Repeat 2 more times with the remaining flour, folding only until mixed, with no trace of flour.

Drizzle the melted butter over the batter and fold in, now with a rubber spatula, taking care not to deflate the batter or to leave pockets of butter not folded in. Divide the batter among the 3 prepared cake pans.

Bake for about 15 minutes, or until a cake tester or wooden toothpick inserted in the center comes out clean – mine took 25 minutes. Let cool completely in the pans. Run a blunt knife around the edge of each cake to release it from the pan. Turn out onto a wire rack and carefully peel off the paper.

Now, the syrup: boil the sugar and water over medium heat until the mixture reduces to ½ cup. Remove from heat, add the vanilla extract and allow to cool before using.

Prepare the dulce de leche cream: Place the cream in the freezer for 4 minutes.

In a large chilled mixer bowl with chilled beaters, combine the cream with the dulce de leche. Beat on low speed to combine and dissolve the dulce de leche. Raise the mixer to medium-high and whip until stiff peaks form.

Assemble the cake: place one cake layer, flat side up, on a cake stand or serving plate. Brush it with the rum syrup to moisten evenly. Cover the layer with about 2/3 cup of the dulce de leche cream, spreading it evenly to the edges. Repeat with the next layer, moistening it with the syrup as well.

Top with the third layer. Moisten it with the syrup. Frost the top and sides of the cake completely with the remaining dulce de leche cream (there was about ¼ cup left in the end).
Recipe Notes
1 cup cake flour = 7/8 cup (123g) all purpose flour + 2 tablespoons corn starch
Dulce de Leche Cake from
TecnicolorKitchen