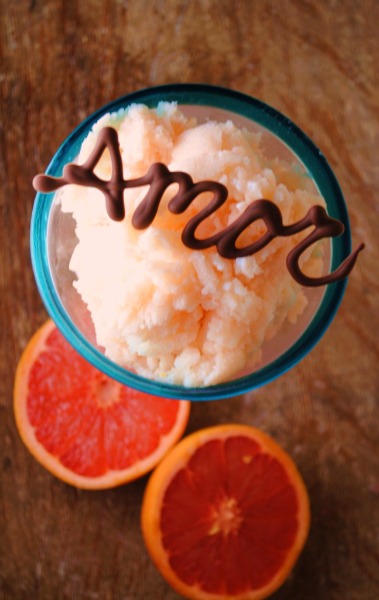 Grapefruit Buttermilk Granita
Its grapefruit season in South Texas and I am slurping up every last drop of these little ruby red gems.  In salads, in my morning juice or to vamp up my dinner fajitas grapefruits are a big part of my table at the moment.
My grandfather adored grapefruit, my mom enjoys them as an after dinner snack and I buy them by the truckload. We are obsessed!
A sweet, sweet, obsession.
Add buttermilk to the mix and it only gets sweeter.
A perky, pink, punch of Texas flavor.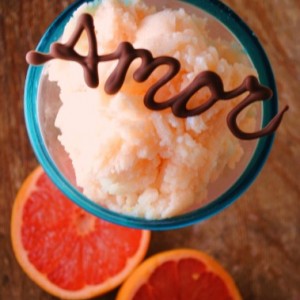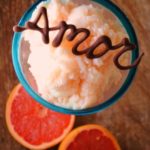 Grapefruit Buttermilk Granita
Ingredients
1

cup

water

2

tbsp

finely chopped red grapefruit rind

1

cup

sugar

1

cup

fresh red grapefruit juice

2

cups

whole buttermilk

½

cup

chocolate chips

semi-sweet, dark or white
Instructions
Bring 1 cup water to a boil in a small saucepan.

Add rind; reduce heat, and simmer for 2 minutes.

Drain, but reserve rind.

Combine rind, sugar, and juice in pan; bring to a boil, stirring constantly until sugar dissolves.

Reduce heat, and simmer 20 minutes.

Remove from heat.

Combine the juice mixture and buttermilk.

Pour into a 9 inch pan.

Freeze 4-6 hours stirring every 30 minutes.

Serve or freeze for up to one week.

To serve scrape surface of granita with a metal spoon.

Garnish.

Chocolate garnish- In a microwave safe bowl heat chocolate in intervals of 30 seconds until chocolate melts.

Using a piping bag or end of fork drizzle chocolate to form letters on parchment paper.

Refrigerate until ready to use.