*Disclosure: This post is part of my ongoing relationship with the folks from Sabra Hummus. I am thrilled to be a Sabra Tastemaker and excited to share recipes I have developed using Sabra Hummus. I am being compensated to develop recipes to share with you; all opinions expressed here are 100% mine.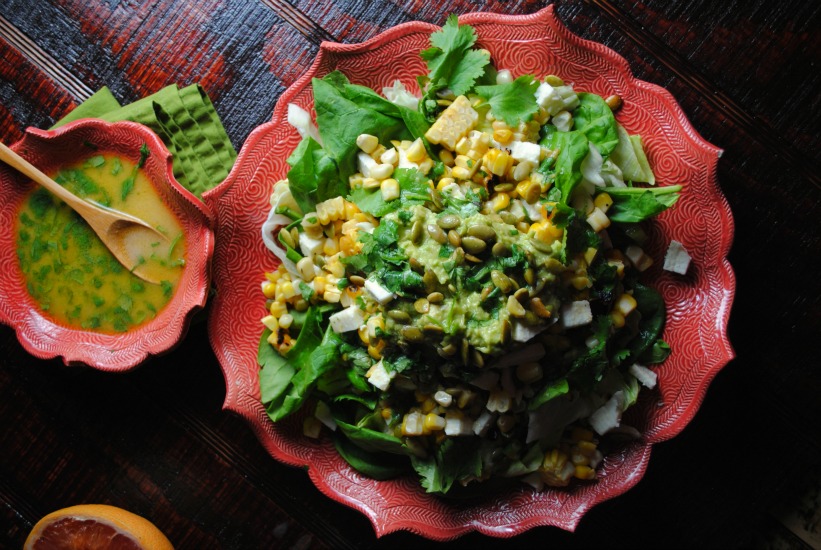 Grapefruit Hummus Salad Dressing
I grew up eating a ton of garbanzo beans.  My mami loved to sprinkle them in fideo, arroz y en las sopitas she would make us when we were feeling under the weather.  My little sister used to pick them out, one by one and my little brother would slide them to the side of his plate.  I on the other hand really enjoyed them, to me they were exotic. Unlike the typical pinto or black bean that graced our table weekly these beans were puffy, round and held up to my mami's thick caldito (broth).
Over the years I have begun experimenting on my own with garbanzos using them in salads, stuffing them into quesadillas and even baking cookies with them.  So far at our home there has been no sliding to the side of the plate when I serve garbanzo beans yet.
I find myself reaching for them when I know my mom is coming to dinner. A little piece of the past reinvented for our dinner together.  She loves it, coming over to dinner and trying something she would have never thought to make for herself.  She tells me my blogging is an adventure for also, she gets to enjoy new food.
Isn't she cute?
I made this salad for Father's Day along with a huge plate of carnitas y salsa.  The carnitas to celebrate mi cariño and the salad..well my mom was coming to dinner.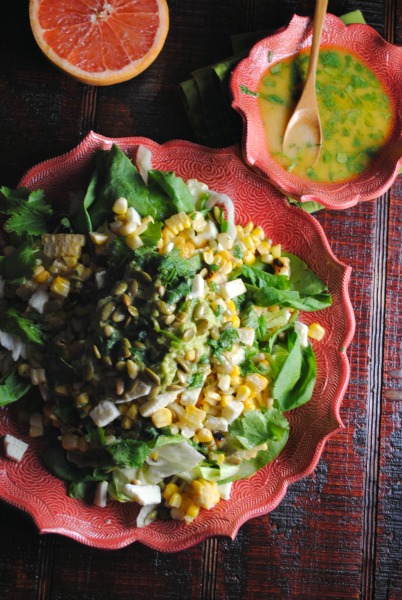 I served this dressing over a bed of greens, roasted corn and a spoon of creamy guacamole.  Cubed queso fresco a heavy drizzle of dressing, a sprinkle of pepitas and your set.  I served a smaller version for our Father's Day meal, but the next day I enjoyed a heftier size for dinner.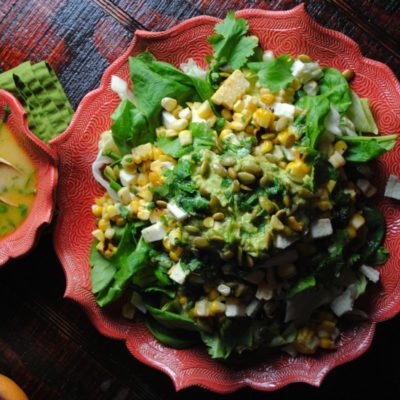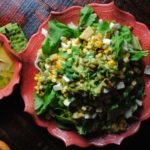 Grapefruit Hummus Salad Dressing
Ingredients
2

cups

fresh grapefruit juice

about 3 grapefruits

1

tablespoon

of white wine vinegar

4

Tablespoons

of Sabra Hummus

2

tablespoons

olive oil

1

tsp

lime zest

Juice of half a medium lime

2

teaspoons

agave

¼

teaspoons

of freshly ground pepper

¼

teaspoons

on salt

2

tablespoons

chopped fresh cilantro
Instructions
Combine grapefruit juice, vinegar, hummus, oil, lime zest, lime juice, agave, pepper and salt in bowl of a food processor or blender. Pulse or blend to combine until smooth; add cilantro.

Chill well before serving.