Disclosure: This is a sponsored post with Sweet Life and Chinet celebrating Summer Baking. All opinions expressed here are 100% mine.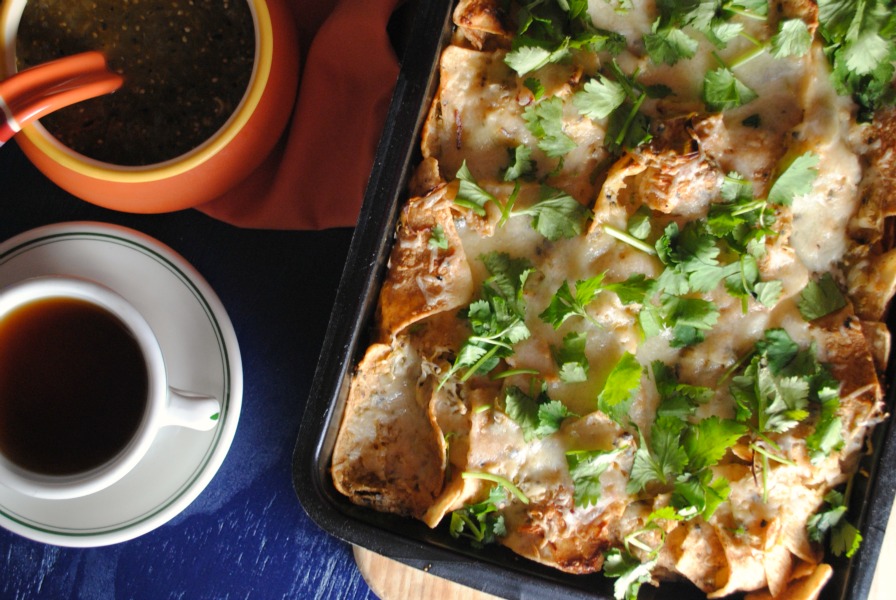 Chilaquiles Casserole
Growing up I would be amazed how effortlessly my mom could feed a crowd.  She would swiftly move from task to task dicing, stirring or seasoning, she made it all seem effortlessly.  The table was set no dirty dishes in sight and the house smelled heavenly.
At the table you would always find freshly made salsa, plenty of queso fresco and stacks of homemade flour tortillas.  Piping cups of coffee were ready to be sweetened, an agua frecsa for the kids and a big charola (pan) of chilaquiles.  Everyone loved her chilaquiles and she always made sure to make a double batch.
Crispy tortillas smothered in a tomatillo sauce and heavily topped with cheese, they were the ultimate brunch fare. 
I am the complete opposite of my mami.  I love having famila y amigos over for a festive brunch, but this gal does not move swiftly from task to task.  This is why I prep much of my brunch items the evening before my event.
But like mother, like daughter you will find freshly made salsa, plenty of queso and stacks of homemade tortillas at my table also. I've learned not to mess with a good thing.
Pitchers of aguas frescas for the kids, pitchers of margaritas for the adults and a double pan of my chilaquiles casserole.
Crispy tortillas smothered in a tomatillo sauce, swimming in egg and heavily topped with cheese, they are the ultimate brunch fare. 
My mami loves them and that folks it the ultimate compliment!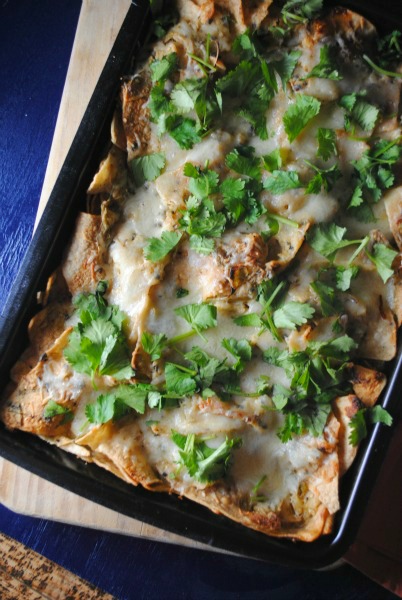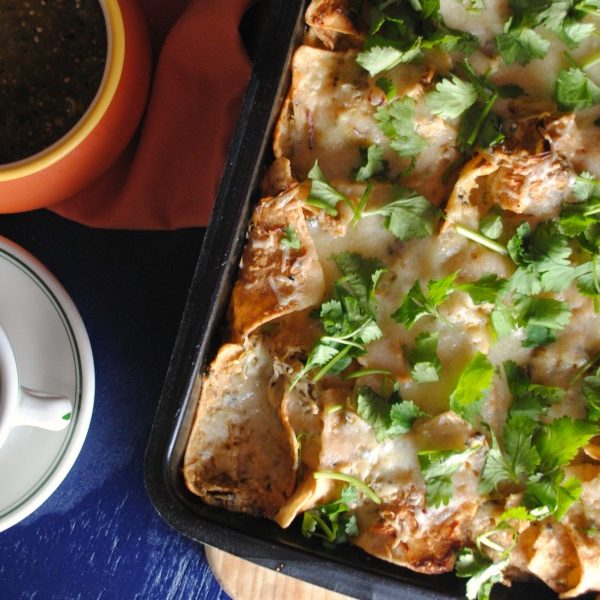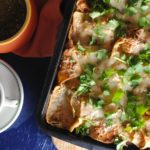 Chilaquiles Casserole
Ingredients
For Salsa Verde:

1

lb

tomatillos

2

jalapenos

chopped (removes seeds for less heat)

1

medium onion

chopped

2

cloves

of garlic

skin on

½

cup

cilantro

washed

Juice from one lime

2

teaspoons

salt

For Chilaquiles:

10

eggs

1

cup

salsa

divided

1

cup

milk

4

cups

tortilla chips

1 1/2

cups

queso quesadilla cheese

Toppings:

½

cup

chopped cilantro

1/2

cup

Mexican Crema

salsa
Instructions
For Salsa:

Pre-heat broiler

Place tomatillos, onion and garlic on foil-lined baking sheet.

Broil for 5-7 minutes to lightly char the skins.

Be sure to watch the garlic, it will char quickly.

Allow to cool, remove skin from garlic and place with remaining ingredients into a blender along with cilantro, lime juice and salt.

Blend until smooth.

For Chilaquiles casserole:

In a large bowl whisk together eggs, salsa, milk and 1 cup cheese. Add chips, stir to coat completely with egg mixture.

Place in 9x13 baking pan; refrigerate at least 8 hours.

Pre-Heat oven to 375ºF.

Bake uncovered, 45 min. or until center is set. Top with remaining cheese; bake 5 min. or until cheese is melted.

Serve with chopped cilantro, crema and salsa.
Recipe Notes
You can substitute with your favorite jarred salsa.
I've teamed up with Chinet to Celebrate Summer of Baking!
  I had the opportunity to test out their new disposable baking pans, which lets you take your food from oven to table to freezer to microwave, all in one attractive, non-stick pan.  
And this gal loves to prep ahead, so these babies fit perfectly into my kitchen and no clean up! Sweet!
And to celebrate Chinet is giving away a complete set to you my dear readers to help you spend less time in the kitchen and spend more time enjoying Summer.
And because it's from the Chinet brand, strength and stability are built in. Bakeware is designed to be sturdy and dependable no matter what you've got cooked up. And not only does it look good, but you can leave it behind without worrying about losing your favorite permanent pan. Made in the USA of 90% recycled material, Chinet Bakeware is finally an idea in disposable bakeware that isn't half-baked.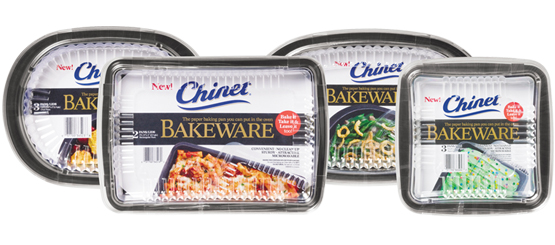 Giveaway:
How to Enter: leave a separate comment for each one
Giveaway Ends (midnight) June 27, 2013, winner will be notified by email and Chinet will ship prize to Winner.
Follow: Chinet on Twitter
Follow: Sweet  Life on Twitter
Follow: Sweet Life on Pinterest
Like: Sweet Life on Facebook
Subscribe to Sweet Life