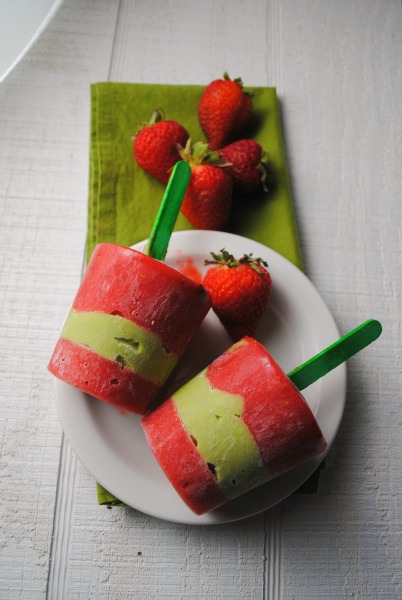 Paletas de Fresa y Aguacate
I have been enjoying loads of avocados on my salad with vibrant drizzles of fresh strawberry dressing lately.
The Texas temperatures are slowly creeping up, up, up and some days a big ole salad is all you crave.
I thought why not combine the two, pour them into little cups and freeze'em for a cool after dinner treat.
They.
Were.
A.
Hit!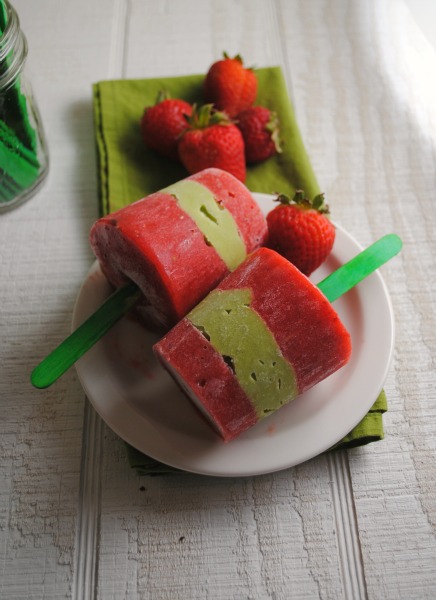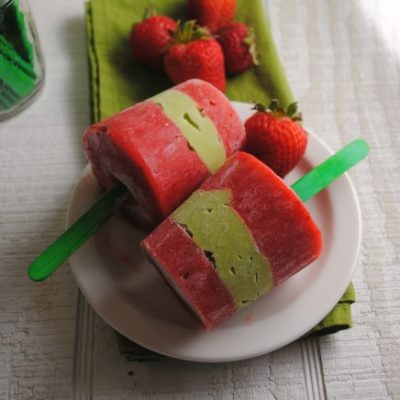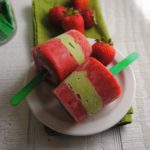 Paletas de Fresa y Aguacate
Ingredients
2

cups

fresh strawberries

chopped

2

ripe avocados

pitted

1 1/2

cup

water

1/2

cup

sugar

½

tsp

salt

2

tablespoons

freshly squeezed lime juice
Instructions
In a small saucepan combine water and sugar. Cook over medium heat until sugar has dissolved. Allow to cool.

In a blender add chopped strawberries and half of sugar syrup. Blend until smooth. Pour strawberry mixture into a bowl and rinse clean.

Scoop the avocado flesh into a blender, along with the remaining syrup, salt and lime juice. Blend until smooth.

Pour 2 tablespoons of strawberry mixture in your paleta mold of choice, if using conventional molds you might need to use more. Freeze for 30 minutes; insert popsicle stick continue to freeze an additional 30 minutes or until set to form first layer.

Pour 4 tablespoons of avocado mixture over the starbwerry layer; freeze for 1 hour or until set.

Repeat with strawberry.
Summer Fest with Food Network!! This week we celebrate Berries. Check out what yummy treat these yummy bloggers have whipped up in their kitchen.
Feed Me Phoebe: Gluten-Free Blueberry-Almond Pancakes
The Lemon Bowl: Strawberry Mango Chia Smoothie
Dishin & Dishes: Crunchy Topped Blueberry White Chocolate Muffins
Jeanette's Healthy Living: Gingered Blueberry Shortcakes With Light Creamy Topping
Taste With The Eyes: Blueberry Limoncello Pavlova
Sweet Life Bake: Paletas de Fresca y Aguacate
Napa Farmhouse 1885: Mixed Berry Tea Cake
Red or Green?: Strawberry & Blueberry Crisp (Red or Green-style)
Virtually Homemade: Blueberry Mint Margaritas
Haute Apple Pie: Triple Berry Ice Cream
Pinch My Salt: Strawberry Peach Cobbler With Almond Biscuit Topping
Cooking With Elise: Dehydrating Blueberries, Plus Blueberry and White Chocolate Cookies
Devour: Four Healthy Berry Recipes
Domesticate Me: Summer Berry Crisp
Weelicious: Brainy Breakfast
The Sensitive Epicure: Strawberries With White Balsamic Vinegar Caramel, Orange Zest and Black Pepper
Daily*Dishin: Fresh and Easy Blueberry Pie
From My Corner of Saratoga: Mixed Berry Freezer Pops
FN Dish: Wake Up With Berries