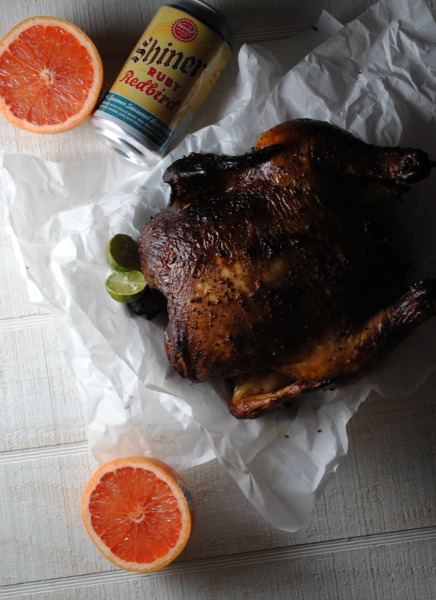 Beer Can Chicken
On the weekends papi would drag us outside to clean the yard.  Mow, weed, rake and trim branches. He was a hard ass about the entire process, he demanded perfection.  We all just wanted to crawl back into bed and watch Saturday morning cartoons.  We would spend the entire day outside until the yard met his strict requirements.
When he was satisfied he would jump in his truck and head to the grocery store.  He would return with drumstick ice cream cones, a bag of chicken, a few onions, beer and candy.  He would crank up the sprinklers, throw out a huge tarp for a make shift slip and slide and he would fire up the grill.
Sipping on a beer in his cutoff old jeans he would grill chicken and watch up slip and slide.  After a few beers he would loosen up and join us.  Forgetting the chicken, grabbing the water hose to spray us each chance he got.
Then he would remember the chicken, running over to find his juicy chicken was now crispy chicken.  Picking up his tongs as he cursed in Spanish he placed the chicken on a platter and slammed the bbq pit door shut.
Mira, mira el pollo.  ¿Que vamos a comer?   
Look, look at the chicken.  What are we going to eat?
We would begin to feel guilty as if we kept him from manning the grill.
Its okay we would say.  I bet it taste good we said as we all grabbed a piece.
And it was the chicken was very good.  The skin was crispy, the meat was juicy.
Papi ate a piece and seemed to enjoy the crispy skin, so much he began grilling his chicken until crisp ever since that day.
We still have that old tarp that we pull out for our kids now.  And we still grill chicken, but we save the yard work for midweek.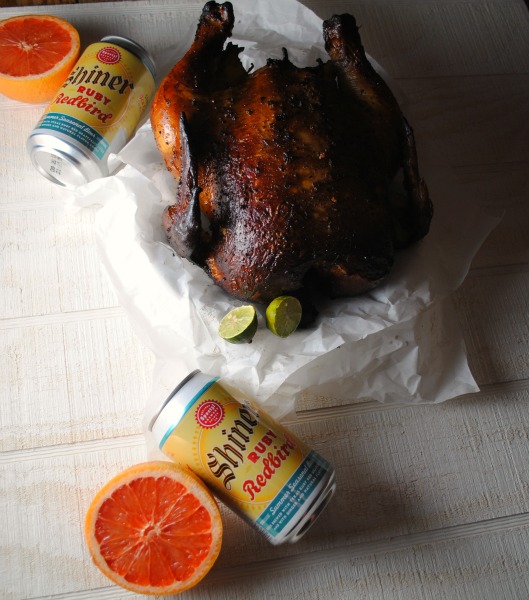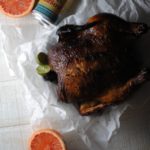 Beer Can chicken
Ingredients
1

whole chicken

4 ½ - 5 pounds

2

tsp

vegetable oil

½

tsp

ground cumin

½

tsp

ground coriander

½

tsp

granulated garlic

½

tsp

salt

½

tsp

freshly ground pepper

1

12oz can beer
Instructions
Remove and discard giblets and neck from chicken.

Rinse chicken, pat dry and brush with vegetable oil.

In a small bowl combine cumin, coriander, garlic, salt and pepper.

Season chicken with rub, inside and outside.

Prepare grill (300 degrees)

Pour or drink out 1/3 of the beer and set on a baking sheet. Slide chicken over the top upright, gently lower chicken over can.

Carefully transfer chicken to grill and use the legs for support.

Grill over indirect heat, with lid closed until juices run clear (temp 160-165), about 2 hours.

Using oven mitts remove chicken from grill, allow to rest for 15 minutes and remove beer can (the beer can will be hot). Slice and serve warm.