Honey flan is a rich, sweet honey flavored custard topped with a caramel sauce. Made from a mixture of eggs, sugar, sweetened condensed milk and honey and then baked gently in a water bath until it's set, but still creamy. Topped with crushed bee pollen honey flan is delicious.
My older sister adores flan, so I always love surprising her with a new variation. Today honey flan! I put a spin on the classic flan by adding a touch of sweetness from honey then I garnished with crushed bee pollen for a festive sweet treat.
A lovely honey scented flan that you can easily whip up in the blender. One of the most popular Latin desserts flan is a delicate baked custard with a sweet caramel top layer that can be easily infused with any flavor your little hearts desires – chocolate, orange, citrus, or coconut the options are endless.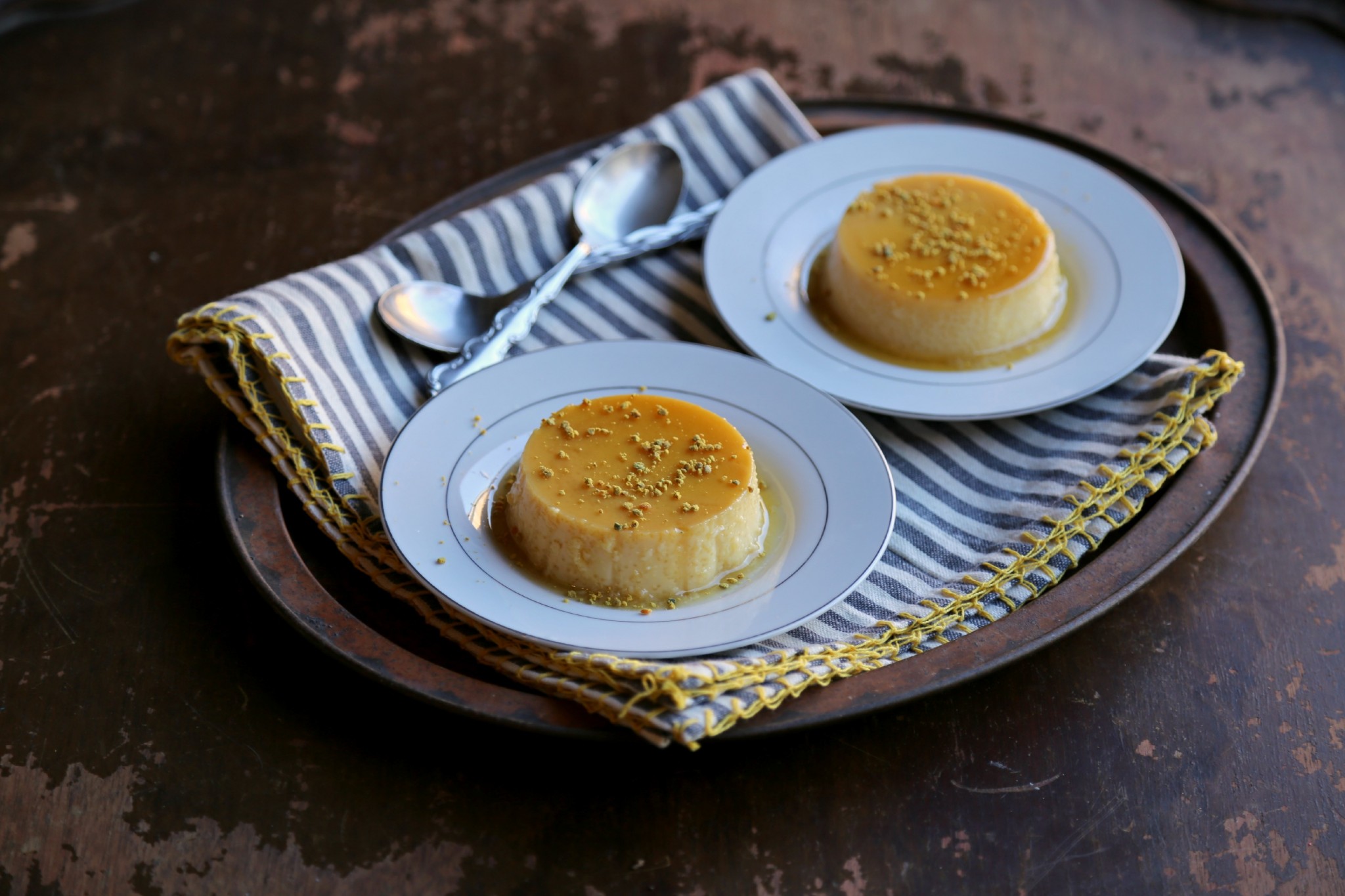 WHAT IS A FLAN?
Flan is a baked custard dessert with a layer of caramel on top. You must first cook the caramel topping before pouring the flan mixture. This begins by caramelizing sugar until golden brown then pouring it into your baking ramekins, then you top with flan custard, place in a water bath, and bake until set.
HOW TO BAKE A FLAN IN A WATER BATH
Baking flan in a water bath is a key step due to the delicate custard. A water bath is a baking technique where the water provides a constant steady heat that ensures even, slow cooking which prevents cheesecakes from cracking or custards such as flan from becoming rubbery.
I use my roasting pan when baking my flan in a water bath. It is large enough to place my ramekins and contains sufficient water for my water bath.
I place my ramekins in the roasting pan, place my roasting pan in oven then pour water to reach halfway up the pan. This method is easier, and safer than having to carry a pan with ramekins and water to my oven.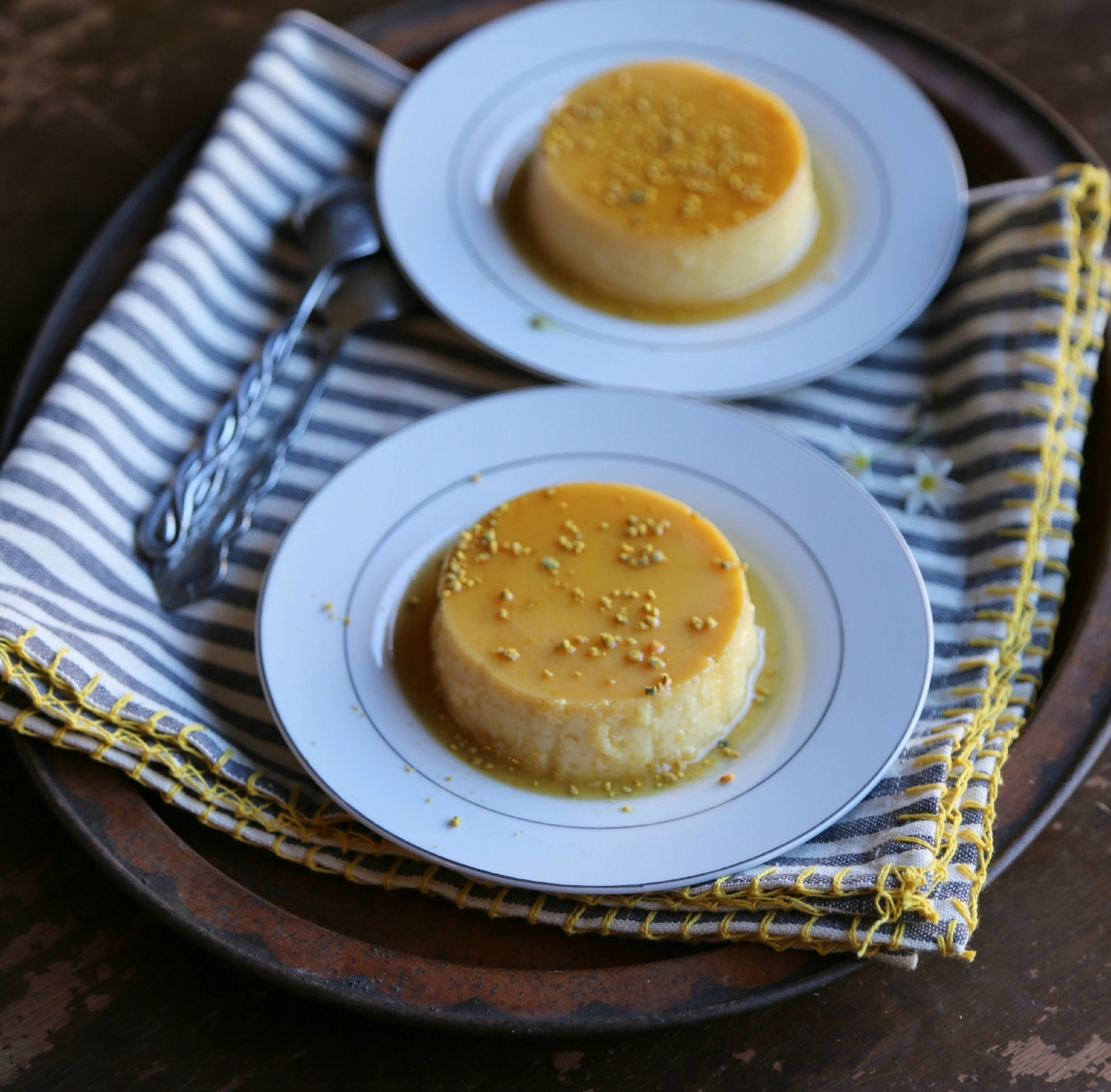 TIPS ON MAKING FLAN HONEY FLAN
When making the caramel topping be sure to watch the syrup carefully as it will change colors quickly.
It can go from golden brown to burnt quickly, so if you are afraid of burning your syrup remove from heat; it will continue to cook with the residual heat. If the caramel burns it will taste bitter.
Also be very, very careful when pouring the caramel into your ramekins.
The flan is ready when it has set and jiggles slightly. Continue to bake if the custard has not set, add water as needed when baking.
Allow the flans to cool in the water bath, remove carefully and refrigerate.
When ready to serve run a knife around edges of ramekins to help release the flan.
Carefully invert over serving plate and serve garnished.
Find bee pollen next to the honey at your local grocery store. Enjoy bee pollen over your oatmeal, in smoothies or as a garnish in desserts.
MAS FLAN RECIPES: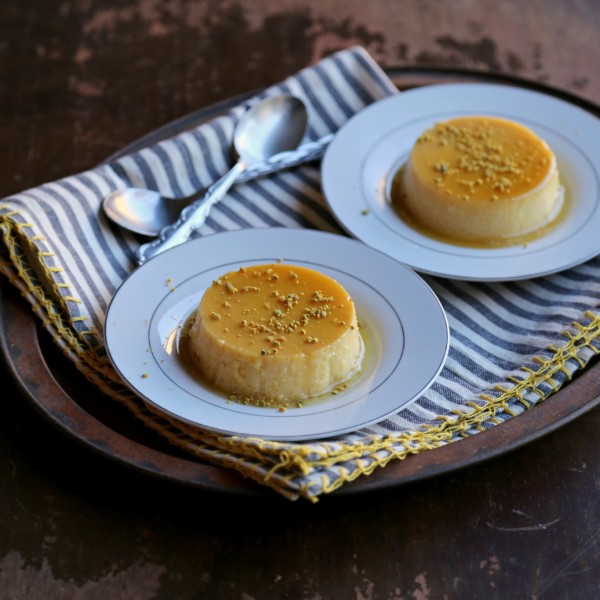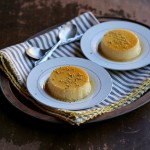 Honey Flan
Ingredients
1/2

cup

sugar

8

tablespoons

honey,

divided

1

(14oz)

can sweetened condensed milk

1

cup

milk

3

large eggs

1

large egg yolk

1/4

teaspoon

salt

1/4

teaspoon

vanilla

1

tablespoon

bee pollen crushed

optional
Instructions
Preheat oven to 350°.

Add sugar to a nonstick saucepan; place over medium heat, and cook, gently shaking pan, 4 minutes or until sugar melts completely and turns a light golden brown.

Carefully stir in stir in 4 Tablespoons honey, at this point mixture will seize, clump together; gently stir and allow to melt again.

Remove pan from heat and immediately pour hot caramel sugar into 6 (6-oz.) ramekins.

Place ramekins in a large roasting pan, set aside.

To a blender add sweetened condensed milk, milk, eggs, egg yolk, salt, vanilla and remaining 4 tablespoons of honey.

Blend until smooth; pour into ramekins. Place roasting pan in oven, add 1 inch hot water to roasting pan carefully not to spill into flan and cover pan with foil.

Bake for 30 minutes or until flan is set. Remove roasting pan from oven, allow ramekins to cool in water bath for 10 minutes.

After 10 minutes remove from roasting pan, cool completely and drain water from roasting pan.

When cooled completely place ramekins back into roasting pan, cover with foil and place in fridge.

Chill for 4-6 hours.

When ready to serve run a knife around edges of ramekins to loosen, invert onto serving plate and garnish with crushed bee pollen.