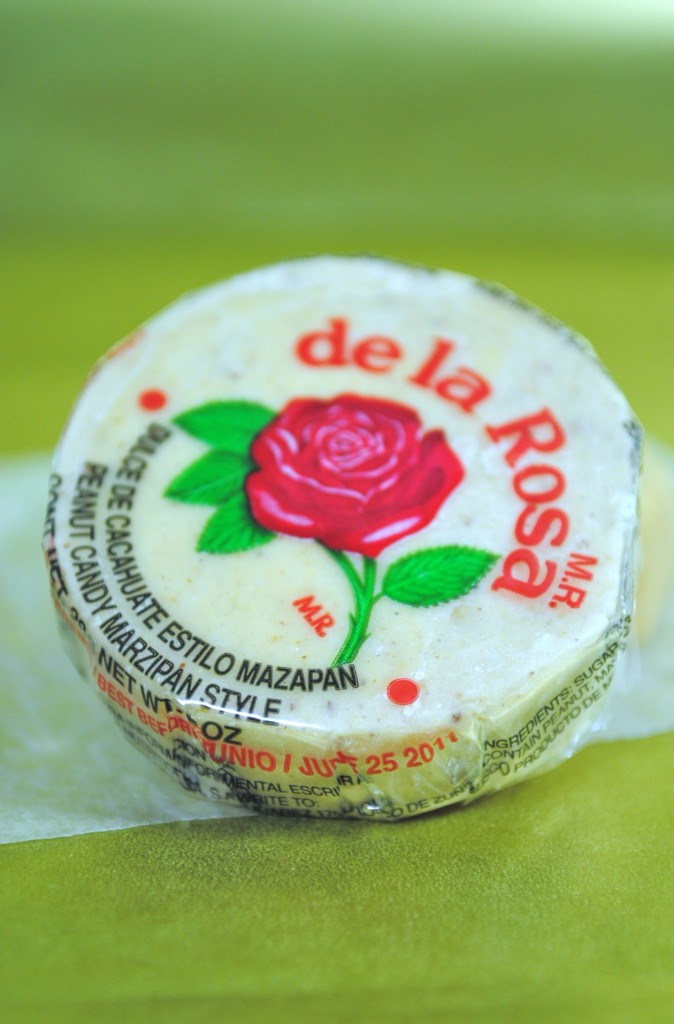 It's a small world…Read on my sweet readers..
My gorgeous husband is addicted to many things….his favorite foods, favorite beer,  Houston Texans,  Houston Rockets and nutty mazapanes. You ask why I am not on the list, I said addictions…I am classified as his obsession..(smile).
Mazapanes are a Mexican candy that is made of  either peanuts, almonds or pistachios.  Blended with sugar the  natural oil of the nuts to infuses the sugar to create a crumbly paste.  This paste is then formed into heafty round disks wrapped in cellophane.  These candies are sold individually or by the case.  
When we moved to Killeen, Texas for his Army duties he was severely crushed to not find a single store that sold these circular treats.  I patiently explained to him, after he recovered from what he considered a enormous blow to his heart, that I would kindly ask Papi (my father) to pick up extra pkgs when he visited his mother.  He instantly agreed, even as going to the extra measure to personally call Papi.   We rented a home in  Killeen mid November and celebrated a Texas Christmas with my entire family driving to Central Texas.  My husband's first Army Christmas was a success a home filled with family, piping warm tamales in his belly and three boxes of mazapanes straight from Papi's loving grasp.  In the next months  with the rush of work,  unpacking his family,  preparing for his first deployment to Iraq and worries about his tiny family living alone an entire year he pushed all his favorites aside.  After he left in March, Papi came to visit me knowing I needed my family.  As we talked he wondered how my husband would make the transition from an American Life to the life of a full time soldier.
Three weeks later I received a call relaying my husband's new address allowing families  to mail their soldiers care pkgs.  I quickly relayed the information to my entire family knowing they would quickly send out care packages to shower him with much needed comfort.
Phone calls were sparse the first month, but after their routines clicked the calls came once a week.  Early one morning I received a phone call with his voice weary from lack of sleep, but his words oozing from excitement.
" Guess what ?"  he quickly said.
"I met a soldier from Houston today."
I smiled, Texans naturally migrate towards other Texans.
"We talked for a hour, we talked about how we missed carne gusida, refried beans, home made tortillas and our Sunday football games."
I listened quietly.
"Can you believe he has knows where Driscoll, Texas is? (Driscoll , Texas is my husband's very small hometown)"
He knows where Driscoll is, wow .
"It's a small world babe and you know what is even funnier?"
What ?
" The soldier from Houston said what he missed from home the most was eating his favorite Mexican candy – mazapan."
Really, he loves them as much as you do?
"Well guess it's your lucky day I just got a care pkg from Papi loaded with mazapan!"
It is a small world.
This recipe comes from My Sweet Mexico by Fany Gerson.   When the doorbell rang  I pounced on the mailman to retrieve my copy.  As I opened the book I was flooded with sweet memories of my childhood visits to my beloved Mexico.  Fany features recipes such as Polvorones (mexican wedding cookies), Jamoncillo de Pepita (pumpkin seed candy), Merengues Ruta Maya (lime meringues), Nogada de Nuez (piloncillo candied Pecans), Orejones (cinnamon sugar ears), and Rosca de Reyes (Three Kings Bread). There is a complete chapter dedicated to Corn which in itself made my week.  The sweets are presented traditionally as you would see in Mexico giving the book such a warming homey feeling.  I was completely flooded with emotion, that I instantly emailed Fany to express my love for her cookbook.  I laughed with my little sister later at how I must have sounded like such a dork to Fany.  Later in the evening when I checked my email, she responded with the sweetest email….ahhh I melted again. Enjoy as I am sure her recipes will be featured often. Sweet Life       
Mazapanes de Cacahuate
by Fany Gerson
My Sweet Mexico
2 cups toasted unsalted peanuts, skins removed (pistachios,pecans, or almonds may be substituted)
1 1/2 cups confectioners' sugar
Grind the peanuts in a food processor. Add the sugar and continue mixing, scraping the sides from time to time, until the peanuts release their oil and a compact paste is formed when pressed between your fingers.
Be patient as this may take a bit of time depending on your food processor.
Put some of the paste into a 2 inch diameter cookie cutter, filling it up about 3/4 inch high.
Press down with your hands until compacted.
Remove the cutter carefully and repeat until all paste is used.
Wrap in cellophane or tissue like a sugar candy.
makes 10
Wrapping Mazapanes
To prepare the wrapper using cellophane or tissue, cut 10 pieces into 4 by 3 inch rectangles. Then cut thin strips of a little less than 1 inch from the short sides toward the center all the way down. Put the marapane in the center and roll over so the candy is fully covered, then twist the ends.