Happy Monday to all and welcome to my second installment of Texas Talent, where I showcase talented Texans who live, love and work in the Texas food industry. Today I have the honor of interviewing Tony Anderson from What-A-Melon located locally here in Edinburg, Texas.  I knew the instant I tasted Tony's wonderfully sweet watermelons, that I had to chat with him.  My love for watermelons runs deep beginning with fond childhood memories to present day daily indulgences.  In the past before I began blogging I don't think I appreciated the time, patience and love that went into growing these highly addictive melons.  I was much too consumed with my melon fetish that I put aside the wonderful farmers who bless me each year with their produce.   In researching I found that Texas ranks 3rd in production in the US and almost 42,000 acres here are devoted to provide us with a perfectly sun kissed product.  Tony's family has been growing watermelons since the 1960s and after purchasing many of his red jewels, I  can clearly understand why his family business thrives and I hope they continue to offer us many more years of wonderful watermelons.  Let's chat with Tony for awhile and move on to our featured recipe.  Please help me in thanking Tony for his ever sweet product, and offer our condolences to Tony for his father Deroy Anderson recently passed.  I am certain Tony will continue his father's great work and look forward to enjoying many more watermelon from What -A -Melon. Enjoy, Sweet Life
 Sweet Life – Hello Tony , welcome can you please give  my readers a little background into your family business, What- A- Melon.
Tony-   WhatAMelon is the brand name for Anderson Produce. My dad, Deroy Anderson, started growing watermelons in the 1960's with his father, JT,  in Yoakum county in west Texas. At first they would grow and harvest the watermelons and sell them to watermelon "brokers" who would travel around buying watermelons from different growing areas throughout the season. Watermelons were a supplement to farming cotton and grain and raising cattle until the late seventies. After some setbacks in the cattle market, my Dad decided to focus full time on watermelons. It is a decision he never regretted. Over the next decades, his insistence on quality helped build Anderson Produce and it's marketing arm, Texas Melon Exchange, into one of the largest watermelon shipping operations in the country.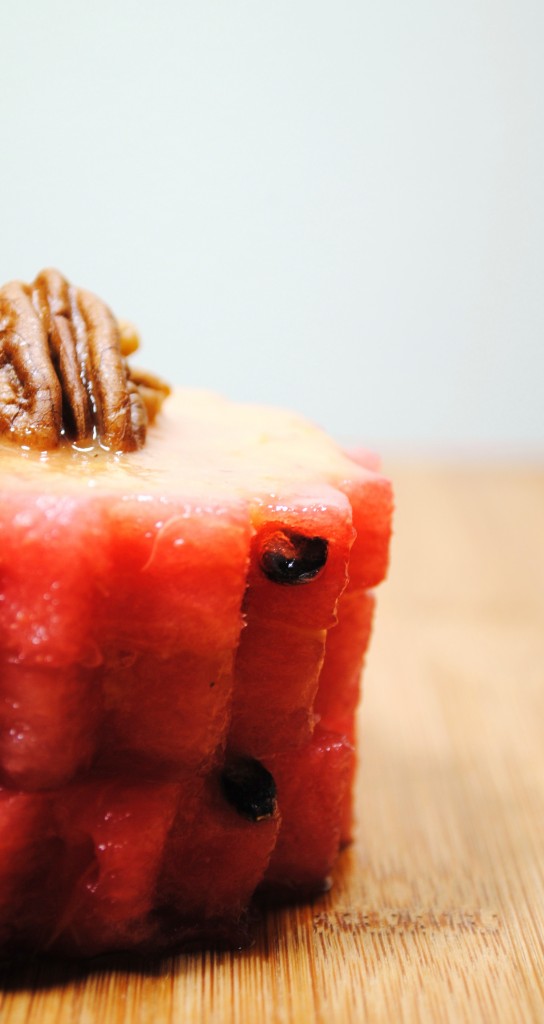 Sweet Life- What is the process in selecting only the finest melons for your consumers?
Tony-     Moving an army is a better description of the process. We ship watermelons from our packing facility in Edinburg from November through June. We then move several truckloads of equipment and a small army of people to Midland Texas. We then repeat the process and move it all to Plains Texas. When the harvest is finished in Plains we move it all back down to Edinburg.  The people are what allows us to ship the best watermelon day in and day out. You have to have experienced people to select the ripe watermelons from the  fields, and then grade the watermelons at the packing facility.  My father passed away last week, and a big part of his legacy will be the group of people he put together, many who have been with him more than 20 years, and one who worked with him for 44 years.
Thanks Tony and  please stop by Wednesday  as we continue our chat.  Shall we enjoy watermelon?  What if you combined fresh Texas watermelon and Texas peaches in a sweet, savory salad.  Roasting the peaches on high temp allows them time to release their juices, making for easy processing. Add good olive oil and freshly ground pepper drizzle on slices of watermelon for a perfect side salad for your next meal. Easy, quick and tasty, really what else could you ask for. Enjoy!
Stop by and check out What-A-Melon's site.   Above picture taken at What-A-Melon location.
 Watermelon with Roasted Peach Pepper Vinaigrette
by Sweet Life
by Vianney Rodriguez
serves 4
4 peaches, halved seed removed
olive oil
salt
freshly ground pepper
Place peach halves on roasting pan and drizzle with olive oil.
Broil on high heat until lightly charred.
Place peaches in food processor and begin to process, slowly add olive oil to thin slightly.
Taste and add salt.
Process again adding freshly ground pepper, add pepper to your taste,  season with salt if needed.
Want more watermelon? try agua de sandia… click here..
Loving the Sweet Life, hey subscribe and enjoy each recipe sent directly to your email…
(oh and lastly all pictures and words are mine, yes mine, don't be sleazy and steal work..it's copyrighted, yup all mine…love ya! Sweet Life)