For the last five days I have been on the couch, yes on my lonely couch hunched over sick as a dog.  Read on my food lovers… 
Only yesterday I realized I had only one sock on.  Oh people it was horrible, my girls wanted nothing to do with me, hubby really couldn't help me…the sickness had taken over and I had been beat.  I knew sickness was near, I could feel the trickle in my throat signaling future bouts of cough, but I pushed it aside.  I felt the sinus pressure building but once again I pushed it aside…me sick, no way no sir I had a party to plan.  After all my daughter only turns 11 once in her life and we were going  to celebrate no matter what..man was I ever in for it.  I carried on, cooked all day, prepped her cake, decorated our tiny apt and waited for my family to arrive.   As we sat down to eat I felt my sickness sit down beside me "oh I thought,  just her enjoy her cake, allow my family to drive off happily and I will welcome you in, gladly"  As if he seemed to accept my offer I enjoyed our food, lit her candles, sang happy b day, snapped millions of pics while she opened her presents and enjoyed a lengthy goodbye with my family as they left."  Hubby and Chuls quickly agreed to clean up so I could take a nap.  I laid down knowing I would not soon get up, five days later I am just regaining my ground.  It's funny when your sick your normal routine changes dramatically.  I found this very disturbing as I like most have many things on my "to-do list."  I ate watermelon at midnight, drank so much water I almost had an accident for not having the will to get off the sofa and even had a piece of b day cake for breakfast.
In my inability to sleep the whole night, I would find myself turning on the tv to keep my mind occupied, I must admit to watching 2 very good movies and loads of infomercials (who knew they could be so entertaining?)  One night or should I say morning at 2am I tuned into a home shopping channel and now find myself waiting for 5  pieces of jewerly the lovely hosteess  convinced me I would never find at a lower price.  I agreed and my credit card took the hit, all while I slurped more medicine hoping to get at least a couple of hours of sleep before they began showcasing the fall fashion lineup.
I would awake at noon feeling less refreshed and realizing I craved my daily life  of making breakfast, washing clothes , running errands and just merely having the ability to complete these tasks which I nag about daily.  I also found myself missing my other life,  my daily escape to visit with my food loving friends. I missed my brewing witch, my rambling dude, my med student comic relief, my spicy mamacita and all my daily reads who effortlessly share their life, cuisine and world with me.
I decided to end my misery and soothe my body, soul and mind with a quick pick me up soup.  I bring you a soup from a outstanding Mexican Chef, Thelma Morgan, who I met in one of my midnight bouts of sleepless nights.  I was clicking aimlessly though all my channels in a effort to watch anything that did not involve my credit card.  This is when I found Thelma, cheery eyed making soup from chayotes (I loved her instantly) and spinach.   I tuned in for the complete  show only to enjoy her so much I recorded the series.  The next day I had 3 new shows waiting, so I warn you she may show up from time to time.  So in my need to recuperate to return to my sorely missed, sorely unappreciated life which I now hold in highest regard I bring you Sopa de chayote con espinacas.  Chayotes as Chef Aaron Sanchez describes "are like if a squash ran into a apple" and I totally agree they are earthy with a sweet backdrop.  I only recently began enjoying these green gems here in Edinburg and am horribly upset with myself for not searching them out earlier. Eat chayote either raw or cooked in salads, fluff into rice,  add to your braised meats or in a tasty soup.  This soup is uncomplicated, easy to make, but provides the punch to get your body going.  This is comfort soup.  Soup that requires no fuss only a warm corn tortilla or crusty bread.  Enjoy it by the bowlful or  as I did by the glass making it super easy to watch mindless television on the sofa.    My girls say they resemble little old ladies smiling in mischief, lol. Enjoy! Sweet Life!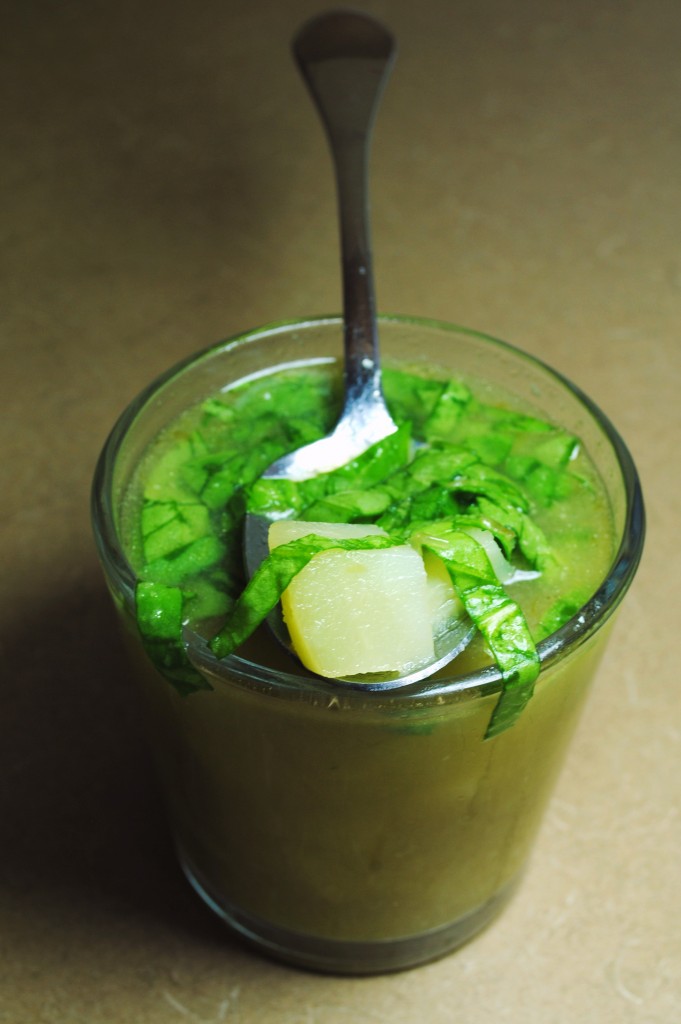 Sopa de Chayote y Espinaca
by Chef Thelma Morgan
Cocina
serves 4
2 chayotes peeled
2 cups spinach
4 tomatillos
1/2 onion
1 garlic clove
1 tbsp olive oil
1 quart chicken stock
salt and pepper
Place peeled chayotes and chicken broth covered in medium stockpot over medium heat until chayotes are soft, about 5-7 minutes.
In a blender combine tomatillos, onion, and garlic. puree until smooth. add water if needed to help the process.
Add the oil to another saucepan and heat to medium high, add mixture from  blender and cook mixture until well incorporated about 4 minutes.
Remove the chaoytes and lower temp of broth to medium.
Meanwhile slice your chayote and return to stockpot with chicken broth.
Add the tomatillo mixture to stockpot and stir to mix well.
Add your spinach and serve.
Loving the Sweet Life, hey subscribe and enjoy each recipe sent directly to your email…
(oh and lastly all pictures and words are mine, yes mine, don't be sleazy and steal work..it's copyrighted, yup all mine…love ya! Sweet Life)