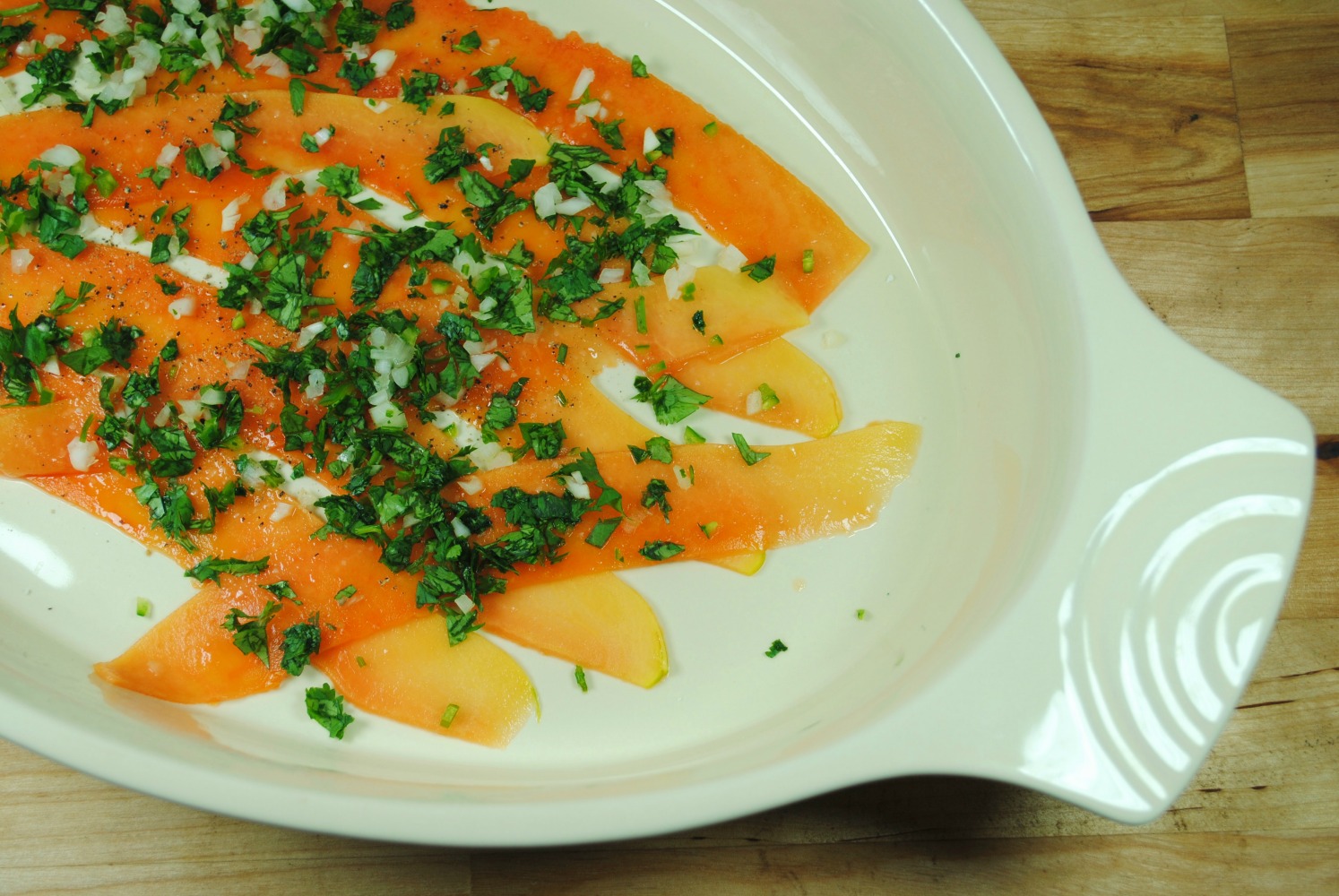 Happy Wednesday.  Welcome back to our second installment of Texas Talent with Tony from What – A – Melon.  Please enjoy another piece of my interview and a great recipe.  A tiny bite with a spicy punch, I bring you watermelon with spicy papaya.  More on the recipe a little later in the post, let's enjoy our chat with Tony.  Read on Watermelon lovers….
Sweet Life –  Where do you source all your wonderful Texas watermelons and how many varieties do you carry?
Tony –   We still ship watermelons from Yoakum county in west Texas during July, August, September, and October. The Texas harvest starts here in Edinburg in late April. The crop here in the valley usually last until the middle of June. We then start the Midland Texas crop, which usually lasts until the first part of August.  The two main varieties are seeded and seedless, but we still grow a few yellow meat watermelons.

Sweet Life – I see on your cardboard carriers (in the grocery stores) that you are a member of Go Texan, how important is it to you to promote Texas produce?
For my readers, Go Texan is a organization that promotes Texas culture, community and products.  They offer information to Texans about new wines, restaurants and local farmers. I highly recommend visiting their site, I source alot of my info from them on dining, selecting new wines, local farmers and events in Texas.
Tony -Very important. Texas watermelons are the best watermelons you can find, and it is very important to let the consumer know that our watermelons are from Texas during the Texas growing season.
The Texas Department of Agriculture is doing a great job of getting that message out to the consumer. Richard De Los Santos, with the backing of Commissioner Todd Staples, is really helping the Texas Watermelon Association promote Texas watermelons, and we are proud that WhatAMelon is part of the Go Texan program.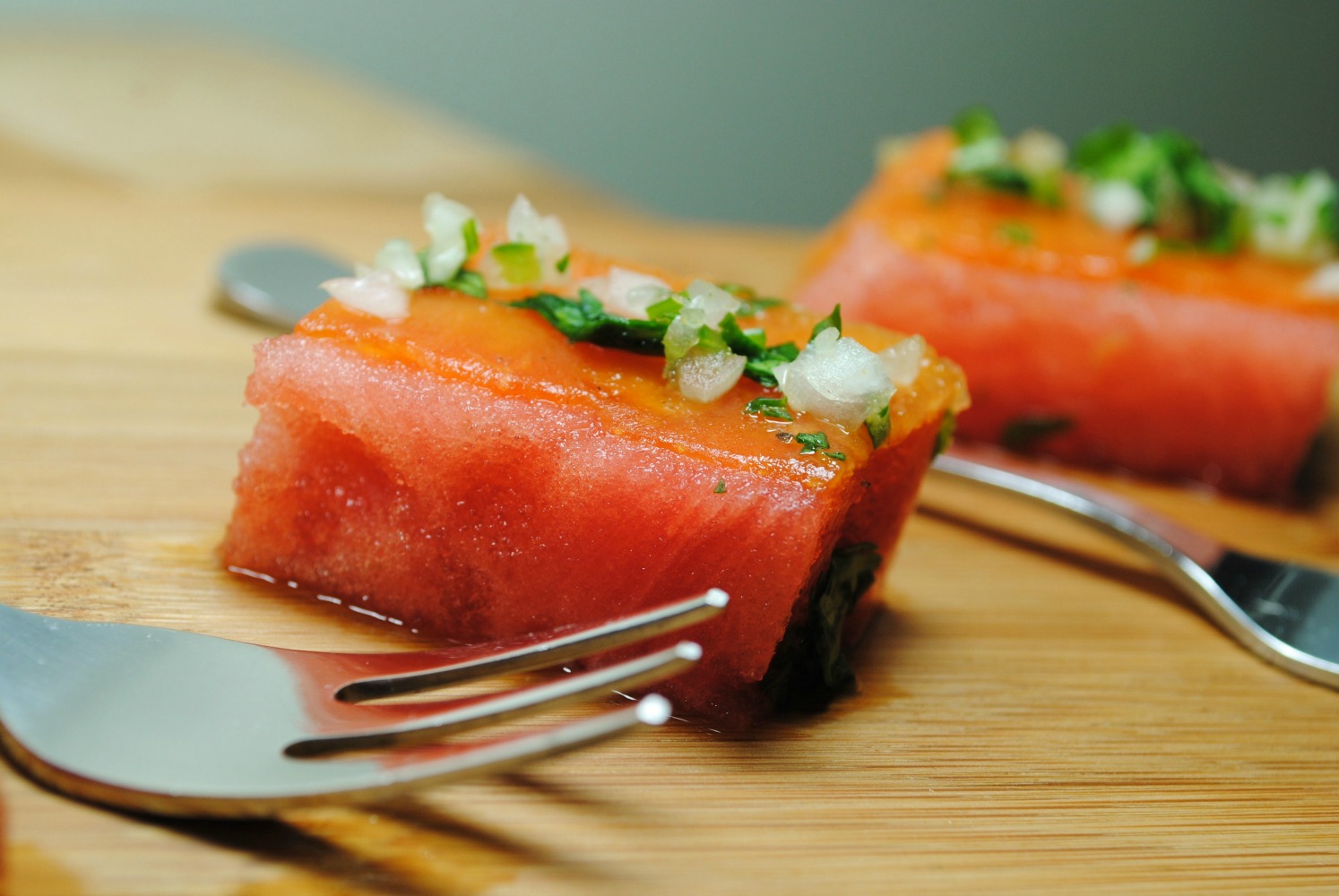 Today I offer you a great appetizer.  A spicy, sweet, cooling combo of watermelon with papaya marinaded in onion, cilantro and serrano chiles.  I love serving this little treat as appetizer, but it can also work well in bigger portions along side a protein.  Need a great salad, cube the watermelon and merely add the strips of papaya and serve over greens.  The strips are easily made using a peeler and the leftover papaya and melon can be used the next day in a refreshing agua, simply blend both together and add sweetener of your choice thinning out a bit with water.   Afraid of the heat of the serrano, simply deseed the serrano and problem solved.  I wrapped the watermelon cubes, with the papaya strips at first, which gave for a phenomenal look, but found the labor too tedious and opted to just lay the strips over the watermelon.  Lazy maybe, but I try to offer you my loves easy recipes that lack complicated extra steps, in turn giving us more time to enjoy plates of this tasty treat. Enjoy and muchos thanks for all your lovely comments, I am sure Tony feels your love.  Sweet Life.
Watermelon with Spicy Papaya
serves 4
by Sweet Life
by Vianney Rodriguez
watermelon, sliced into rectangle   (I used a seedless melon, but you can deseed.)
papaya , thin strips
1 serrano – de seed for less heat, finely diced
1 to 2 tbsp cilantro, chopped finely
1 to tbsp onion, finely diced
salt
pepper
Slice your watermelon into rectangles or shape of your choice.  Use your peeler to slice your papaya into thin strips the size of your watermelon shape.  Finely dice your serrano, onion and cilantro.  Place your papaya strips on a baking sheet and sprinkle with the onion, cilantro and serrano.  Season with salt and pepper.  Let the papaya marinade for about an hour.  Place the watermelon on a serving plate and with a knife lift the papaya strips and lay on top of watermelon.
Loving the Sweet Life, subscribe and never miss a recipe…
Need more watermelon try these recipes…agua de melon or watermelon with roasted peach pepper vinaigrette…
(oh and lastly all pictures and words are mine, yes mine, don't be sleazy and steal work..it's copyrighted, yup all mine…love ya! Sweet Life)