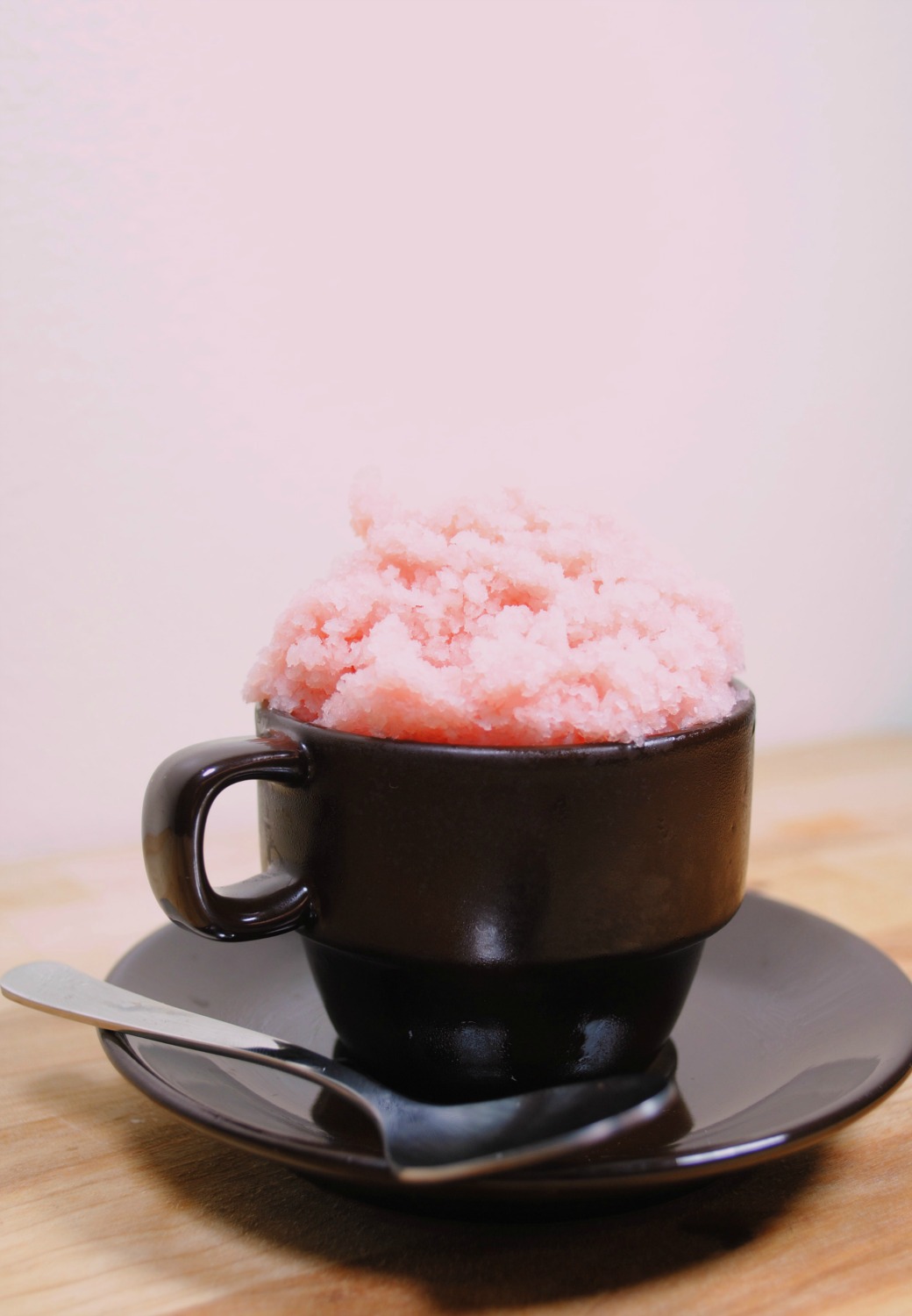 Happy Friday to all, I hope your week has been full of accomplished goals mixed with loads of laughter.  We end our fabulous week with Tony Anderson from What-A-Melon today and I cannot express how much I enjoyed this post.  Of course there is the sheer joy of cooking and consuming every dish that was prepped for the post. Entwine the feedback from my fellow food lovers and lovely comments left from Tony's family and I quickly remembered the reason I began blogging in the first place. 
Food.  Yes,  food that we consume happily each day, food that brings excitement into our daily routine, talking food, reading about food and if your blessed with the chance to meet one of the talented people who works daily to provide us with such amazing treasures, well it makes for a simply fulfilling week.  So today I leave you with a tasty weekend treat.  A beautifully tinted, creamy watermelon ice mixed with yogurt and lime juice.  Enjoy! Have a wonderful weekend and Thanks again to Tony for sharing some time with us. Sweet Life
Sweet Life – Can you give us any tips on how to pick the best watermelon?
Tony -Look for a uniform, well shaped melon. If you slap it, it should sound good and solid, not hollow.
 Sweet Life – Tony how do you enjoy eating your watermelon and do you think after all these years you will ever tire of eating watermelons?
Tony -I like to cut a slice about an inch and a half  or two inches thick and lay it on a plate with the rind still on. I sprinkle a little salt on and eat it with a spoon.
I love to eat watermelon, and I never get tired of eating it.
Watermelon Yogurt Ice
by Eating Well.com
serves 8- each at 1/2 cup
1/4 cup water
1/4 cup sugar
4 cups diced seedless watermelon (about 3 pounds with the rind)
1 cup low-fat vanilla yogurt
1 tbsp lime juice
Combine water and sugar in a small saucepan. Cook, stirring, over high heat until the sugar is dissolved. Transfer to a glass measuring cup and let cool slightly.
Puree watermelon in a food processor or blender, in 2 batches, pulsing until smooth. Transfer to a large bowl. Whisk in the cooled sugar syrup, yogurt and lime juice until combined. Pour the mixture through a fine-mesh sieve into another large bowl, whisking to release all juice. Discard pulp. Pour the extracted juices into an ice cream maker and freeze according to manufacturer's directions. (Alternatively, pour into a shallow metal pan and freeze until solid, about 6 hours or overnight. Remove from freezer to defrost slightly, 5 minutes. Break into small chunks and process in a food processor, in batches, until smooth and creamy.) Serve immediately or transfer to a storage container and freeze for up to 2 hours.
Loving the Sweet Life?  Hey why not subscribe and ever miss a recipe…
Need more watermelon? click on the watermelon tag on my sidebar on the sidebar and enjoy more recipes…