This is a compensated campaign in collaboration with Gallo Family Vineyards and Latina Bloggers Connect.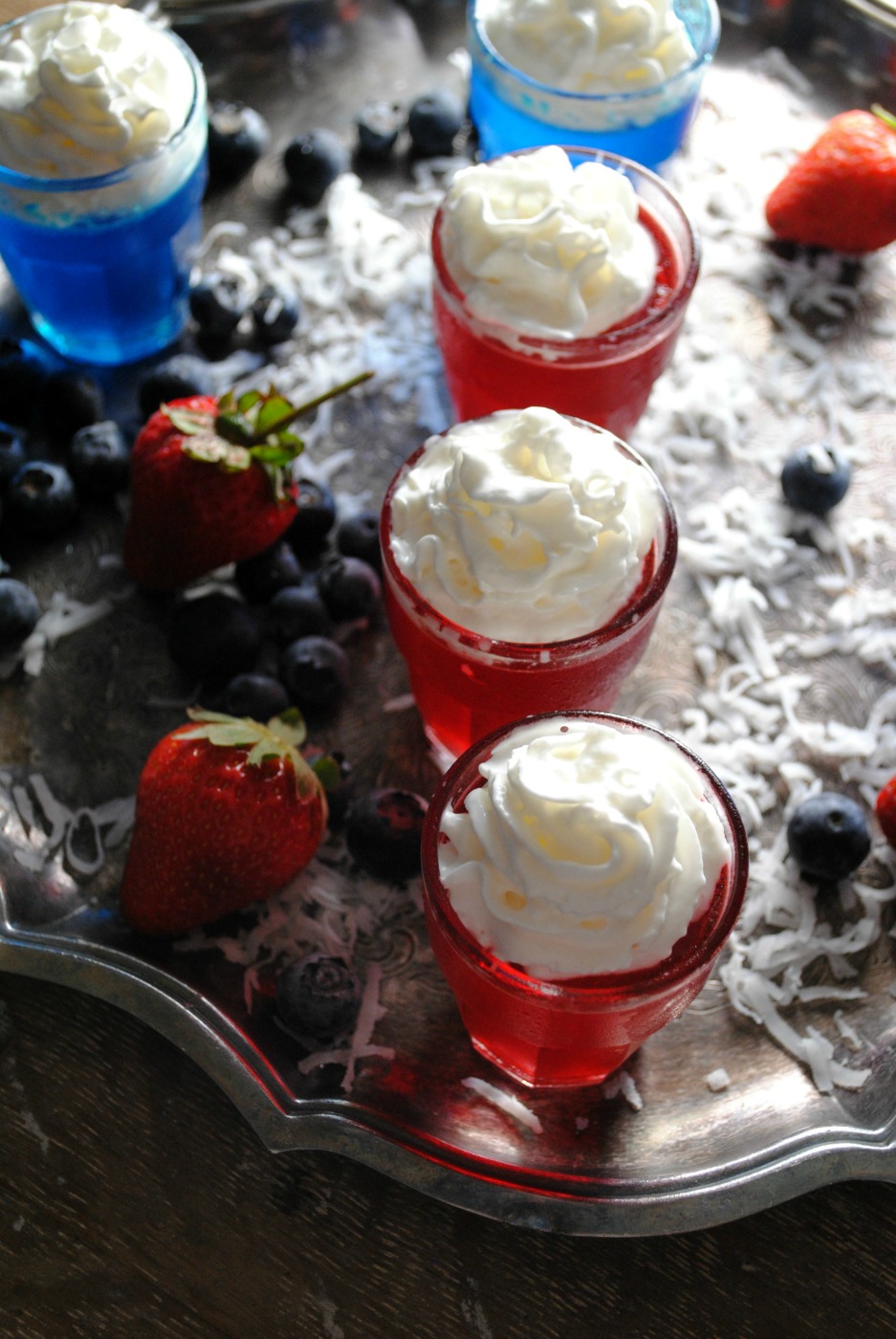 Patriotic Moscato Gelatin Shots
Every year my mom makes a fantastic gelatin mold for the kids table.  Brightly colored layers of gelatin mixed with fresh fruit and topped with fluffy clouds of freshly whipped cream.  The kids can't get enough of it while the adults hopelessly circle the table hoping to grab the last piece, bite or even a spoonful. Of course, there is never any left and the adults are left to nibble on pie.  Not that there is anything wrong with pie, we adore pie, but hot summer days like the Fourth of July are the absolute best time to cool down with a jiggly sweet dessert.
I think it's time the adults had their own version of this childhood dessert. A dessert not too overly sweet, chock-full of flavor and spiked with one of my go-to wines of the summer, Moscato! My Moscato of choice is from Gallo Family Vineyards. With three distinct flavors of Moscato, Gallo packs every delicious flavor of the summer into each bottle.
Original  – features a tasty peach finish is crisp and refreshing.
Pink – with notes of aromatic orange blossoms taste of summer days spent at the beach.
Red – has a yummy sun-kissed berry
I went with the White Moscato from Gallo Family Vineyards for my adult version of my mom's famous gelatin dessert.  I always wanted to make it portable for the adults and keep it on the smaller version, since I knew we would always be sipping cocktails. Moscato wine, fresh coconut water and flavored gelatin were all I needed to make these patriotic 4th of July treats.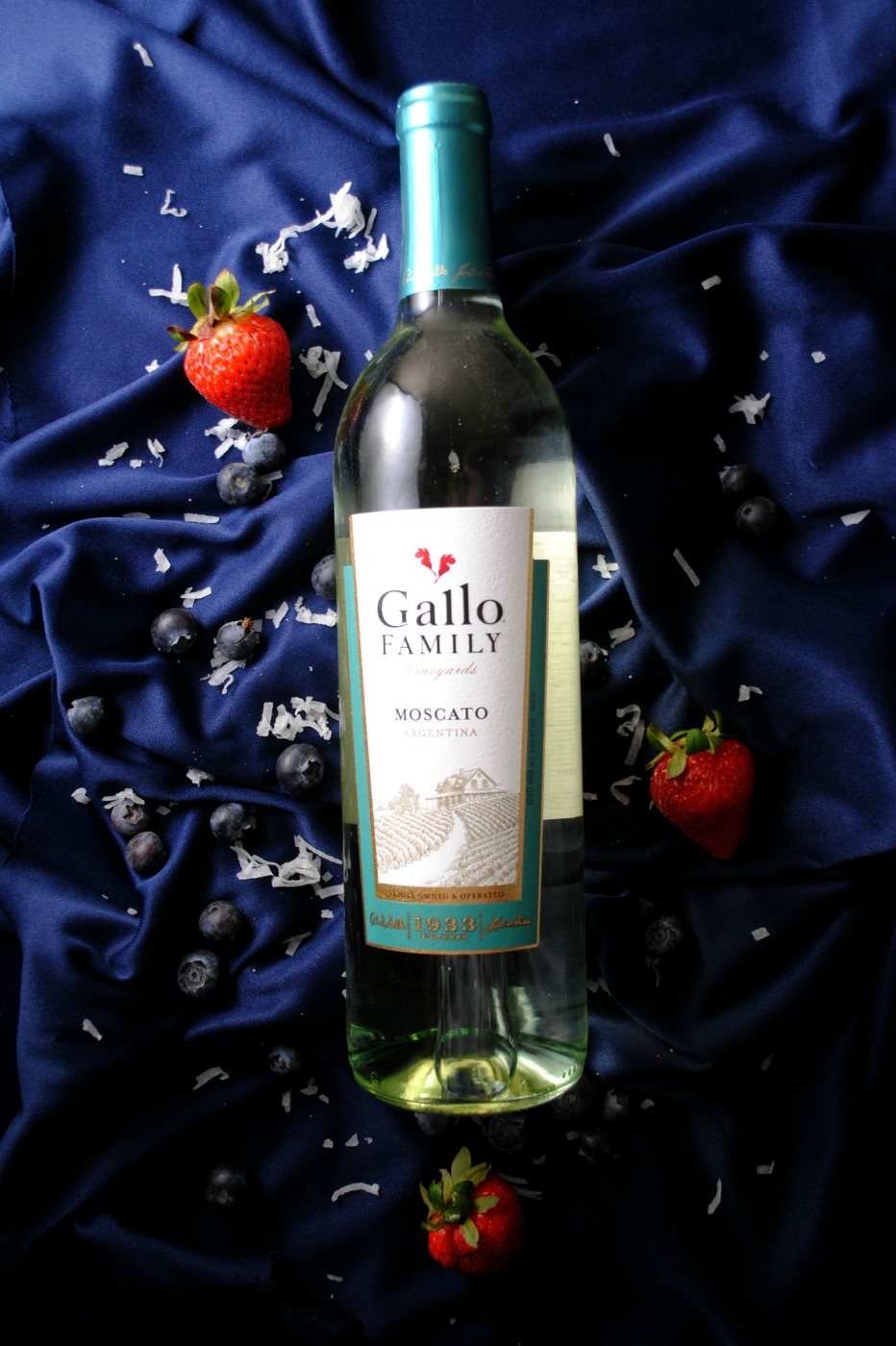 Topped with fresh whipped cream, berries and chilled until ready to serve these tiny dessert-cocktails in one are sure to please everyone at your summer party.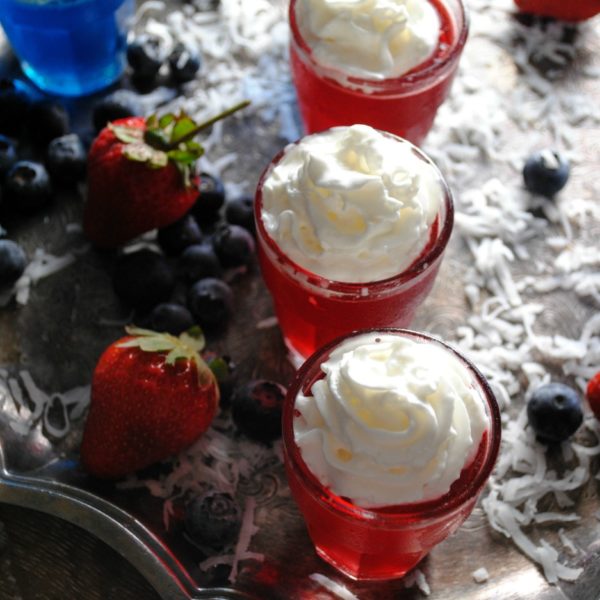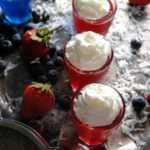 Patriotic Moscato Gelatin Shots
Ingredients
¼

cup

coconut water

1

pkg. strawberry flavored gelatin

1/3

chilled Gallo Family Vineyards White Moscato

1

cup

freshly whipped cream
Instructions
Heat coconut water over medium heat until warm.

Add to gelatin mix in small bowl; stir 2 min. until completely dissolved.

Stir in Moscato.

Fill small shot glasses or cups with gelatin.

Refrigerate 1 hour or until firm.

Serve with whipped cream and berries.
Recipe Notes
Notes: Use berry or blueberry flavored gelatin to make blue versions.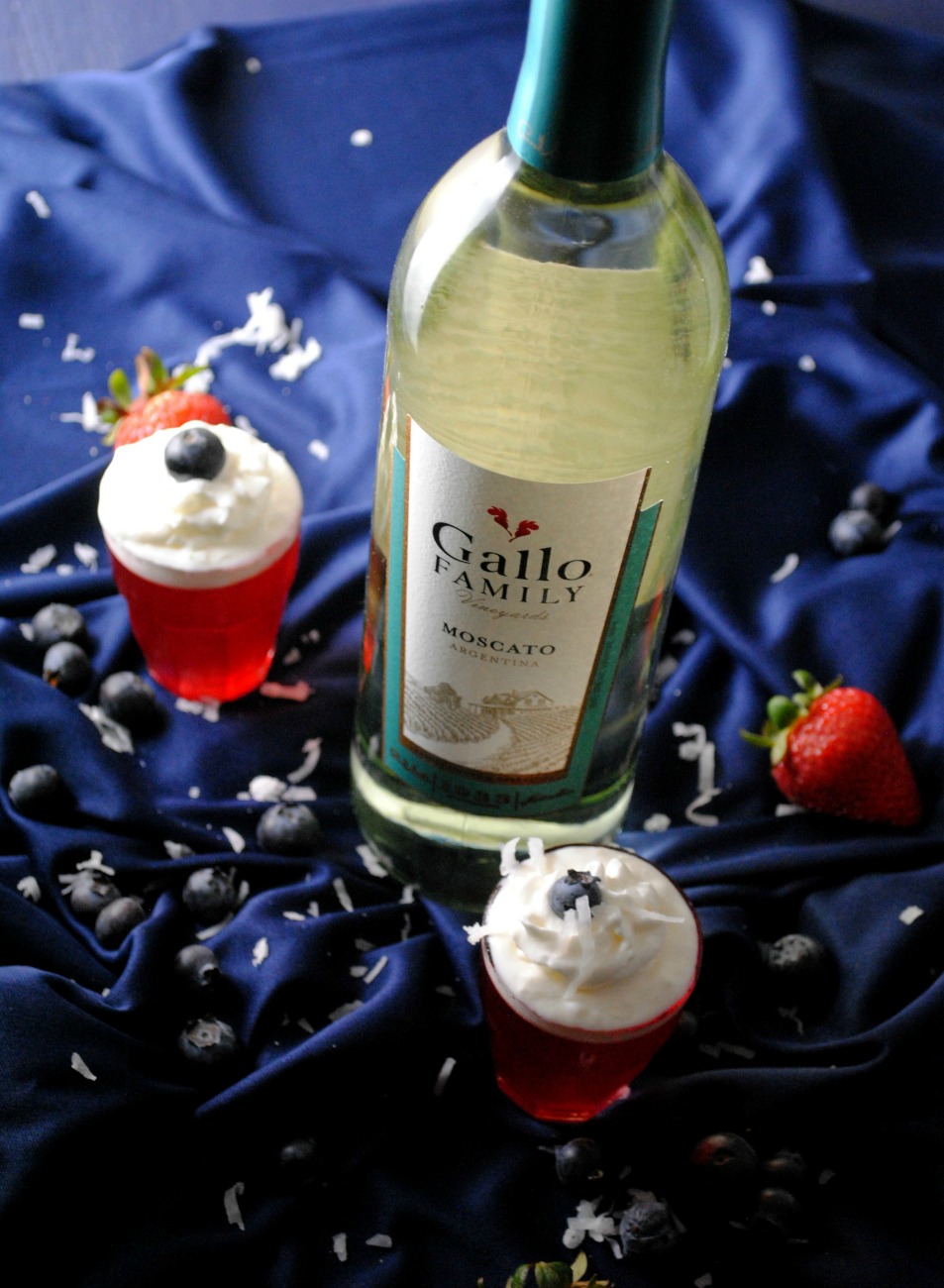 Have you tried Moscato?
Moscato is a deliciously sweet wine that is a wonderful entertaining wine for your summer parties. I like to use it as a base for cocktails or with a splash of sparkling soda. I always keep a few bottles of Gallo Family Vineyards Moscato in fridge should I host an impromptu dinner or if my sisters drop by for an unexpected visit with their kids. The kids play outside and I crack open a bottle while we sit outside catching up.
I'm always on the hunt for new recipes to incorporate Moscato so I like to head over to their Facebook page for inspiration. You can also follow them on Twitter or Instagram for great entertaining ideas, tips and tricks.
Food Network featuring Fourth of July Theme!
Summer Soiree is a season long franchise where Food Network editors team up with bloggers to share recipes about everyone's favorite summer dishes. Be sure to check out the Pinterest Board with over 185,000 followers called Let's Pull Up A Chair!
The Heritage Cook: Firecracker Salad
Jeanette's Healthy Living: Brazilian Acai Breakfast Bowl
Weelicious: Magical Fruit Wands
Sweet Bake Life: Patriotic Moscato Gelatin Shots
Virtually Homemade: Traditional Potato Salad
Dishing With Divya: Red, White and Blue Fruit Salad
Feed Me Phoebe: Red, White and Blue Coconut Panna Cotta Cups
Domesticate Me: 12 Foolproof Recipes for the Fourth of July
Taste With The Eyes: Patriotic Grilled Chicken, Savory Blueberry Compote and Strawberry Arugula Salad
Napa Farmhouse 1885: Grilled Bruschetta with Pesto, Sauteed Spinach and Garlic Scapes
Red or Green: Popcorn with Jalapenos and Extra Virgin Olive Oil
Elephants and the Coconut Trees: Mini Cherry Blueberry Pies
Devour: Star Sweets for the 4th
Swing Eats: Corn Dogs (Gluten-Free)
Daily*Dishin: Dilly Potato Salad
FN Dish: 4th of July Treats