*Disclosure: This post is part of my ongoing relationship with the folks from Sabra Hummus. I am thrilled to be a Sabra Tastemaker and excited to share recipes I have developed using Sabra Hummus. I am being compensated to develop recipes to share with you; all opinions expressed here are 100% mine.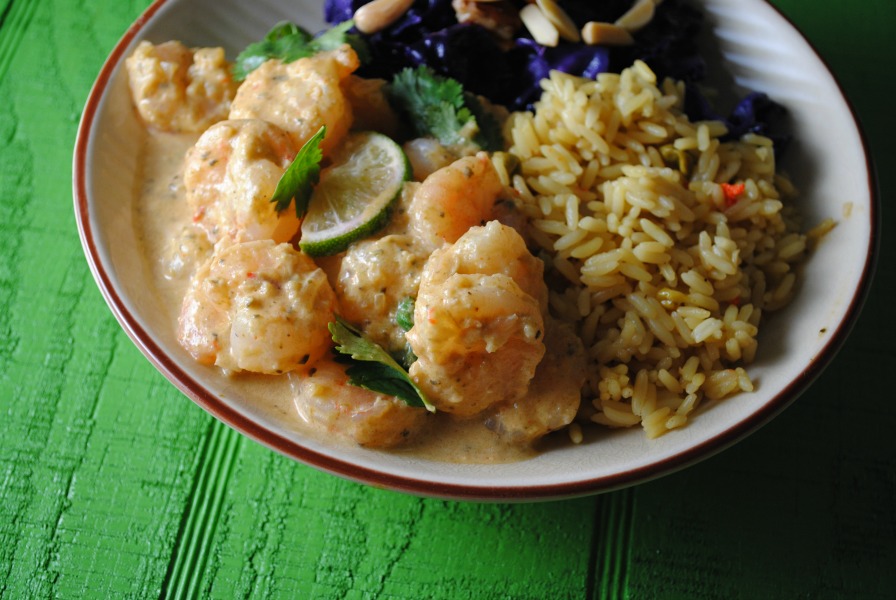 My mom makes a creamy roasted peanut sauce she serves over roasted chicken that my grandfather loved. He used to request on every visit us. It was made with fresh chiles, slowly roasted peanuts, pepitas, spices and crema. She would serve it with roasted chicken over a bed of rice to soak in all that yummy cream sauce.
She would begin preparing after breakfast and have it ready for us to enjoy at dinner. I loved it, we all do. I craved this sauce last weekend and had planned to make it, but my weeks have been brutal and it made me crave it even more.
So I decided to create a quicker, similar recipe to enjoy over a heaping pile of roasted shrimp. I substituted Sabra Chipotle Hummus to give me that all day slow roasted peanut flavor. Two poblanos under the broiler and I was set to blend this creamy sauce.
My kiddos enjoyed the creamy thick sauce and mi carino requested a second plate. Me? Well let's just say I made it again the next day and invited my mom over to dinner. Score!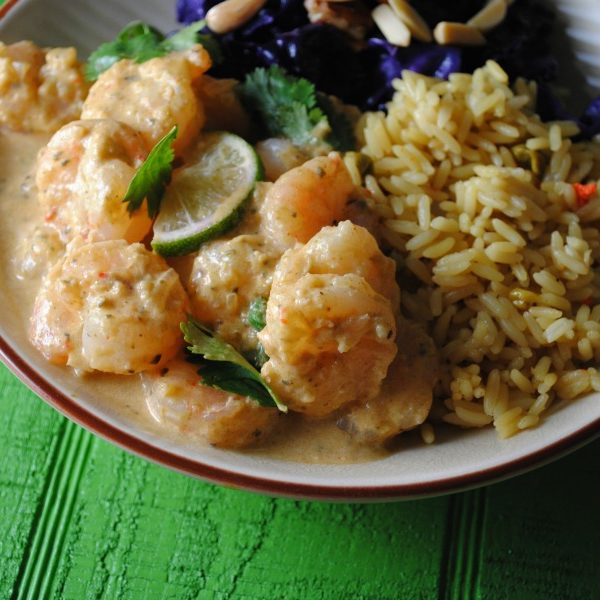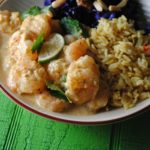 Roasted Poblano Hummus Cream Sauce
Ingredients
2

large poblano peppers

2

tablespoons

butter

½

onion

chopped

2

garlic cloves

chopped or grated

1

teaspoon

cumin

1

tsp

salt

1

tsp

freshly ground pepper

2

tablespoons

flour

1

cup

chicken stock

1

cup

cilantro

chopped

½

cup

Sabra Hummus

1

cup

heavy cream
Instructions
Preheat broiler to high.

Place poblanos on baking sheet and char under the broiler until skin blackens on all sides, 7 to 8 minutes.

Place in a bowl cover with towel or plastic wrap; let stand 10 minutes. Peel and seed the peppers; slice.

Heat butter in skillet over medium-high heat, add onion, garlic and cumin and cook for 4-5 minutes, till onion tender. Add poblanos and season with salt and pepper; cook until warm through about 1 minute.

Whisk in flour and cook for 2-3 minutes, add stock and continue to cook until mixture thickens.

Carefully transfer to a food processor or blender; add half the cilantro and hummus and puree until smooth.

Return to skillet, add cream and continue to cook until sauce thickens, about 3-5 minutes.

Serve over roasted shrimp, fish or chicken with additional cilantro as garnish.