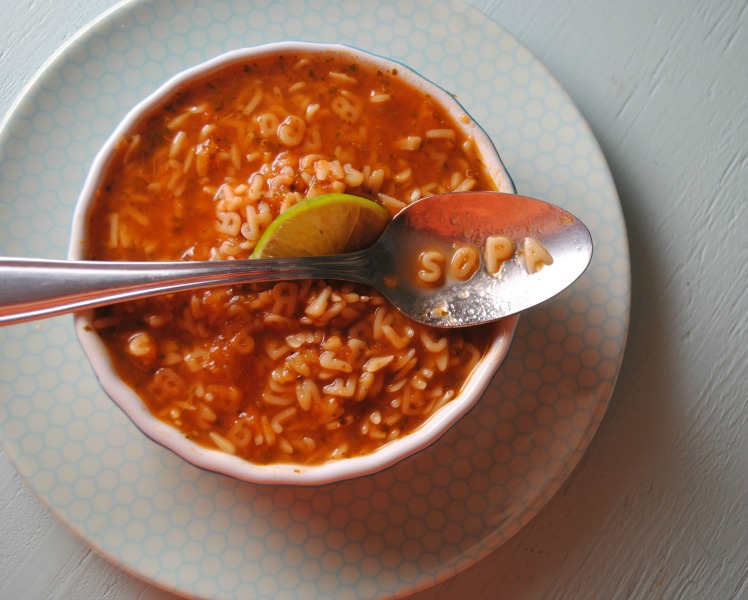 Sopita de Letras
The first week of September two things were certain growing up. School started and rain.  It always rained the first or second week of school casting a gloomy shadow on our early mornings and erasing any trace of the bright sunny days of Summer.
As we all ran from mami's car into the classroom trying our best not to get soaked the rain seem to make our day drearier.   The day slowly passed and all I could think of was that last bell, announcing the day was over. 
All huddled in the car on the drive home we knew exactly what to expect when we walked through the door.  A big bowl of steaming sopita.   We all craved sopita when it rained; papi (my dad) would even pick up a few bags on the way home from work, but mami always kept a pantry stocked of these tiny bags.  Small alphabet shaped pasta, little elbows, pepitas de melon (melon seeds) and tiny stars these sopitas were made for rainy days.   Brimming with a rich tomato broth and served with a warm corn tortilla the sopita washed away the day with each spoonful.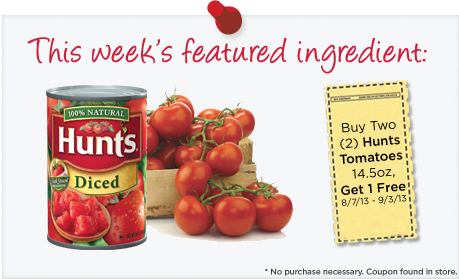 Welcome to Week 2 of the H-E-B meal maker challenge where Texas bloggers come together to bring you Family friendly meals in 30 minutes or less and 7 ingredients or less.
This week's featured ingredient is Hunt's diced tomatoes. A must-have pantry item tomato is the base for many of the sopas we make in our house. I enjoy having a few cans of Hunt's tomatoes in my pantry at all times and especially in the winter when everyone craves a big bowl of steaming sopa. We enjoy the authentic flavor varieties plus the affordable price.
Also all Ten bloggers participating in the H-E-B Meal Maker Challenge are participating in a Pin to Win challenge. Pin this recipe to enter for a chance to win 1,500 in prizes. Head over to H-E-B Meal Makers Challenge Pin to Win site to vote, Good Luck! Sweepstake runs through Sept. 6, so get those pins in!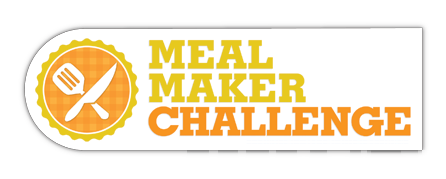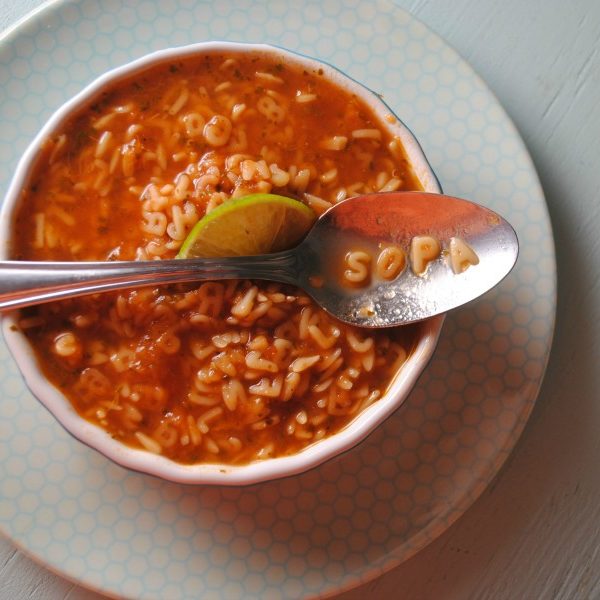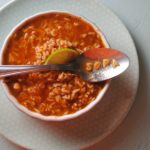 Sopita de Letras
Ingredients
1

7oz pkg of alphabet dried pasta

2

Tbsp

vegetable oil

1

14.5 oz Diced Tomatoes

½

medium onion

chopped

¼

cup

cilantro

washed and chopped

3

cups

chicken broth

1

tsp

salt

1

tsp

pepper
Instructions
In a blender add tomatoes, onion, cilantro and chicken broth; blend until smooth. Heat oil over medium high heat in a medium saucepan; add alphabet pasta and sauté until lightly browned, about 4-5 minutes.

Pour in tomato puree; season with salt and pepper and bring to a boil. Reduce heat, cover saucepan and continue to cook until almost all the liquid is absorbed, about 10 minutes.

Remove lid, taste for seasoning: add more salt and pepper if needed.

Ladle into bowls served alongside warm corn tortillas.