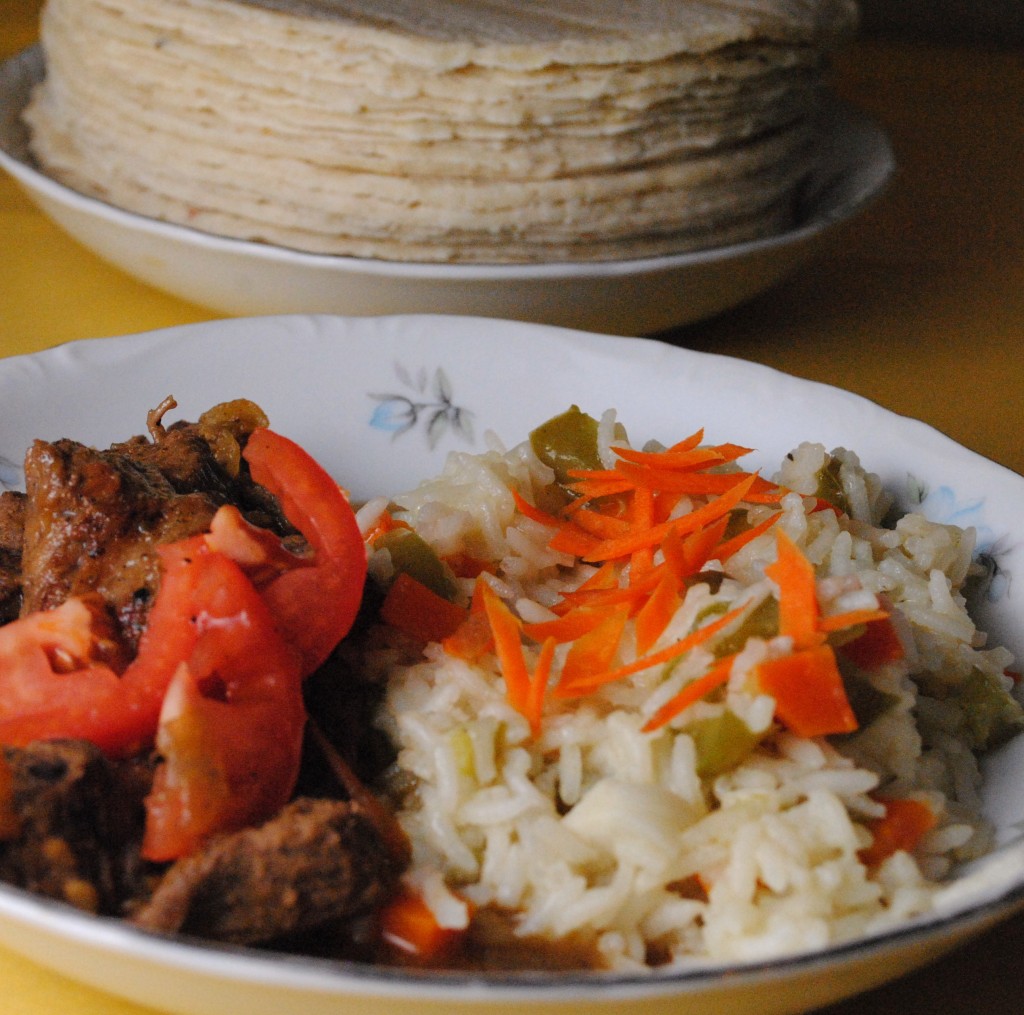 Hello all another beautiful day, another two great recipes in our week featuring Diana Barrios Trevino from Los Barrios in San Antonio, Texas.  Today I feature a dish from the town of Zuazua in the state of Nuevo Leon.  Here is how Diana describes this earthy dish in her cookbook 
"Cortadillo is one of my favorites of the dishes my mother's beloved godmother, Madrina amelia, used to make when we visited her.  Similar to a stew , it is braised cubes of beef tenderloin, with lots of oregano for its distinctive flavor."
Diana suggest serving this dish with Spanish rice, I have followed her suggestion and featured both.  My home smelled heavenly of oregano last night and dinner was amazing.  Enjoy! Sweet Life
**if you missed part 1 or part 2 of this great interview click here… part 1    part 2 …..and please enter for your chance to win you own cookbook, comment on any of these post or comment on all for extra entries…. contest ends friday
Sweet Life- Can you share with us one of your fondest food memory?
Diana – Oh my gosh there are so many.  Probably what I really loved the most was cooking side by side with my mother as we wrote our cookbook, Los Barrios Family Cookbook~Tex-Mex Recipes from the Heart of San Antonio.  None of our recipes had ever been documented so we sat there for about two years, when time was allowed, testing the recipes and documenting them.  You know most great cooks just cook without measuring or timing.  I learned a whole lot more and spent great quality time with my mom.   I always tell friends to make sure they document those special family recipes so that they may be passed down through generations.  
~~~~~~~~
Sweet Life- What would be your last meal on this earth?
Diana- Los Barrios cheese enchiladas with a yummy puffy taco on the side, a great salsa and a margarita or two!
Cortadillo Zuazua
Beef Stew Zuazua- Style
Los Barrios Family Cookbook
serves 6
3 tbsp vegetable oil
3 pounds beef tenderloin, cut into 1-inch cubes
pinch of garlic powder
salt and pepper to taste
3 tomatoes, chopped
1/2 onion, chopped
1 cup water
2 tbsp dried oregano
1 heat 2 tbsp of the oil in a large deep skillet or a Dutch oven over medium heat.  Season the beef with the garlic powder and salt, pepper.  Add to the pan , in batches, and cook, turning occasionally, until browned on all sides, 6 to 8 minutes per batch.  Drain the juices into a small bowl and set aside.  Return all the meat to the pan.
2  Add the remaining 1 tbsp oil to the pan, then add the tomatoes and onion and cook about 8 minutes.  Return the reserved juices to the pan, add the water and oregano, and bring to a simmer.  Reduce the heat to medium-low, and simmer for 5 minutes longer.
**********************
Spanish Rice
Los Barrios Family Cookbook
serves 6 to 8
1/4 pound  (1stick) butter
1/2 onion, diced
1 green bell pepper, diced
2 cups white rice
2 carrots, peeled and diced
2 chicken bouillon cubes, dissolved in 2 cups hot water.(i used chicken broth)
1 melt the butter in a large skillet, over low heat.  Add the onion and bell pepper and cook until softened, about 3 minutes.  Add the rice and cook stirring, until coated with butter.  Add the carrots and the bouillon broth, then add 4 cups water and bring to a boil, increase the heat to high and cook, uncovered for 3 minutes.
2. reduce the heat to low, cover, and cook until the rice is tender and all the water has been absorbed about 10 minutes longer.