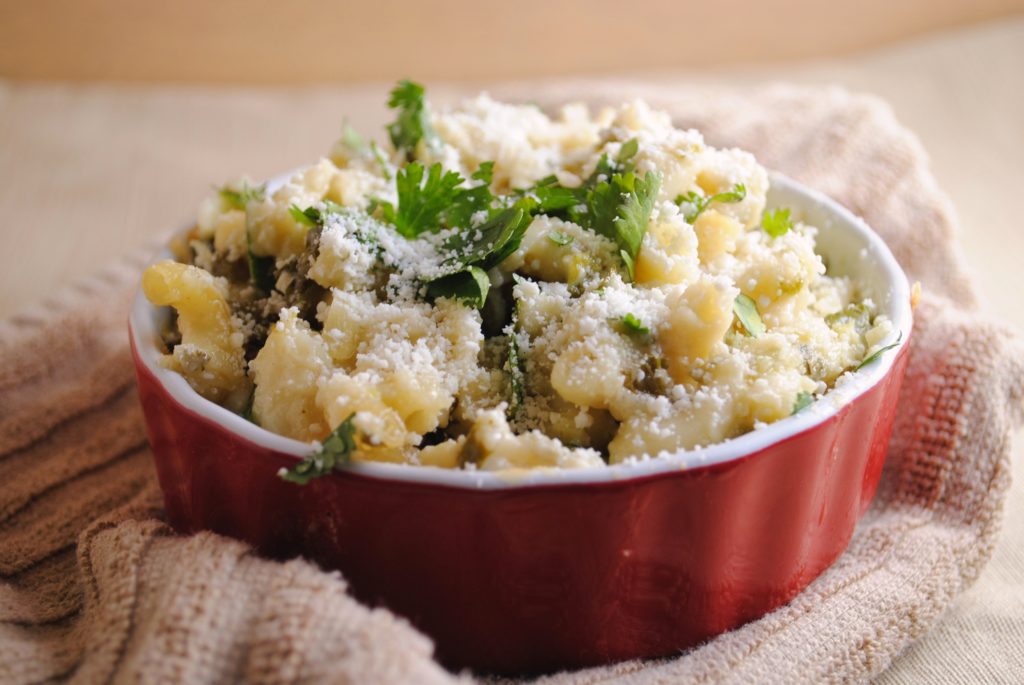 Growing up in our home we didn't eat macaroni and cheese.  It's not what my mom ever made.  I often thought my life as if living in two completely different worlds.  School was living in America with friends, sports, chips, sodas and hot dogs.  Home was Mexico with frijoles de olla, tortillas, arroz and fideo.  Please do not think I am for one minute complaining.  I love my mom's food it's home, it's my soul.
But every once in awhile we kids would holler enough and get her to buy us that little blue box. I would expect fireworks and sadly I was always disappointed.  Still to this day I cannot swallow the stuff.
Flash forward to my days living in San Antonio with my sister we graduated to the box that had a foil pouch of squeezable cheese.
This version I enjoyed as it feed two for about a $1.50.  Mami wasn't buying our groceries so we settled for budget over taste. When my amiga girlichef selected this recipe for the Homesick Texan spotlight I was delighted!
Roasted poblanos, cilantro, cumin, lime and cotija swimming in a cheesy sauce over elbow pasta, really the best of both my worlds combined.  I personally enjoyed the lime zest addition to the recipe.  It gave the pasta a hint of freshness.  If you cannot find Cotija cheese feel free to substitute Parmesan or a mild feta.  Cotija cheese is often sold by the block, but you can also find it in baggies next to the Mexican cheese selection at your store. Enjoy!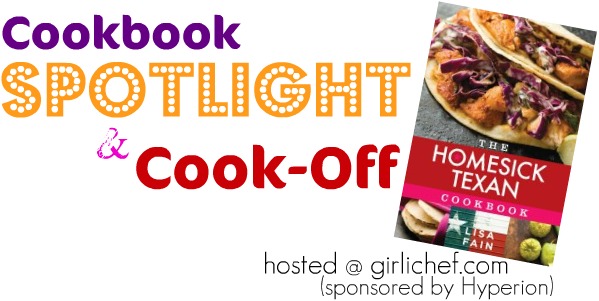 Poblano Macaroni and Cheese
by Lisa Fain, Homesick Texan Cookbook
2 poblano chiles
8 oz. elbow pasta
2 Tbs. unsalted butter
4-6 garlic cloves, minced
2 Tbs. all-purpose flour
1½ c. whole milk
1 tsp. mustard powder
¼ tsp. cayenne
½ tsp. ground cumin
1 tsp. lime zest
½ c. chopped cilantro
sea salt
freshly ground black pepper
12 oz. grated white cheddar cheese
1/2 cotija cheese-for serving
Roast the poblanos under the broiler until blackened, about 5 minutes per side.
Place chiles in a paper sack or plastic food storage bag, close tightly, and let the chiles steam for 20 minutes.
Take chiles out of the bag and rub off the skin.
Remove stem and seeds and chop the chiles into 1 inch pieces.
Bring a large salted pot of water to a boil and add pasta. Cook according  to your package directions and then drain the pasta.
per Lisa(You want the pasta to be cooked not mushy. I cook my pasta for 5 minutes)
Preheat your oven to 375° F.
Grease a large baking dish or cast-iron skillet.
In a pot set over low heat, melt the butter. Add garlic and cook for 1 minute. Whisk in the flour and cook until light brown and toasty pastes is formed about 1 minute.
Whisk in the milk and stir until thickened a bit but fluid, about 1-2 minutes. Remove pot from heat and stir in mustard powder, cayenne, cumin, lime zest, cilantro, and prepared poblanos.
Adjust seasonings add salt and pepper.
Slowly add half of the cheddar cheese into the sauce until melted and well combined into the sauce.
per Lisa (If the sauce has cooled too much and the cheese won't melt, return the pot to low heat on the stove. If however the sauce gets too thick, like a custard, you can thin it by stirring in milk, a teaspoon at a time.)
Pour sauce over pasta and top with remaining cheese. Bake uncovered for 20 minutes or until cheese is bubbly and slightly golden.
Sprinkle with Cotija cheese and serve immediately.
*This post is part of The Homesick Texan Cookbook Spotlight and Cook-Off sponsored by Hyperion and hosted by girlichef*