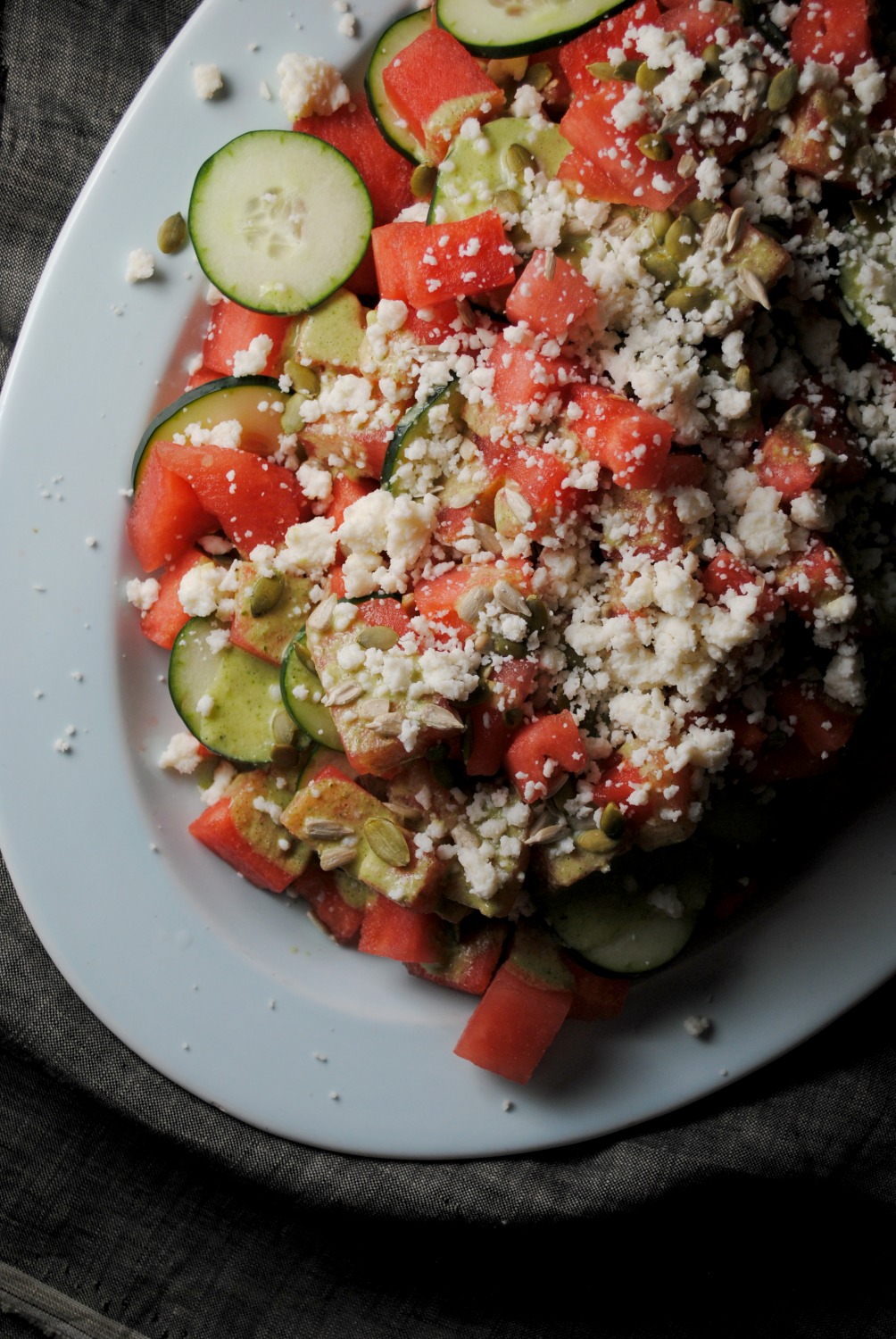 Watermelon Cucumber Salad with Pepita Dressing
I recently left for a week on a fascinating adventure to Wyoming, more on this soon I promise.  This had been the longest I had been away from home, ever. I usually travel for Sweet Life a quick weekend, a few days, but never a week.  It took all my will to simply pack I hadn't even step out the door and I was already feeling homesick.  On most Sundays I try to gather the entire family to enjoy dinner together, but decided to throw a quick meal together and have everyone over.
In my kitchen I had a small watermelon, a wheel of queso fresco and a few cucumbers to work with. I quickly called mi carino and asked him to pick up a few pounds of fajitas, fresh corn tortillas and a few jalapenos.  A few slices with my trusty knife, a whizz in the blender and a refreshing watermelon salad was ready to be popped into the fridge ready for dinner.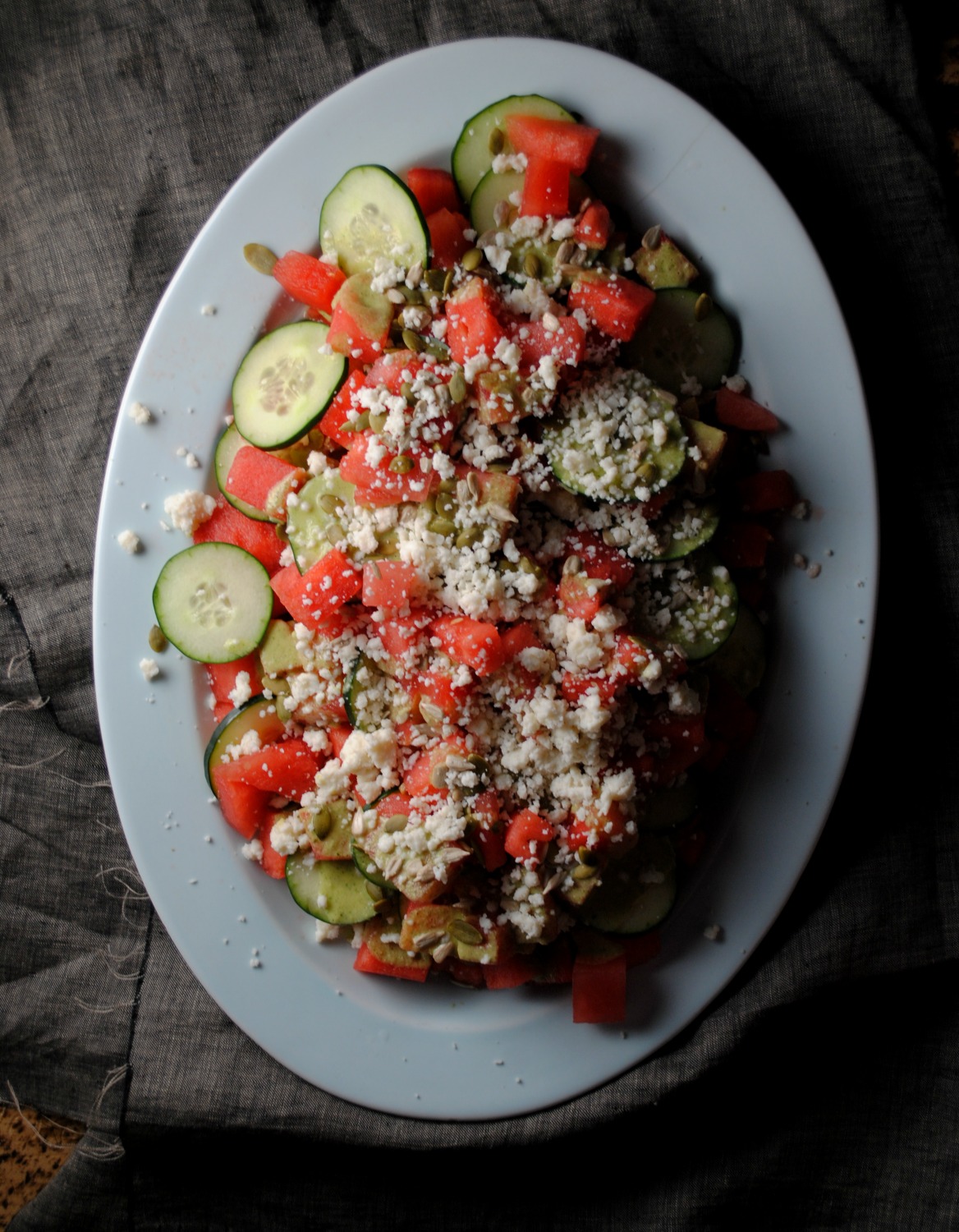 The sweet combination of watermelon, crisp cucumber and salty queso really work well together.  A hint of nutty flavor from the pepitas with a splash of lime juice coat the watermelon and cucumbers and the entire platter is garnished with a thick coat of crumbled queso. Papi couldn't get enough of the salad, saying he never thought to pair watermelon with queso.
Great for a cookout or side dish this salad was quick and easy to prepare and was given a two thumbs up. Don't be hesitant about pairing watermelon with queso, trust me it is delicious – you'll be so glad you tried this.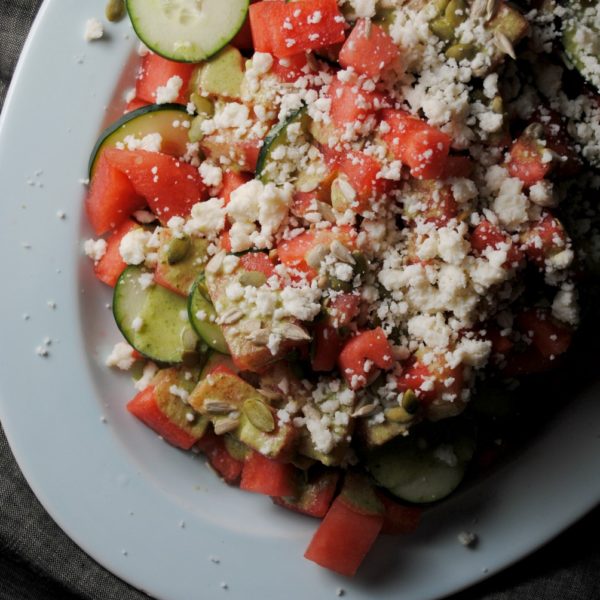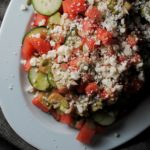 Watermelon Cucumber Queso Salad with Pepita Dressing
Ingredients
6

cups

watermelon

diced

3

cucumbers

thinly sliced

1

cup

queso fresco crumbled

For dressing:

1/2

cup

pepitas

pumpkin seeds

1

garlic clove

minced

1

teaspoon

pepper

1

teaspoon

salt

1/4

cup

red wine vinegar

¼

cup

cilantro

stems removed

Juice from 1 lime

1

cup

olive oil
Instructions
In a large bowl toss diced watermelon and slice cucumbers in pepita dressing, transfer to a large platter and sprinkle with crumbled queso fresco and garnish with pepitas. For dressing: Place all ingredients in a blender, blend until smooth. If dressing is too thick add water by 1 tablespoon to thin out, season to taste.