Paletas de Fresa y Aguacate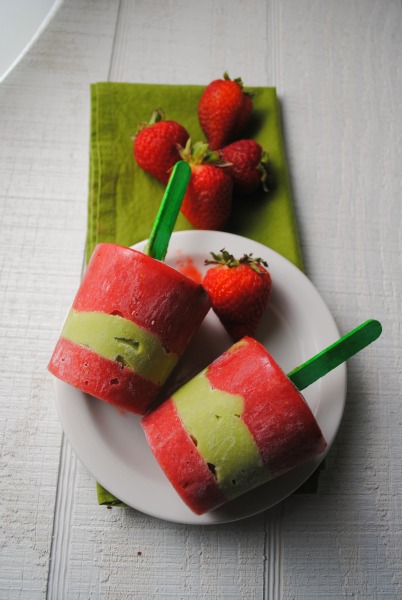 Paletas de Fresa y Aguacate
I have been enjoying loads of avocados on my salad with vibrant drizzles of fresh strawberry dressing lately.
The Texas temperatures are slowly creeping up, up, up and some days a big ole salad is all you crave.
I thought why not combine the two, pour them into little cups and freeze'em for a cool after dinner treat.
They.
Were.
A.
Hit!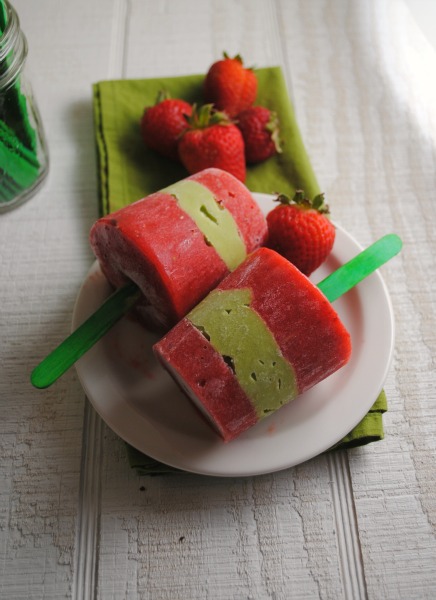 Paletas de Fresa y Aguacate
Ingredients
2 cups fresh strawberries, chopped
2 ripe avocados, pitted
1 1/2 cup water
1/2 cup sugar
½ tsp salt
2 tablespoons freshly squeezed lime juice
Instructions
In a small saucepan combine water and sugar. Cook over medium heat until sugar has dissolved. Allow to cool.
In a blender add chopped strawberries and half of sugar syrup. Blend until smooth. Pour strawberry mixture into a bowl and rinse clean.
Scoop the avocado flesh into a blender, along with the remaining syrup, salt and lime juice. Blend until smooth.
Pour 2 tablespoons of strawberry mixture in your paleta mold of choice, if using conventional molds you might need to use more. Freeze for 30 minutes; insert popsicle stick continue to freeze an additional 30 minutes or until set to form first layer.
Pour 4 tablespoons of avocado mixture over the starbwerry layer; freeze for 1 hour or until set.
Repeat with strawberry.
http://sweetlifebake.com/2013/06/18/paletas-de-fresa-y-aguacate/
Summer Fest with Food Network!! This week we celebrate Berries. Check out what yummy treat these yummy bloggers have whipped up in their kitchen.
Feed Me Phoebe: Gluten-Free Blueberry-Almond Pancakes
The Lemon Bowl: Strawberry Mango Chia Smoothie
Dishin & Dishes: Crunchy Topped Blueberry White Chocolate Muffins
Jeanette's Healthy Living: Gingered Blueberry Shortcakes With Light Creamy Topping
Taste With The Eyes: Blueberry Limoncello Pavlova
Sweet Life Bake: Paletas de Fresca y Aguacate
Napa Farmhouse 1885: Mixed Berry Tea Cake
Red or Green?: Strawberry & Blueberry Crisp (Red or Green-style)
Virtually Homemade: Blueberry Mint Margaritas
Haute Apple Pie: Triple Berry Ice Cream
Pinch My Salt: Strawberry Peach Cobbler With Almond Biscuit Topping
Cooking With Elise: Dehydrating Blueberries, Plus Blueberry and White Chocolate Cookies
Devour: Four Healthy Berry Recipes
Domesticate Me: Summer Berry Crisp
Weelicious: Brainy Breakfast
The Sensitive Epicure: Strawberries With White Balsamic Vinegar Caramel, Orange Zest and Black Pepper
Daily*Dishin: Fresh and Easy Blueberry Pie
From My Corner of Saratoga: Mixed Berry Freezer Pops
FN Dish: Wake Up With Berries
© 2013, Sweet Life. All rights reserved. Please contact us to request written approval for reproduction of images and recipes.