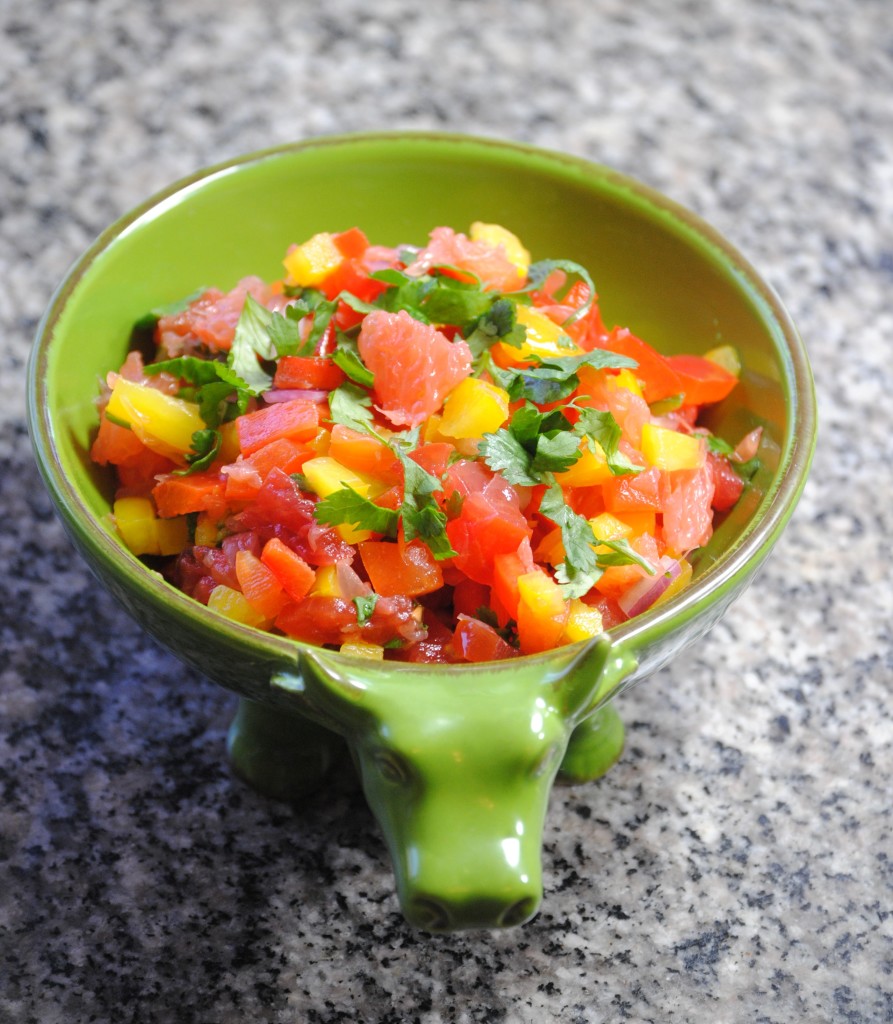 With citrus season winding down here in the Rio Grande I wanted to squeeze in one last citrus recipe.  Grapefruit chicken tacos with grapefruit salsa add a cooling punch to our current hot Texas nights.      
The chicken is marinated in grapefruit juice with oregano and grilled until juicy and tender. 
No grill.
No worries feel free to grill on a grill pan indoors or bake. 
Serve with your choice of flour or corn tortillas.  The salsa adds a tad heat to your tacos with the  jalapeno seeds removed, but if you crave more heat simply keep the seeds and mince the jalapeno.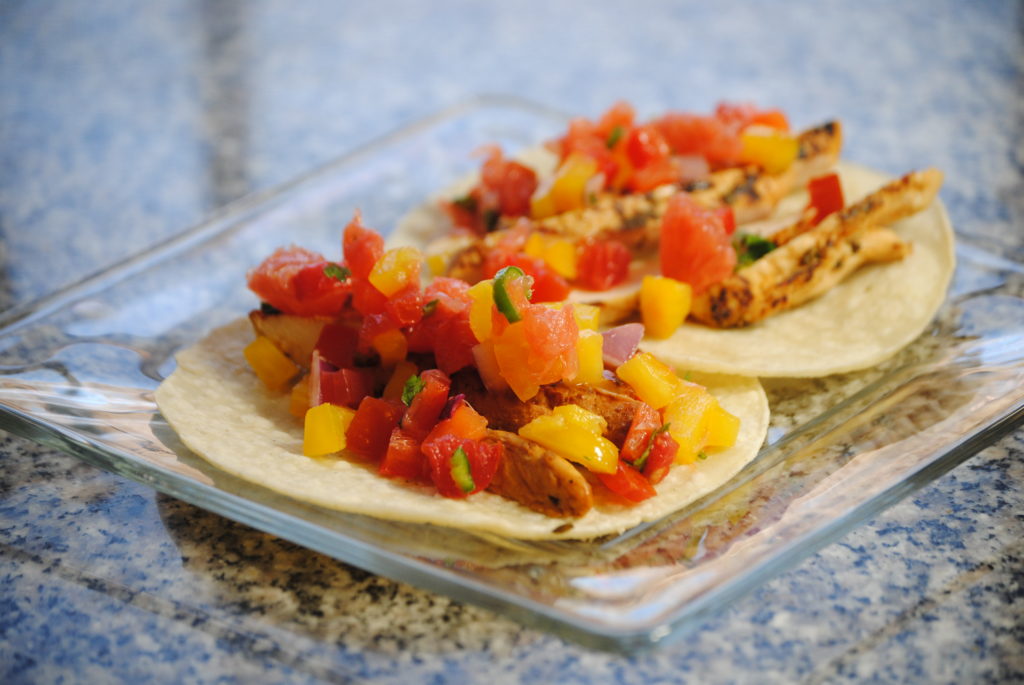 I also think diced avocado would add a great touch to this salsa, or in my mom's case she loves thick slices of avocado in a warm tortilla.  A spoon of this salsa over the top and you have a great meatless meal.  This recipe comes from one of my favorite Texans, Robb Walsh. Enjoy! Sweet Life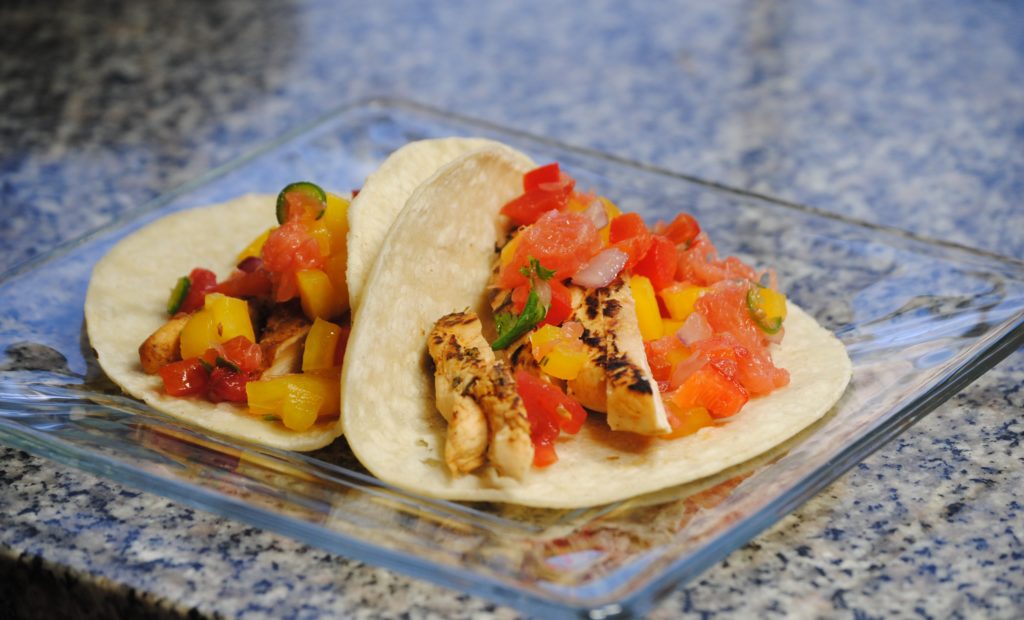 Grapefruit Chicken
by Robb Walsh
The Tex-Mex Grill and Backyard Barbacoa Cookbook
serves 6
4~7ounce boneless, skinless chicken breasts
1 clove garlic, minced
2 tablespoons ground Mexican Oregano
Juice of 2 Texas Red grapefruits
1 tablespoon olive oil
salt and pepper
6 flour or corn tortillas
Texas Red grapefruit salsa (recipe follows)
Pound the chicken breast flat between two sheets of plastic wrap. Combine the garlic, Mexican oregano, juice from 1 grapefruit, and olive oil in a mixing bowl. Add the chicken breasts to the mixture and marinate in the refrigerator for at least 4 hours or overnight. Discard the marinade.
Heat the grill. Season the breasts with salt and pepper and grill over hot coals for 2 minutes on each side. Move the chicken to a cooler part of the grill. Cook for 6 to 8 minutes, basting with the juice from the second grapefruit, until cooked through. Heat the tortillas on the grill, turning often. Transfer the chicken breasts to a cutting board and slice them into long strips. Place the tortillas, grapefruit salsa, and other condiments such as chopped lettuce or black olives. Invite your guest to make their own fajita tacos.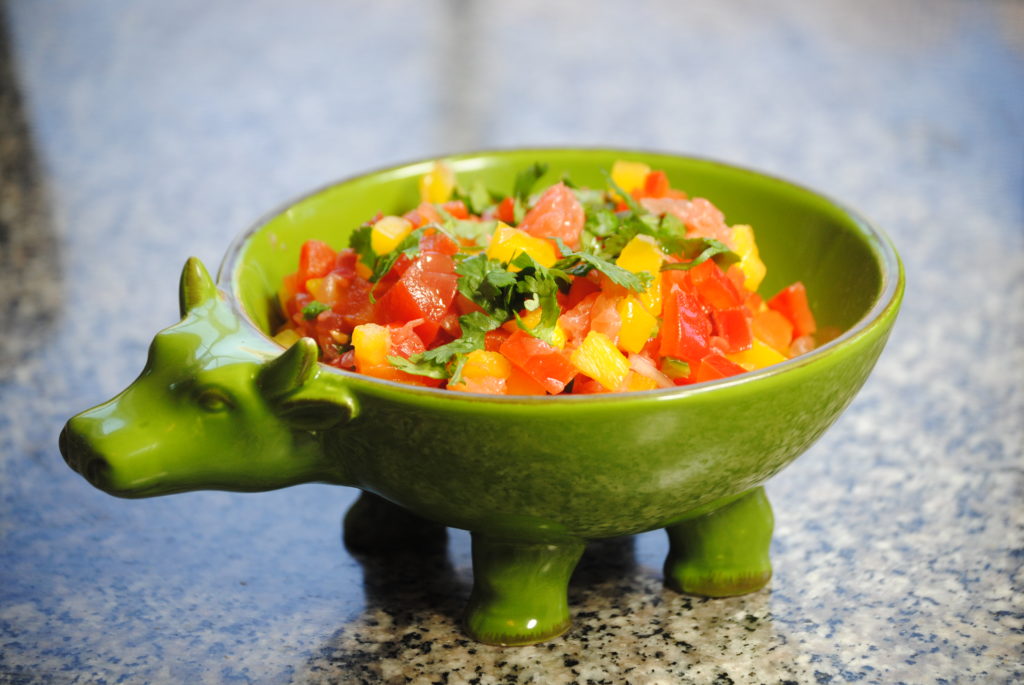 Texas Grapefruit Salsa
by Robb Walsh
The Tex-Mex Grill and Backyard Barbacoa Cookbook
makes 2 cups
2 Texas red grapefruits
1 medium tomato, chopped fine
1 cup diced green, red, and yellow bell pepper in any combination
1 jalapeno pepper, seeded and minced
3 tablespoons chopped red onion
1 tablespoon chopped fresh cilantro leaves
salt to taste
Supreme the grapefruit and dice the sections. Combine with the other ingredients in a medium bowl and mix well. Allow to mellow for 30 minutes in the refrigerator for the flavors to combine.
~~~~~~~~~~~~~~~~~~
CONGRATS to ZIBI!! you are the winner of the Poteet, Texas giveaway!! Please send me your info  and I will happily send your prize!!
Craving more grapefruit?  Check these tasty recipes