Creamy Chicken and Greens with Roasted Poblano and Caramelized Onion
¡Bienvenido Rick!  I have joined in on the fun over at I Heart Cooking Clubs.  And we are cooking with Rick Bayless!!
6 months of Rick recipes, be still my heart!! How could I possibly resist?  Rick's cookbooks have found a permanent place in my kitchen. I draw inspiration from his flavors, learn new tips/tricks from his newsletter and follow along on his adventures with his popular PBS series.  We also have one major factor in common.
We love Mexico. 
I'm excited to share with you a bit of one of my favorite Chefs.  Our first recipe is Creamy Chicken and Greens with Roasted Poblano and caramelized Onion.  Flavorful chicken bathed in a light cream sauce mixed with wilted greens and roasted poblanos. The caramelized onions add the all day cooked depth of flavor. I serve this home-style along with salsa, avocado slices and warm corn tortillas.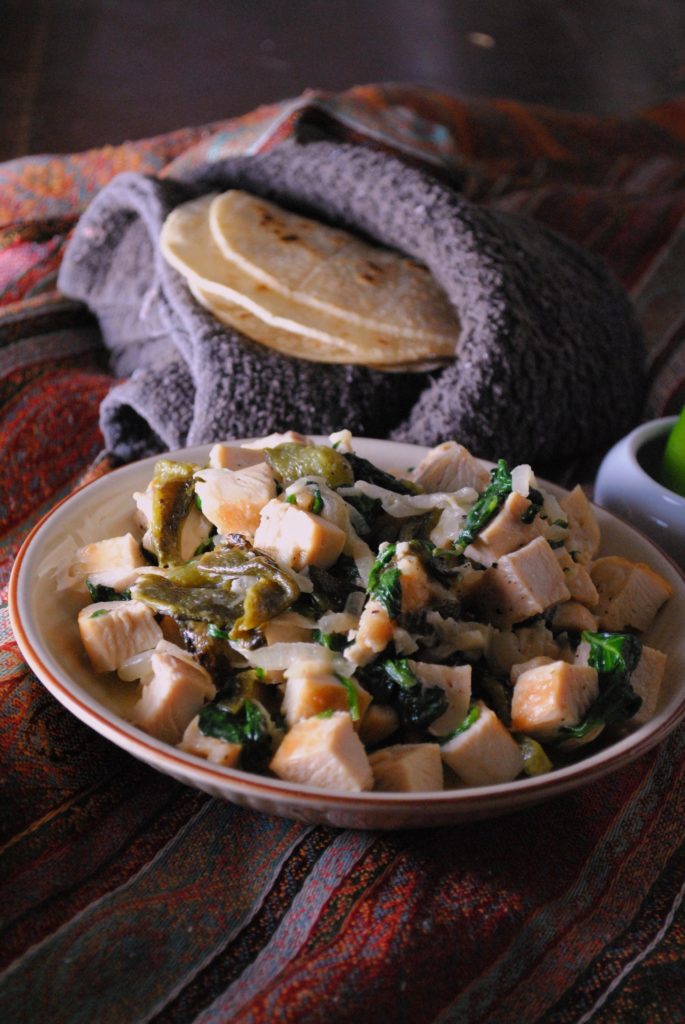 Save a little time by roasting your chiles the night before. Remove the charred skin, slice and store in fridge.  Double or triple the recipe for a great addition to your next taco party.  Enjoy!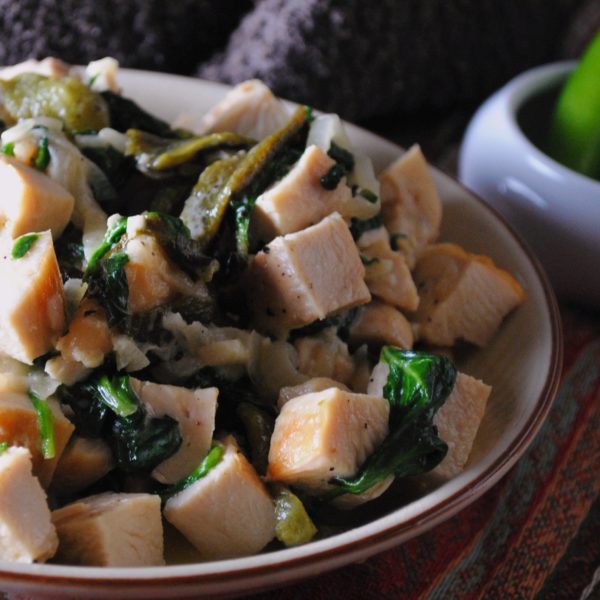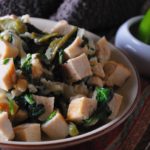 Creamy Chicken and Greens with Roasted Poblano and Caramelized Onion
Ingredients
2

fresh poblano chiles

3

tablespoons

olive or vegetable oil

plus a little more if needed

3

medium

about 1 1/4 pounds boneless, skinless chicken breast halves

Salt

1

medium white onion

sliced 1/4-inch thick

3

garlic cloves

peeled and finely chopped

5

cups

lightly packed coarsely chopped, stemmed greens (about 1-inch pieces is good)—you'll need about 6 ounces spinach, 4 1/2 ounces Swiss chard, 3 ounces wild lamb's quarters (quelites)

1

cup

chicken broth

A little fresh thyme

if you have it

1

cup

Mexican crema

crème fraiche or heavy (whipping) cream
Instructions
Roast the poblanos directly over an open flame or 4 inches below a broiler, turning regularly until blistered and blackened all over, about 5 minutes for a flame, about 10 minutes for the broiler. Cover with a kitchen towel and cool until handleable. Rub off the blackened skin, then pull out the stem and seed pod. Briefly rinse to remove any stray seeds or bits of skin. Slice 1/4- inch thick.

In a large skillet, heat the oil over medium-high. Generously sprinkle the chicken breasts with salt on both sides and lay them into the pan in a single layer. When browned underneath, about 4 minutes, flip them over and reduce the heat to medium. Cook on the other side until browned and medium-rare (a little slit in the thickest part will reveal a rosy interior), 5 or 6 minutes more. Transfer to a plate.

To the skillet (still over medium heat), add the onion. If there isn't enough oil to lightly coat the onion, add a little more. Cook, stirring regularly, until richly browned and sweet, 8 or 9 minutes.

Meanwhile, cut the chicken into 1/2-inch cubes. Add the garlic to the skillet and cook 1 minute, then add the greens, broth and thyme (if you have it). Raise the temperature to medium high. Cook until the liquid is nearly gone and the greens are almost tender, about 5 minutes. Add the cream and cook until it is noticeably thicker (it'll be a rich glaze) and the greens are fully tender, about 5 minutes more.

Taste and season the mixture in the skillet with salt, usually 1/4 teaspoon. Stir in the chicken, let heat through for a minute to two, scoop into a serving bowl, and enjoy without hesitation.
I am sharing this post with: IHCC theme: ¡Bienvenido, Rick!