Disclosure: This is a sponsored post in collaboration with Latina Bloggers Connect and MASECA. All opinions are my own.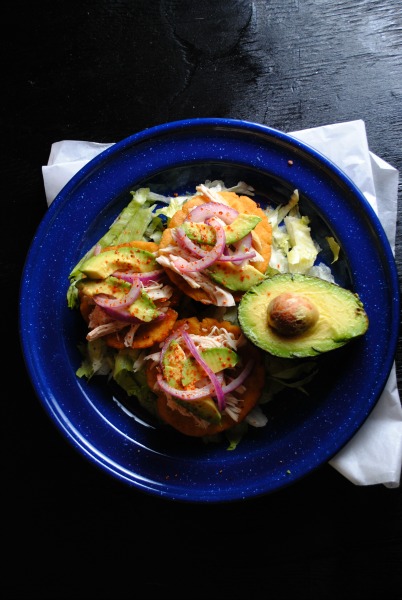 Salbutes
I'm planning a spending the day at the beach this year for July the 4th, but I wanted to have a little pre-fiesta for those family members not joining us that day.  With busy schedules and summer activities I grasp at any chance to have the famila over for dinner.  I whipped up a big platter of Salbutes and loaded them with roasted chicken, pickled red onions and slices of avocado.  Salbutes are similar to a tostada but instead are made from fresh masa ( I used maseca) instead of pre-cooked tortillas. The result is a light golden brown, puffy shell that can be topped with anything from chicken, refried beans, rajas, pork or elote con rajas.
Salbutes are pressed to form a slightly thicker tortilla in a tortilla press, but you can also use a regular rolling pin and damp hands to form them.  Keep the dough from drying out with a damp cloth while you form the salbutes.  I fried them up, drained them on a paper towel and stashed them in a warm oven until I was ready to serve. I also save time by preparing all my toppings a few hours ahead. Served warm loaded with toppings they were gone in no time at all.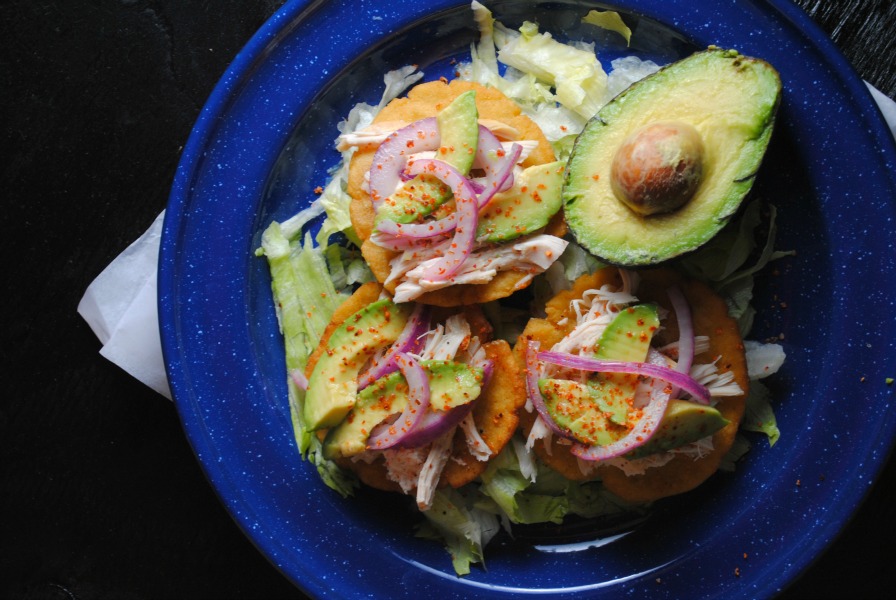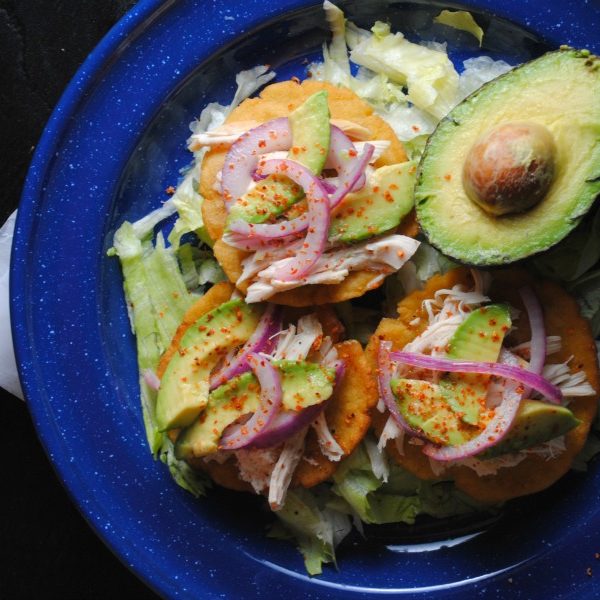 Salbutes
Ingredients
2

cups

Maseca Nixtamasa

1 1/4

cups

warm water

1

tsp

salt

Toppings:

Roasted chicken

shredded

Avocado

sliced

Pickled red onions

Queso fresco

crumbled

Cilantro

chopped
Instructions
In a large bowl combine flour, warm water and salt.

With hands mix until dough is smooth.

Heat oil to 375 degrees.

Divide dough into 12-14 pieces and roll until balls.

Cover dough with a damp cloth to prevent from drying and line a tortilla press with plastic film.

Lightly press each dough ball to form disc, salbutes are thicker than tortillas so be careful not to press too much. Remove salbute from tortilla press gently run fingers around the entire edge to seal dough.

Fry salbute until golden brown and puffy. Drain on paper towels and keep warm in oven. Serve topped with chicken, avocado and pickled red onions.