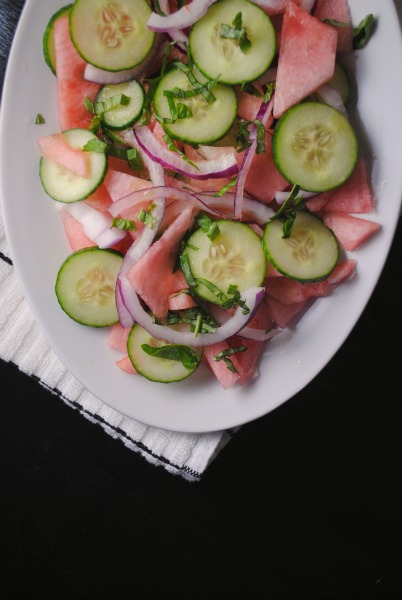 Watermelon-Cucumber Salad
I have loved watermelon since childhood, but while expecting my first child this love turned into an obsession.  I craved watermelon with every meal, in between meals and even at midnight.  Mi carino was lugging watermelons from the grocery store by the cart full and even had my mother-in-law picking one up on her weekly grocery trip.  He wanted to make sure I had an adequate supply for whenever a craving hit.
A small gesture of love that made me love that man even more.       
Two weeks ago on a Friday night I had the bright idea to suggest we all head out to Luling, Texas for the watermelon festival.  Granted it was almost midnight when I suggested this marvelous plan.  Mi carino turned to me and said "that might be fun."  We woke up early, picked up a dozen of doughnuts, a few coffees and we were on our way.  I was so excited, thrilled to eat, drink and buy fresh Luling watermelons.  We arrived, walked over to the festival and then the Texas heat made its appearance.
It was hot; in my rush I had not researched the weather forecast for the day. Something we Texans do daily in summertime. It was set to be one of the hottest days of the summer and I had dragged us out to Luling.  The girls' faces were flushed red, their t-shirts drenched with sweat and I was in the midst of a migraine that would knock me out for the next two days.
As we walked to the vehicle tired from the heat, worn out from walking the festival grounds and lugging watermelons (because like heck if I came all the way and not leave with a watermelon) I turned to mi carino and said "I am so sorry to have dragged y'all out here, it was a disaster."  He laughed "Babe, its okay we've been married 15 years I know how much you love watermelon.  And I can't think of a better way to spend my weekend than lugging you home more melon."
God I love that man.  Still after all these years it's the small gestures.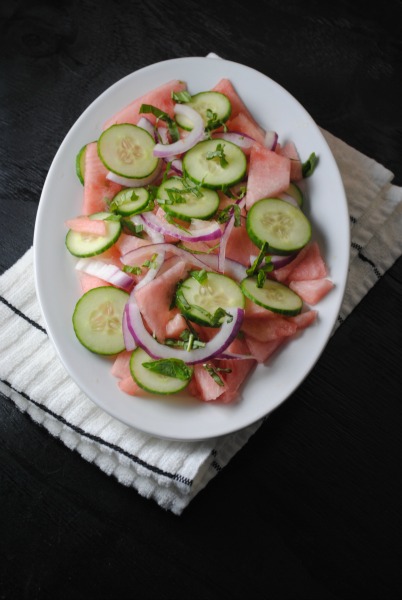 This watermelon cucumber salad is light, refreshing and crisp.  Maybe if I had consumed a big plate of this goodness, Luling would have resulted in a better day. This Cooking Light recipe was a hit at my table, mi carino especially loved it.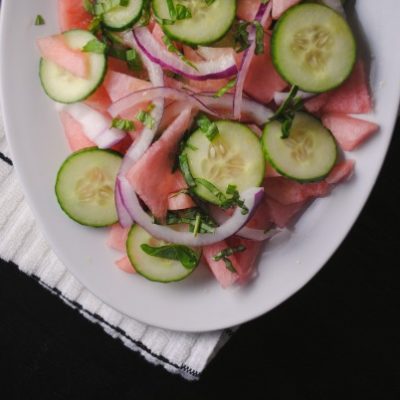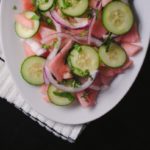 Watermelon-Cucumber Salad
Ingredients
1

tablespoon

olive oil

2

teaspoons

fresh lemon juice

1/4

teaspoon

salt

2

cups

cubed seedless watermelon

1

cup

thinly sliced English cucumber

1/4

cup

thinly vertically sliced red onion

1

tablespoon

thinly sliced fresh basil
Instructions
Combine oil, juice, and salt in a large bowl, stirring well. Add watermelon, cucumber, and onion; toss well to coat. Sprinkle salad evenly with basil.